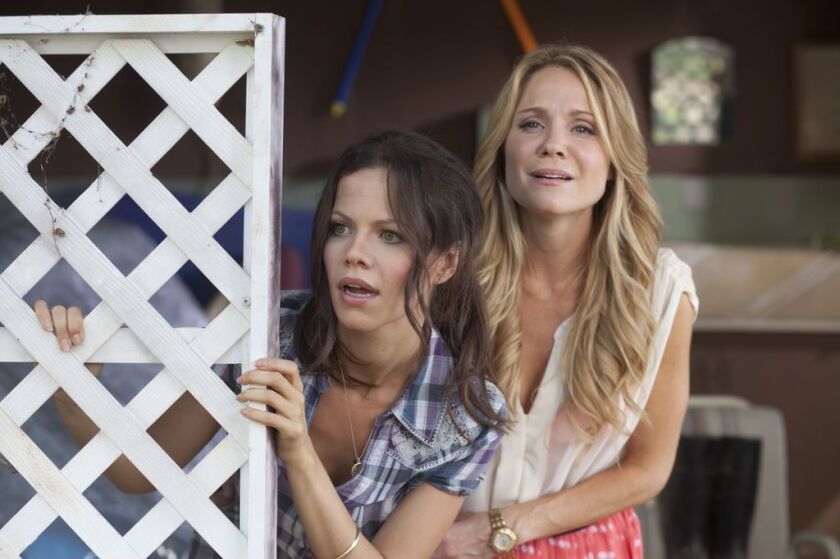 "10 Rules for Sleeping Around" is a dreadful sex farce with barely an authentic emotion, credible character or plausible plot point in its midst.
This retrograde jumble from writer-director Leslie Greif is said to be inspired by the 1969 Ray Cooney-John Chapman play "Move Over, Mrs. Markham." In updating that oft-performed door-slammer for the sexting era, Greif strains for raunchy hipness but ultimately can't mask the story's dated core. His portrayal of gay men alone is enough to brand this movie a relic.
Driving the mayhem are marrieds Vince (Jesse Bradford) and Cameron (Virginia Williams) and the engaged Ben (Chris Marquette) and Kate (Tammin Sursok), two young couples exploring the concept of fidelity. For the former, that involves taking a stab at open marriage (guided by those yuk-yuk "10 Rules"), while the latter are knuckle-headedly convinced they'd best spice up their sex life before tying the knot.
CRITICS' PICKS: What to watch, where to go, what to eat
In a wildly contrived scenario, the four land in the Hamptons for a raucous weekend jammed with bed-hopping, endless cases of mistaken identity, crazed opportunism, naked teenagers, randy dogs, booze and blunts, and a general confusion of the lowest order. It's a dizzying, frantically edited, laugh-free ride.
Greif directs his actors at such fever pitch that they — and we — can scarcely keep up. Except for the talented Bradford, whose innate charm and alert energy buoy his sketchy part, the cast, including Michael McKean as a flamboyant media mogul, Wendi McLendon-Covey as an in-demand children's author and Bryan Callen as a devious artist, mostly just flails and flounders.
"10 Rules for Sleeping Around." No MPAA rating. Running time: 1 hour, 34 minutes. At Laemmle's NoHo 7, North Hollywood. Also available on VOD.
---