'Breakfast at Tiffany's' gets a sparkling restoration
"Breakfast at Tiffany's" was showing its age.
Wear and tear had taken its toll on the 1961 favorite based on Truman Capote's novella about spirited New York party girl Holly Golightly, featuring Audrey Hepburn in one of her most iconic roles. Nominated for five Academy Awards, including lead actress for Hepburn, it won for Henry Mancini's score and Mancini's and Johnny Mercer's standard "Moon River."
"Breakfast at Tiffany's" was shot in Eastman color, a film stock that did not retain color like the old Technicolor films and faded over the years. But fans buying the recently released Blu-ray or attending Fathom Events/Turner Classic Movies special theatrical screenings Nov. 27 and 30 will see a film in its original luster thanks to a 4k digital restoration from the original negative.
"We did an enormous amount of cleanup," said Andrea Kalas, vice president of archives at Paramount, in a recent interview at the studio.
For years, the studios made prints off of original negatives. As parts of the negative became damaged, the damaged parts were cut out and replaced with frames from an inferior duplicate. The end result was that films like "Breakfast at Tiffany's" looked "a little off," noted Kalas. "You can see that's not quite the registration we wanted," she said, pointing to the unrestored version.
"It's a little fuzzy," she said. "This time we could find the best elements we could and cleaned it up and made it look really really sharp. Technology has advanced to a point now where we can make changes to make things look better than we ever could before. What you see is really crystal clear and fantastic."
"Breakfast at Tiffany's" presents other problems as well; no amount of restoration can improve Mickey Rooney's racially demeaning portrayal of Holly's high-strung Japanese upstairs neighbor, Mr. Yunioshi. The criticism of his performance has only heightened over the years.
"There's no way to sugarcoat it," Kalas noted, although she added, "I don't think it destroys the film at all."
Paramount, like other major Hollywood studios, has a preservation and restoration program, and with the digital tools at its disposal, it takes about six months to complete a film. Restorers at the studio are currently working on "Saturday Night Fever," which celebrates its 40th anniversary next year.
"That was shot on location at a real disco with available lights with the film stock of the day," she explained. "We now have the tools to bring out detail. That wasn't even possible three years ago. We worked with director John Badham and he said, 'Wow, I didn't even know that was there,' when he saw some detail in the background. You're always going over [a restoration] very carefully to make sure what you're doing is a tribute to the original vision of the filmmaker."
When Paramount restores a film, "we're doing it really archivally," said Kalas. In the case of "Breakfast at Tiffany's," that meant preserving the memorable score — including a rare demo of Mercer singing "Moon River."
"When we restore an 'A' title, it just doesn't stop with what you see on the Blu-ray. There's a whole lot of other stuff going on behind the scenes."
The archive building on the studio lot houses costumes, jewelry and props from Paramount titles dating to the silent era.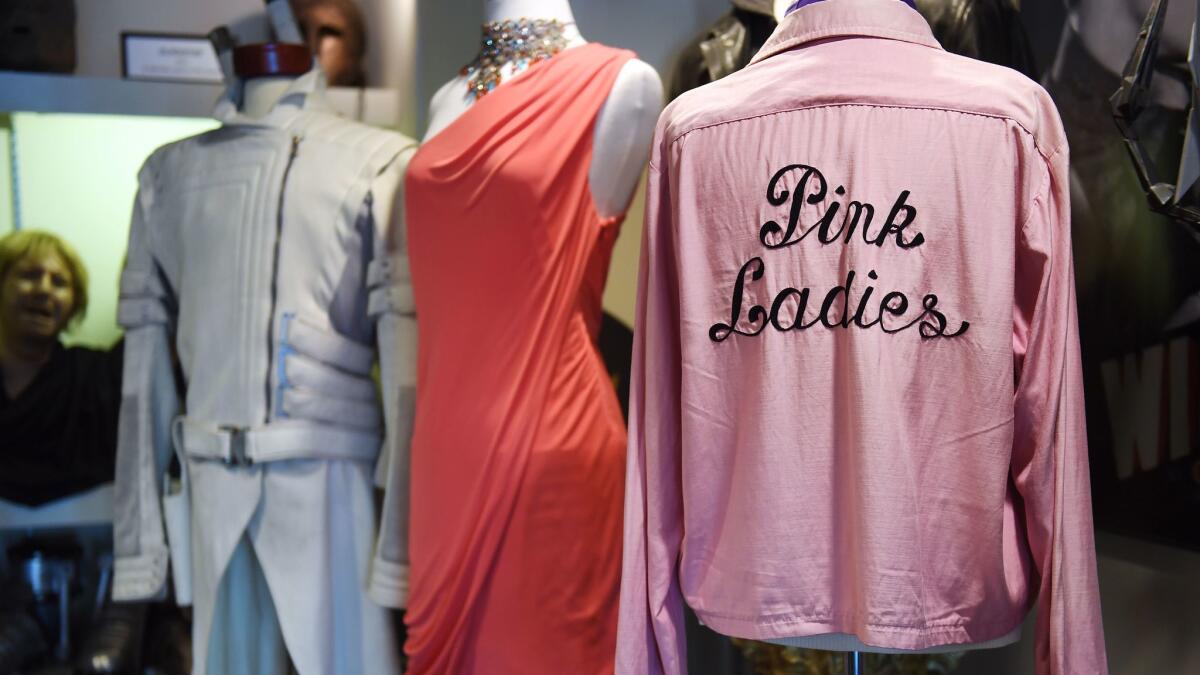 "The costume archive here comprises contemporary costumes, also vintage costumes — about 4,000 of them, maybe 24,000 contemporary costumes, 12,000 vintage pieces of jewelry and probably 20,000 props as well," said jewelry archivist Jaci Rohr. (The Paramount studio tour includes displays of some of the vintage costumes and jewelry).
Randall Thropp, manager of the costumes and props at the archive, began working at the studio in 2003, running the rental floor of the costume department. "We had a building on the backside of the lot which was all vintage costumes," said Thropp. "I would go over there and find this stuff and say, 'Oh, we're not renting this ever again.' I would pull it, stack it up and stick it in the corner somewhere and I built the collection."
One item he pulled early on was a striking necklace Hepburn wears in "Breakfast at Tiffany's" with her little black dress in a party sequence.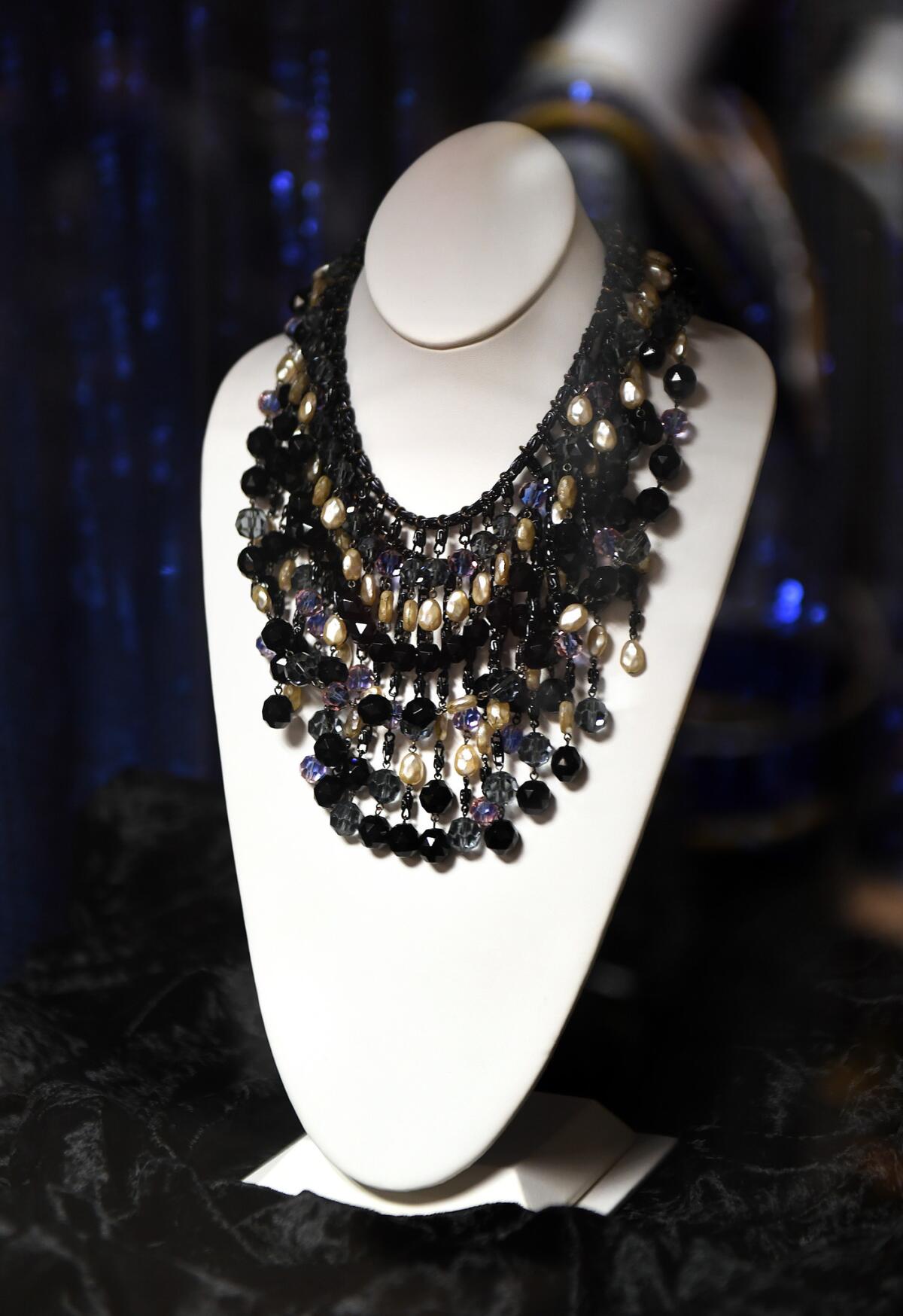 "This is truly costume jewelry," said Rohr, standing in front of the necklace which had been taken out of the vault for this interview. "It was not made by Tiffany's. It is glass beads, plastic pearls, black painted enamel chains."
No one knows who designed the piece but Thropp said that Paramount's legendary costume designer Edith Head, who worked on "Breakfast at Tiffany's," would have had input. "Edith would have said, 'This is what I want, this is how I see it,'" noted Thropp.
The small display room features clothes designed by Head including a party dress for Joanne Woodward for 1963's "A New Kind of Love" and a delicious beaded gown Barbara Stanwyck wore to seduce Henry Fonda in 1941's "The Lady Eve." In the Preston Sturges comedy, the costume looks a like two-piece gown with Stanwyck exposing her bare mid-drift.
"I'm sure you've seen the film many times and you think that's she nude underneath," said Thropp. "But [the dress is] built on a bodice."
Costumes and jewelry were used over and over again in films. Rohr identified one piece of jewelry worn in six films, including by Gloria Swanson in 1925's "Madame Sans-Gene," Claudette Colbert in 1932's "The Sign of the Cross" and Joan Caulfield in 1946's "Monsieur Beaucaire."
Though some of costumes, jewelry and props are identified, frequently Thropp and Rohr must play detective.
One time Rohr discovered a scepter used by Charlotte Henry in 1933's "Alice in Wonderland' by watching the movie on TV one night. "I tape everything from the old days if we don't have a reference to it," she said.
"You have all these unidentified pieces and then you are sitting down going through boxes of stills or watching TCM and saying 'Wait a minute that looks really familiar,'" noted Thropp.
TCM Big Screen Classics
Fathom Events
"Breakfast at Tiffany's"
Nov 27 and Nov. 30 at 2 and 7 p.m. at select theaters around the country
Various prices
For more information go to https://www.fathomevents.com
Get our L.A. Goes Out newsletter, with the week's best events, to help you explore and experience our city.
You may occasionally receive promotional content from the Los Angeles Times.