How an L.A. agency became a Hollywood go-to for connecting with multicultural audiences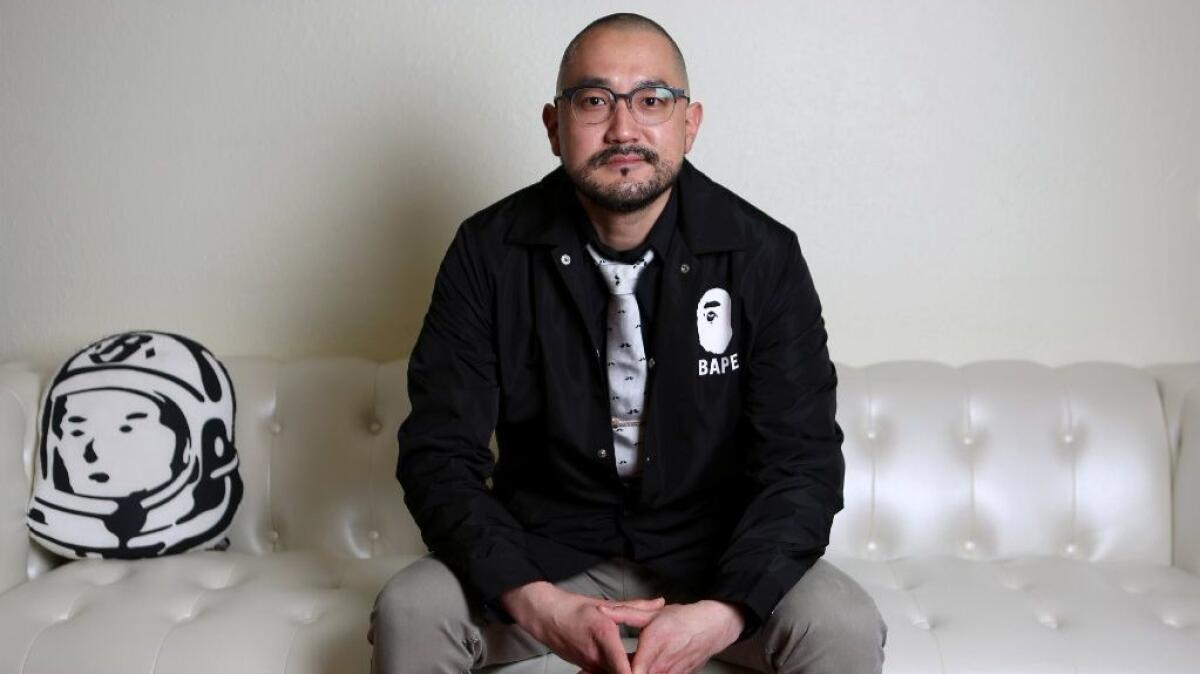 Among the stacks of paper and books, a cluster of hot sauce jars sits on a table in Ted Chung's Playa Vista office. As the creator of Cashmere Agency — Hollywood's go-to for companies looking to reach a multicultural audience online — the trajectory of the hot sauce market is a constant reminder of his work's importance.
The 40-year-old music and media entrepreneur says that for decades Tabasco was a staple in American households, even among immigrant and ethnic communities. "Sriracha when I was growing up was barely on the map," he said, referencing the spicy sauce that's everywhere now.
But Tabasco didn't pay attention to diversity in the U.S. and the business suffered. "That's why we're fascinated by the amount of hot sauce on the market place," Chung said. "[Tabasco] didn't get ahead of the curve. They didn't speak to a very important growing audience."
For over a decade, Chung and his staff of about 50 have been doing just that, working behind the scenes with major Hollywood studios like Netflix, Universal and Sony, to ensure content reaches diverse millennials in fresh and authentic ways.
In recent years, Cashmere has experienced an unprecedented boom, as Hollywood creates more stories with universal appeal, from "Black Panther" to "Get Out" to "Atlanta," in an attempt to keep up with changing demographics.
We've been so immersed in this space of multicultural diversity, now it's spewing out of us.

— Ted Chung
"We've been so immersed in this space of multicultural diversity, now it's spewing out of us," Chung said. Driven by demographic shifts, "the market then slowly caught up to what we were doing."
In the past, Hollywood's marketing efforts were mostly aimed at white audiences. But as the industry shifts to capitalize on an increasingly diverse nation, marketing tactics have also had to change. These efforts require more nuance and cultural sensitivity to successfully engage young people of color, women and LGBTQ communities.
Cashmere's ability to relate to diverse audiences comes from the demographic breakdown of its staff, which strongly skews young and multiethnic, said executive vice president Ryan Ford. Chung has also prioritized the importance of women, aligning with content and products that have women at the forefront. Half of Cashmere's leadership roles are filled by women and several, including the vice president of client services and marketing and vice president of publicity, are staffed by women of color.
"It's what he built as a philosophy, we are who we market to," Ford said.
The focus on millennials, defined as people born between 1981 and 1996, led the agency to take a social media-first mentality when designing marketing campaigns, allowing it to directly tap into millennial culture.
From creating a buzz around Marvel's game-changing black superhero movie, "Black Panther," to managing social media and public relations for "Grown-ish," the spinoff to the popular TV show "black-ish," Cashmere's presence can be felt throughout the industry.
Last year, the agency planned comprehensive campaigns for some of the most successful diverse films and TV shows including "Get Out," "Girls Trip," "Atlanta," "Orange Is the New Black" and "Snowfall." For each, Cashmere created tailored plans to reach diverse communities that included building social media campaigns, organizing roundtable discussions and producing live events like a screening of a pilot at a drive-in movie.
---
As a first generation Korean American growing up in the 1980s in Long Beach, Chung says it was an emerging art form and culture — hip-hop — that set him on the path toward the creation of Cashmere.
Hip-hop was inclusive, Chung said, "taking the best of all the places this diaspora has lived and synthesizing it into a really cool new medium."
"For those that didn't see that sort of self-reflection on television, films, advertisements, hip-hop really struck a nerve," he added.
He found an early love for DJing — blending sounds from a martial arts film, or newly discovered classic Hindi album, or a blues record — to make a track.
And in high school, Chung worked with street marketing teams and organized underground parties for the under-18 crowd. "I never wanted our parties to be just Asian, or Latin or Mexican, or just black or white. We wanted everyone to come," he said.
His passion for music and event organizing spilled over into college, where he was a student at the University of Pennsylvania.
"The first iteration of Cashmere Agency was record companies shipping boxes of stickers and promo product and singles to my dorm room," he said.
After college, Chung deepened his connection to the music industry, becoming hip-hop legend Snoop Dogg's manager and business partner and founding the artist management company Stampede. He continued direct marketing for clients in the music industry, and later began working with the food and beverage, technology and fashion industries, eventually landing such clients as Adidas, PayPal and Aquafina.
But as direct marketing became over-saturated, Chung shifted Cashmere's focus to the burgeoning online space, and around 2004, became a completely digital agency. Another shift for Cashmere was tapping into entertainment. In the early days, Chung had to work hard to convince Hollywood studios that Cashmere's services were necessary.
"Sometimes when you're so used to things working the way they do that sort of stagnant mentality often becomes the bane of existence of a brand," Chung said.
However, the tide started to change around 2015, when clients aiming to reach multicultural audiences but without the knowledge or experience to market to them, realized they need Cashmere's area of expertise.
To create a campaign around a film or TV show, Chung says that Cashmere's analytical and creative teams have brainstorming sessions to form a strategy that will resonate with diverse communities.
For FX's "Atlanta," from creator Donald Glover, Cashmere tapped into the show's dreamlike, yet hyper-realistic quality. The agency developed creative imagery for the show's official social media platforms and posted from the perspective of a young black woman in Atlanta reacting to the show in real-time. To build a buzz in the city of Atlanta, Cashmere set up a drive-in showing of the show's pilot at a movie theater, and invited local car clubs and social media influencers.
"[FX] knew they had an incredible creator and that great content was being made," Chung said. "They wanted to make sure they had the same sort of premiere process and deliverables when it came to the marketing strategy."
HBO has worked with Cashmere for nearly five years. Most recently, the agency executed an influencer campaign — marketing content through people who have a large social media following — for the Alan Ball drama "Here and Now."
According to Lucinda Martinez, HBO's senior vice president of multicultural and international marketing, African American, Latinx, Asian and LGBTQ communities make up a significant and growing number of subscribers. Working with agencies like Cashmere help the network understand how to reach audiences in a credible and unique manner.
"We could hardly consider ourselves relevant without creating a connection with these audiences," Martinez said in an email exchange. "We've taken great strides in building a team with expertise in what creates, drives and sustains culture."
Multicultural marketing agencies "help provide fresh prospective and insights into multicultural products," said Gene Del Vecchio, an adjunct marketing professor at USC. They help studios connect to diverse audiences on an authentic level and perhaps more importantly, avoid missteps.
Blunders — like a recent H&M ad depicting a young black boy in a "coolest monkey in the jungle" hoodie or a Pepsi ad featuring Kendall Jenner that trivialized the Black Lives Matter movement — show the importance of social awareness and sensitivity around communicating to diverse audiences.
They also show what happens when companies don't prioritize diversity within their ranks.
"Honestly it's not that hard," Ford said. "It becomes hard when you're one of these old, stodgy media companies that are trying to reformat."
Get the Indie Focus newsletter, Mark Olsen's weekly guide to the world of cinema.
You may occasionally receive promotional content from the Los Angeles Times.