Matthew McConaughey maps his route to stardom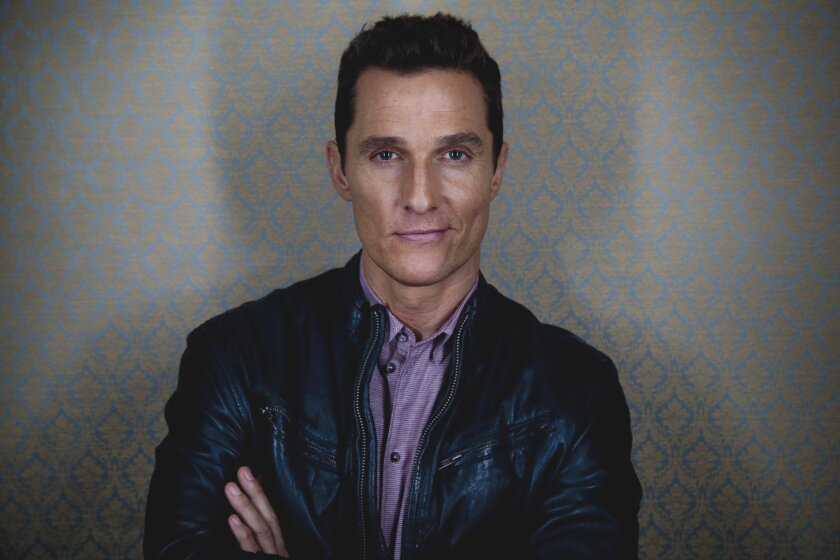 We could, on our own, diagram the ups and downs of Matthew McConaughey's acting career. But, to borrow a line from "Dazed and Confused," it'd be a lot cooler if he did. He obliges.
'Dazed and Confused'
" 'All right, all right, all right!' First thing I ever said on camera. I had 30 minutes to think about that scene. I'm like, 'Wooderson's about four things: his car, his weed, rock 'n' roll, women. I'm in my Chevelle. I'm high. Ted Nugent's on the radio. And here comes this hot, redheaded intellectual girl.' And I say, 'All right, all right, all right,' because I'm batting three out of four. And there's the girl. She's the fourth."
'A Time to Kill'
"That was sort of 'Hello. Welcome.' And then there was funny stuff like 'McConaughey Saves the Movies' on the cover of magazines. Hell, I wasn't trying to save anything. After 'Texas Chainsaw,' I just wanted to keep working, man."
PHOTOS: Oscars 2014 top nominees
'Amistad'
"I had some success. Now I wanted to go for directors. [Robert] Zemeckis, 'Contact.' [Steven] Spielberg, 'Amistad.' But the movies didn't stick, and my stock as an actor went down. Things dried up a little bit more. Off of that, which way can you go?"
'The Wedding Planner'
"The romantic comedies? People liked them. I enjoyed what I called my 'Saturday characters.' Part of that work is keeping them buoyant. Man, to go get realistic in those … you'd kill them. 'Don't get real on us now. This is a fairy tale.' I enjoyed that. I liked the lightness they had."
'How to Lose a Guy in 10 Days'
"Kate [Hudson] and I had the good, back-and-forth jive. Boy meets girl, get together, go along, dupe one, dupe the other, get in a fight, break up and then chase her back in the end and we're good. Man, if you enjoy who that man and that woman is along the way, [whistles] great!"
PHOTOS: Oscars 2014 snubs and surprises
'We Are Marshall'
"I'd do movies like 'Marshall' and 'Two for the Money' that might look more like meter readers, and, as far as my stock in Hollywood, someone would go, 'He's got a [price] quote for a romantic-comedy, but he don't get that quote for [dramas]. You want to do that movie, you've got to take a pay cut for us to take a chance.' "
'Magic Mike' and beyond
"This quiver of movies — 'Magic Mike,' 'Killer Joe,' 'Bernie,' 'Paperboy,' 'Mud,' 'Dallas Buyers Club' — came after I started thinking, 'Go have some first-time experiences. Be excited. Be scared.' I've become much more process-oriented, and am having arguably better results. In hindsight, there's always more of a science to it that you're not aware of. But there were conscious decisions. Then it's wild how the world works. The target just started to draw the arrow."
---
The complete guide to home viewing
Get Screen Gab for weekly recommendations, analysis, interviews and irreverent discussion of the TV and streaming movies everyone's talking about.
You may occasionally receive promotional content from the Los Angeles Times.