Carrie Fisher doesn't have a star on the Hollywood Walk of Fame, so fans made her one
Before Hollywood Boulevard had fully come alive with street performers and tour groups Wednesday morning, a small crowd had gathered in front of a star on the Hollywood Walk of Fame.
It was adorned with flowers and candles that stopped passersby in their tracks, prompting some to do a double take.
Fans had turned a blank star about a half-block from the hand- and footprints of Hollywood greats in the forecourt of the TCL Chinese Theatre (including those of "Star Wars" characters R2-D2 and C-3PO), into a makeshift memorial for Carrie Fisher, who doesn't have an official star on the Walk of Fame.
Full coverage of Carrie Fisher: Author, actress and 'Star Wars' heroine »
"I can't believe it," Jose Luis Villeda said, snapping a photo of the homage to send to his family in Mexico. "I really thought she had a star. I mean, that's not fair, because she's an icon. Without Princess Leia, there's no 'Star Wars.' It's like 'Harry Potter' [with] no Hermione."
Villeda's sister eventually responded. She was shocked too, but her brother had a big idea to remedy that.
"We should start a campaign in memory of Carrie Fisher. There's so many big 'Star Wars' fans. If we [each] pitch in a dollar," Villeda said, his gears in motion, "it would make 10 stars at least."
Fisher, who died Tuesday at age 60, rose to fame for her portrayal of Princess Leia in the "Star Wars" galaxy, starting with the first film in 1977 . But more than a bun-headed heroine, Fisher was also an outspoken author, screenwriter and mental-health activist. Her death sent shock waves around the world, as loyal fans and celebrities paid tribute to her.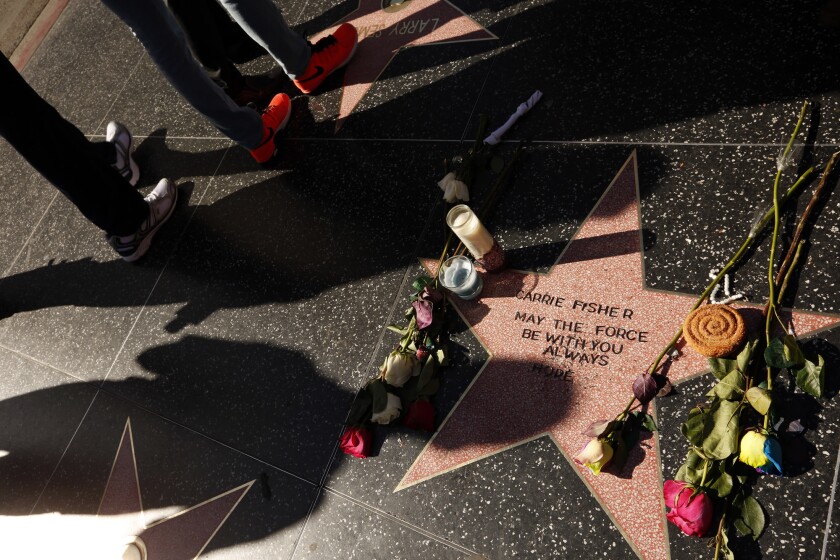 Explore all the stars on the Hollywood Walk of Fame »
On her impromptu star, which is between those for Larry Semon and Paul Williams, was a simple message someone had seemingly engraved:
Carrie Fisher May the Force Be With You Always Hope
Simple touches — a cinnamon roll (get it?), a charm bracelet, some colorful roses — brought the tribute to life. Several families circled the star, and parents explained to their children what Fisher had meant to them.
What many don't know is that there is a process to getting a star on the Walk of Fame. Created in 1960, the iconic trail draws an estimated 10 million visitors from around the world each year. Anyone can nominate a candidate for the honor, but the nominee must agree to be considered and then pay the $30,000 fee for both the ceremony and the star's maintenance.
"I don't know why. Maybe she did not want a star. I've never seen an application for her," said Ana Martinez, producer for the Hollywood Walk of Fame, adding that the makeshift memorial would remain for a few days. Martinez, who works for the Hollywood Chamber of Commerce, which oversees the Walk of Fame, also said she hoped Fisher's family would nominate her, "because she deserves it."
Fisher isn't the only entertainer without a star along the 18-block stretch: George Lucas, Leonardo DiCaprio and Angelina Jolie don't have them either.
Denise Vasquez stopped by the tribute Wednesday on her way to work, kicking aside an unrelated book that had made its way onto the memorial. Vasquez, who creates "Star Wars" and Day of the Dead mashup fan art, was not surprised that Fisher did not have an official star.
"Carrie Fisher was her own person, and she was more about just being herself than being Hollywood," she said. "A lot of people know her through 'Star Wars.' But she represented a strong woman who was not afraid — she was fearless and not afraid to be herself."
Follow me on Twitter @makedaeaster
ALSO
Debbie Reynolds rushed to the hospital after falling ill; condition unknown
Like Princess Leia, Fisher forged her own destiny
'Yesterday was a horrible day': Paul Simon remembers his onetime love Carrie Fisher
---
The complete guide to home viewing
Get Screen Gab for weekly recommendations, analysis, interviews and irreverent discussion of the TV and streaming movies everyone's talking about.
You may occasionally receive promotional content from the Los Angeles Times.