Debbie Reynolds suffered stroke while making funeral arrangements for daughter Carrie Fisher, son says
Hollywood legend Debbie Reynolds was making funeral arrangements for her daughter, actress and author Carrie Fisher, when she suffered a massive stroke, her son said.
Todd Fisher told "Good Morning America" they were at the family home in Beverly Hills when Reynolds was stricken.
Read the full obituary for Debbie Reynolds >>
"It happened very gently," Fisher told ABC. "She loved taking care of my sister more than anything. So, she gets to do that and that's what she wanted to do."
Doctors at the hospital told family that Reynolds' stroke was severe and that she would not recover, Fisher said.
Carrie Fisher suffered a heart episode Friday on a flight from London to Los Angeles and died Tuesday.
Carrie Fisher was one of the last ties to old Hollywood >>
Reynolds was one of Hollywood's top actresses and singers in the 1950s and 1960s, and a celebrity whose sometimes rocky personal life was chronicled by the media. She continued to act regularly into the 1990s.
Actress Debbie Reynolds poses for a portrait in Beverly Hills on May 21, 2013.
(Chris Pizzello / Associated Press)
A detail of the poster for Stanley Donen's "Singin' in the Rain," featuring Gene Kelly and Debbie Reynolds.
(Movie Poster Image Art / Getty Images)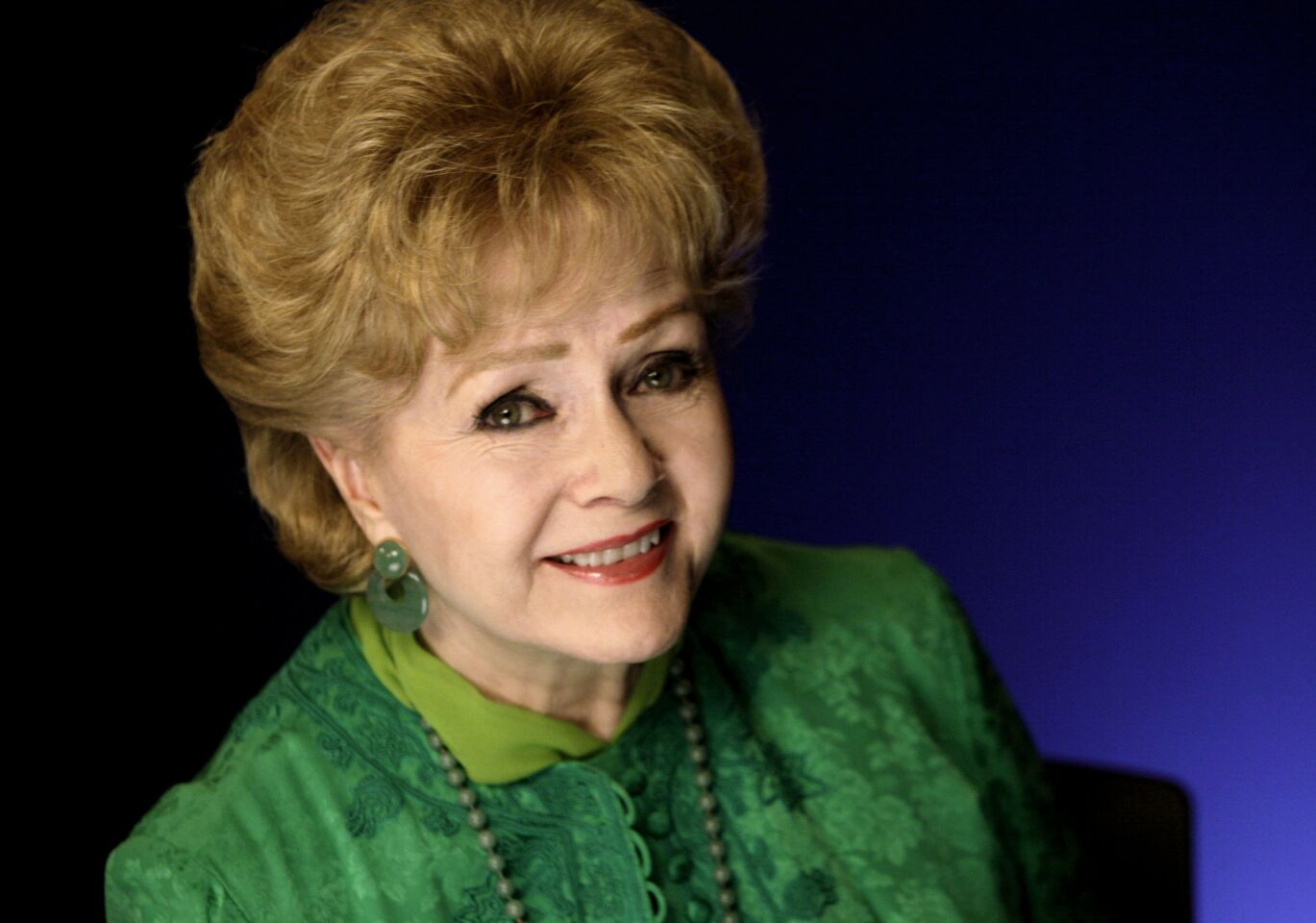 Actress Debbie Reynolds posing for a portrait in New York.
(Richard Drew / Associated Press)
In this March 6, 1959, photo, actress Debbie Reynolds boards an airliner in New York en route to Spain, where she would film a new movie.
(John Rooney / Associated Press)
Debbie Reynolds in 1960, wearing a black sweater top and a pearl necklace.
(Hulton Archive / Getty Images)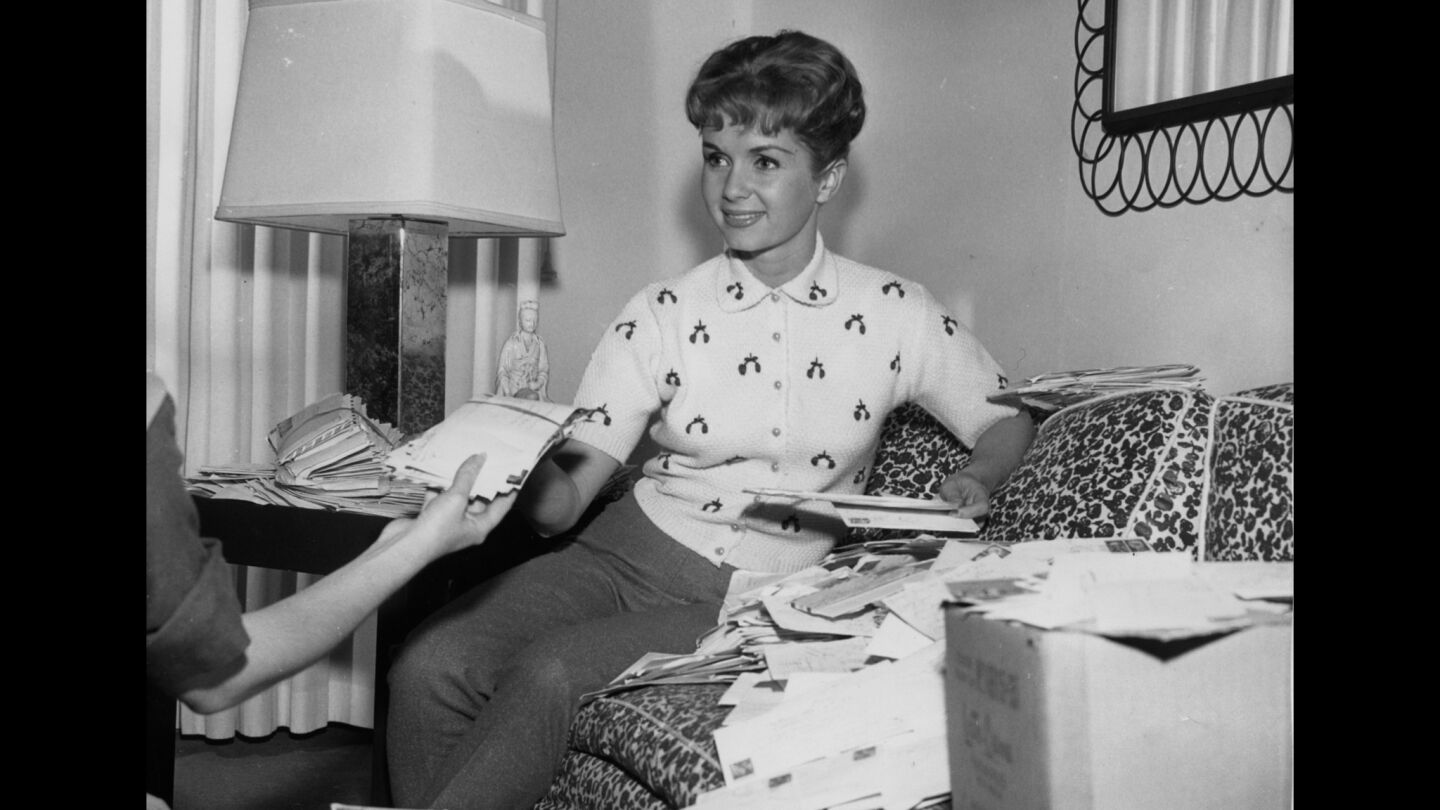 Actress Debbie Reynolds photographed in 1959.
(HO / Los Angeles Times)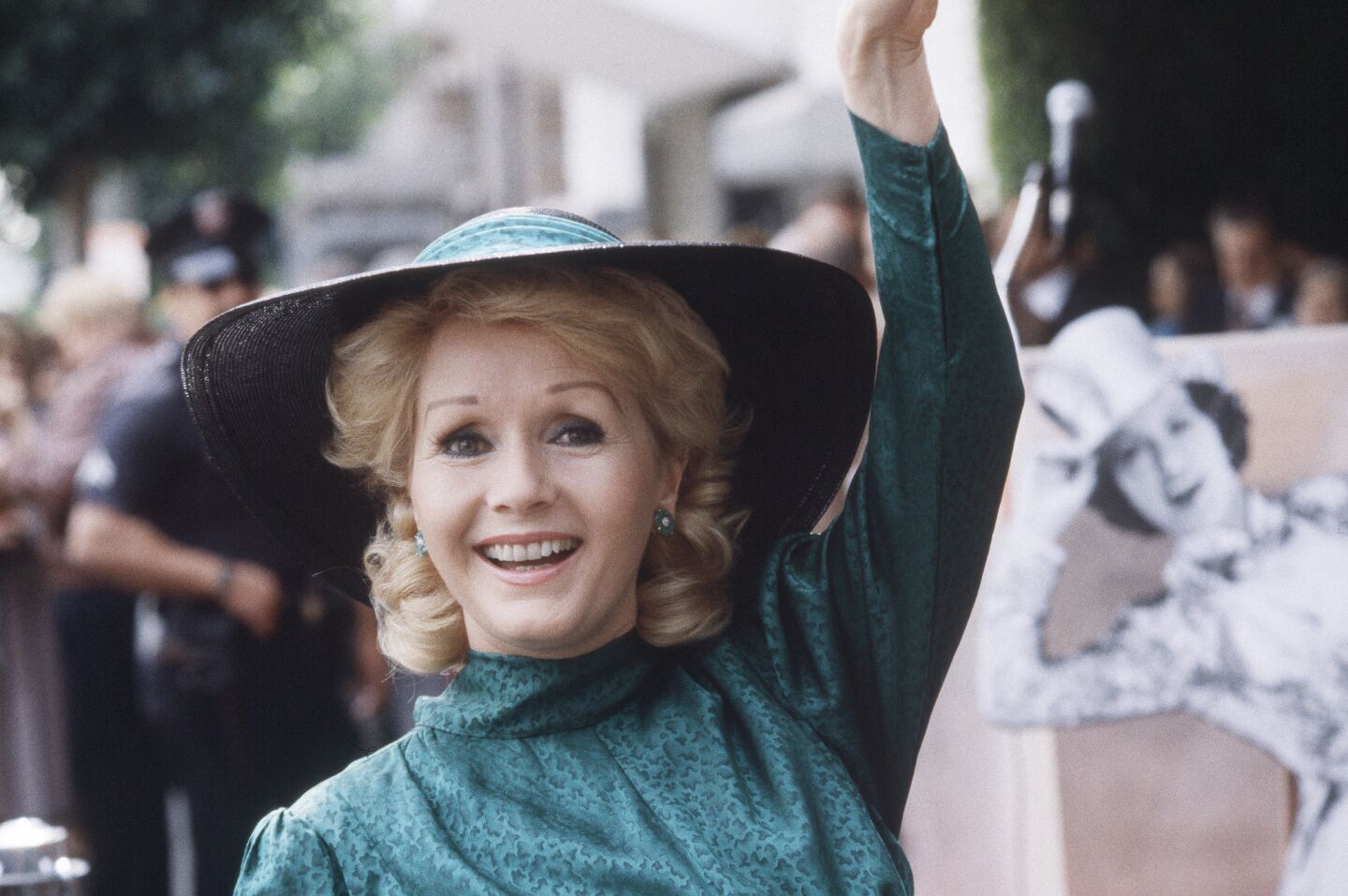 Actress Debbie Reynolds appears at Hollywood Walk of Fame ceremonies in Los Angeles.
(Wally Fong / Associated Press)
Actress Debbie Reynolds shows $13,900 in U.S. bonds given to her by acting County Clerk W. G. Sharp. in 1953.
(Larry Sharkey / Los Angeles Times)
Carrie, 3, gives mother Debbie Reynolds a hug after her afternoon nap in their West Los Angeles home.
(Ray Graham / Los Angeles Times)
Debbie Reynolds in one of the storage rooms where clothes from 41 years in show business were kept in 1988.
(Robert Durell / Los Angeles Times)
Debbie Reynolds' star along the 7000 block of Hollywood Boulevard.
(Gary Coronado / Los Angeles Times)
Debbie Reynolds appears on the red carpet before the 21st Annual Screen Actors Guild Awards, where she received a Lifetime Achievement Award, at the Shrine Auditorium in Los Angeles on January 25, 2015.
(Al Seib / Los Angeles Times)
Debbie Reynolds placing her hand prints in the wet cement at Grauman's Chinese Theatre in Hollywood in 1965.
(Bruce H. Cox / Los Angeles Times)
Debbie Reynolds, who will receive the Screen Actors Guild's Life Achievement Award, is seen photographed at her Los Angeles home in 2012.
(Brian van der Brug / Los Angeles Times)
Carrie Fisher, right, presents her mother, Debbie Reynolds, with the Life Achievement Award at the 21st Screen Actors Guild Awards at the Shrine Auditorium in Los Angeles on Jan. 25, 2015.
(Robert Gauthier / Los Angeles Times)
When Reynolds was young, she moved to Burbank with her family and quickly started performing in school plays and even with the town symphony. She won the Miss Burbank beauty contest at 16 and captured the attention of Warner Bros. and MGM. Reynolds signed with Warner Bros. but made only 1950's "The Daughter of Rosie O'Grady."
She had better luck at MGM after she signed with the studio in 1950, causing a sensation in her short but memorable scene as the boop-oop-a-doop singer Helen Kane in the 1950 musical biopic "Three Little Words." That same year, she and Carleton Carpenter hit the charts with the song "Aba Daba Honeymoon" from their film "Two Weeks With Love."
Her stock in Hollywood rose when Gene Kelly and Stanley Donen cast her as the female lead in their 1952 musical classic "Singin' in the Rain." Reynolds made several other musicals at the studio, including 1953's "I Love Melvin" and "Give a Girl a Break." She got a chance at more dramatic fare with 1956's "The Catered Affair" with Bette Davis. Reynolds started to freelance in 1957 and found success at Universal with the comedy "Tammy and the Bachelor." She also had a No. 1 hit tune with "Tammy."
She earned her only best actress Oscar nomination for 1964's "The Unsinkable Molly Brown." She also starred in the 1967 hit comedy "Divorce American Style."
On TV, Reynolds headlined her first sitcom, "The Debbie Reynolds Show," in 1969, but it lasted only one season.
Later, Reynolds turned to Broadway, where she starred in the 1973 revival of "Irene." She also guest-starred on countless TV series, including "Alice" and "The Love Boat," and appeared in TV movies such as 1987's "Sadie and Son." In the 1990s, Reynolds returned to feature films, receiving rave reviews in Albert Brooks' 1996 comedy "Mother" and playing the mother of Kevin Kline's character in 1997's "In & Out." She also appeared as Grace's mother in several episodes of the NBC comedy "Will & Grace."
Reynolds' personal life was rockier. She married and divorced singer Eddie Fisher (with whom she had two children, Carrie Fisher and Todd Fisher), after he fell for Elizabeth Taylor. In 1960, she married shoe magnate Harry Karl, and after divorcing Karl, wed real estate developer Richard Hamlett in 1985. Her second and third marriages were personal and financial disasters.
Times contributor Susan King provided material for this report.
ALSO
The new documentary 'Bright Lights' peels back the curtain on Carrie Fisher's legendary Hollywood family
Remembering Carrie Fisher: Empowering wit, strong words and leaving the universe forever changed
Carrie Fisher, child of Hollywood who blazed a path as 'Star Wars' heroine, screenwriter and author, dies at 60
---
UPDATES:
Dec. 29, 7:21 a.m.: This article was updated with comments from Todd Fisher about Reynolds' illness.
5:50 p.m.: This article was updated with news of Reynolds' death.
4:03 p.m.: This article was updated with comments from Joely Fisher.
3:35 p.m.: This article was updated with details about Reynolds' hospitalization.
2:55 p.m. This article was updated with more details about Reynolds' health,
This article was originally published at 2:35 p.m. Dec. 28.
---
The stories shaping California
Get up to speed with our Essential California newsletter, sent six days a week.
You may occasionally receive promotional content from the Los Angeles Times.