Fred Melamed is well-versed in 'In a World ...'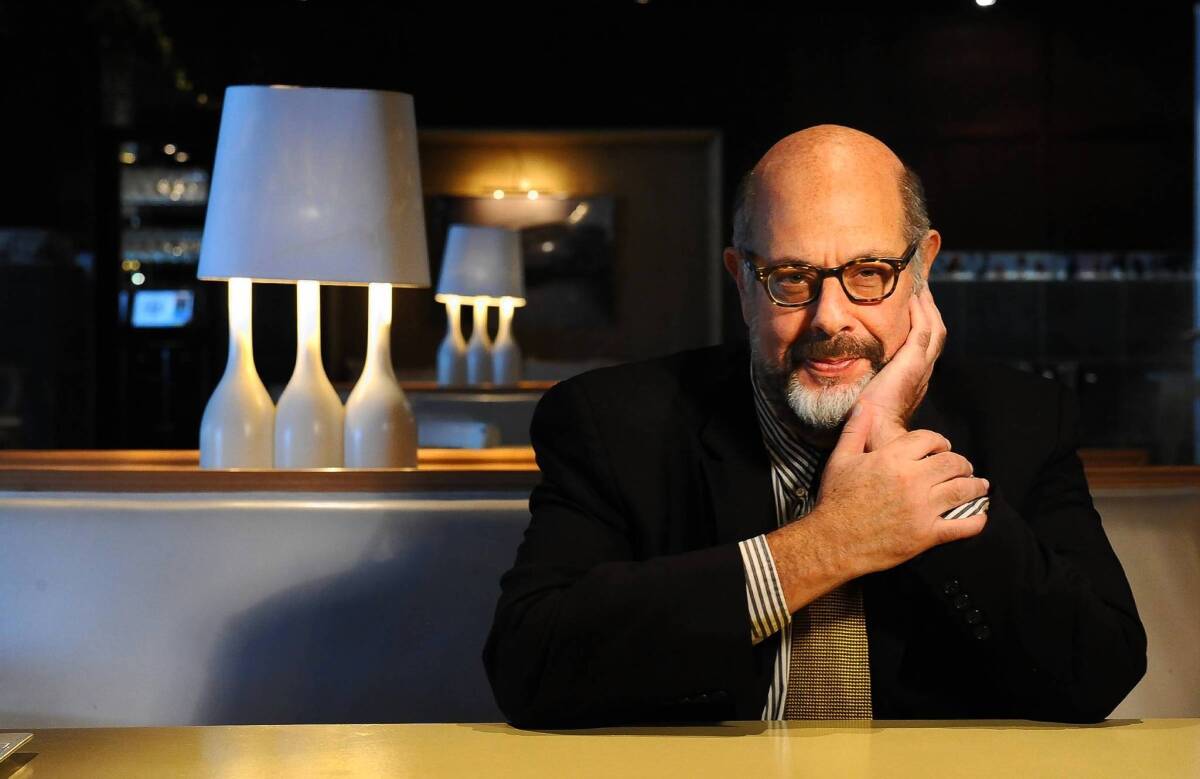 One in a series of occasional articles about the lives and careers of character actors in Hollywood.
Fred Melamed's timing has always been a bit askew.
Melamed didn't marry until he was 42. He didn't become the father of twin boys until he was 47. And he didn't get his first substantial movie role until he was 53, in Joel and Ethan Coen's 2009 "A Serious Man."
But Melamed, who was a voice-over superstar for 20 years, has been making up for lost time since he delighted critics and audiences with his villainous turn as the Machiavellian Sy Ableman in the Coens' dark comedy. It's a voice you don't easily forget.
"I never do anything early," mused the burly, balding, bespectacled 57-year-old over an orange juice at a tony Los Angeles hotel where he was discussing his latest film, actress-director-writer Lake Bell's comedy "In a World..." The small indie movie opened last week to glowing reviews and took in an impressive $71,000 in just three theaters.
"In a World..." finds Melamed playing Sam, a spoiled, vain, well-known voice-over actor with a chip on his shoulder because he has never achieved the fame of the late real-life voice-over superstar Don LaFontaine. A widower with two daughters, he has been less than an ideal father. When he learns that his daughter Carol (Bell) has been hired to do the voice-over for a high-profile trailer for which he was in the running, his jealousy reaches a fever pitch.
Ironically, Bell didn't even know that Melamed was well-versed in the voice-over universe. She was drawn to him because of his performance as Sy and as Larry David's pompous shrink in "Curb Your Enthusiasm."
"When I sat down with him in New York City, he revealed to me he was a voice-over actor for over 20 years," she noted. "Part of me wanted to pretend that I knew that — the other half was noble enough to come clean."
PHOTOS: Hollywood backlot moments
Melamed, who still does commercial voice-overs, has had more twists and turns in his career than an episode of "Breaking Bad."
He was supposed to have a life in the theater. Graduating from the Yale School of Drama in 1981, he made his Broadway debut shortly thereafter in the Tony Award-winning production of "Amadeus." But the experience was so upsetting, he walked away from the stage.
"I was in it for 14 months," he recalled. "I really found that I didn't like it. I had this Broadway gig and I couldn't train my mind on the play after the first four or five months. I found doing a long run to be very taxing and unpleasant. I went to drama school and theater is all they trained us for. What I am going to do?"
A dramatic shift
Luckily, Melamed has what he describes as a "dramatic" voice that is perfect for voice-overs. "I got Mercedes-Benz when I was young," he said. Melamed made such a good living doing commercials that he was able to afford an apartment in New York and a house in Montauk, N.Y.
Every so often, he would take on an acting gig for fun. Several casting directors would call him for small roles, including Juliet Taylor, who cast him in such Woody Allen films as "Radio Days" and "Husbands and Wives."
PHOTOS: Celebrities by The Times
Still, he admits, "I didn't pursue it with any gusto."
Then, several years ago, the bottom fell out. "There was a change away from my type of voice. They wanted people who sounded like real people. I think from the time I was 7 or 8, I haven't sounded like a real person."
Suddenly, his income fell to about $8,000 a year. "I had two young children and two houses," he said. "I had enough money for one year left to survive. I was talking to my friend and said, 'I am going to get a job in a bank.' He said, 'If money wasn't an issue, what would you really like to do?' I said, 'I'd like to go back to acting like I used to.' And he said, 'You have money for one year. It's what you should try.'"
That year was almost up when he got a call from Joel Coen about "A Serious Man." Melamed knew Coen slightly because he had gone to Yale with Coen's wife, actress Frances McDormand.
"He said, 'We have this movie and there is a role in it for you, a pivotal role, and we think you might be the right person for it. Are you interested?' That was a very lucky thing. In your life, you get a few parts like that."
ON LOCATION: Where the cameras roll
Though his character of Sy doesn't have much screen time, "there is so much made of him within the movie," said Melamed. "He was such a powerful character."
It was Melamed's honey-dripping, venomous voice that made Sy even more malevolent, especially in his first scene, when he meets Larry (Michael Stuhlbarg) to discuss the fact that he is going to marry Larry's wife.
"I remember Ethan Coen said to do something with your voice," said Melamed. But he really didn't put any conscious thought into Sy's voice.
"It just came out that way," said Melamed, who envisioned the character as someone who "massages people. That is the way of getting what he wants. He makes them feel that about everything, no matter how outrageous his ideas are or how selfish they may be. He sort of hypnotizes them by massage. He does that in the way of speaking — 'Sweetheart, everything is going to be fine.'"
Melamed said he was influenced by the late renowned acting teacher Michael Chekhov's "way of looking at things, which is every character has an essential gesture. It's a metaphoric way of looking at a character."
PHOTOS: Billion-dollar movie club
For "In a World...," Melamed said it wasn't difficult to create the character Sam, thanks to Bell's "great piece of writing."
"He is so deeply insecure that his idea of a good life is winning every moment," he added.
Bell was thrilled that Melamed "lent his talents to me and trusted me to go down that path and play a somewhat despicable and tragic character that you know is dripping in hubris and make him somewhat likable."
To Melamed, it was the complexity of the character that was the challenge.
"What was so interesting was that though he was not a good father, in his own way he loved them," said Melamed. "I wanted to get to the point where the love maybe didn't enlighten him or free him of his selfishness, but at least it broke through."
Get the Indie Focus newsletter, Mark Olsen's weekly guide to the world of cinema.
You may occasionally receive promotional content from the Los Angeles Times.