Philip Seymour Hoffman's final screen appearances to come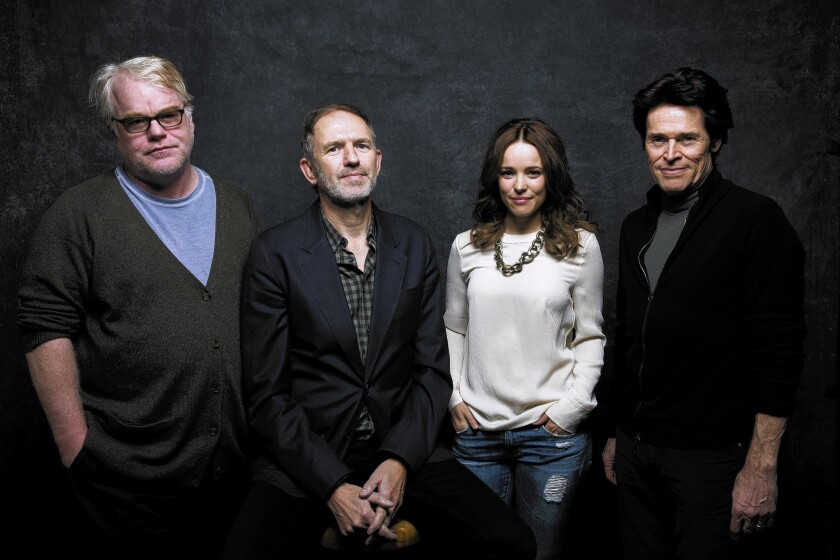 The death of Philip Seymour Hoffman on Sunday marked the abrupt end to an acclaimed career, but for audiences there will be much more of his performances to savor.
The prolific actor had recently shot a wide variety of work that will be seen at numerous intervals between now and at least November 2015, when the fourth and final film in the "Hunger Games" series is set to hit theaters.
The actor played chief gamemaker Plutarch Heavensbee in the recent Lionsgate blockbuster "The Hunger Games: Catching Fire" as a man with complicated loyalties who stages the titular competition. Hoffman is believed to have shot most of his scenes for the final two films, "The Hunger Games: Mockingjay — Part 1" and "The Hunger Games: Mockingjay — Part 2." There are, however, a number of scheduled shooting days for the character left on each; it is unclear how the production will work around those gaps for the finished films.
PHOTOS: Celebrities react to Hoffman's death
The death of a star in the middle of a franchise's production schedule has been an unfortunate theme recently, with Universal Pictures recently regrouping after the death of Paul Walker during the filming of the seventh "Fast and Furious" installment. Hoffman, however, had completed far more of his scenes than the late Walker had.
"Hunger Games" filmmakers and star Jennifer Lawrence released a joint statement Sunday calling Hoffman a "wonderful person and an exceptional talent" and noting that "words cannot convey the devastating loss we are all feeling right now."
Hoffman's appearance in the franchise underscored his ability to work in films big and small, concentrating on character work in the former but lead performances in the latter, as lauded turns in "Capote," "The Savages," "Before the Devil Knows You're Dead" and "Synecdoche, New York" demonstrate.
He had recently completed two films in that latter spirit, both of which were screened at last month's Sundance Film Festival: the John le Carré adaptation "A Most Wanted Man," directed by Anton Corbijn, and "God's Pocket," a small-town absurdist dramedy directed by "Mad Men" star John Slattery.
PHOTOS: Hoffman's memorable roles
Both those movies are scheduled for release this year — by Lionsgate and IFC, respectively — though no dates have been given. Each film showcased different aspects of the actor's skills, from his role as a German intelligence agent in "Wanted" to a part as a morose mobster who gets in over his head in "Pocket."
In the well-reviewed "Wanted," which costars Rachel McAdams and Willem Dafoe, Hoffman's Gunther Bachmann is a hard-living spy who runs a covert anti-terrorism unit with a mixture of savvy and instinct. Variety called his performance "first among equals in the fine ensemble" and said he "brings a superbly world-weary quality to the role."
And though "Pocket," based on a Peter Dexter book, received mixed reviews, Hoffman received fine notices as Mickey, a crook and outsider who's our guide to the seedy story.
Hoffman had been busy behind the camera too. The actor was developing a long-gestating passion project called "Ezekiel Moss" that he was set to direct, based on a Black List script and containing supernatural overtones. The recent addition of Amy Adams and Jake Gyllenhaal to the cast had given its backers hope they could attract sales and financing at the upcoming Berlin International Film Festival.
EXCLUSIVE VIDEO: Hoffman just weeks before his death
But those plans are now uncertain, according to the company putting the movie together, Exclusive Media. Hoffman had previously made his directorial debut with "Jack Goes Boating," a romantic dramedy in 2010 based on an off-Broadway play Hoffman starred in.
The actor was also set to appear in an upcoming Showtime comedy series called "Happyish," which the network had recently picked up for a 10-episode order. The pilot had been filmed, and the series was being written. Showtime has not determined how the show might proceed without Hoffman, though the pilot was complete and had been shown to critics at the recent Television Critics Assn. event to great acclaim.
Hoffman was the rare actor who could move fluidly between film and theater, and his four Oscar nominations (including one win) were matched by three Tony nominations, most recently in 2012 for his role as Willy Loman in the Mike Nichols-directed staging of "Death of a Salesman."
The energy and urgency of the theater animated his films roles as well. At Sundance, Hoffman took the stage after the "Pocket" screening and described why he signed on to Slattery's film. Describing the indie film under Slattery's guiding hand as a "passion train," he said of the experience that "you show up [to set] and you're exposed and vulnerable. And John let that happen."
Times staff writer Yvonne Villarreal contributed to this report.
---
The complete guide to home viewing
Get Screen Gab for weekly recommendations, analysis, interviews and irreverent discussion of the TV and streaming movies everyone's talking about.
You may occasionally receive promotional content from the Los Angeles Times.