Jason Bateman uses 'Bad Words' to make good things happen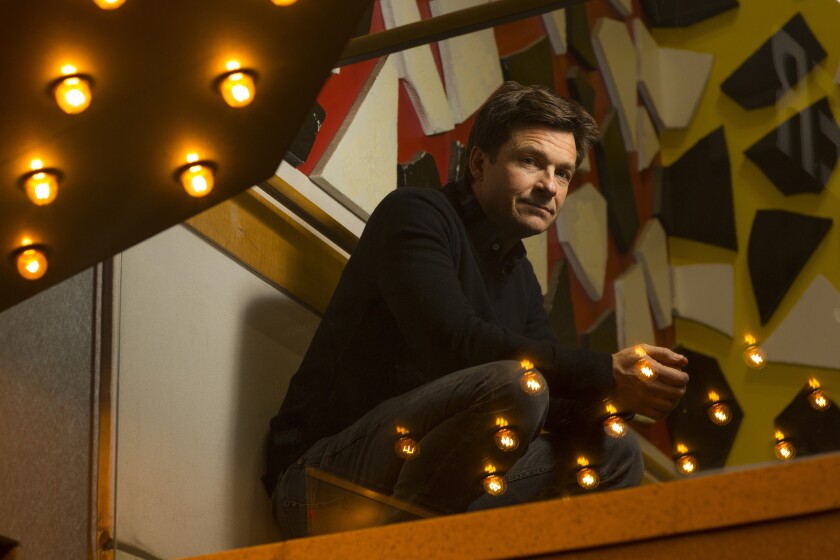 Jason Bateman is used to transitions.
In a career that stretches back nearly 35 years, he has pulled off tricky moves from child actor to adult star and from television to movies. Now, with the opening Friday of "Bad Words," his debut film as director, Bateman has finally made the change he was looking for all along.
"If I could direct full-time I would, absolutely," said Bateman recently from the bungalow office of his production company on the Universal lot. "The only reason I've wanted to become more relevant in the acting space and create capital there is to be able to create directing opportunities for myself. Not to sound overly strategic, but directing has always been the end game for me."
PHOTOS: Jason Bateman - From 'Silver Spoons' to the silver screen
The shift comes at a time when Bateman could hardly be more relevant as an actor, coming as close to being a bona-fide movie star as he has ever been, on the backs of successes such as last year's "Identity Thief" or "Horrible Bosses" before that. His screen persona as the aggrieved, self-aware everyman, smart enough to see the absurdities of his situation but not wise enough to fix them, is an extension of the one he created on the small-screen with the cult favorite "Arrested Development."
Bateman's lead role in "Bad Words" also signals a shift on screen as well as behind the camera. As Guy Trilby, a foul-mouthed cynic who sets out to sabotage a national spelling bee by taking advantage of a loophole that allows him to compete, Bateman is the one doing the aggravating this time as opposed to being put-upon — he's a meaner version of himself. Those expecting a family-friendly spoof of spelling bees are in for something of a shock — this is a very R-rated comedy with a nasty edge.
"Bad Words" co-stars Kathryn Hahn as a sketchy journalist who is both sponsoring Guy in the competition and trying to crack his story, Rohan Chand as a young contestant who tries to befriend Guy and Allison Janney and Philip Baker Hall as the beleaguered contest officials. It's a tightly packed box with a consistent tone of dark humor —- the movie knows what it is.
BEST MOVIES OF 2013: Turan | Sharkey | Olsen
The same could be said of Bateman. He comes across as a realist in the dream factory. He acknowledges a mix of ambition and responsible thinking when it came to choosing the project, which was made for less than $10 million and shot in under a month near the end of 2012.
"I like having the ball," he said, using one of the sports metaphors that not surprisingly pepper the conversation of someone with a Dodgers pennant hanging from the golf cart parked out front.
Bateman spent his teen years on television, having first appeared on "Little House on the Prairie" before starring on shows such as "Silver Spoons." He joined the Directors Guild of America at 18 after directing a few episodes of "The Hogan Family." By his own description, his 20s were "a swale," and it wasn't until the "life jacket" of "Arrested Development" in his early 30s that he got another shot at success. Now 45, he plans to make this one last.
"Not to take anything away from acting, maybe it's because I've been doing it so long, but I'm not as excited about it," Bateman added. "I'm not Daniel Day-Lewis, so the roles that I would take on, if I were to be responsible and not over-reach, are roles that would not present as much of a challenge to me as directing a film."
"Bad Words" premiered last fall at the Toronto International Film Festival, where it was picked up by Focus Features, and also just played at the South by Southwest Film Festival. The Hollywood Reporter referred to it as "probably the most effective pipe bomb of misanthropic comedy since 'Bad Santa'," and Variety called it "exuberantly foul-mouthed and mean-spirited."
PHOTOS: Ten who were stars by the age of 10
The film marks the debut for writer Andrew Dodge, who previously worked in a studio story department, and the script made the "Black List" of best unproduced screenplays in 2011. Dodge came up with the idea after watching the popular spelling bee documentary "Spellbound." It was a subject he could relate to especially when he thought back to his days as a member of the high school debating team.
"I had this moment of revelation where I thought, what a bunch of weirdos," Dodge said. "But then I thought, wait a minute, I was one of those weirdos."
At first Bateman had planned not to act in the film. After reaching out to some higher-profile stars — "a couple big swings," he said — he realized he should take on the part himself.
"And I also thought it might make my workload a little bit lighter, the fact that I don't have to direct the lead actor," Bateman added. "For better or worse, every single take that actor does is going to be exactly as if that actor is reading my mind. So that was a performance I didn't need to worry about, at least for my own personal taste."
Bateman and "Juno" producer Mason Novick took the project to producer Sean McKittrick, who works with filmmaker Richard Kelly through their Darko Entertainment banner. Darko has been involved with films such as Bobcat Goldthwait's "God Bless America" and "12 Years a Slave" screenwriter John Ridley's upcoming Jimi Hendrix biopic "All Is by My Side." McKittrick noted that Bateman brought a lot more to the project than a more-typical first-time director.
PHOTOS: Behind the scenes of movies and TV
"It was a massive difference in my mind," McKittrick said. "He has been in this business since he was a child. He knows every aspect of filmmaking, and he adds layers of experience you wouldn't get from a true first-timer. I've never seen anybody work harder than he does."
So far it seems the work Bateman has put into this latest transition is taking hold. He is set to direct and co-star in "The Family Fang" alongside Nicole Kidman, in an adaptation of Kevin Wilson's novel written by "Rabbit Hole" playwright and screenwriter David Lindsay-Abaire. The project came to him off of the initial response to "Bad Words," and the story's serio-comic tone will push Bateman further into new territory as an actor and a director.
"I can't tell you how lucky and grateful I feel at this point in my career that I've been able to stay employed for as long as I have and that I'm not on the backside of some curve," Bateman said. "It's actually better now than it's ever been."
---
The complete guide to home viewing
Get Screen Gab for weekly recommendations, analysis, interviews and irreverent discussion of the TV and streaming movies everyone's talking about.
You may occasionally receive promotional content from the Los Angeles Times.