'Locke,' 'Gravity' and more one-actor wonders
Tom Hardy as Ivan Locke in "Locke," a drama that takes place in the confines of a car.
(A24 Films)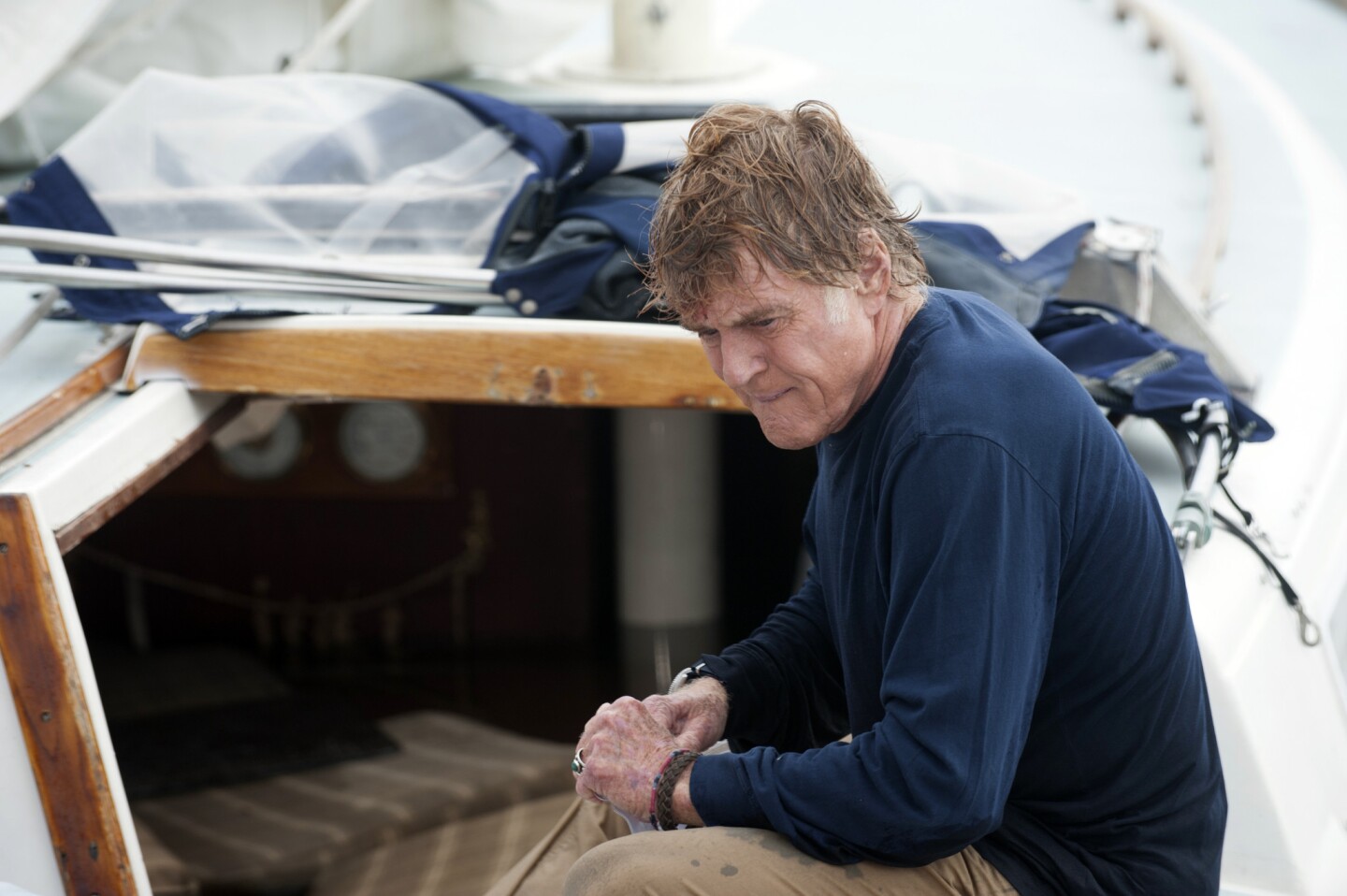 Robert Redford in "All is Lost," a survival film about a man in peril on the sea.
(Richard Foreman / Roadside Attractions)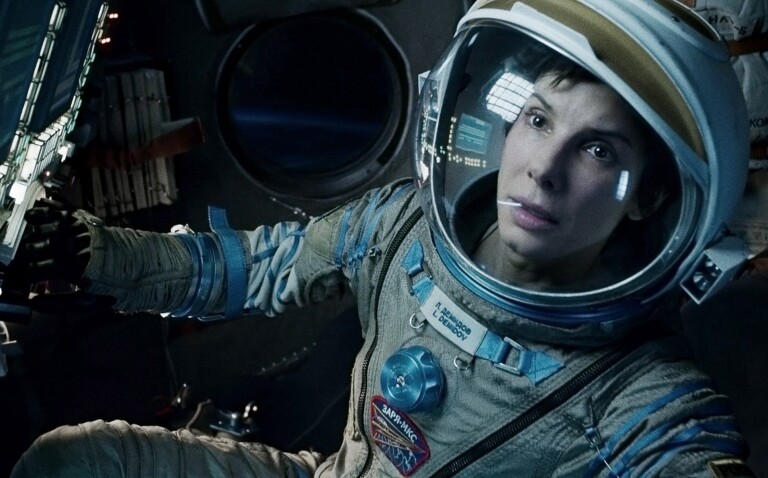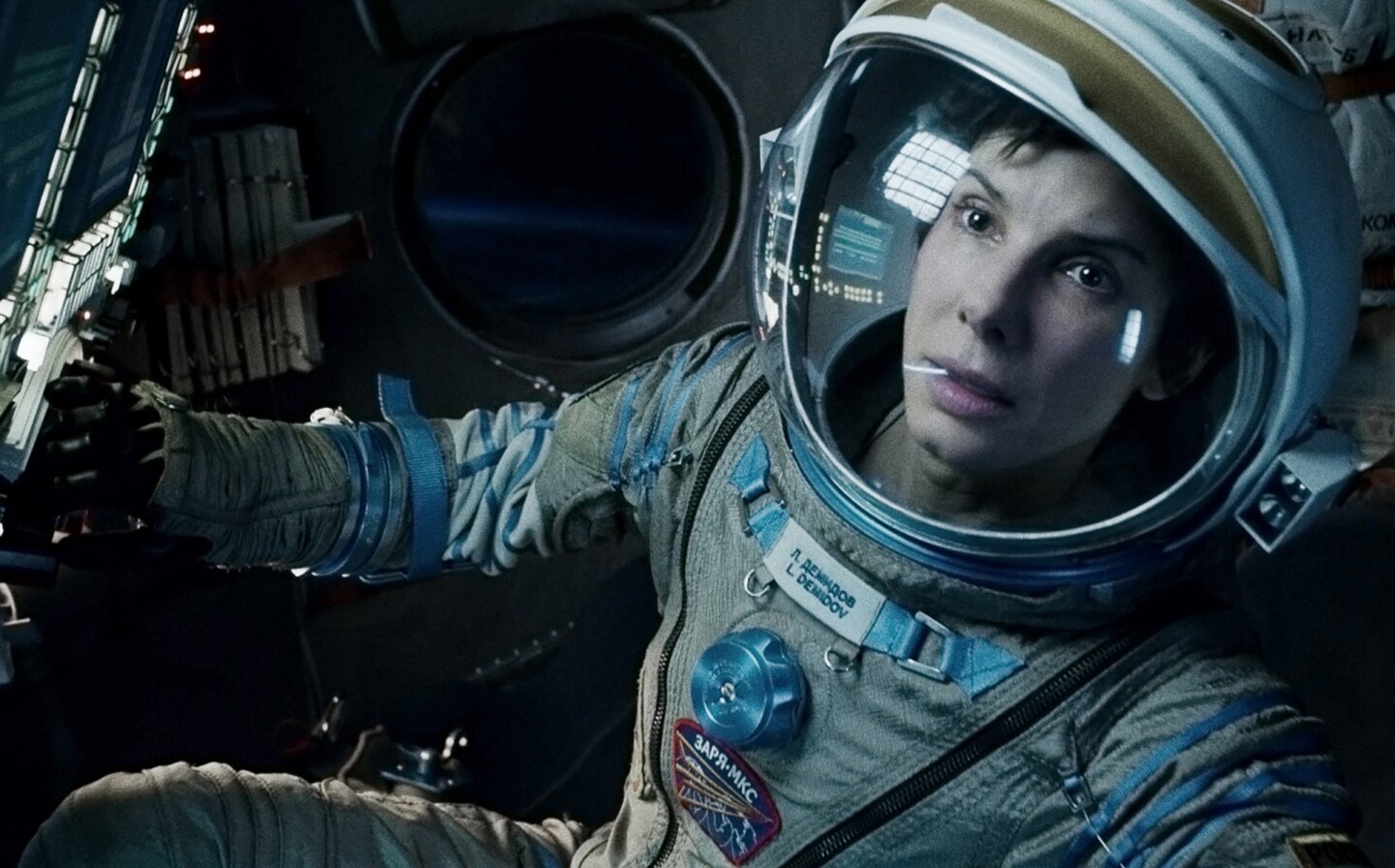 Sandra Bullock as Ryan Stone in "Gravity," a film about one woman's attempt to return to Earth after a failed space mission.
(Warner Bros. Pictures)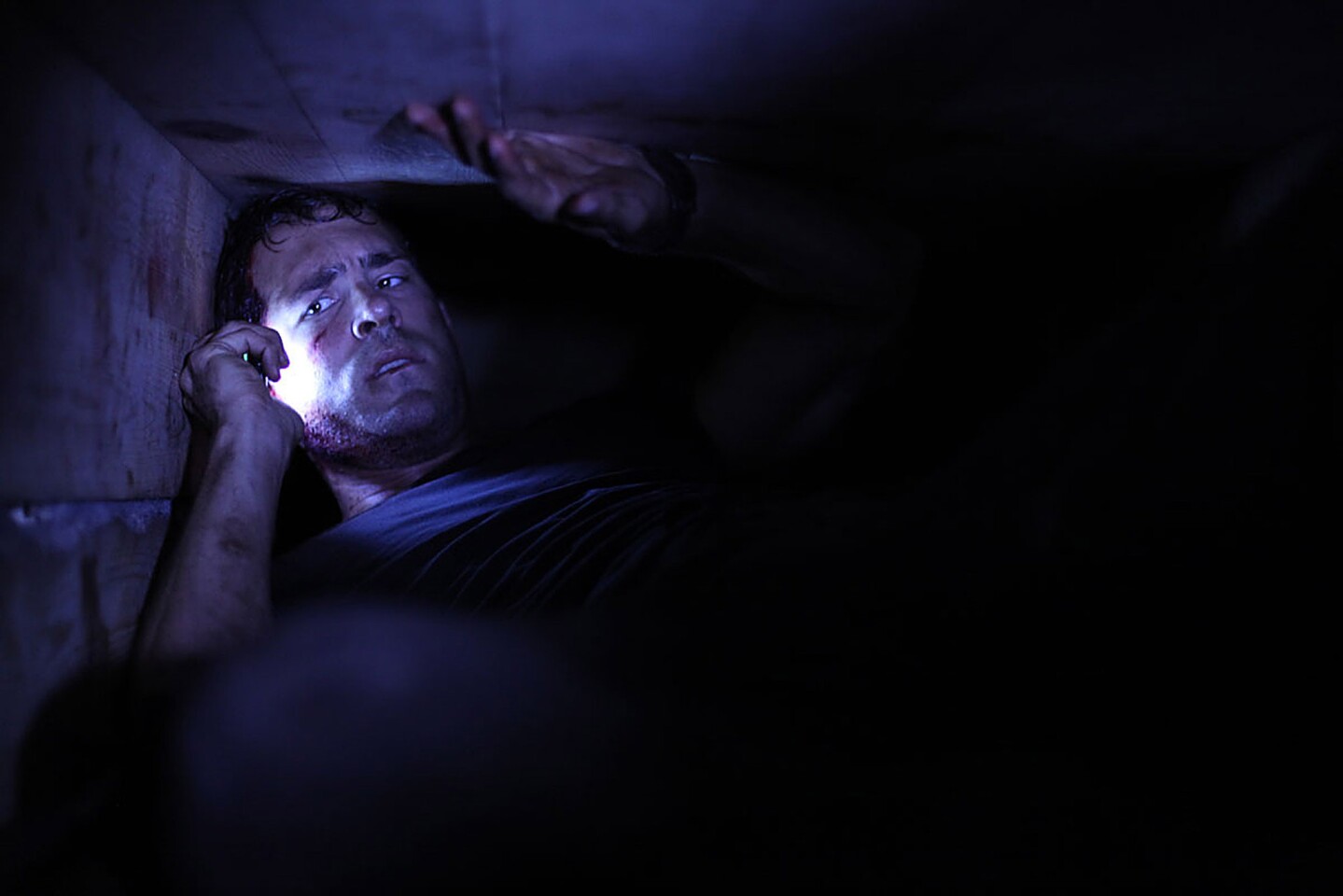 Ryan Reynolds as Paul Conroy in "Buried," a thriller about an Iraq-based U.S. contractor who wakes to find he is buried alive inside a coffin.
(Sundance)
James Franco as Aron Ralston, a real-life hiker who became trapped by a boulder in an isolated canyon in Utah.
(Chuck Zlotnick / Fox Searchlight Pictures)
Jean-Luc Godard, quoting D.W. Griffith, famously proposed that "All you need to make a movie is a girl and a gun."
While "a guy and a car" doesn't have quite the same zip, that combination worked wonders for the new suspense drama "Locke," in which Tom Hardy is the only actor who appears on screen and stays cloistered inside a speeding BMW for 85 minutes.
It's the latest addition to the subgenre of single-actor movies, which at their best demonstrate that sometimes less really is more (even in Hollywood). Here's a look at "Locke" and five more from the past five years.
"Locke" (2014): The title itself is stripped-down. It refers to Hardy's character, Ivan Locke, a construction site foreman on the eve of the biggest job of his career who has to juggle a series of phone calls about his family, his work and his future while driving through the night to attend to a personal commitment.
Though the hyper-minimalist "Locke" could have come off as dull or gimmicky, film critics have overwhelmingly praised Hardy's absorbing acting, Steven Knight's sure-handed direction (he also wrote the film) and cinematographer Haris Zambarloukos' inventive camera angles. The Times' Kenneth Turan called the movie "more minute-to-minute involving than this year's more costly extravaganzas."
"Locke," which opened on four screens April 25, took in a solid $81,006 over its first weekend, for a $20,252 per-screen average. It expands Friday and over the coming weeks.
"All Is Lost" (2013): While Hardy spends much of "Locke" gabbing on the phone, Robert Redford hardly speaks in writer-director J.C. Chandor's lost-at-sea drama. Redford plays an unnamed man (referred to as Our Man in the script) plunged into a desperate struggle to survive when his sailboat is wrecked in the middle of the Indian Ocean.
The film forgoes voice-over, flashbacks and conversations with sporting goods, and Redford acts almost entirely via facial expressions and physical actions. In doing so, he delivered what many have called the finest performance of his distinguished career.
"Gravity" (2013): Sandra Bullock also earned career-best notices for her turn as Ryan Stone, a medical engineer whose maiden space voyage goes catastrophically awry when her craft is destroyed by a cloud of debris. Though Bullock begins the mission alongside George Clooney's wisecracking veteran astronaut, the movie soon becomes hers as she embarks on a harrowing journey through the bleak expanse of space.
During production of the film, Bullock endured long hours of being maneuvered around a sound stage on a remote-controlled rig, a process she described as "lonely" and "frustrating," but "in the best way." Her performance earned her an Oscar nomination for best actress, and "Gravity" became a huge box-office hit, collecting more than $716 million worldwide.
"Buried" (2010): Ryan Reynolds, an actor best known for his looks and likability, showcased his dramatic range in Rodrigo Cortes' Hitchcockian thriller "Buried." In what may be the most claustrophobic film ever shot, Reynolds plays Paul Conroy, a truck driver trapped in a wooden box beneath the sands of the Iraqi desert, where he has been kidnapped and held for ransom by insurgents.
Cortes' camera never leaves the box, remaining fixed on Reynolds, his face illuminated by a flickering Zippo lighter or the glow of a cellphone, for 94 tense minutes.
Cortes told the Times in 2010 that there were plenty of skeptics when the film got underway. "I was told it would bring some oxygen to the audience if we were to show the surface or to cut out to the other side of the [phone] line," he said. "Or if we showed the other characters … There was talk of doing flashbacks. All of this, I thought, was the perfect way to spoil everything and ruin the film."
"127 Hours" (2010): Before the premiere of the fact-based drama "127 Hours," director Danny Boyle warned the audience, "If you don't like James Franco, you should just leave now." Though a few other actors appear in small roles, Franco is indeed the only person on screen for most of the movie, playing hiker Aron Ralston, who fell into a Utah canyon in 2003 and was trapped beneath a boulder for days, only escaping when he amputated his own arm. The climactic scene was so intensely visceral that some moviegoers passed out in response.
Franco, who earned an Oscar nomination for his performance, said the pressure of carrying the film didn't get to him. "Even though there's no other actors, I believe that movies are such collaborative experiences," he said at the film's premiere. "Regardless of the lack of other actors in the scenes, I was still collaborating with the whole team, Danny and the cinematographers, so it actually didn't feel like I was alone."
"Moon" (2009): Duncan Jones' sci-fi head-trip starring Sam Rockwell as a lonesome worker mining helium-3 on the dark side of the moon isn't technically a one-man show: Kevin Spacey voices Gerty, a talking computer a la HAL-9000, and Dominique McElligott appears in taped dispatches from Earth.
Most uniquely, though, Rockwell ends up acting opposite none other than himself, when his character takes ill and unexpectedly encounters a younger-looking doppelganger.
To pull off the illusion of interacting with himself, Rockwell would shoot one scene, change costumes, listen to the selected takes on an iPod and then shoot the other half of the scene.
"In a sense, you get to orchestrate the entire scene," Rockwell said of the process in an interview with The Times. "You get to be the tough guy and the weakling, you get to do it the way you want to do it. So it's good if you're a control freak."
ALSO:
'Star Wars: Episode VII': Will it have another major female role?
'Teenage Mutant Ninja Turtles' trailer: Turtles get their close-ups
Clint Eastwood's son Scott saddles up for Nicholas Sparks adaptation
---
Inside the business of entertainment
The Wide Shot brings you news, analysis and insights on everything from streaming wars to production — and what it all means for the future.
You may occasionally receive promotional content from the Los Angeles Times.