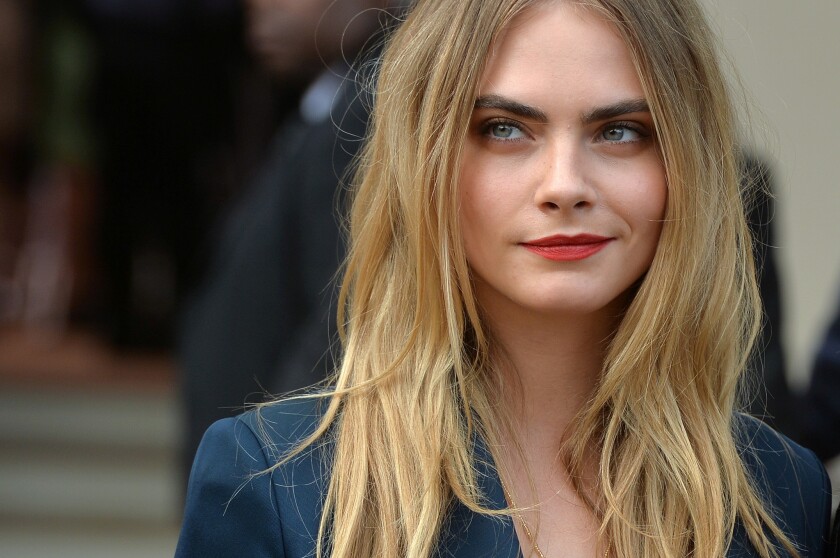 High-fashion model Cara Delevingne is taking a bit of an unusual leap — she's headed off the runway and into "Paper Towns," the latest film adaptation of a novel by "The Fault in Our Stars" writer John Green.
The 22-year-old Brit, who enjoys a strong measure of both runway and tabloid fame — is set to play the female lead in Fox's upcoming young-adult romance.
Set for release July 31, 2015, "Paper Towns" will tell the story of Quentin "Q" Jacobsen (Wolff), a high-school kid searching for his eccentric neighbor and crush, Margo Roth Spiegelman (Delevingne), after she vanishes. Jake Schreier ("Robot & Frank") is directing from a screenplay by "Fault" writers Scott Neustadter and Michael H. Weber.
Delevingne, who has walked in shows for Chanel, Oscar de la Renta and Burberry — and has also worked extensively with Chanel creative director Karl Lagerfeld, posing in many of his shoots — is known for both her bold, bushy eyebrows and her extensive network of celebrity friends. In the last year, she has frequently popped up on Rihanna's Instagram feed and has been seen with Hollywood starlets Miley Cyrus and Selena Gomez; she also walked hand in hand with Lagerfeld on the runway during Paris Fashion Week this year.
Like Kate Moss before her, Delevingne also has a knack for attracting tabloid attention — for one thing, she is known as an ex of Michelle Rodriguez.
Green, however, isn't worried about how the model's reputation might affect his good standing with YA fans. He tweeted Tuesday that Delevingne's audition "blew everyone away (including me!) and she understands Margo profoundly. I am so excited!"
Delevingne has been seeking film roles for the past couple of years. She had a minor part in 2012's "Anna Karenina" and will have a small role in Joe Wright's upcoming "Peter Pan" origin tale "Pan."
Her most recent movie, the Michael Winterbottom-directed Amanda Knox tale "The Face of An Angel," recently premiered at the Toronto International Film Festival, and Delevingne's performance earned surprisingly strong reviews. IndieWire's Kevin Jagernauth described her as "a radiant onscreen presence, with a magnetism that flows easily from the frame."
Of course, Delevingne is hardly the first model to try her hand at acting. Recently, Kate Upton — someone without the same, er, high-fashion bona fides — landed a substantial part in the comedy "The Other Woman," and "America's Next Top Model" vet Analeigh Tipton is starring in the ABC sitcom "Manhattan Love Story" this fall. But neither is exactly Karl Lagerfeld's muse.
---