George Clooney's 'Monuments Men' no work of art, reviews say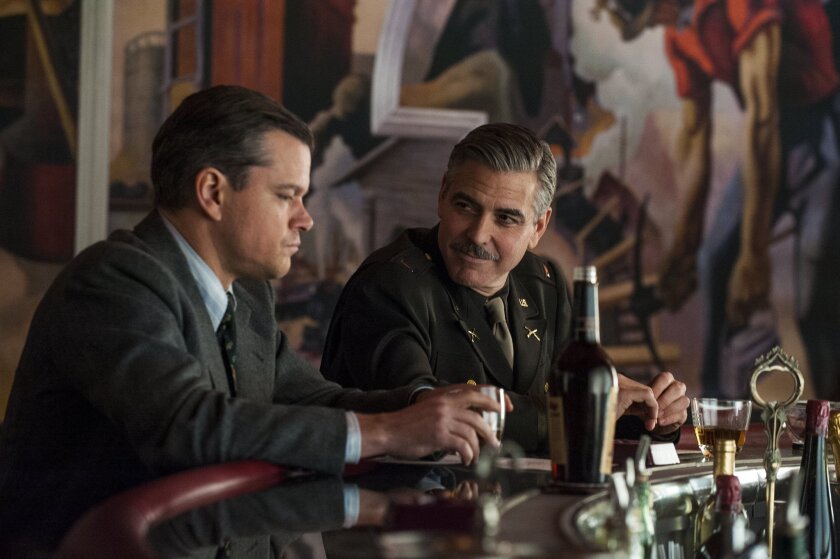 On paper, "The Monuments Men" has a lot going for it, including a starry cast led by director and co-writer George Clooney and a remarkable true story -- about a group of soldiers on a mission to protect priceless works of art in World War II Europe -- as its inspiration. On the screen, however, the movie stumbles, at least according to most film critics, who said it suffers from tonal inconsistency.
The Times' Kenneth Turan wrote, "Earnest and well-intentioned but ultimately inert, 'The Monuments Men' talks a better game than it can deliver. Inspired by true tales of World War II derring-do, it can't decide what kind of a film it wants to be and so ends up failing across a fairly wide spectrum."
The problem, Turan continued, "is that 'Monuments Men's' eyes are bigger than its stomach. In attempting to mix ersatz 'Ocean's Eleven' buddy humor with life-threatening World War II action while doing justice to the true story that underlies it all, the film never finds a consistent tone and ends up lacking in all areas."
PHOTOS: Winter movie sneaks 2014
The New York Times' Manohla Dargis called the film "a lightweight entertainment that doesn't ask you to think too hard." Of the cast, which includes Matt Damon, John Goodman and Bob Balaban, Dargis wrote, "It can be nice to spend time with these actors even when you don't believe their characters for a single second, and there's no denying this movie's easy pleasures, including the guaranteed satisfaction that comes in watching, yet again, the Nazis go down in defeat. Yet because Mr. Clooney can't figure out what kind of story this is, he too often slips into pandering mode, including in his own performance, which is filled with too many smiles and speeches."
Ty Burr of the Boston Globe said the movie "should work like a pip. Instead, 'The Monuments Men' is a tonal mishmash: Half 'Hogan's Post-Doctoral Heroes,' half 'Saving Private Rembrandt,' and half 'Ingres's 11.' That's three halves, so you can see the problem."
He added, "All the pieces are here -- a fascinating story, excellent production values, a handful of solid scenes, and strong performances. ... Yet the pieces never match up, because the script can't decide whether it's a caper comedy, a patriotic drama, or a historical adventure."
The Village Voice's Stephanie Zacharek wrote that "'The Monuments Men,' either despite its clearly noble intentions or because of them, stumbles on the march. ... Clooney can't control the story; it keeps flying out of his grasp like an unruly spring." On the plus side, "Clooney finds glory in the corners. His great skill as a director may be his affinity for actors. The performers in a Clooney-directed movie nearly always have some quiet sparkle about them."
PHOTOS: Box office top 10 of 2013
Claudia Puig of USA Today found the film "genial and well-intentioned, but tepid." It represents "a particular disappointment coming from Clooney who, as a filmmaker, has directed some undeniably smart and nuanced films such as 'Good Night, and Good Luck' and 'The Ides of March.' Here he seems torn between approaching the story with a sense of reverence and making it a more mainstream, oversimplified entertainment. He settles on a pedestrian perspective, and slack pacing does it no favors."
"The Monuments Men" does have its supporters, however, chief among them Rex Reed of the New York Observer. In a rave review, he wrote that "Monuments Men" is "riveting, suspenseful, harrowing and exciting, and somehow, it also manages to be something rare among war pictures -- a big-scale entertainment."
ALSO:
Paul Walker film 'Brick Mansions' set for April release
'Lego Movie' a colorful, outside-the-box adventure, reviews say
'Grand Budapest Hotel' cast on Wes Anderson's latest 'dreamscape'
---
The complete guide to home viewing
Get Screen Gab for weekly recommendations, analysis, interviews and irreverent discussion of the TV and streaming movies everyone's talking about.
You may occasionally receive promotional content from the Los Angeles Times.