A lifesaver for Jewish kids in Nazi-occupied Czechoslovakia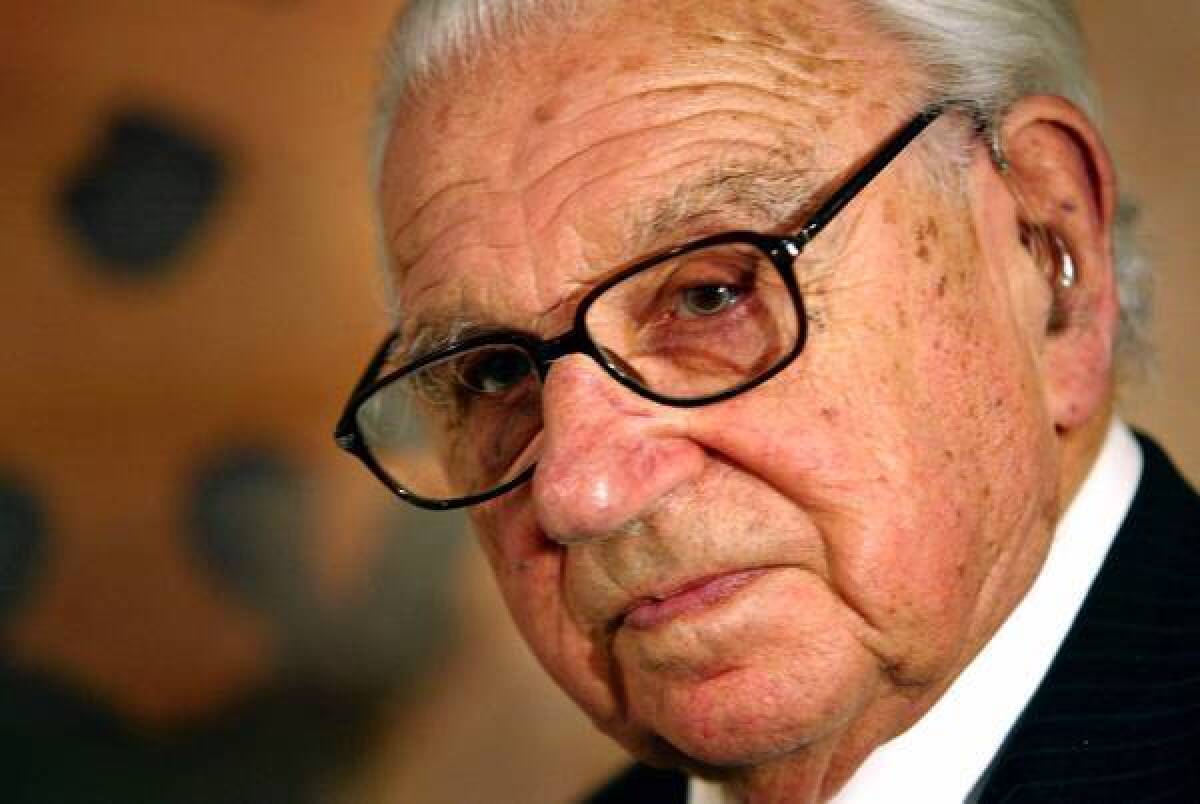 After visiting Prague in late 1938, a young British stockbroker named Nicholas Winton had an "intuition" about the fate of Jews in Czechoslovakia now that the country had come under Nazi occupation. So he began his own Kindertransport organization to rescue at risk Jewish children and send them to safety in England.
Before the outbreak of World War II in Europe on Sept. 1, 1939, this British Oskar Schindler was able to organize seven rail-sea transports bringing 669 youngsters to host families in Great Britain.
Winton never discussed his heroic accomplishments with his wife and children. Then in 1987, his wife, Grete, found a scrapbook from 1939 in their attic with the children's photos, a list of their names and letters from parents to the children and other documents.
PHOTOS: Hollywood backlot moments
"Nicky's Family," a new documentary by Matej Minac, based on the filmmaker's 2002 international Emmy-winning documentary "The Power of Good — Nicholas Winton," chronicles Winton's Herculean efforts through dramatic re-enactments, vintage photos and interviews with Winton and the various children he saved, including CBC news correspondent Joe Schlesinger, who narrates the film, and Eva Paddock, a former schoolteacher who lives in Cambridge, Mass., with her husband.
Schlesinger, 85, was sent to live with relatives in England during the war. "I should say that they weren't exactly enthused about having me," he said. "They sent me to a Czech refugee school in Shropshire and in Wales." After the war, he learned his parents had perished in Auschwitz.
Paddock, was just 3 when she and her older sister got the last train out of Prague. They were sent to live in the British countryside with a foster family, the Radcliffes. "We called them Mummy and Daddy Radcliffe the rest of our lives," she said.
Unlike the parents of the majority of the children, Paddock's not only survived but they also both escaped and came to England in 1940, where they were reunited with their children. "We lived near the Radcliffes," she said.
Among the other children Winton saved were the late film director Karel Reisz ("Isadora"); Lord Alfred Dubs, a minister in the Cabinet of former British Prime Minister Tony Blair; and Vera Gissing, author of "Pearls of Childhood."
The 104-year-old Winton, who was knighted by Queen Elizabeth II for his work, recently broke his hip but still lives at home and gets around with a walker. Schlesinger joked that he recently asked Winton on the phone how he was feeling and he told him, "'I'm fine from the neck up."'
"He has more of a social life than I do," said his son, Nick.
In an email interview, the elder Winton said he didn't talk about his accomplishments because "there were more important things going on than to dwell in the past."
"He is very forward-looking," said his son.
"In the U.K., I'm visited by many of the Kinder and their family, children and grandchildren," the elder Winton added. "It's always a pleasure to see him."
"It's wonderful," said his son. "Where most people are going into decline, he has parades of Kinder and their children visiting him."
Neither Paddock nor Schlesinger ever wondered how they got to England in 1939.
"We grew up, the war was over and went on with our lives," said Paddock. "We were very grateful that Britain had taken us. You don't ask a lot of questions."
ON LOCATION: Where the cameras roll
The children learned of Winton's identity shortly after Grete found the scrapbook. Grete brought her husband's story to the attention of Elisabeth Maxwell, a Holocaust historian and wife of newspaper magnate Robert Maxwell, who published a piece about Winton in the Sunday Mirror in 1988. That lead to an appearance on a BBC program called "That's Life," in which several of the children in the audience introduced themselves to Winton and thanked him for saving them.
When Schlesinger learned of Winton's identity, "I went to see him, and that was the beginning of a long friendship."
"It was really wonderful to learn who he was," echoed Paddock. "My husband and I did a lot of back and forth to England to see my mother and sister. After I heard who he was, I phoned his wife on one of our trips and said could we just come for a cup of tea and thank Nicky. She said nobody comes for a few minutes. Since then, I have seen him quite often."
It rankles Schlesinger that Winton often gets "treated as a one-trick pony" when it comes to his other accomplishments. "He's always been involved in charitable activities," said his son.
"If you look at any bios, it's about him rescuing the children," said Schlesinger. "That is just one thing he did. This guy has been altruistic all of his life."
---
Get our L.A. Goes Out newsletter, with the week's best events, to help you explore and experience our city.
You may occasionally receive promotional content from the Los Angeles Times.