Song's Oscar nomination is revoked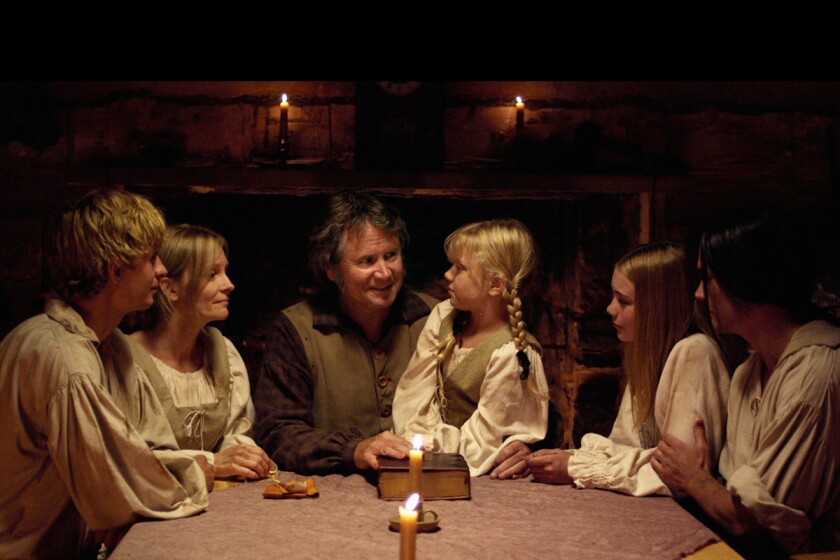 Papa Leininger (Robert Pierce) reads the Bible aloud to his family, reminding them that God will never leave them or forsake them.
(Enthuse Entertainment)
A young George Washington (Josh Murray) brings Chief Selinquaw (Ron Pinson) to visit Gen. Braddock (James McKenny), not pictured.
(Enthuse Entertainment)
Barbara (Natalie Racoosin) comforts Regina (Cassie Brennan).
(Enthuse Entertainment)
Galasko (Ozzie Torres) proposes marriage to Susquehanna/Barbara Leininger (Kelly Greyson).
(Enthuse Entertainment)
Kelly Greyson as Barbara catches a glimpse of sunlight.
(Enthuse Entertainment)
It was always a long shot. Now, an Oscar nominee for best original song has no shot at all.
In a startling turn, the Motion Picture Academy has revoked the nomination of "Alone Yet Not Alone," the song from a faith-based movie of the same name, citing improper actions by one of the songwriters.
Bruce Broughton, who penned the song's music, also serves on the executive committee of the academy's music branch, whose members vote on the song nominations. The academy said Broughton improperly emailed members of the branch during the voting period, urging them to listen to "Alone Yet Not Alone."
PHOTOS: Movie scenes from 'Alone Yet Not Alone'
Academy President Cheryl Boone Isaacs said Broughton's action posed a perception problem and, as such, violated the bylaw that campaigning must be conducted "in a fair and ethical manner."
"No matter how well-intentioned the communication, using one's position as a former governor and current executive committee member to personally promote one's own Oscar submission creates the appearance of an unfair advantage," Boone said in a statement.
But Broughton said that he did nothing wrong — indeed, entreaties of some type or another to members of various branches are common during awards season — and that the disqualification was the result of pressure from snubbed rivals.
PHOTOS: Oscars 2014 top nominees | Nominee reactions | Snubs and surprises
"... I'm getting something taken away from me when these other studios have been skirting on the edges of proper behavior for months, backed by huge troughs of money," Broughton told The Times. "I feel sullied. I feel dirtied. I don't like my reputation being taken down like this."
Ray Costa, Broughton's publicist, said the veteran composer emailed "about a fifth" of the other 239 members of the music branch, asking them to "please consider the song." The relatively small number of branch members means that the difference between a nomination and a snub could be just a few votes. (The full academy does not vote on the nomination list.)
It is the first time a nominee has ever been disqualified for improper campaigning, the academy said. In the 86-year-history of the Oscars, only four other nominees have had their nominations rescinded, usually for technical reasons having to do with eligibility requirements.
BUZZMETER: Pundits' Oscars 2014 picks
No new nominee will be named in the category, whose four remaining entrants are U2's "Ordinary Love" from the film "Mandela," Pharrell Williams' "Happy" from "Despicable Me 2," Kristen Anderson-Lopez and Robert Lopez's "Let It Go" from "Frozen" and Karen O and Spike Jonze's "The Moon Song" from "Her."
"Alone Yet Not Alone" raised eyebrows when it was included in that list. The song, whose lyrics were written by Dennis Spiegel, came from an independent movie about 18th-century colonists that few had heard of and that had received a niche release in no more than 11 theaters, where it has taken in about $100,000 at the box office. A larger release is planned later this year.
The unusual move is likely to revive a debate about acceptable methods of Oscar campaigning.
"I was confused by the logic of all of this," said a member of the academy's music branch who asked not to be identified because of the sensitive nature of the issue. "I received several personal calls and emails from publicists asking me to vote for the songs they represented. I never received a single call or email from either Bruce or Dennis."
Oscar voting begins on Feb. 14, with the winners announced in an ABC telecast from the Dolby Theatre on March 2.
ALSO:
VIDEO: Envelope Screening Series
Oscars 2014: Complete list of nominees
---
Inside the business of entertainment
The Wide Shot brings you news, analysis and insights on everything from streaming wars to production — and what it all means for the future.
You may occasionally receive promotional content from the Los Angeles Times.