Pink channels addiction struggles in 'Thanks for Sharing'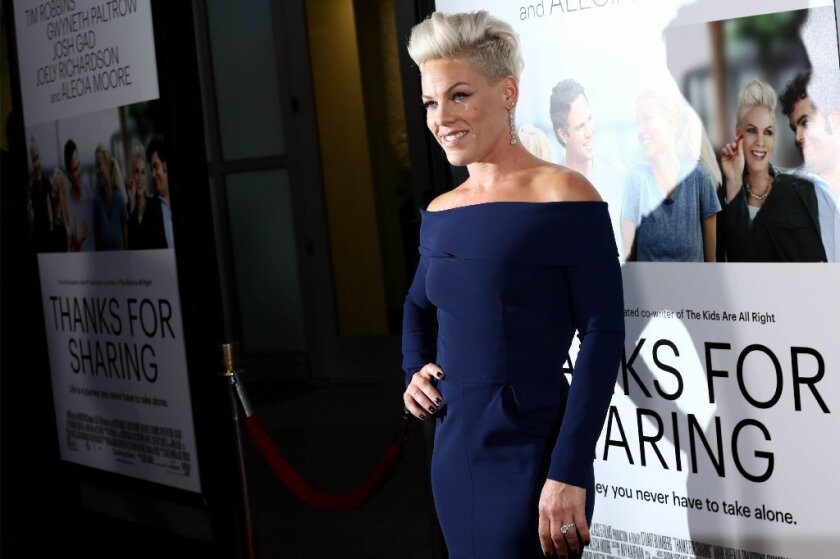 On most red carpets, Alecia Moore is known as Pink. But at the premiere of "Thanks for Sharing" on Monday night, the pop star was recognized by her given name, which was printed in big bold letters on movie posters outside the ArcLight Hollywood.
Moore, 34, has her acting debut in the sex addiction comedy, out Friday. She stars alongside Mark Ruffalo, Josh Gad and Tim Robbins as a woman who attends Sexaholics Anonymous meetings to help control her desire to sleep with strange men.
The "Get the Party Started" singer has real-life experience with addiction. Moore lost her childhood best friend in 2010 to a prescription drug overdose, 15 years after she herself suffered a near-fatal overdose.
PHOTOS: Billion-dollar movie club
"I was a hard-core partyer from 12 to 15," Moore told Entertainment Weekly last year. "I was like a candy raver and I was on all the club drugs, selling Ecstasy and crystal meth and Special K."
Portraying a sex addict, however, proved to be a different challenge. While her co-star Gad attended S.A. meetings in secret, Moore read books on the subject.
"I believe that all addiction comes from the same monster, it just wears different masks," the Grammy-winner said on the carpet.
Even gazing at her name on the film's poster behind her, Moore insisted she's "not an actress."
"I'm just here," she said, shrugging. "My whole thing is be fearless. If something scares you, do it."
On set, however, Gad said he sensed no trepidation from the acting newbie. On the first day of filming, he recalled, Moore showed up on set and apologized in advance to her colleagues if her lack of experience held anyone back.
"And then the cameras rolled and it was like we were in 'Sophie's Choice,'" Gad said. "I looked over at Tim and Mark and I was like, 'We're dead.'"
Having just wrapped up a concert tour in Australia, Moore insists she has no further acting plans. She'd rather keep her focus on singing -- she was this week named Billboard's Woman of the Year -- and raising her 2-year-old daughter, Willow.
Asked if she would someday show "Thanks for Sharing" to Willow, Moore didn't hesitate.
"Sure," she said. "If I know my daughter, I'm not going to be able to tell her much. She's fierce. But we need our girls to be fiery."
ALSO:
'Blurred Lines' model cast with Ben Affleck in 'Gone Girl'

Death of Cory Monteith makes film successes 'bittersweet'
'Thanks for Sharing': Josh Gad likes challenge of winning viewers over

---
Get the Indie Focus newsletter, Mark Olsen's weekly guide to the world of cinema.
You may occasionally receive promotional content from the Los Angeles Times.