Roger Ebert career highlights, on page and screen
Roger Ebert, the Pulitzer Prize-winning film critic, died on Thursday at age 70. He had battled cancer on and off for the final decade of his life. Ebert lost his jaw and his ability to speak following a surgery to remove cancerous tissue in 2006, but for the final few years of his life, he continued to connect with his readership through prolific use of social media and his blog.
(Charles Rex Arbogast / Associated Press)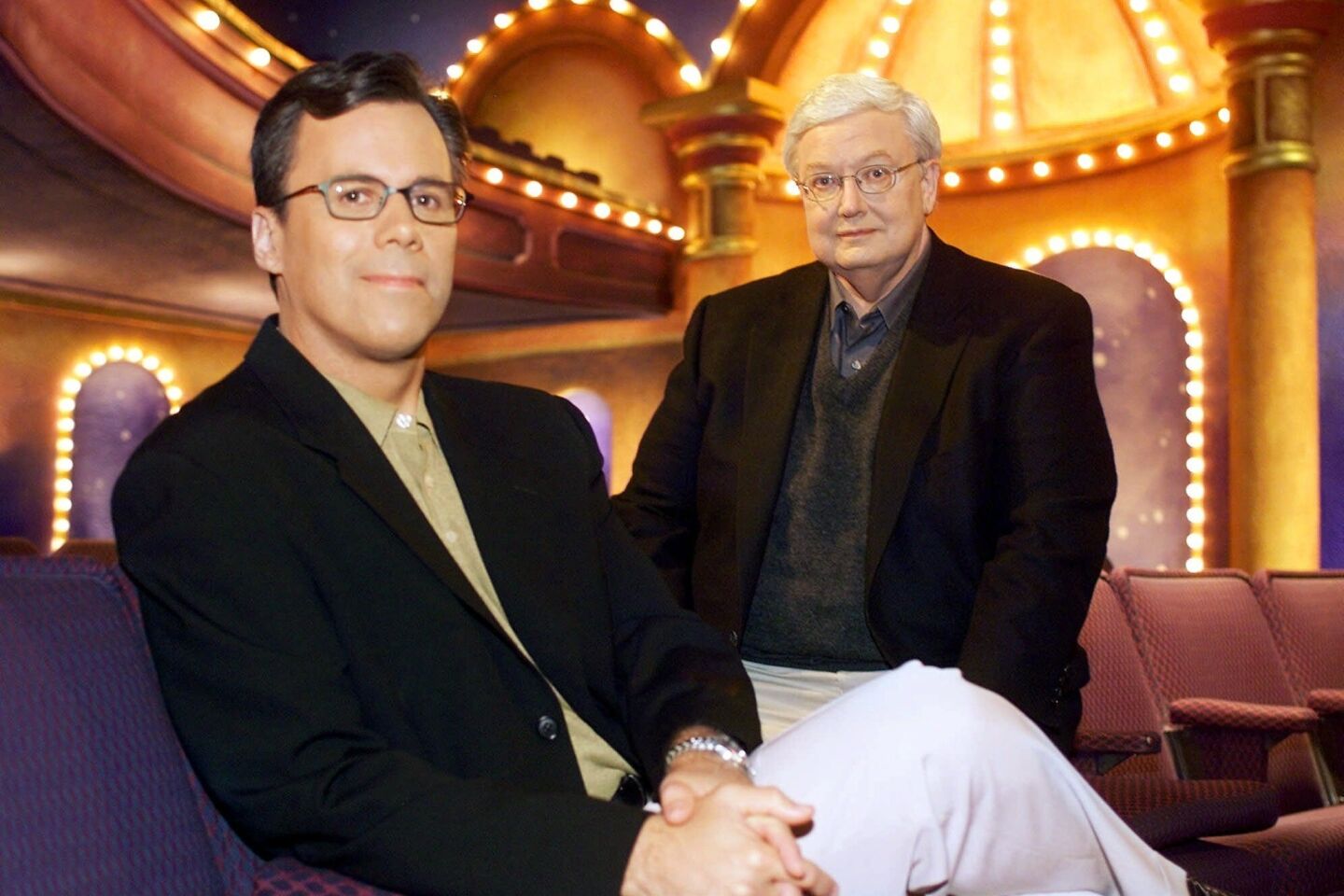 After Siskel died in 1999 following complications from a surgery to remove a cancerous brain tumor, Ebert continued the show with a rotating series of guest critics, before pairing permanently with fellow Chicago journalist Richard Roeper in 2000. When Ebert underwent his own cancer surgery in 2006, Roeper continued to host the show for two more years with a variety of guest critics.
(Fred Jewell / Associated Press)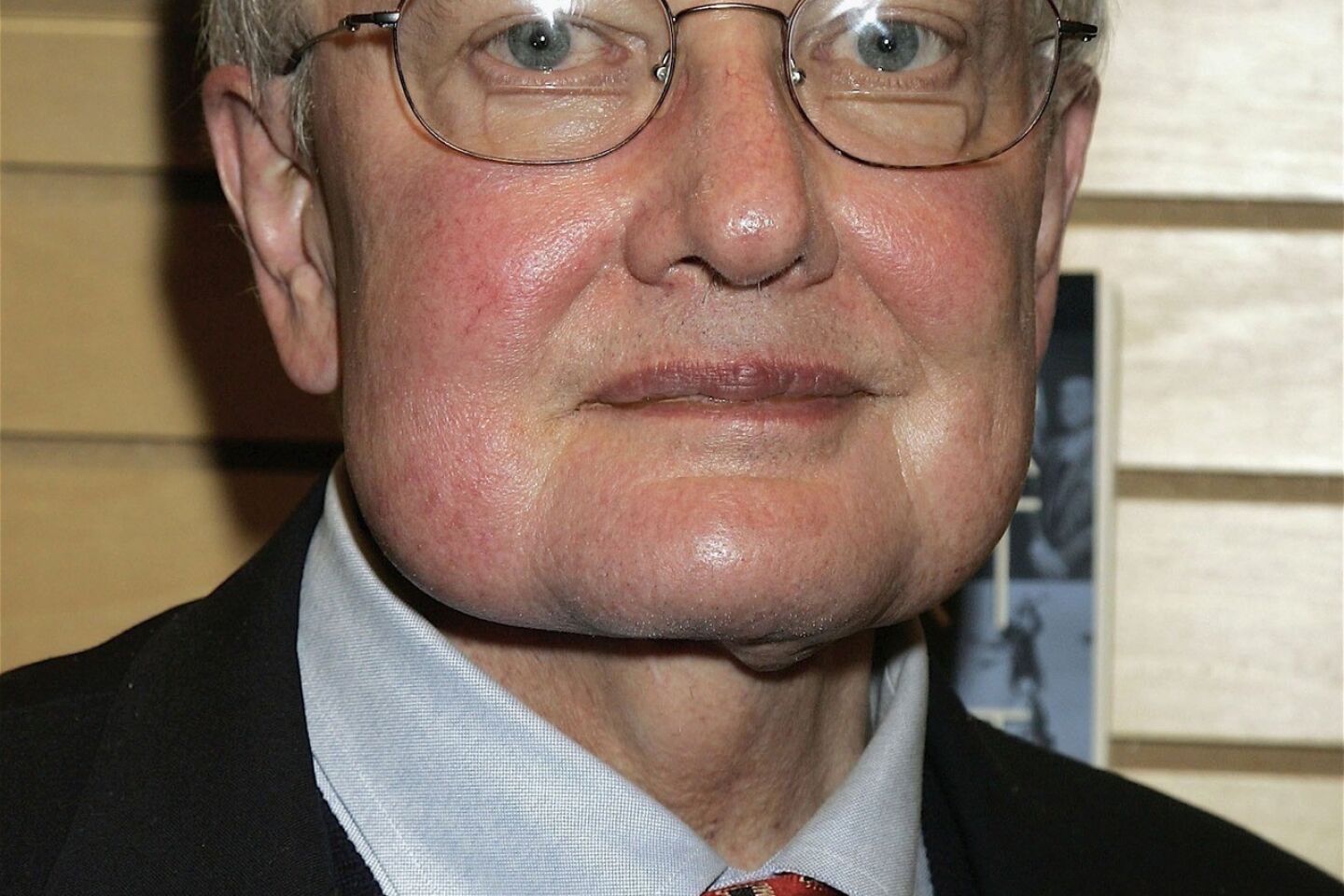 Despite his fame as a TV personality, Ebert never let his duties as a newspaper film critic waver. He continued to publish hundreds of reviews a year and wrote several books, including his memoir, "Life Itself," in 2011. Ebert won the Pulitzer Prize for criticism in 1975.
(David Livingston / Getty Images)
In 2005, Ebert was awarded a star on the Hollywood Walk of Fame. He was the first film critic to be awarded the honor. Here, he is with Richard Roeper.
(Ric Francis / Associated Press)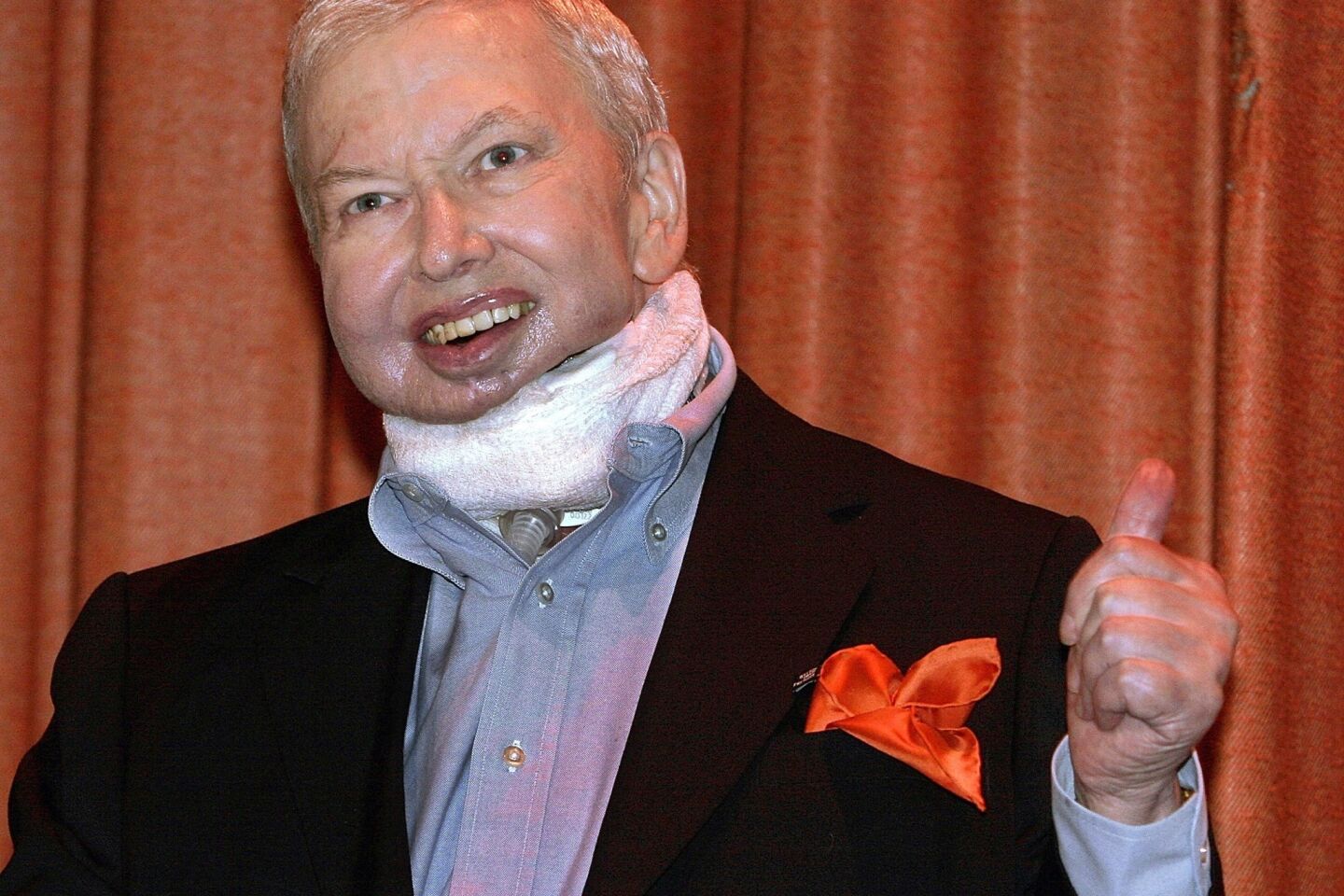 In 1999, Ebert began what has become an annual film festival at his alma mater, the University of Illinois at Urbana-Champaign. The festival, which was originally called "Roger Ebert's Overlooked Film Festival," is now just called "Ebertfest." While Ebert himself originally hosted the post-screening Q&As, the job was given to a variety of people following Ebert's loss of voice.
(Seth Perlman / Associated Press)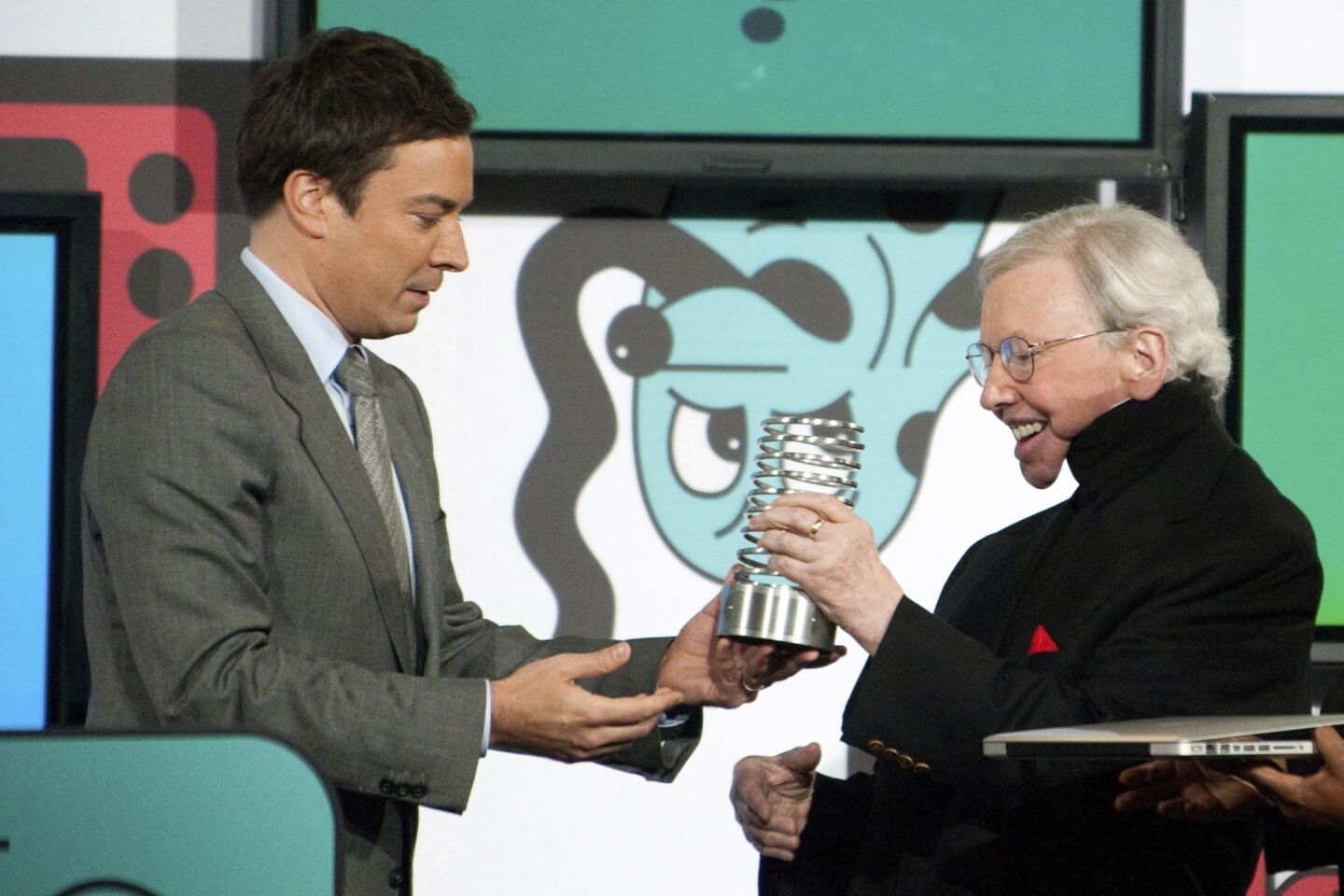 Ebert gave few TV appearances following his jaw surgery in 2006, but he continued to write and tweet and began discussing more than film. In his blog posts, he tackled art, food, religion and politics. As a result of his increased online presence, he attracted a new generation of readers and fans and won the Person of the Year Award at the 14th annual Webby Awards in 2010.
(Charles Sykes / Associated Press)
Roger Ebert's passing Thursday at age 70 leaves behind a staggering body of work: He reviewed as many as 285 movies a year, spent decades as a fixture on TV and published 17 books. Following are but a few highlights from his prolific career.
Ebert began working as a film critic at the Chicago Sun-Times in April 1967. Among his first reviews was Arthur Penn's "Bonnie and Clyde," starring Warren Beatty and Faye Dunaway. Ebert wrote, "Years from now it is quite possible that 'Bonnie and Clyde' will be seen as the definitive film of the 1960s, showing with sadness, humor and unforgiving detail what one society had come to."
A few years later, he wrote the screenplay for the exploitation film "Beyond the Valley of the Dolls" for Russ Meyer, though he would return to journalism before long.
Roger Ebert: Career in pictures
The year 1975 was a fateful one for Ebert, as he became the first film critic to win the Pulitzer Prize and also began his television career alongside Chicago Tribune movie critic Gene Siskel. Here's their review of "One Flew Over the Cuckoo's Nest" (1975). Note Siskel's lengthy explanation of the show at the beginning of the clip. Later versions would need no such introduction.
In 1981, Siskel and Ebert's show was renamed "At the Movies," and in 1986 the two critics got top billing as the show was retitled "Siskel and Ebert and the Movies." It was during this time, under Disney's Buena Vista Television, that Ebert came up with their famous "two thumbs up" catch phrase (since trademarked). Here is their review of "Return of the Jedi" from "At the Movies" in 1983.
In 1997, Ebert began writing about classic movies as well as current ones, and in 1999 he began his own film festival, the Overlooked Film Festival (a.k.a. EbertFest). Siskel passed away the same year. Below is a clip of Siskel and Ebert's review of 1991's "The Silence of the Lambs":
Richard Roeper would eventually succeed Siskel in 2000, after a series of temporary co-hosts. Here is their scathing review of the 2004 superhero bomb "Catwoman." Ebert's pithy opener: "There are three good things in it: Halle Berry's face, Halle Berry's body and Halle Berry's costume. Those are first-rate. Everything else in this movie is unbelievably bad."
In 2005, Ebert's name was added to the Hollywood Walk of Fame. That same year, Ebert penned another memorable bon mot after Rob Schneider called out Patrick Goldstein (then a columnist at the L.A. Times) for insulting "Deuce Bigalow: European Gigolo." In full-page ads in Variety and the Hollywood Reporter, Schneider questioned Goldstein's credentials and wrote, "Maybe you didn't win a Pulitzer Prize because they haven't invented a category for Best Third-Rate, Unfunny Pompous Reporter Who's Never Been Acknowledged by His Peers."
Ebert came to Goldstein's defense in his review of the film, writing, "As chance would have it, I have won the Pulitzer Prize, and so I am qualified. Speaking in my official capacity as a Pulitzer Prize winner, Mr. Schneider, your movie sucks."
Ebert's battle with cancer forced him off the air in 2006, when he lost part of his lower jaw and the ability to speak. Still, he continued his prolific writing, and also developed another way to communicate, as seen in this CBS video.
Ebert's final published piece came two days ago, when he announced that he would be taking "a leave of presence" and slowing his output while focusing on his health. The piece concluded: "On this day of reflection I say again, thank you for going on this journey with me. I'll see you at the movies."
ALSO:
Remembering Roger Ebert through his books
Roger Ebert dies at 70; Pulitzer Prize-winning film critic
Fans, celebrities react to death of film critic Roger Ebert
Get our L.A. Goes Out newsletter, with the week's best events, to help you explore and experience our city.
You may occasionally receive promotional content from the Los Angeles Times.