SAG Awards nominations 2013: 'Lincoln,' 'Les Miz,' 'Silver Linings'
Leave it to E!'s Giuliana Rancic to give us the cringe-inducing quote of the evening. Talking to "Modern Family's" Julie Bowen and Sofia Vergara in black and white dresses, she commented, "You guys are the hottest Oreo cookie I've ever seen." Maybe it's time for Rancic to get a snack. Runner-up belongs to her red carpet co-host Ross Mathews, who wondered if Bradley Cooper would have children and call them "mini Coopers." He actually laughed at this.
(AFP / Getty Images)
Second cringe-inducing moment of the night came from the SAG Awards intro, which showed shots of the stars on the red carpet accompanied by an announcer screaming things such as, "Hey, Ben Affleck! Argo find your seat!" Or "Jessica Chastain looks Zero Dark Flirty." Or the exceedingly clever, "Hey, Daniel Day-Lewis!" (Some people are just humor-proof.)
(Frazer Harrison / Getty Images)
Bonus acceptance speech points go to Anne Hathaway, who conveniently forgot the names of her agents during her acceptance speech for supporting actress in "Les Miserables." No one wants to hear a laundry list of people they've never heard of, and by forgetting their names, she spared everyone that pain. She also gave a shout-out to "The Dark Knight Rises," which puts her square in the cool book.
(Mark Davis / Getty Images)
Lena Dunham may live to regret her comments about enjoying Amy Poehler and Tina Fey's work when she was in middle school during her Golden Globes acceptance speech two weeks ago. While Fey and Poehler made jokes about it that evening, Fey couldn't resist bringing it back up at the SAG Awards. During her acceptance speech for lead actress in a comedy series, she turned to Poehler and said, "I share this with my sweet friend Amy Poehler.... I've known you since you were pregnant with Lena Dunham."
(Robert Gauthier / Los Angeles Times)
Know who probably feels terrible tonight? The supporting cast of "30 Rock." While their leading man, Alec Baldwin, and leading lady, Tina Fey, both won SAG Awards, the rest of the cast members were shunned in favor of the cast of "Modern Family." It was as if the voters were saying, "Well, we love some of you." On top of that, the series finale airing Thursday means they're officially unemployed.
(Frederic J. Brown / AFP Getty Images)
To introduce "Les Miserables," Hugh Jackman and Anne Hathaway wisely decided to describe the plot in 2013 terms, thereby winning over a new generation of fans: "Wolverine is being chased by Gladiator. Catwoman gets knocked up and goes to see Bellatrix Lestrange from Harry Potter and Borat. Then Wolverine agrees to raise Catwoman's baby, and she grows up to star in Mamma Mia." If that doesn't guarantee them the MTV Movie Award this summer, then nothing will.
(Mark Davis / Getty Images)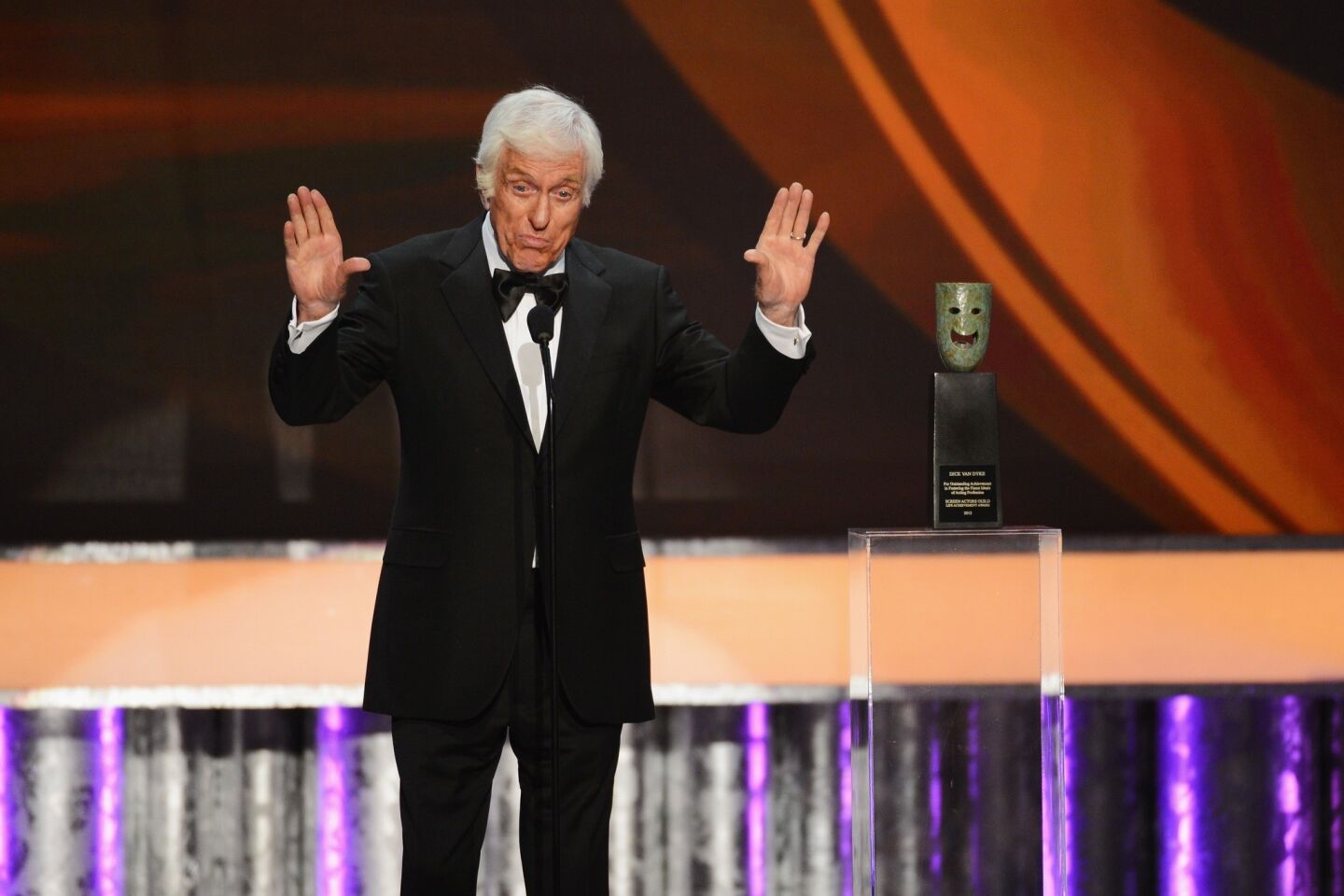 The flu has struck Hollywood! The stars at the SAG Awards were either recovering (Jennifer Lawrence, Marion Cotillard) or they were laid up (Carl Reiner, Mary Tyler Moore). Life Achievement Award winner Dick Van Dyke warned everyone, "There's a lot of flu going around... I'm *cough* all right."
(Mark Davis / Getty Images)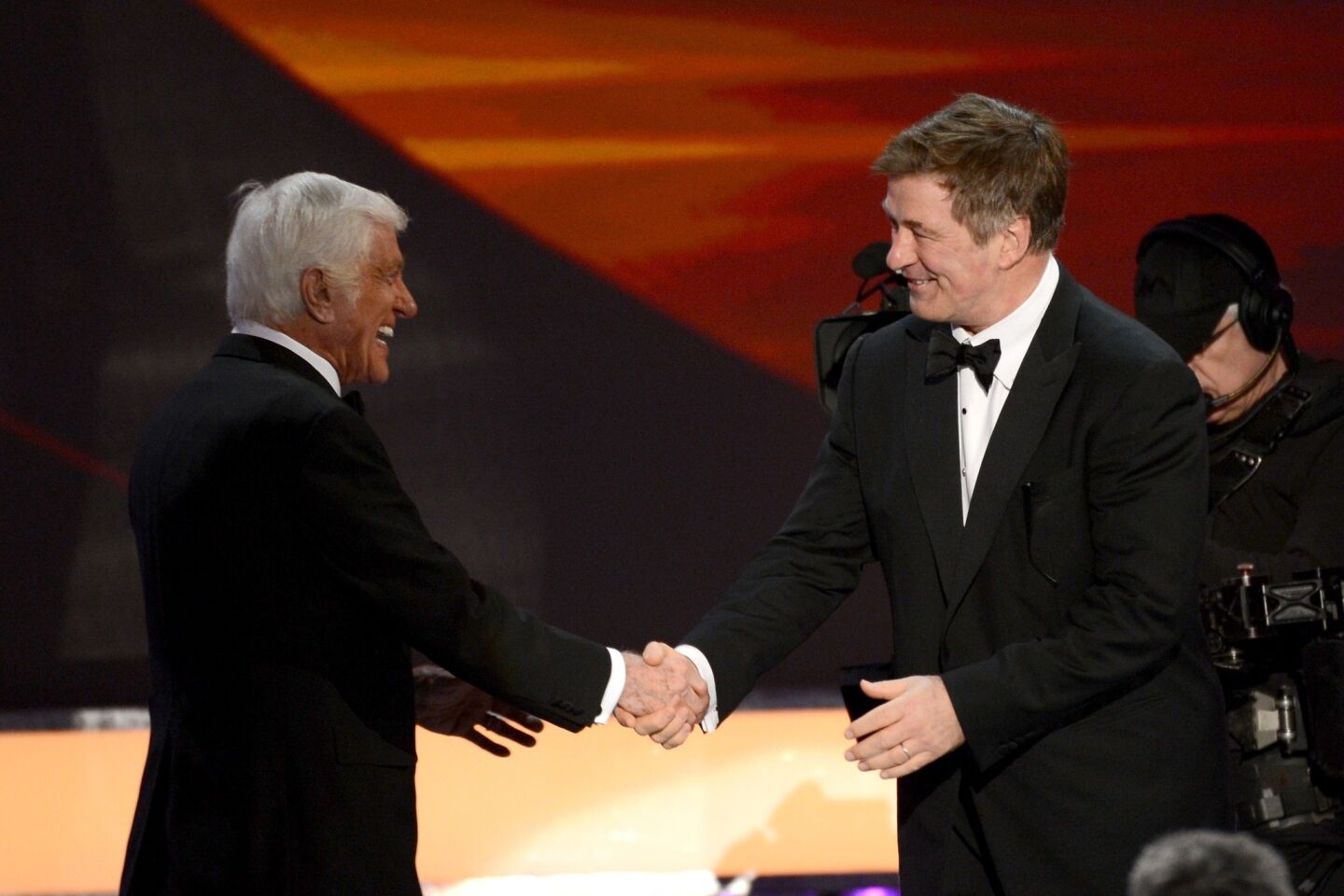 Dick Van Dyke may be 87, but he looked and acted fully 10 years younger than that as he bounded onto the stage to accept his lifetime achievement award. "This does an old man a lot of good," he said in response to his standing ovation. After a truly classy acceptance speech, he belied his age for only a moment, when he fumbled for presenter Alec Baldwin's name, accidentally calling him Tony Bennett.
(Mark Davis / Getty Images)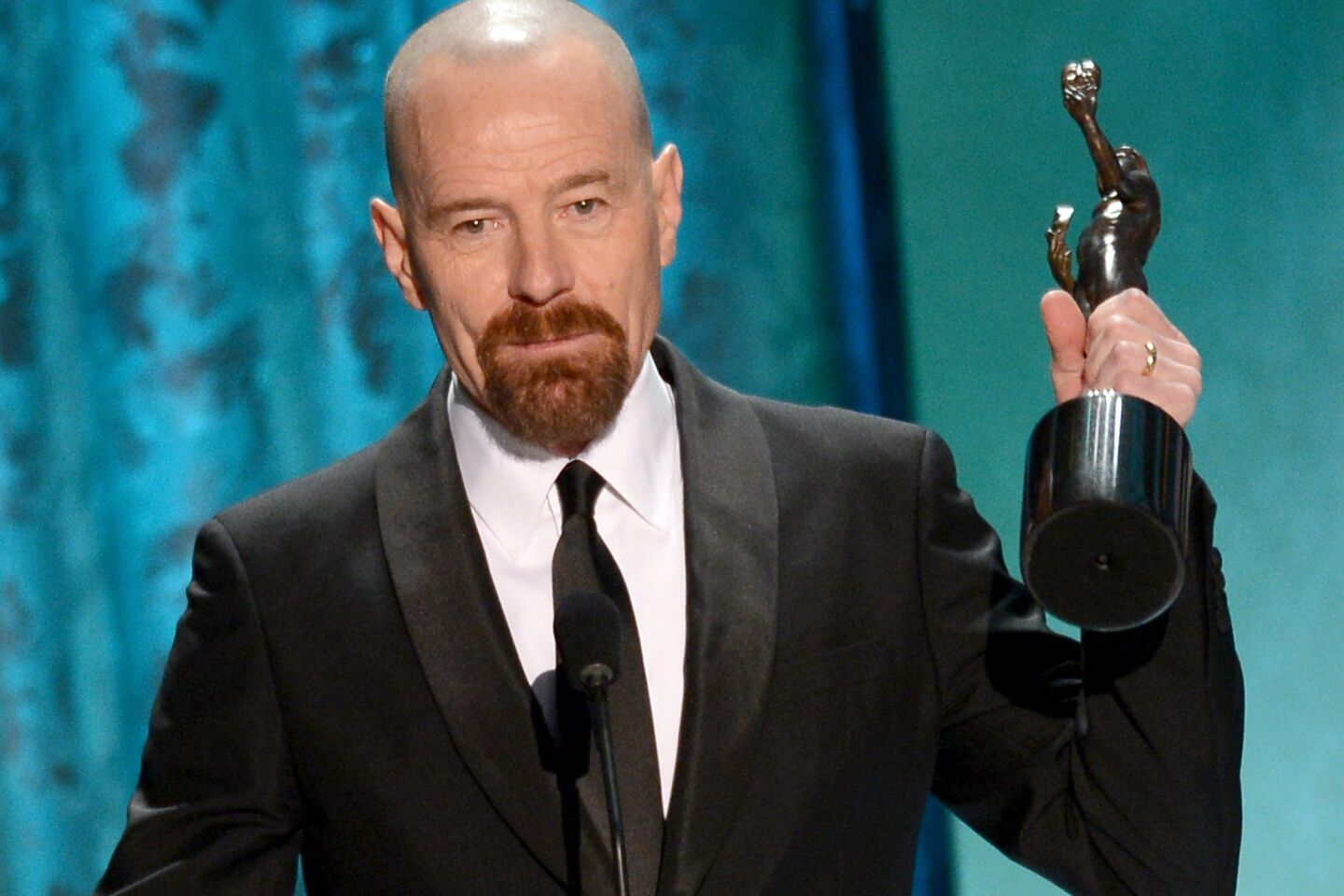 Amazingly, Bryan Cranston had never won a SAG Award for his role as the high school teacher who becomes a meth kingpin in "Breaking Bad" before tonight. Now amid filming the show's final episodes, Cranston basked in the love from his fellow actors and even created one of the night's most touching moments when he took a moment to acknowledge his wife and daughter Taylor. "Taylor, you created the role of my life," Cranston said. In the audience, Taylor's unheard response was "I love you, Dad."
(Mark Davis / Getty Images)
Everyone likes a nice shocker in their awards nights (well, except maybe for people putting money on the outcomes), so it was great to see the clearly astonished cast of PBS' "Downton Abbey" take the SAG award for ensemble in a drama series. Everyone was expecting the cast of "Homeland" or even "Boardwalk Empire" to win. But there was Mrs. Hughes herself (Phyllis Logan) breathless, flustered and looking very unservant-like, introducing the cast of little-known Brits to the room full of Hollywood A-listers.
(John Shearer / InvisionAP)
Best acceptance speech line of the night came from Daniel Day-Lewis, who was pontificating on Abraham Lincoln when he said this: "It was an actor that killed Abraham Lincoln, so it's only fitting that an actor tries to bring him back from time to time." If only they gave out awards for acceptance speeches....
(Robert Gauthier / Los Angeles Times)
Ben Affleck was clearly giddy when he took the stage to accept the award on behalf of the cast of "Argo," which took the SAG award for ensemble in a motion picture. As the latest in a run of unexpected wins for the thriller, "Argo" is now the film to beat at the Oscars. And judging from Affleck's over-the-moon acceptance speech, he's got the same thing on his mind.
(Robert Gauthier/ Los Angeles Times)
Steven Spielberg's historical biography "Lincoln," the musical epic "Les Miserables" and the quirky romantic comedy "Silver Linings Playbook" dominated the Screen Actors Guild Award nominations Wednesday morning, receiving four nominations apiece.
"Lincoln" scored nominations in the lead actor category for Daniel Day-Lewis, supporting actress for Sally Field, supporting actor for Tommy Lee Jones and best ensemble in a motion picture. "Les Miserables," which opens Christmas Day, earned nominations for lead actor Hugh Jackman, supporting actress Anne Hathaway, for best acting ensemble and best stunt ensemble.
And "Silver Linings Playbook" picked up nominations for lead actor Bradley Cooper, actress Jennifer Lawrence, supporting actor Robert De Niro, and best ensemble.
SAG AWARDS: Complete list of nomineesArguably the biggest winner of the day, however, was 77-year-old Maggie Smith. The two-time Oscar-winning British actress scored the most SAG nominations Wednesday -- four in all. She picked up two nods – best supporting actress and ensemble -- for the feature film "The Best Exotic Marigold Hotel," a dramedy about a group of British retirees who move to a hotel in India. She also picked up best supporting and ensemble nods for playing the officious dowager in "Downton Abbey."
The nominations come during one of the mostly closely watched weeks of the awards season: It's literally make-or-break for Hollywood and the films and performers who are jockeying for recognition – and possibly Oscar gold.
Monday kicked off with the announcement of nominations for the Critics' Choice Movie Awards, followed quickly by Wednesday's SAG nominations. In just 24 hours, the Golden Globe nominations are to be announced.
PHOTOS: 2013 SAG Award nominees
When the dust settles, those films and performers that emerge are instantly catapulted to front-runner status leading up to the Academy Award nominations, which are to be announced Jan. 10.
Although SAG winners often go on to win the Academy Award, it's not a given. Just this year, Viola Davis won the SAG Award for best actress for "The Help" but Meryl Streep took home her third Oscar for "The Iron Lady."
In other film nominations announced Wednesday, "Argo" rounded out the ensemble nominations, with Alan Arkin also scoring a supporting actor nod.
SAG AWARDS: TV nominees
Joining Day-Lewis, Cooper and Jackman in the lead actor category are John Hawkes for "The Sessions" and Denzel Washington for "Flight." Vying with Lawrence in lead actress field are Marion Cotillard for "Rust and Bone," Jessica Chastain for "Zero Dark Thirty," Helen Mirren for "Hitchcock" and Naomi Watts for "The Impossible."
Rounding out the supporting categories are Javier Bardem for "Skyfall," Philip Seymour Hoffman in "The Master," Helen Hunt in "The Sessions" and Nicole Kidman for "The Paperboy."
Among the day's snubs: Emmanuelle Riva was overlooked for her role in the French drama "Amour." The veteran actress won the L.A. Film Critics Assn.'s top honor Sunday and was nominated Monday for a Critics' Choice Movie Award.
Also not making the list were Joaquin Phoenix and Amy Adams for "The Master." Earlier this week, they were named best actor and supporting actress by the L.A. Film Critics Assn. Matthew McConaughey was also passed over for a supporting actor nod for "Magic Mike," a role that helped earn him the New York Film Critics Circle Award earlier this month.
One of the biggest surprises of the day was Kidman's nomination as a Southern vixen in the critical flop "The Paperboy."
And what happened to the acclaimed indie film "Beast of the Southern Wild," which has been picking up nominations and trophies this awards season? It is ineligible for a SAG Award because it wasn't shot under the terms of the union's low-budget feature agreement.
FULL COVERAGE: SAG AWARDS 2013
Unlike other honors, the Screen Actors Guild Awards are strictly for the performers -- there are no nominations for directors or screenwriters, for example.
The SAG Awards also honor performances in TV dramatic and comedy series, as well as movies and miniseries. There were very few surprises in the TV nominations.
The casts of the dramas "Boardwalk Empire," "Breaking Bad," "Downton Abbey," "Homeland" and "Mad Men" were honored with nominations. On the comedy side, there were six nominees due to a tie: "30 Rock," "The Big Bang Theory," "Glee," "Modern Family," "Nurse Jackie" and "The Office."
Competing for lead actor in a drama series are Steve Buscemi for "Boardwalk Empire," Bryan Cranston for "Breaking Bad," Jeff Daniels for "The Newsroom," Jon Hamm for "Mad Men" and Damien Lewis for "Homeland." Lead actress nominations went to Claire Danes for "Homeland," Michelle Dockery for "Downton Abbey," Jessica Lange for "American Horror Story: Asylum," Julianna Margulies for "The Good Wife," and Smith for "Downton Abbey."
Vying for lead actor in a comedy series are Alec Baldwin for "30 Rock," Ty Burrell and Eric Stonestreet for "Modern Family," Louis C.K. for "Louie" and Jim Parsons for "The Big Bang Theory."
In the lead actress in a comedy series, nominations went to Edie Falco for "Nurse Jackie," Tina Fey for "30 Rock," Amy Poehler for "Parks & Recreation," Sofia Vergara for "Modern Family" and Betty White for "Hot in Cleveland."
Nominated for lead actor in a television movie or miniseries are Kevin Costner and Bill Paxton for "Hatfields & McCoys," Woody Harrelson and Ed Harris for "Game Change," and Clive Owen for "Hemingway & Gellhorn." Competing for lead actress in a television movie or miniseries are Kidman for "Hemingway & Gellhorn," Julianne Moore for "Game Change," Charlotte Rampling for "Restless," Sigourney Weaver for "Political Animals" and Alfre Woodard for "Steel Magnolias."
The 19th Screen Actors Guild Awards presentation is to be carried live on TNT and TBS on Jan. 27 from the Shrine Auditorium & Exposition Center in Los Angeles. As previously announced, Dick Van Dyke is set to receive the guild's lifetime achievement award.
ALSO:BUZZMETER: Who's ahead in the Oscar race
VIDEO: Highlights from the Envelope Screening Series
PHOTOS: Best and worst moments from 2012 SAG Awards
Get our L.A. Goes Out newsletter, with the week's best events, to help you explore and experience our city.
You may occasionally receive promotional content from the Los Angeles Times.