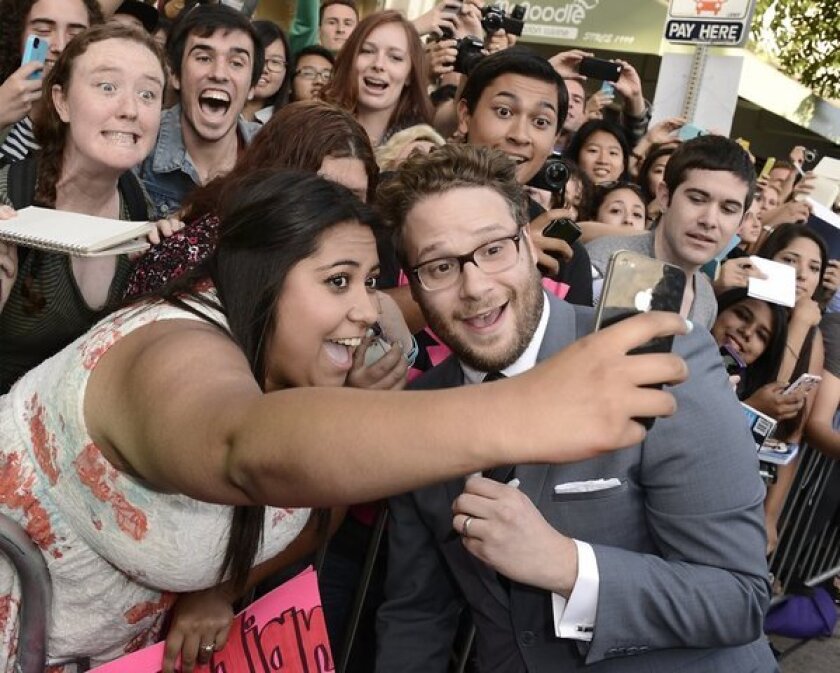 Seth Rogen's laugh is unmistakable. It's guttural, goofy, and sounds a bit like the Cookie Monster's. But no one knows the actor's signature chuckle better than longtime writing partner, Evan Goldberg, who teamed with Rogen to direct the upcoming comedy "This Is the End." The only downside to working with Rogen over the past 17 years, according to Goldberg?
"He laughs too loud, and he's [messing] up my hearing in my right ear," the filmmaker said at the premiere of the R-rated apocalypse flick in Westwood on Monday evening. "I'm not joking at all. The hearing in my right ear is about 25 to 50% worse than in my left."
Fortunately, Rogen knows how to make fun of himself -- after all, that's the conceit of "This Is the End," in which the actor and friends James Franco, Jonah Hill, Jay Baruchel, Craig Robinson and Danny McBride all play exaggerated versions of themselves trying to survive Earth's destruction.
PHOTOS: Hollywood backlot moments
Early on, the writer-directors had a clear idea of how they planned to poke fun at each actor. They wanted McBride to bring the cockiness of his "Eastbound and Down" character Kenny Powers to a new level. Franco would be tasked with playing up his "artsy-ness," Goldberg said, decorating his home with ridiculous paintings and props from his past films.
Robinson, Baruchel and Rogen -- all perceived as teddy bears -- were supposed to act more selfish on screen. As for Hill, he was initially supposed to have the same flippant demeanor as his character in "Superbad," but the actor took things in a different direction -- instead pretending to be what Goldberg describes as "super, super nice."
Perhaps not surprisingly, Franco -- the actor-writer-director-poet-professor-soap opera star was the most willing to toy with his image.
"Franco was probably the most self-aware. He's kind of the guy who dances with doing weird meta [stuff] in the first place," said Rogen, who turned up on the red carpet smelling decidedly of marijuana. ("There's a chance," he said of the scent, "I came in a limo with a lot of friends who were definitely smoking a lot of weed.")
The odor of pot also wafted through the air at the after-party at the W Hotel. Like at most Hollywood bashes, dozens of celebrities rubbed elbows: Mindy Kaling, Joseph Gordon-Levitt, Sacha Baron-Cohen and his wife, Isla Fisher. But the food wasn't catered by industry favorite Wolfgang Puck. Instead, the spread seemed to have a more declasse theme, with Frito pies, mac 'n' cheese, cereal mix and Milky Way bars available for studio executives and stoners alike.
ALSO:
Seth Rogen speaks about Alzheimer's disease

Trailer Hitch: 'This is The End,' starring Rogen and Franco
Boat carrying ton of marijuana runs aground; search on for 2 men
---