SXSW: Car plows into Mohawk nightclub crowd, kills 2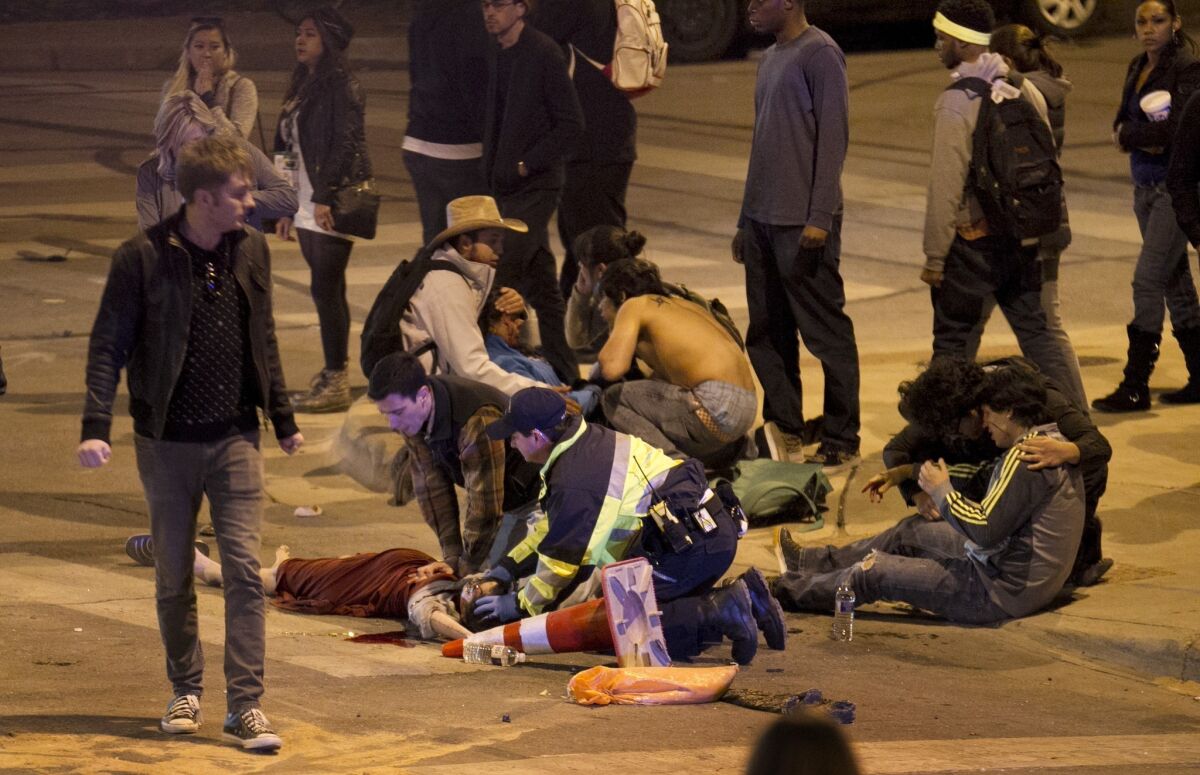 <i>This post has been updated. See note at the bottom for details.</i>
A car that hit clubgoers outside a show at the SXSW festival has left at least two dead and five critically injured, according to Austin police.
The incident happened during the music portion of the multidisciplinary confab in Austin, Texas. The film portion, which overlaps with the music section, continues through Friday, with some attendees moving between events at the two gatherings.
According to a story on our sister blog Nation Now, at about 1 a.m. CDT Thursday morning a car described as "a grey sedan with a cracked windshield" plowed through a crowd waiting outside a South by Southwest show at the city's Mohawk venue near the corner of Red River and 10th streets. The car left a trail of wounded clubgoers in the middle of the busy intersection and the crash was visible to blocks of concertgoers.
Police later confirmed two dead and five critically wounded, with a total of 23 taken to a hospital for treatment. Neither the victims nor the driver have as yet been identified.
Festival-goers were said to be outside Mohawk for the show of Tyler the Creator, a rapper and record producer who also has directed music videos and has appeared in other screen entertainment, including episodes of "Punk'd" and "The Mindy Project."
The SXSW incident also underscored the danger of large crowds at festivals of all sorts. As at the SXSW music gathering, the Sundance and Cannes Film Festivals routinely see audiences packed outside venues with security experts often warning that such a large concentration of people can pose safety risks.
For more news and updates throughout the night please see our sister blogs, Pop and Hiss and Nation Now.
[Updated at 7:15 a.m. March 13: The driver of the car was allegedly evading police when the automobile hit pedestrians, and he was taken into custody at the scene of the incident.]
ALSO:
2 killed as car plows into crowd at SXSW
Follow me on Twitter at https://twitter.com/ZeitchikLAT
ust-read-movie-stories-feature-well" />
---
Get the Indie Focus newsletter, Mark Olsen's weekly guide to the world of cinema.
You may occasionally receive promotional content from the Los Angeles Times.