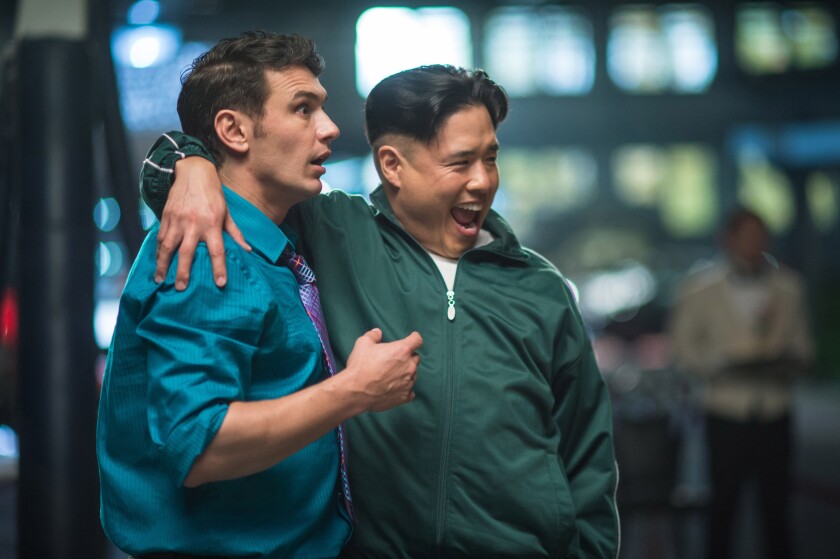 Sony will give "The Interview" a "limited theatrical release" beginning Christmas Day, the company said Tuesday, releasing the movie in a handful of independent theaters across the country.
The movie will screen at an unspecified number of locations in the 19-theater Alamo Drafthouse chain and the Plaza Atlanta in Georgia, owners confirmed shortly before Sony made its announcement. Other independent venues are expected to join them.
Sony said it was pressing forward with a modified release plan for the Seth Rogen-Evan Goldberg North Korea comedy, after a withering cyberattack and subsequent threats prompted major theater chains and the studio to pull the movie last week.
"We have never given up on releasing 'The Interview' and we're excited our movie will be in a number of theaters on Christmas Day," Sony Entertainment Chairman and CEO Michael Lynton said in a statement. "At the same time, we are continuing our efforts to secure more platforms and more theaters so that this movie reaches the largest possible audience."
After cyberattackers known as the Guardians of Peace, who are believed to be backed by North Korea, made physical threats last week against theaters that planned to screen "The Interview," large chains such as Regal and AMC said they wouldn't show the movie. It is unclear if that would change in light of the independent theaters' decision. Sony could still release the movie via video on-demand or online platforms to enable the movie to reach a wider audience. "The Interview" was originally slated to be in several thousand theaters over the holidays.
Rogen tweeted in response to Tuesday's news: "The people have spoken! Freedom has prevailed! Sony didn't give up! The Interview will be shown at theaters willing to play it on Xmas day!"
Reached by phone, Alamo Drafthouse founder Tim League said: "It's much larger than just 'The Interview.' It's about setting a precedent and freedom of expression." He added: "To not show this movie would be a serious problem in my book."
League was among hundreds of theater owners who supported a petition circulated Monday by the Art House Convergence, a coalition of independent theater owners, urging Sony to allow art house cinemas to screen the movie.
League said a series of conversations took place yesterday between Sony representatives and the petition's organizers. He said Sony confirmed to a booking agent Tuesday morning that the company would allow Alamo and other theaters to release the film.
"Clearly, there is some level of risk, but there are hundreds of theaters that want to do this. That's evident by the petition," League said.
Theater operators such as the Alamo Drafthouse -- which currently has 11 theaters in Texas as well as locations in Virginia, Michigan and suburban New York -- and the Plaza Atlanta have been on the frontlines of pushing for a bolder approach on "The Interview." They also attempted to show the North Korea-themed comedy "Team America" in its place. An official statement from Alamo said: "We cannot imagine the pressures that have been affecting Sony, at all levels of the organization they have been under attack. Amidst this unwarranted chaos, they have regrouped and listened to the public, the government and the exhibition community and responded with resolve and determination."
Sony has come under fire from independent theater owners, free speech activists and even President Obama for backing off release plans in the face of threats. The company has maintained that the decision was out of their hands once theater chains decided not to screen the film.
In his statement Tuesday, Lynton added: "I want to thank our talent on 'The Interview' and our employees, who have worked tirelessly through the many challenges we have all faced over the last month. While we hope this is only the first step of the film's release, we are proud to make it available to the public and to have stood up to those who attempted to suppress free speech."
---