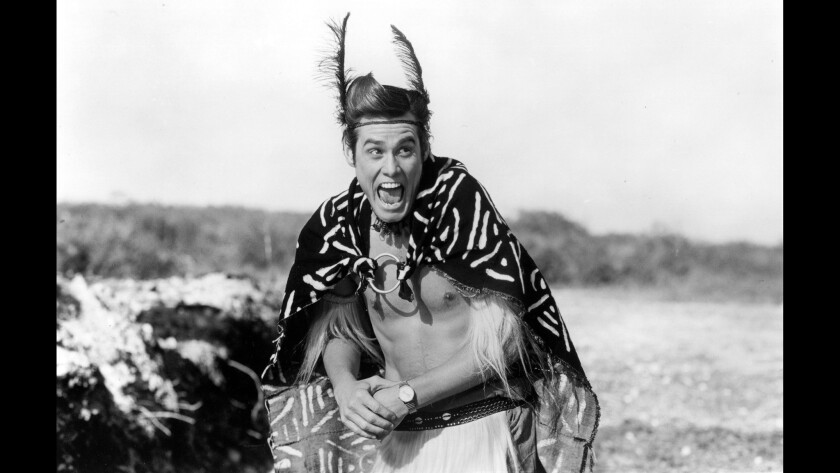 Welcome to the Movies Now box office time machine. As "Spectre" stays atop the box-office chart for a second straight week, we look at the No. 1 films from 10, 20 and 30 years ago. Click a film's title to read the Los Angeles Times review:
2005 -- "Chicken Little" ruled the roost for a second straight week, crushing a trio of newcomers with $31.7 million ($38.6 million in 2015 dollars), a small drop of 21% from its debut weekend. The animated comedy, featuring the voices of Zach Graff, Joan Cusack and Garry Marshall, went on to gross $135.4 million ($164.9 million).
Debuting in the second, third and fourth spots, respectively, were the Jon Favreau-directed "Zathura: A Space Adventure" ($13.4 million/$16.3 million), the thriller "Derailed" ($12.2 million/$14.9 million) and 50 Cent in "Get Rich or Die Tryin'" ($12.2 million/$14.6 million). "Derailed," starring Clive Owen and Jennifer Aniston, has the distinction of being the first release of the Weinstein Co.
The comedy concert film "Sarah Silverman: Jesus is Magic" conjured $17,782 ($21,655) in seven theaters to top the per-theater averages. "Pride and Prejudice," starring Keira Knightley, also debuted strongly, courting $2.9 million ($3.5 million) in 215 theaters.
SIGN UP for the free Classic Hollywood newsletter >>
1995 -- The Jim Carrey sequel, "Ace Ventura: When Nature Calls," reached the top perch with $37.8 million ($59 million in 2015 dollars) as the week's only new wide release.
Barry Sonnenfeld's mob comedy, "Get Shorty," with $7.6 million ($11.9 million), after a three-week run at No. 1, and the Sigourney Weaver-Holly Hunter serial killer thriller "Copycat" at $4.8 million ($7.5 million), held fairly steady in the next two spots.
At the art house, "Carrington," starring Emma Thompson and Jonathan Pryce, topped the per-theater averages at $12,643 ($19,731). Oscar-winning screenwriter Christopher Hampton made his feature film directing debut with this story of the unconventional love shared by Bloomsbury figures Dora Carrington and Lytton Strachey.
Follow Classic Hollywood on Facebook
1985 -- The Charles Bronson vigilante saga, "Death Wish 3," repeated in the top spot with $3.2 million ($7.1 million in 2015 dollars). The film marked the sixth and final collaboration between Bronson and director Michael Winner. Winner also edited the film, under the pseudonym Arnold Crust.
The three highest-grossing debuts were "Target," starring Gene Hackman and Matt Dillon, with $2.7 million ($6 million); "Transylvania 6-5000," a comedy with Jeff Goldblum and Ed Begley Jr., with $2.51 million ($5.55 million); and "That Was Then This Is Now," featuring Emilio Estevez for the third time in an S.E. Hinton adaptation, with $2.5 million ($5.53 million). The field was so tightly bunched that all five films ranking No. 2 to 6 grossed between $2 million and 3 million.
The Argentine film, "The Official Story," propelled by strong reviews, posted the weekend's highest per-theater-average at $29,426 ($65,043). Starring Norma Aleandro, it went on to win the Oscar for best foreign language film, as well as a best original screenplay nomination for director Luis Puenzo and co-writer Aida Bortnik. Puenzo got a taste of Hollywood in 1989, directing Jane Fonda, Gregory Peck and Jimmy Smits in "Old Gringo," based on a Carlos Fuentes novel.
Figures are from boxofficemojo.com.
Twitter: @storyspheare
---