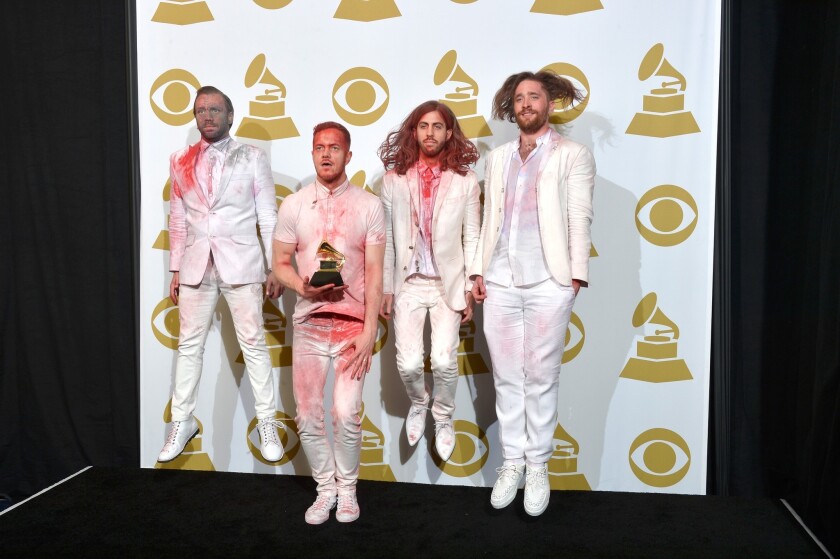 Imagine Dragons got dirty at the Grammys on Sunday night.
After winning for best rock performance, the Las Vegas-based band appeared backstage still wearing the paint-stained clothes they donned during the raucous performance of their hit "Radioactive."
They said they had plans to auction off the lucky clothes for charity.
Getting rid of the clothes should be easy, but getting the paint off their bodies is another matter. Singer Dan Reynolds lifted up his shirt to display a stomach stained red.
Grammys 2014: Full coverage | Top nominees and winners | Red carpet | Show highlights
The band members, who spent years playing to drunk folks at odd hours in Vegas casinos, were clearly thrilled with their win.
"We've been a band for five years, and for four of those we played small clubs across the U.S.," Reynolds said. "So I feel a lot of mixed emotions."
Those emotions, he said, come mainly from winning in a category that included many of the band's formative heroes, including Jack White and Led Zeppelin.
"All those bands to us are the greatest rock musicians ever, and we've learned so much from them," Reynolds said. "But we'll take the Grammy."
ALSO:
FULL COVERAGE: Grammy awards 2014
BALLOT: Cast your Grammy awards vote
GRAMMY PRE-SHOW: The pre-telecast winners
---