Pop fall preview: A look at the albums and shows that matter this fall
Some of the best music of 2016 has come as a surprise, most notably — and recently — the relatively secretive release of Frank Ocean's "Blonde." But as the year settles into its second half, there's plenty of albums and shows that we can bank on.
What follows is a brief look at some notable albums and concerts in the weeks ahead.

For the record:
12:10 PM, Sep. 12, 2016This article states that Van Morrison is 74. He is 71. Also, the article states that Danny Brown's concert at the Fonda is scheduled for Oct. 30. It is set for Oct. 15.
Basiani, the State Ensemble of Georgian Folk Singing | Oct. 22
World-music fans won't want to miss this group, which specializes in extraordinary male harmonizing and makes Georgian vocal music thrilling and spiritually moving. (R.L.)
The Broad Stage
$60-$95
Beck (Capitol Records, Oct. 21)
Beck's new album, which is as-yet-untitled, looks to inject a sense of goofy, wacky fun into the artist's repertoire, at least if initial single "Wow" is any indication. Unlike the heavily orchestrated slowness of his Grammy-winning "Morning Phase," "Wow" is all sorts of upbeat, once again mashing up the artist's love of folksy songwriting and hip-hop. (T.M.)
Danny Brown, 'Atrocity Exhibition' (Warp, Sept. 30)
Those wondering about the future of hip-hop might focus on Danny Brown, whose surreal, experimental work the last five years has helped nudge the genre in weird directions. The Detroit-raised artist's eagerly awaited third studio album, "Atrocity Exhibition," is his first for the British electronic label Warp. The title is a nod to a song by Manchester, England, post-punk band Joy Division and a novel by British sci-fi writer J.G. Ballard — just a hint at the breadth of Brown's influences. Brown will celebrate the album's release at the Fonda with a concert on Oct. 30. (R.R.)
Dawes, 'We're All Gonna Die' (HUB Records, Sept. 16)
The sturdy Los Angeles folk 'n' rock band Dawes might not get any awards for flashiness, but its devotion to building dynamic songs using the standard tools of the genre makes up for the sequin-free delivery. For its fifth studio album since 2009, the band worked with Grammy-nominated producer (and high school buddy and former bandmate) Blake Mills, and the result is a record dense with surprises — odd rhythms, striking bass lines that hum with each measure and singer-guitarist Taylor Goldsmith's high-lonesome voice. On album release day, the band will perform at the Masonic Lodge at Hollywood Forever Cemetery. (R.R.)
Julia Jacklin, 'Don't Let the Kids Win' (Polyvinyl, Oct. 7).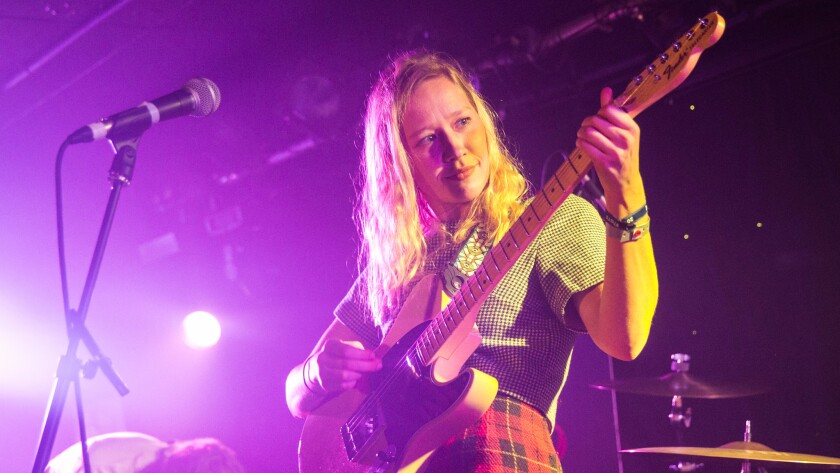 On her debut album, the Australian musician Jacklin approaches the art of the song with a few essential tools: a subtly played electric guitar, a breathtakingly precise voice that can move through octaves with the glee of a gymnast and an innate skill at channeling emotion through sparse, loaded lyrics. Jacklin likes to let lines breathe by lingering on syllables and phrases rather than racing through them. She will also perform at the Troubadour on Oct. 4. (R.R.)
Hamilton Leithauser + Rostam, 'I Had a Dream That You Were Mine' (Glassnote, Sept. 23).
Two familiar figures from the brainier part of the New York indie-rock scene — singer Leithauser, formerly of the Walkmen, and ex-Vampire Weekend multi-instrumentalist Rostam Batmanglij — team up for a collection of elegantly wasted pop-soul ballads that matches every vivid lyric with a colorful bit of production. In interviews the two have described being inspired by David Byrne's inventive collaborations with Brian Eno, a high benchmark the music goes some way toward meeting. (M.W.)
Dolly Parton | Oct. 1 & 2
The roots-music veteran's latest album, which just debuted at No. 1 on Billboard's country chart, is a relatively restrained effort called "Pure & Simple," with handsome, largely acoustic tunes about enduring love and the innocence of childhood. But don't expect Parton, 70, to tone down her larger-than-life charisma at the Bowl, where the singer's lengthy North American tour will stop for two nights of raunchy jokes, sparkling rhinestones and — oh yeah — classic country music. (M.W.)
Hollywood Bowl
$35-$275
Bad Boy Family Reunion Tour | Oct. 4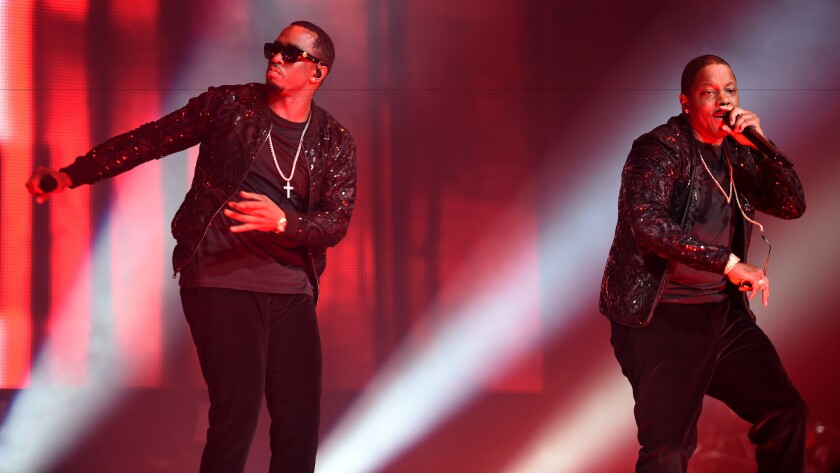 Sean "Puff Daddy" Combs has built the summer's most ambitious throwback package. His Bad Boy Family Reunion Tour brings together the original roster of multi-platinum acts affiliated with Bad Boy for the first time in celebration of the label's 20th anniversary. Expect plenty of tributes to Combs' fallen friend and protege Notorious B.I.G. and massive R&B/hip-hop hits from Mase, Faith Evans, Lil' Kim, Total, the Lox, 112, Carl Thomas and Mario Winans. (G.D.K.)
The Forum
$59-$695
Green Day, 'Revolution Radio' (Reprise, Oct. 7).
Back in the early '90s, few would have expected Green Day to emerge as one of the most politically minded rock bands of the era. But the band has come to thrive whenever a presidential campaign heats up: most successfully on 2004's anti-Bush salvo (and radio smash) "American Idiot." After a rough few years, the group is back with a barnstormer of a new punk record that recalls its early days at the all-ages venue 924 Gilman in the East Bay. "Bang Bang" indicts the kind of sick male narcissism that leads to domestic and campus violence, but does it in a three-minute fuzzy gallop that might be the act's best song in almost a decade. (A.B.)
Desert Daze | Oct 14-16
What should a festival do when its headliner dies? That's the sad position Desert Daze was in when Alan Vega, singer of the incalculably influential band Suicide, died in July before the band could play its first L.A. show in 16 years. The fest will do its best to carry on in his wake, however, with a tribute set to Vega and a number of excellent experimental bands including Godspeed You! Black Emperor, Television and the Sonics among them. Perhaps the best reason to go, however, is the truly trippy location — the Institute of Mentalphysics in Joshua Tree, a mix of high design (you can stay in a Frank Lloyd Wright-designed cabin with a view of the main stage) and mind-melting desert scenery. (A.B.)
The Institute of Mentalphysics
$74-$340
Desert Trip | Oct. 7-9, 14-16
The geezer jokes started almost before the full details of this superstars of '60s rock blowout were announced: "Oldchella," "Rockers With Walkers" etc. Yet it's hard to deny that this late-career gathering of Bob Dylan, the Rolling Stones, Paul McCartney, the Who, Neil Young and Pink Floyd's Roger Waters may well go down as the most impressive congregation ever of rock's most important and influential artists. (R.L.)
Empire Polo Field, Indio
Sold-out
Tinashe, 'Joyride' (RCA, late October)
After gaining a cult following with a string of DIY mixtapes dedicated to electronic R&B and recorded in her bedroom, Tinashe broke out with 2014's hedonistic anthem "2 On." Her major label debut, "Aquarius," was one of the more inventive R&B entrants in years. Built around flickering synths and future-R&B production it brought her a ton of buzz, but her long-gestating follow-up, "Joyride," is an explicit bid at pop stardom. She's spent the better part of the year teasing it, dropping vibey cuts like "Ride of Your Life" and "Party Favors." The minimalist down-tempo beats and sultry rhythms that made her an underground hit are a through-line of the album, but the work's effervescent, '80s dance-pop inspired single "Superlove" shows how serious she is about finding crossover success. (G.D.K.)
Sturgill Simpson | Nov. 15-16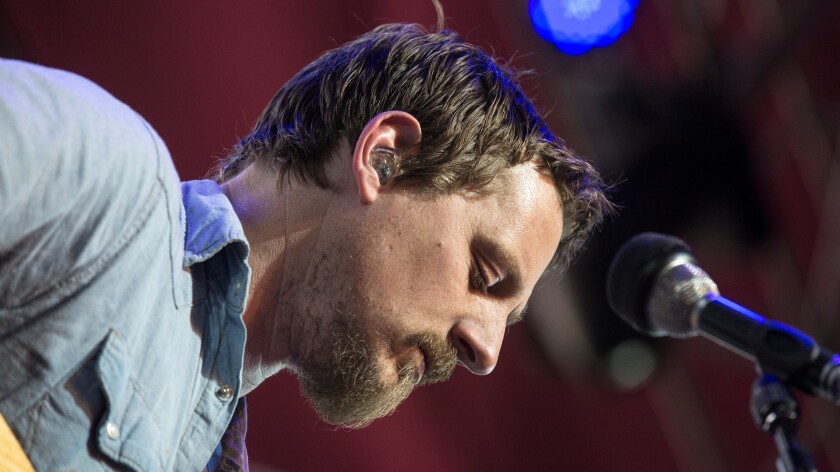 Jackson, Ky.-bred singer and songwriter Sturgill Simpson has released what's easily one of the year's most impressive albums with his third effort, "A Sailor's Guide to Earth." Much of it is outwardly inspired by the birth of his first child and all the feelings a new parent experiences, but it also functions as an honest and powerful celebration of life itself. These will be his first shows in Los Angeles since the album was released in April. (R.L.)
Wiltern Theatre
$35
Van Morrison 'Keep Me Singing' (Sony, Sept. 30)
There's a welcome lightness of spirit in the veteran Irish soul-rocker's 36th studio album that hasn't always been part of his music. Across a dozen tracks the 74-year-old artist invokes a variety of moods and musical styles, all united by his never-ending quest toward spirituality that has always been the underpinning of his singing and songwriting. (R.L.)
Warpaint 'Heads Up' (Rough Trade, Sept. 23).
Local quartet Warpaint keeps it groovy and sensual on "Heads Up," its third full-length album. Warpaint songs are constantly in motion — guitars shape-shift around the beat, vocals slither around the rhythms and melodies evolve rather than command. Lead single "New Song" is also further evidence that Warpaint is a rock band that knows how to dance. The band may specialize in spare atmospheres, but that doesn't mean it still can't shake and saunter. (T.M.).
Contributors: August Brown (A.B.), Gerrick D. Kennedy (G.D.K.), Randy Lewis (R.L.), Todd Martens (T.M.), Randall Roberts (R.R.), Mikael Wood (M.W.)
ALSO:
Mary J. Blige and Maxwell are touring together this fall
Stevie Nicks is headed out on a solo tour with the Pretenders
Plácido Domingo on playing Macbeth in L.A. Opera's season opener
Jeffrey Kahane to end 20-year run as LACO conductor with his most ambitious project
---
Inside the business of entertainment
The Wide Shot brings you news, analysis and insights on everything from streaming wars to production — and what it all means for the future.
You may occasionally receive promotional content from the Los Angeles Times.