Anderson .Paak hits big time in L.A. after struggling up the road but a world away in Oxnard
"It's about to get real," Brandon Paak Anderson said, letting out a nervous laugh.
The genre-stretching R&B singer-rapper-drummer-producer who performs as Anderson .Paak is contemplating his son's impending transition to kindergarten, but he could say the same about his meteoric rise over the last six months.
On a recent afternoon Anderson was standing in the shadow of his 5-year-old son's preschool — only a stone's throw away from the Koreatown apartment they share with his wife. The 30-year-old wanted to spend the afternoon visiting his favorite haunts before his schedule got hectic as he promotes his critically lauded breakout album, "Malibu."
See the most-read stories in Entertainment this hour >>
In a few days it will be announced that he signed to Dr. Dre's Aftermath imprint (Anderson's soulful rasp appeared on Dre's surprise comeback album, 2015's "Compton"). He will then head to New York City to make his television debut on "The Late Show With Stephen Colbert," where his sensational performance lighted up the Internet. And then he's off for his first headlining European tour, before returning to California to make his Coachella Valley Music and Arts Festival debut in April.
Although Anderson seems to have emerged overnight, his moment in the sun has been a decade in the making.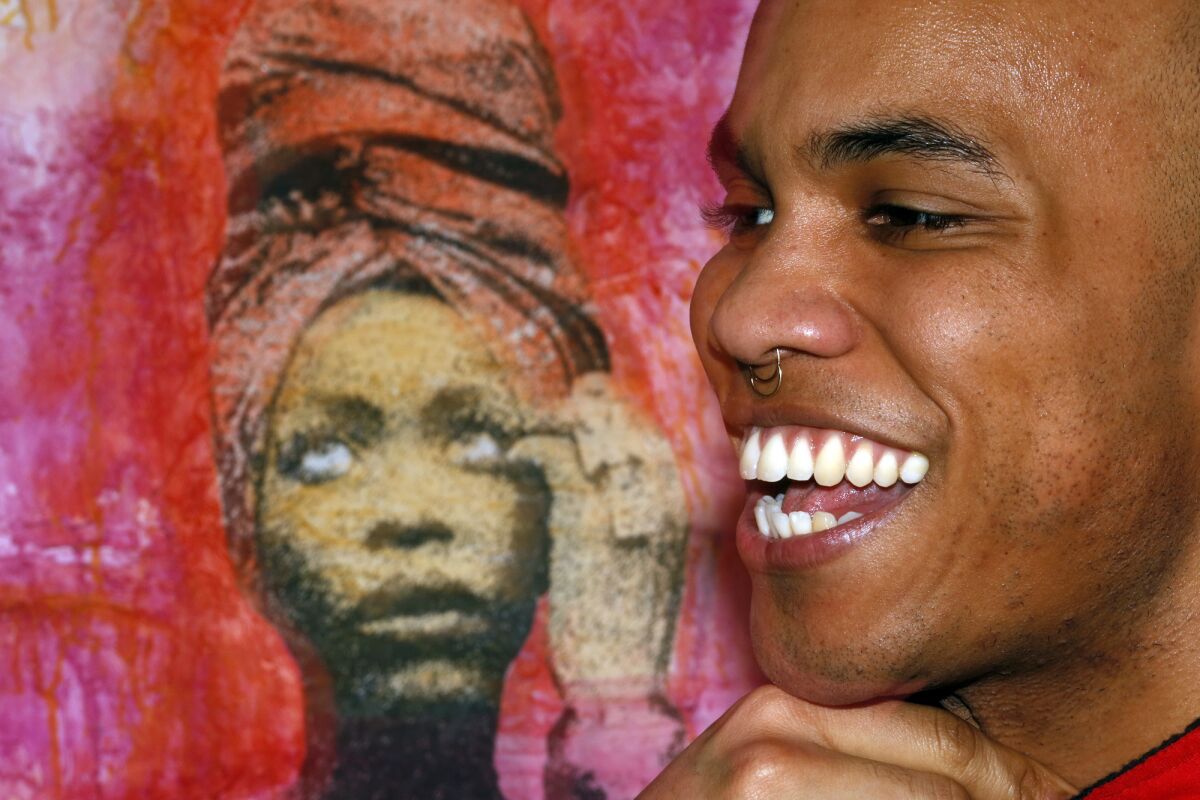 Born in Oxnard to black and Korean parents (his mother was a supplier of strawberries, his father a mechanic after being discharged from the Air Force), Anderson's life has always revolved around music. One of his sisters introduced him to '90s R&B and hip-hop staples like Jodeci, Tribe Called Quest and SWV while another put him on to Whitney Houston and Mariah Carey. But hip-hop stuck with him the most.
"I was a little bit of a troublemaker growing up," Anderson said. "My mom tells me a story that teachers would call to tell her I was making weird noises in class. It was beatboxing. At show and tell I would recite Snoop Dogg and Dr. Dre songs."
Music would soon become his refuge. He matter-of-factly speaks of his father being taken to prison for drug possession and nearly beating his mother to death. "Who cares, your daddy couldn't be here / Mama always kept the cable on / I'm a product of the 'tube and the free lunch / Living room, watching old reruns," he sings on "Malibu's" closing track, "The Dreamer."
"That was the last time I saw him," Anderson said, "The next time I saw him, he was being buried."
He played drums with his church and eventually started DJing and producing. By high school he was making his own demo and selling it around school. "I thought I was going to be the next Kanye," he said with a laugh.
However, after his mother and stepfather were sent to prison in his senior year for tax-related issues, Anderson was forced to move music to the back burner.
"That kinda threw a wrench in everything. It was a domino effect," he said. "I don't know how jaded you could be at 18, but I didn't really trust that you could make it in music at that point."
He worked as a home healthcare aid, endured a quickie marriage to his church crush (it ended in annulment) and spent a few weeks in culinary school before he persuaded himself to move to Los Angeles. He'd spent years making the hour-plus commute, dreaming of putting down roots in the city.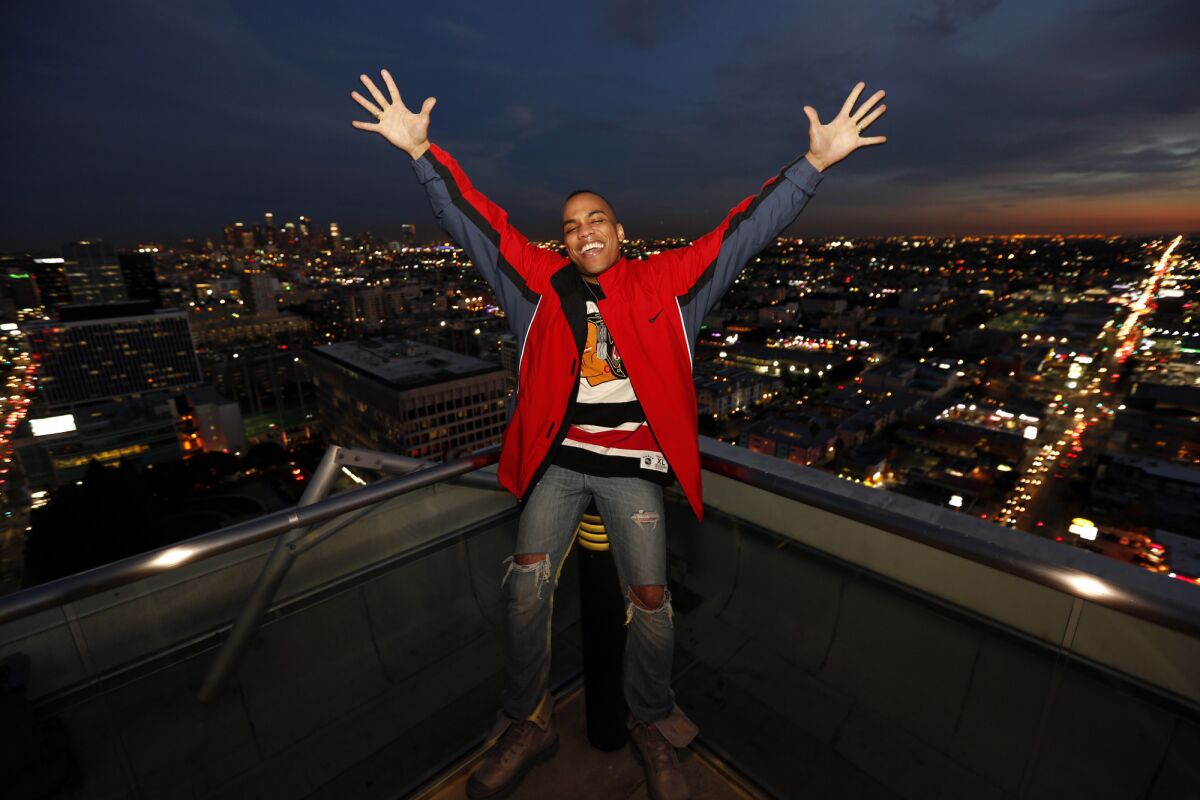 "There were all these cultures, and everything was fast-paced, and everyone wanted to make something happen for themselves," Anderson said. "In Oxnard, people were very comfortable being in Oxnard and being in a small town doing the same routine. I never really had too much interest in the local scene."
Anderson enrolled at the Musicians Institute in Hollywood, where he met his eventual wife, a vocal student from South Korea (the golden wolf ring on his finger in place of a wedding band offers another glimpse of his eclectic style). He adopted the moniker Breezy Lovejoy and "did the whole Sunset Strip, pay-to-play thing" while struggling to stay afloat.
"None of [the music] was really making a dent," Anderson said. "There was like six of us in this tiny apartment. I was sleeping on the couch with my girl. I was making a few hundred dollars a month, barely supporting myself."
An opportunity to make cash came his way by way of a pot farm in Santa Barbara where he'd trim pounds of marijuana. "We were in charge of just football fields of weed. We'd go out to the fields and pick them and dry them," he said.
But soon Anderson found himself homeless and broke. He had lost the lucrative job and couldn't afford to pay rent.
"I was done for," he remembered, the only time his jubilant, friendly demeanor gave way to solemn silence.
Undeterred
After stopping for tacos in Pico-Union, Anderson talks at length about remaining undeterred.
Having met a few players in the L.A. hip-hop scene, including the Koreatown rapper Jonathan "Dumbfoundead" Park and Shafiq Husayn of Sa-Ra Creative Partners, who took in Anderson's family, he pushed to complete a second Breezy Lovejoy project, 2012's "O.B.E. Vol. 1."
Things turned around. He landed a gig drumming for an "American Idol" finalist, went on the road with Dumbfoundead and got money to move his family to a Koreatown apartment. But Anderson wanted more.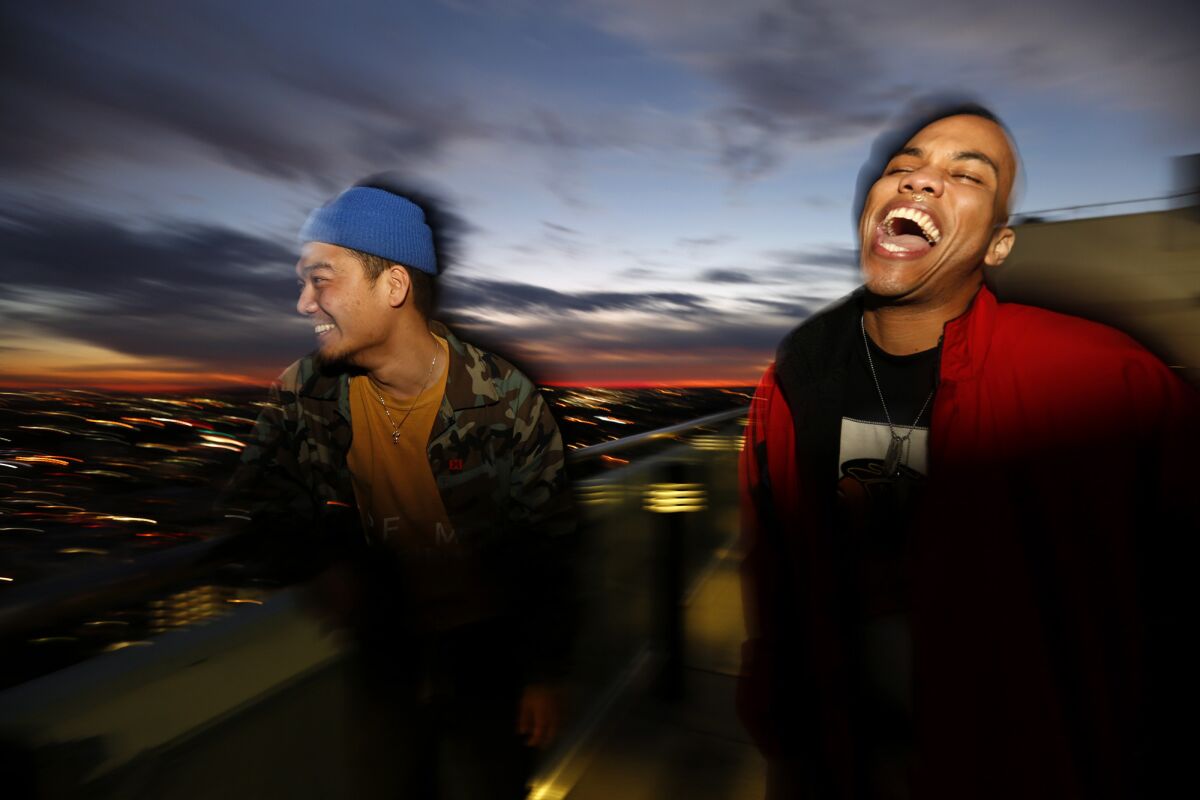 "I knew I could do better, and I wasn't comfortable where I was at. It was easier to … fly under the radar as opposed to being as great as I could be," he said, echoing a line from "Malibu." "I spent years being called out my name, living under my greatness," Anderson sings on lead single "The Season/Carry Me."
His mentor at the time, Dumbfoundead's former manager Brian Lee, pushed him to develop his artistry. He also urged him to drop his breezy stage name. "I said, 'What? I've got like 300 Twitter followers,'" Anderson said with a laugh as we drove to a Koreatown bar. "I didn't want to be a new artist. But I remember thinking about, if I ever met Dr. Dre, could I go up to him like, 'Hi, I'm Breezy Lovejoy.'"
The dot in front of .Paak's stage name serves as a personal reminder to never abandon detail — and a brazen way to make others pay attention. "I mean, I spent six, seven years making music and nobody" cared, he said. "And now some of those same people care, and they are going to have to put the dot. It says a lot to me when people don't do it. "
For six months Anderson worked uninterrupted in the studio, provided by Lee, to hone in on his style, which now covers everything from '70s-era soul and psychedelic funk to jazz, rock, classic hip-hop, beat-driven electronic music and contemporary R&B. The core of "Malibu" came from the period he spent locked away, figuring out his sound.
One of his earliest singles, a minimalist banger called "Drugs," took off, becoming a YouTube hit and getting play at Low End Theory, a flagship club night for L.A.'s beat scene. It sparked a strategy for how Anderson could reintroduce himself.
"I thought before I do 'Malibu,' let's do 'Venice,'" Anderson said of his bombastic debut album from 2014. "It'll be all fun, excess, modern, house and trap. I wanted to go where 'Malibu' is eventually — the soul music — but I wanted to have fun first. I wanted more people paying attention before I showed them a matured sound, and hopefully they still cared."
"Venice" helped him establish an underground following — and real buzz.
He branched out, logging studio time with an array of producers, including Tokimonsta and the Philadelphia-based Knxwledge, whom he met on Twitter. That collaboration turned into a duo, NxWorries, whose soulful single, "Suede," became a viral hit and caught the attention of the team working on Dre's "Compton" album.
"In the back of my head, I wanted to be this dude that could be in the center of the L.A. scene. How dope would it be if I did the most underground … and the most mainstream …," Anderson said of his side act, which released an EP via Stones Throw in December. "I wanted to have tentacles to everything, whether it's Stones Throw or Brainfeeder or Dr. Dre and Aftermath or Odd Future or the radio scene with Ty Dolla [Sign] and DJ Mustard — I wanted to be a common thread."
The Dre project
When Anderson walks into Escala, a Colombian Korean restaurant and bar heavily decorated in artwork (Erykah Badu and Michael Jackson are painted on one wall and a massive gramophone hangs from the ceiling), the staffers all greet him by his first name, although one jokes if she's still allowed to call him Brandon now that he's playing Coachella.
Anderson is on his second gin mule when he recounts being summoned to work on sessions for a secret Dre project last year. He was skeptical, but when he arrived at the studio and met Dre and his longtime collaborator the D.O.C. he knew it was the real deal.
That first session yielded "All in a Day's Work" — one of six tracks that featured Anderson's vocals, which at Dre's urging were often freestyled on the spot.
"People were calling me the new Nate Dogg," Anderson said. "I went from no label interest to every label wanting to sign me."
At the time, Anderson was tight-lipped about joining Dre's Aftermath, only saying it would be a "real no-brainer" to sign to "Dre, one of the few people in the game that's 100% about the music."
"Dre took a real risk. He took a gamble," Anderson said between sips. "When he met me I was essentially a nobody. I had my fan base and was doing my thing, but he really catapulted me. He didn't have to throw me on tracks with Eminem, Kendrick and people like that."
The "Compton" sessions also helped Anderson determine the direction for the remainder of "Malibu."
He looked to early '70s soul and blues records from Sam Cooke, Bobby Womack and Otis Redding and wanted the album to have an old soul vibe — without chasing a sound or attempting to go retro. "That's been done," he said, unable to hide his disdain.
"I wanted the album to be straight hip-hop/soul. Everybody either wants to sound like Drake or wants an underwater R&B or dark, weird sound," he added, stopping to point out the West 6th Street studio where he recorded a portion of the album.
Released in January, "Malibu" sounds exactly like the vision of a church-raised soul singer, hip-hop purist and free-spirited musician.
It's a lush, layered listen where Anderson sharply traces the highs and lows of his life with uplifting positivity and stirring grit that somehow manages to never stray from the mellow beach vibe of its title (samples of old surfing films often tie tracks together).
Fellow Oxnard native Madlib helped Anderson produce the album alongside 9th Wonder, Hi-Tek, DJ Khalil and Kaytranada, and the album also includes contributions from the Game, Schoolboy Q, BJ the Chicago Kid, Talib Kweli and Rapsody.
Anderson was on the road with Earl Sweatshirt last year when he got the call that he'd be performing at the Coachella Valley Music & Arts Festival. It's surreal to be on the bill, he said, considering that last year was the first time he got to attend as a fan. "I took a bunch of LSD and I got to trip out and watch all these people," Anderson said with a laugh. "I had never even been to a festival like that. I was loving every minute."
"I've been playing with the same guys [his band, the Free Nationals] for seven years, and I want to go onstage and do what we naturally do," Anderson continued. "I feel like Coachella is such a place for that. And I've got a few surprises that I'm working on."
'Malibu' signature
The sun is setting over the high rises that dot the busy corridor of central Koreatown. Anderson is overlooking the sprawling city lights of Los Angeles from the rooftop of close friend and collaborator Jonathan Park's loft apartment. Anderson and Park are catching up with a friend as they share a smoke.
All the attention "Malibu" is getting is especially surreal for Park, who has had many of his friend's songs in rotation for the past three years. He still remembers Anderson biking from Koreatown to Culver City to record at his old home studio, even bringing his band to record in the closet.
"With 'Malibu' he found his signature sound. The reason it's sticking is because it's the most refreshing thing you're hearing right now," Park said. "He knows how to fuse [genres] naturally without sounding corny. It's not like a rapper doing a rock album. He finally found the sound."
"He tried out everything — funk tracks, soul tracks, rap, trap, everything — and was killing it," Park continued. "But people pushed him toward a cohesive thing from him, and he's got it now, and it's dope."
He's already at work on his next album, along with an album-length NxWorries project and an EP with Tokimonsta. Slowing down isn't an option for Anderson, especially considering the struggle that it took to get here.
"Growing up I just wanted to get out of the town and do something bigger," he said. "I wanted to make music that mattered.
"I felt like I was a big fish in a small town."
Twitter: @GerrickKennedy
Get more entertainment news on Facebook
Get our L.A. Goes Out newsletter, with the week's best events, to help you explore and experience our city.
You may occasionally receive promotional content from the Los Angeles Times.