Diana Krall can both 'Turn Up the Quiet' and dial up the joy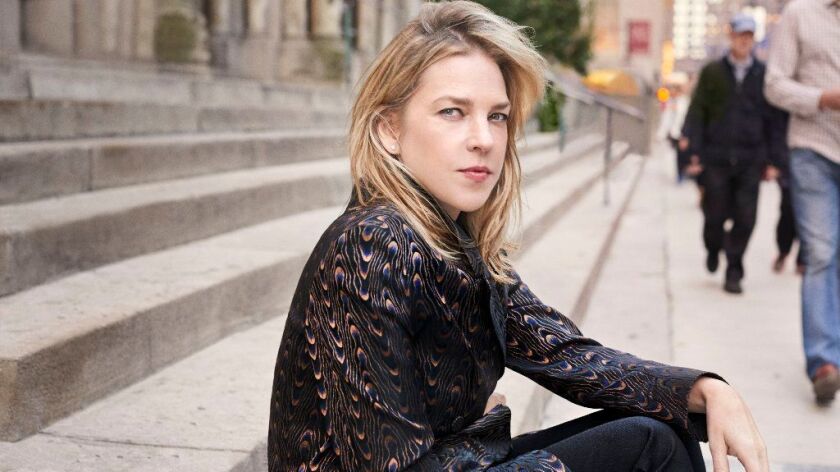 The wink is right there in the name of Diana Krall's new album. "Turn Up the Quiet" is shorthand for what the Canadian jazz pianist, singer and songwriter has mastered in a nearly 25-year career guided by the notion that there's plenty of power in grace and understatement.
It's no wonder Krall, at 52, has become one of jazz's most reliable — and commercially viable — voices, enough so that she's headlining the Hollywood Bowl for a two-night stand Aug. 11-12, backed by the Hollywood Bowl Orchestra.
Not unlike the jazz sprite Blossom Dearie, the Grammy-winning Krall has curated her repertoire with an exacting eye. Traipsing through the Great American Songbook, from Cole Porter and Nat "King" Cole to Burt Bacharach and Bob Dylan, Krall doesn't treat standards as museum pieces. She extracts their essence, sometimes to startling effect, to reframe them for contemporary times.
She ventured outside those lines with 2004's "The Girl in the Other Room," an underrated album of mostly original material she co-wrote with husband Elvis Costello, with whom she has twin sons.
Krall recently spoke about her latest album and how it has been marked by both joy and sorrow. Producer Tommy LiPuma, an important mentor and longtime collaborator, died in March.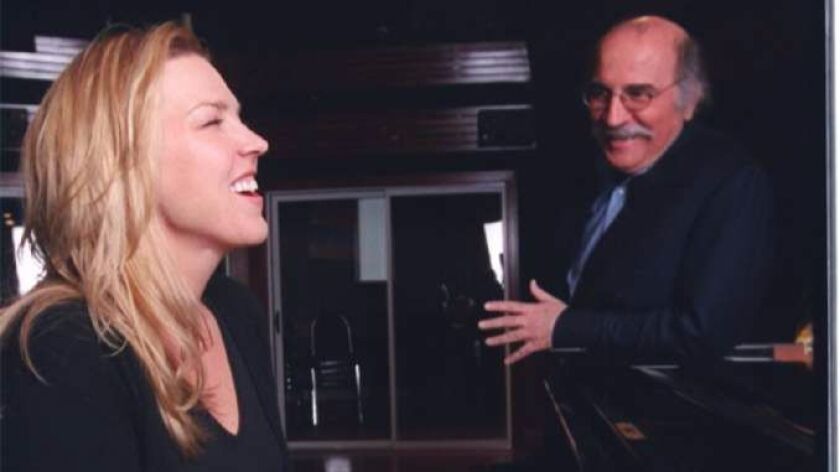 It's clear you had a lot of fun making this new album, but you lost Tommy just two months before it was released. How has that colored your connection with these new songs?
It's been such a strange time. I don't think you ever get over something like that. You're just different. But we're out playing music now that he would be very pleased about, so I'm ready to talk about the music. Right now, I think, is the best time of my life musically, where I feel most comfortable. Because the record came out right when Tommy died, it was seen to be bittersweet. But it's not a sad record. It's a very joyful record, and we're having a great time out here performing it.
Your deconstruction of "Sway," which most singers tend to swing, is a revelation on the new album. You slow it until it gets under the skin. What's your criteria for interpreting a song? What sort of test does it have to pass?
I was talking about that with someone last night. I've been listening to a lot of Joni Mitchell again, and I always include "A Case of You" in my set — for years. My friend was asking me why I chose jazz, and I don't know if it chose me or I chose it. I just have a feel for swing and improvisation. I'm not technically Benny Green or Oscar Petersen or the great pianists I admire, but I do have a depth of understanding that somehow gets me by. I feel that's the most important element of playing in an ensemble. I do have virtuoso musicians working with me, but they also have an incredible depth of feeling.
With a song like "A Case of You," it's like I'm interpreting a great play. I never, ever phone it in. I'm always trying to find the perfect story in a song, and also harmonically.
Are you the kind of artist who goes into the studio and knows exactly what she wants?
No. I knew exactly what I wanted to do with this album, which was assemble three different ensembles. I had specific songs in mind for each ensemble. I call musicians to do what they're [known to] do, so I don't have to say anything. I'm not very verbal in the studio. I rarely direct anything more than, "Can we play less on this? Can we just relax more here?" It's all about tempo and feel.
You stepped up as a songwriter on "The Girl in the Other Room" from 2004, but it's been a while since we've heard new songs from you.
Yesterday was the first day in a very long time that I've returned to that album. For the longest time I've protested and said, "No, I do not write. I'm not a composer like Joni Mitchell. How could I ever write like Cole Porter?" I arrange and can conceptualize and there's a great creative art form in that; otherwise we wouldn't have Frank Sinatra and Ella Fitzgerald and Billie Holiday.
People didn't ask them why they didn't write their own songs. There was a time when people asked me that a lot. I turned to the band [the other day] and said, "Maybe I'll write another one." It's great to have your husband as a lyricist. But someone said if you compare yourself to everyone else, then you'll never do anything.
We're coming up on the 25th anniversary of your debut, "Stepping Out." Is there any common thread that holds your discography together?
Well, I would have to say [double bassist] Ray Brown, [drummer] Jeff Hamilton, [double bassist] John Clayton. I went on a Canadian Arts Council grant to study in L.A. when I was 19. I was like Kristen Wiig in "Bridesmaids" — in a Laura Ashley dress and a David Bowie haircut and smoking cigarettes while driving to my hotel gigs and studying with [pianist] Jimmy Rowles.
It was a time when I really paid my dues, and I was so excited I could go hear people at [L.A.] places like the Money Tree and Donte's. It was an amazing time, and I think about how young I was doing that by myself, renting a room from a family in Whittier. And here are we, 25 years later.
Follow me on Twitter @jreedwrites.
---
Inside the business of entertainment
The Wide Shot brings you news, analysis and insights on everything from streaming wars to production — and what it all means for the future.
You may occasionally receive promotional content from the Los Angeles Times.