So much of what we think about when we think of 2016 in music is tragedy. Whether it's the thrilling artists we lost — from Prince to David Bowie to Leonard Cohen — to the horrific fire at an underground electronic music event in Oakland, for many music fans this year one of heartbreak.
Today, we pause from the mourning and instead choose to celebrate.
Here are some of pop's most unforgettable moments in 2016 — some silly, some refined and some even melancholic. A number of our moments, savvy readers will notice, stem from Desert Trip, the fall's mega-concert that featured the Rolling Stones, Bob Dylan, Paul McCartney and more.
As tough as this year was for many, we were still blessed.
Michelle Obama and Missy Elliott on "Carpool Karaoke." Few mainstream musical memes in 2016 were as reliable as "The Late, Late Show" host James Corden's popular Carpool Karaoke videos. Shot as Corden chauffeured guests including Lady Gaga, Adele, Elton John and others while they sang along to their hit songs, the clips have generated hundreds of millions of YouTube views.
Few were as joyful as when the host swung by the White House over the summer, purportedly for a tour, and ended up with First Lady Michelle Obama as a passenger. Soon the two were cruising, singing and clapping along to Stevie Wonder's "Signed, Sealed, Delivered, I'm Yours" and Beyonce's "Single Ladies (Put a Ring On It)" and talking about 3 a.m. grilled cheese sandwiches. — Randall Roberts
Having a seat at Solange's table. Solange opted for intimacy when it came to releasing "A Seat at the Table." Instead of a flashy arrival, she curated a visual and lyrical companion coffee table book, delivering it to the first 85 people who subscribed to her site. On the eve of its release she invited a select few to hear the album at a tiny Arlington Heights museum.
It was the perfect backdrop to preview Solange's meditation on being black in America as she sat among her guests at wooden tables that glowed with amber lighting (which she had installed for the occasion). We sat together, uninterrupted by phones or open bars, and got lost in the music. — Gerrick D. Kennedy
Chance the Rapper releases "Coloring Book." Though he didn't know it at the time, when Chicago rapper and singer Chance the Rapper issued his album "Coloring Book" for free on May 12, he was making history.
Seven months later, the full-length album, which Chance released himself, was nominated for the album of the year Grammy. It was the first time such an honor was bestowed on an album that hadn't been offered for sale. Even now, when most would be monetizing the album's success, Chance is still doling it out at no cost. — RR
Bruce Springsteen & E Street Band at the L.A. Sports Arena on March 15. It was a bittersweet send-off when the Boss and his longtime band mates set down in March for farewell shows in the venue he lovingly nicknamed "The Dump That Jumps" and "The Joint That Don't Disappoint," where he'd played more than three dozen shows over the course of his career. He reminded the crowd during the show "that we have a limited time to do our jobs, to raise our families and to try to do some good along the way." The message became all the more poignant knowing the Sports Arena would shortly fall victim to the wrecking ball after 57 years of service to the City of Angels to make way for a new soccer stadium. — Randy Lewis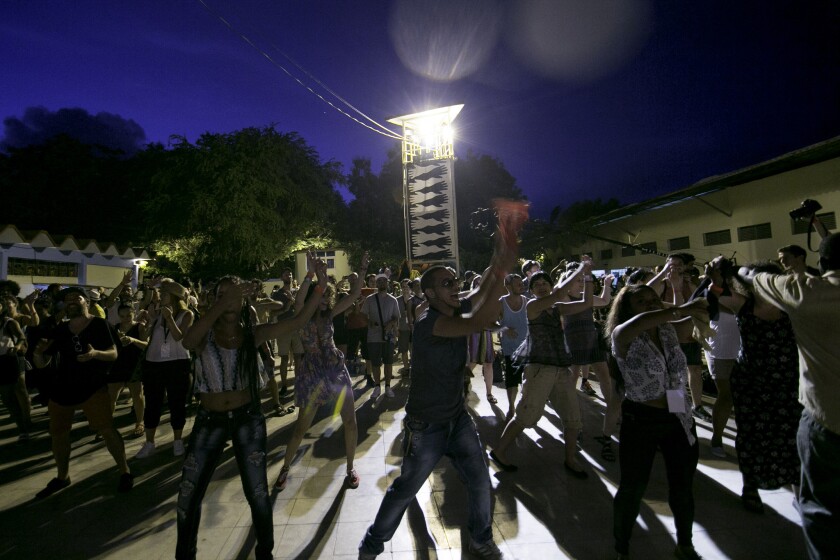 Cuba's Manana festival. Manana was Cuba's first international electronic music festival, and it came at a year of intense transition for the country and its relationship with America. But after a few days in Santiago de Cuba with no Internet access, no cellphone service and organizers literally building the stages out of disassembled boats, there was nothing to do except give yourself over totally the best local music in the world. When things look bleak in 2017, the memory of a Friday night in which Nicolas Jaar played in a hot Carribbean rainstorm and then moved his set to an indoor club when the power got cut and where a crew of local drummers caught the spirit and joined him onstage — and then led the whole crowd outside again for an hour of impromptu jamming and chanting — will serve as reassurance that things will be alright in the end. — August Brown
Spirit v Led Zeppelin trial. In the high-stakes copyright infringement case filed on behalf of L.A. '60s rock group Spirit against Led Zeppelin, which claimed that Zeppelin's most iconic song, "Stairway to Heaven," had ripped off Spirit's instrumental "Taurus," singer Robert Plant was called to testify and offered a polite but stinging response when asked whether Zeppelin had borrowed elements from Spirit's music. Although he denied familiarity with the song in question, he galvanized the court room: "In sort of the nest of rock 'n' roll and rhythm and blues, there's always been cross-pollination without a doubt, yes. We wouldn't have Little Richard, Larry Williams, the Beatles, all the people who've actually been involved with 'Bony Maronie' or 'Long Tall Sally' or, you know, 'Short Fat Fannie' and all that stuff. It was all moving across space." Zeppelin was acquitted of infringement. — RL
N.W.A's "reunion" at Coachella. It took nearly 30 years, but the impossible finally happened at this year's Coachella: The surviving members of N.W.A actually performed together. Since the pioneering gangster rap split for good, the idea of Dr. Dre, Ice Cube, MC Ren and DJ Yella sharing the stage seemed like a dream. The group's blockbuster 2015 biopic, "Straight Outta Compton," led to renewed interest in the "World's Most Dangerous Group" but still nothing. That changed during Cube's final Coachella set. Sure, they performed Dre hits instead of N.W.A records, but after 27 years of waiting how picky can you be? — GDK
Lady Gaga silences the crowd. You don't go to a benefit luncheon expecting to be blown away. That's exactly what happened, though, at a Grammy Museum event held in April at the estate of billionaire Ron Burkle. Lady Gaga was being honored for … well, it's hard to recall exactly. But after accepting her prize, the pop singer — then amid a kind of show-biz charm offensive that also included glossy performances at the Super Bowl and the Academy Awards — leveled the room with a stunning rendition of "La Vie en Rose." Even the servers looked happy to be there. — Mikael Wood
Green Day at the American Music Awards. Award shows can be self-congratulatory and tiresome, especially those in which peer voting is replaced by audience favorites.
Yet there was Green Day in the midst of November's American Music Awards, breaking the scene to slam President-elect Donald Trump with a protest march chant of "No Trump! No KKK! No fascist U.S.A.!" No real surprise, as Green Day has never played to a nonpartisan crowd, but the band in recent years has been its most passionate when giving into its political tendencies. — Todd Martens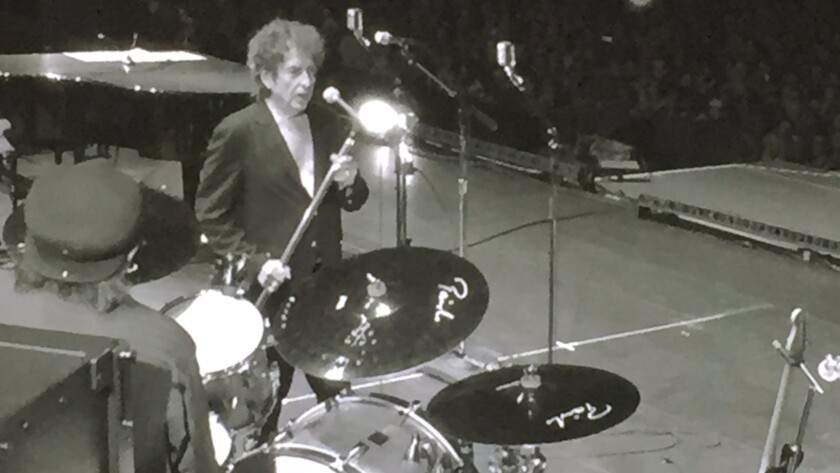 Bob Dylan at Desert Trip . Just before learning that the Bard of Hibbing, Minn., had been anointed the Nobel Prize for Literature recipient of 2016, he turned in a magnificently enigmatic performance at what was arguably the biggest gathering of rock heavyweights ever, Desert Trip. Even though Dylan uttered not a word before, during or after his performance, his song selection spoke volumes. Favorite moment: "Pay in Blood," from his most recent album of original material, 2012's "Tempest." It was an absolutely chilling reminder of the power of art to put real life in sharp relief as he sang: "I'll give you justice, I'll fathom your purse/ Show me your moral that you reversed/ Hear me holler, hear me moan/ I pay in blood but not my own." — RL
A Tribe Called Quest on 'Saturday Night Live.' "We are all one. We are the people." So began Q-Tip on what became an incendiary performance, one occurring just days after November's election. The act's "We the People" is short, but it's a scorcher, taking aim at the divisive politics that fueled this year's election campaign. As talk of walls and registries hit the news cycle, a work of protest art that should have been an alarmist exaggeration may have felt all too real for some. — TM
Leonard Cohen at the Canadian Consulate. At 82, Cohen in October elegantly walked into a reception on his behalf for a playback of his latest album, "You Want It Darker." He teased the assemblage of music writers from various countries, musicians and dignitaries on hand, responding to the recent New Yorker article in which he'd been quoted saying "I'm ready to die," suggesting with a dry smile, "I may have exaggerated…. I plan to live to 120." The twinkle in his eye and strength in his sonorous voiced seemed to back him up at that moment. Of the just announced news that the 2016 Nobel Prize for Literature was going to his contemporary Bob Dylan, Cohen responded: "It's like pinning a medal on Mt. Everest." Surely Dylan would agree that if there's another songwriter as eminently worthy of that accolade as himself it would be Cohen. — RL
Neil Young at Desert Trip. Many attendees at the Desert Trip rock summit meeting among rock titans Young, Bob Dylan, the Rolling Stones, Paul McCartney, the Who and Roger Waters came away lauding the intensely fiery performance that Young turned in with considerable help from his band of young players, the Promise of the Real. Rather than sticking exclusively to the cornerstone catalog of songs that would have guaranteed him one standing ovation after another, he included several new songs. One of the most striking: "Show Me," in which he sang "When the women of the world are free to stand up for themselves/ And the promises made stop gatherin' dust on the shelves." Women and men alike in the crowd of 75,000 erupted in a spontaneous standing ovation. — RL
Paul McCartney at Pappy & Harriet's.When Paul McCartney plays a secret show in a desert biker bar, you drop whatever insignificant nonsense you're doing and go. On the Thursday night between Desert Trip weekends, McCartney set up shop at Pappy & Harriet's in Pioneertown (capacity: 300, give or take) for a freewheeling last-minute show that was a take-to-your-grave night of music. Not one of the 300 gobsmacked fans will ever, ever forget watching him play "I've Just Seen A Face" so close that you could see every wrinkle and impish grin. McCartney in a dive bar: Come on, we should all be so lucky to be alive and get to see that. — AB
And one more for McCartney and Young. With little jamming between the half-dozen classic rock acts on the bill, October's Desert Trip festival was hardly a 21st century Concert for Bangladesh. But McCartney provided one glimpse of what might've been when he invited Young onstage during his set to help him do a pair of classic Beatles tunes: "A Day in the Life" and "Why Don't We Do It in the Road?" At the end of the former, the two sparked a mass singalong by tacking on a bit of John Lennon's "Give Peace a Chance." And Young bolstered the heavy blues of the latter with a noisy solo that made you wish Desert Trip had gone off-script more often. — MW
"American Idol" takes its final bow. When "American Idol" named its 15th victor this year it was the end of an era for a singing-competition series that broke ground in television and music. Say what you want about its penchant for cheese and the drama of its rotating judges panel, for years "Idol" was untouchable in ratings and its starmaking power. Kelly Clarkson. Carrie Underwood. Fantasia. Jennifer Hudson. Adam Lambert. Chris Daughtry. "Idol" alum have amassed hundreds of No. 1 singles, platinum albums and Grammys, tackled Broadway, film and even politics. Although flashier franchises born in its shadow and changing TV and music landscapes took away its relevance, we can't be the only ones missing the tone-deaf singers willing to embarrass themselves or voting for talented, small town singers who overcame harrowing trials adversity in search of pop stardom? — GDK
Follow me on Twitter: @toddmartens
---