Gustavo Dudamel cues the fanfare at Hollywood Walk of Fame star ceremony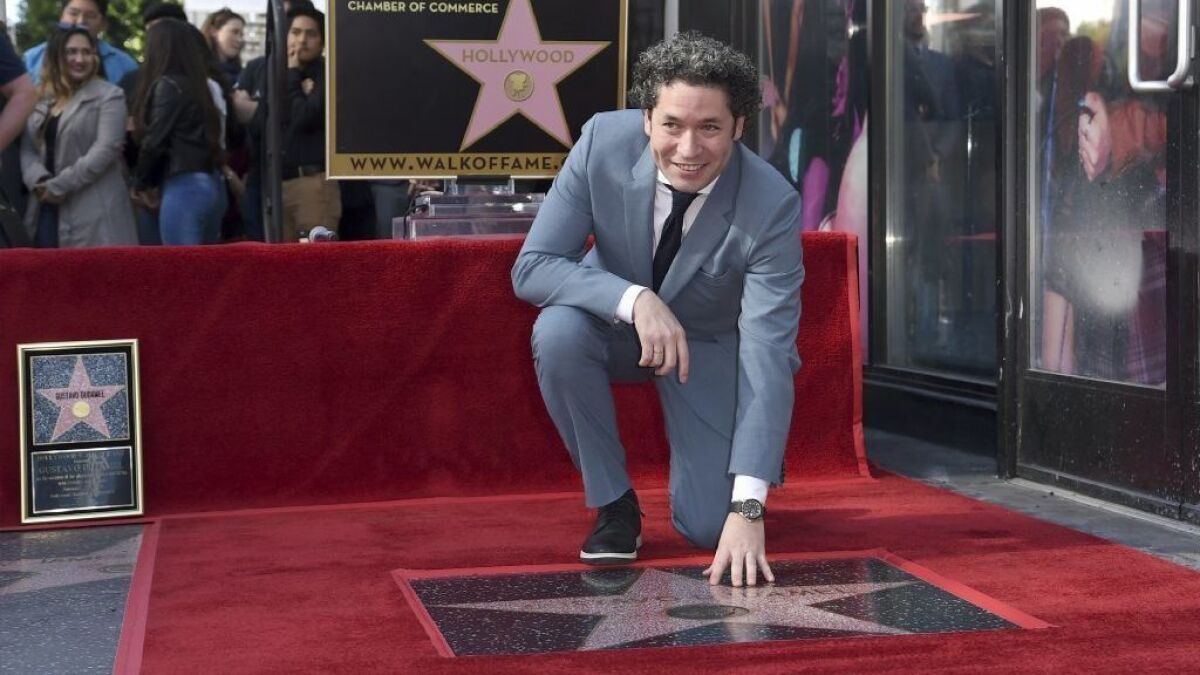 Gustavo Dudamel now has more to celebrate this year than his 10th anniversary as the music and artistic director of the Los Angeles Philharmonic.
On Tuesday morning, the world-renowned classical music conductor received the 2,654th star on the Hollywood Walk of Fame, which will appropriately reside in front of the Musicians Institute.
Rana Ghadban, the new president and chief executive of the Hollywood Chamber of Commerce, which broke down the many accomplishments of the Venezuela-born conductor, who turns 38 later this week. She mentioned how he had inspired the quirky character of Rodrigo in the Amazon Video series "Mozart in the Jungle," established an orchestra for disadvantaged youths in Los Angeles and guest conducted in 2015's "Star Wars: The Force Awakens," among other successes.
Helen Hunt, the actress and a longtime friend of Dudamel, recounted sitting in on his rehearsals of "Cantata Criolla," a patriotic Venezuelan composition.
"It was there, listening to his rehearsals, that I deeply connected to your creative force, the intensity that you have and the passion you feel, and your true belief that music is making the world a better place," she said.
"You have deep curiosity, boundless energy and soulful wisdom. … I travel the world in my work and for pleasure, and I have a spring in my step and swagger because we have you. So Los Angeles and Hollywood thanks you. I love you," Hunt added.
Other star guests included actor Christoph Waltz, Coldplay frontman Chris Martin, and esteemed composer John Williams, who lauded the younger maestro as an "approachable, charismatic force that brings us all together."
"He loves every kind of people and every kind of people love him," Williams said.
L.A. City Councilman Mitch O'Farrell echoed that sentiment.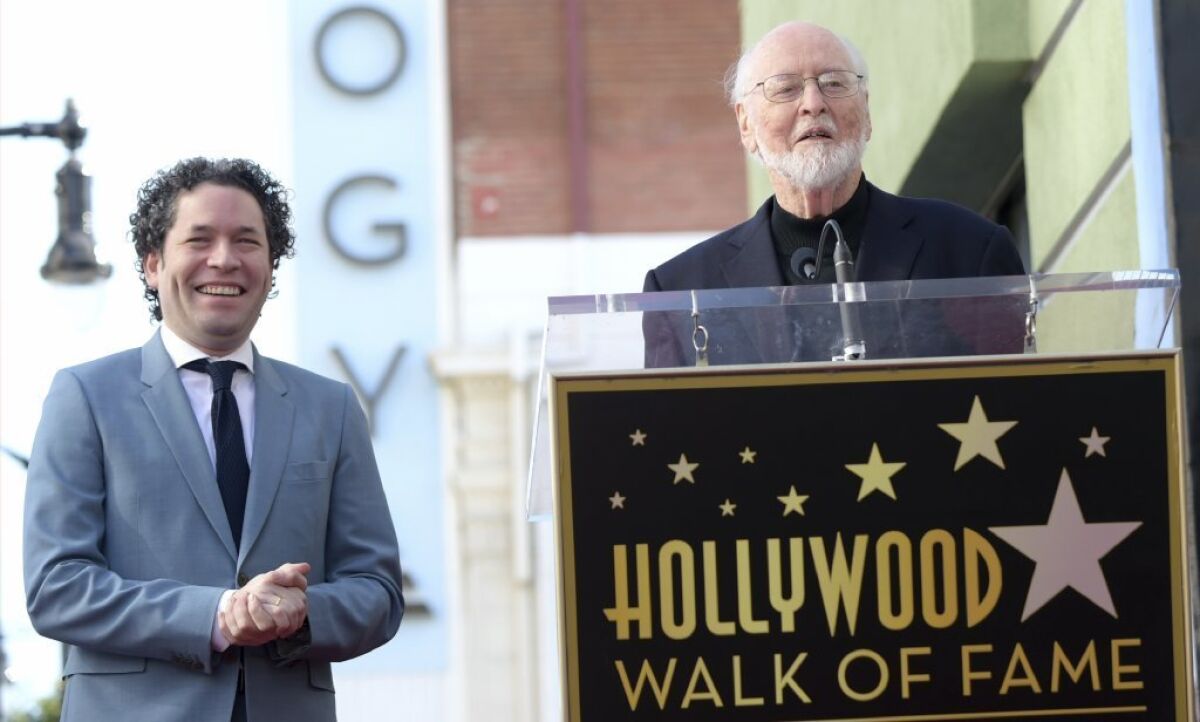 "Countless people across the world have been inspired and moved by your artistry. No matter who they are or where they are from, your dedication to lifting up those who are less fortunate is the most beautiful symphony of all," he said.
When Dudamel took to the podium, he thanked the classical-music predecessors who paved the way for him and for the public's acceptance of the musical genre.
His star on the Walk of Fame, he said, represents three key parts of his life: the past, the present and the future.
"As the first Venezuelan to receive this great honor, this star also belongs to the people of Venezuela," he said to cheers from the crowd. "In the desire that it will provide a small measure of hope and inspiration during such terrible times."
The gray-suited, sneaker-wearing conductor gave a loving shout-out to his wife, actress María Valverde, and his son, Martín, from his previous marriage.
""Mi vida, you give me love, you give me purpose, you give my life meaning and you keep me grounded," Dudamel said to his wife. "At your side my life is a celebration," he added in Spanish.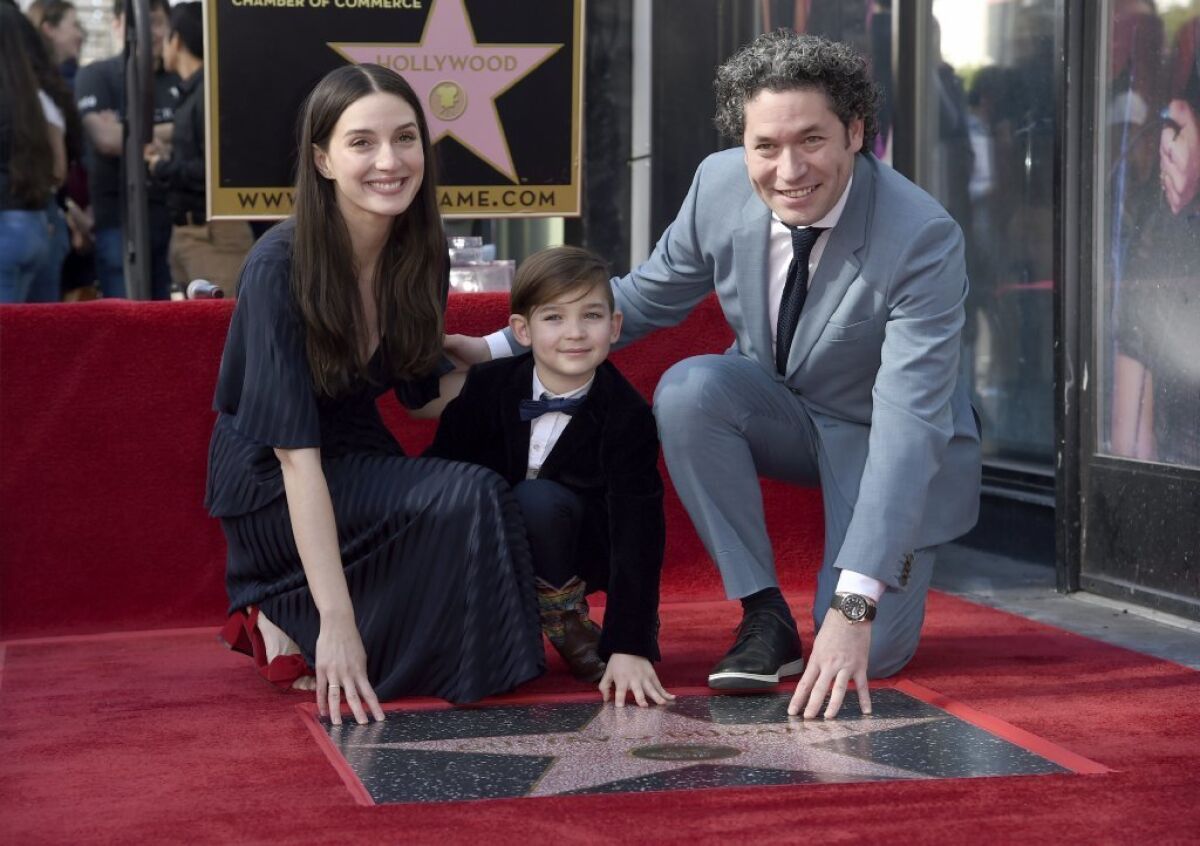 Before unveiling the star, Dudamel offered some parting wisdom.
"There are billions of stars in the universe. There are thousands of stars in the Hollywood Walk of Fame," he said. "Yet each star shines brightly on its own and has the ability to inspire and motivate. It reminds us that each of us has a purpose. All of us can make a difference and we share in the responsibility to light the way so that others may follow in our footsteps."
---
Get our L.A. Goes Out newsletter, with the week's best events, to help you explore and experience our city.
You may occasionally receive promotional content from the Los Angeles Times.