From the Archives: David Bowie spends the '80s convincing us he's just a normal guy
David Bowie died Sunday, Jan. 10, at the age of 69. The following is from a 1987 interview with The Times longtime music critic Robert Hilburn.
David Bowie, who spent most of the '70s establishing himself as a master of psychological disguises, is spending the '80s trying to convince us that he's just a regular fella--or at least as close to one as a millionaire pop star can be.
But it hasn't been easy.
Bowie did such a persuasive job a decade ago of creating a striking series of generally cynical and amoral characters (Ziggy Stardust, Aladdin Sane, the Thin White Duke) that much of Bowie's audience found it difficult to separate the artist from his creations.
At the same time, another large segment of Bowie watchers became so intrigued by the rock star's ability to heighten fan interest with his ever-shifting poses that they find it difficult to trust him. To them, Bowie will always be rock's Great Pretender.
Though Bowie stressed during his 1983 "Serious Moonlight" tour that he was finally being himself on stage, much of the pop press in Bowie's native England still seemed wary of the nice-guy persona. Even Bowie's warm-spirited appearance at the 1985 Live Aid concert in London didn't soften the suspicions.
Reporting on Bowie's recent London press conference announcing his new album ("Never Let Me Down") and his summer tour, New Musical Express, one of England's leading pop weeklies, all but ridiculed the "new" Bowie:
"His answers to the flood of banal and predictable questions from Fleet Street were punctuated with love, pal, mate and chum. He told us everything we knew already. It's great to be back in England, he exercises regularly to keep his looks and he's happy about touring and his new album. Oh, yes, and he's had an AIDS test, will have another if he changes partners and wants everyone to wear condoms."
In Los Angeles recently to film a video, Bowie appeared a bit frustrated, but mostly amused by the continuing perception of him as a master manipulator.
"There's something unique about rock 'n' roll . . . that makes everyone want to think that you are the same person off stage that you are on stage," Bowie said, sitting in the living room of a Beverly Hills hotel suite. "I mean no one looks at Bobby De Niro and says, 'Well, he changes his roles all the time, so therefore he's calculating and you can't trust him.'
"For me, rock was always about narrative or putting forward little stories and ideas however strange or off the wall they might be. I always saw it as theater, but the audience saw it as me going through all the changes.
"I guess it's flattering that everyone believed I was those characters, but it also is dehumanizing. I meet people all the time and I can see the mistrust in their eyes, like calculation is my middle name."
Bowie, 40, has been such an influential yet exasperating figure in pop music that Elvis Presley and the Beatles are the only rock stars with more books written about them. There were more than three dozen Bowie books at last count.
Invariably, the biographies paint Bowie as a manipulative man who has adopted images and discarded friends in a desperate climb to stardom. Several of the books have been written by or benefited from the cooperation of people formerly close to the singer: an early manager, an ex-wife, a management associate.
"All those books employ the same device," Bowie said, a tinge of anger showing beneath his otherwise cool and relaxed manner. "They take the same stories or themes from the previous books and blow them up a bit to make them more enticing. You find the same list of people talking in all the books.
"So, the whole thing becomes a circle of embittered people who are no longer on the bandwagon and see a way to make money. I stopped worrying about the books after about the fourth or fifth one. I just accepted that every year there will be two or three more.
"The interesting thing is, nobody ever interviews anybody who really knows me. I've got five or six friends who have been my friends for a long long time . . . (guitarist) Carlos Alomar, for instance, has been my friend for since 1974. Jim (Osterberg, better known as Iggy Pop) has been with me since 1972.
"I've also got schoolboy friends that were with me since I was 8 years old. Nobody bothers to find out about them because what they have is not alarming enough and they are supportive and have been for many, many years. You're not gonna find books by my real friends."
Bowie, who lives in Switzerland with his teen-age son, Joey, brought an urgency and ambition to rock in the early '70s that established him as the first great rock star of that decade. Though albums like "Hunky Dory" and "Ziggy Stardust" remain outstanding works of the period, Bowie's greatest contributions may have been reasserting the importance of ideas and personality in rock.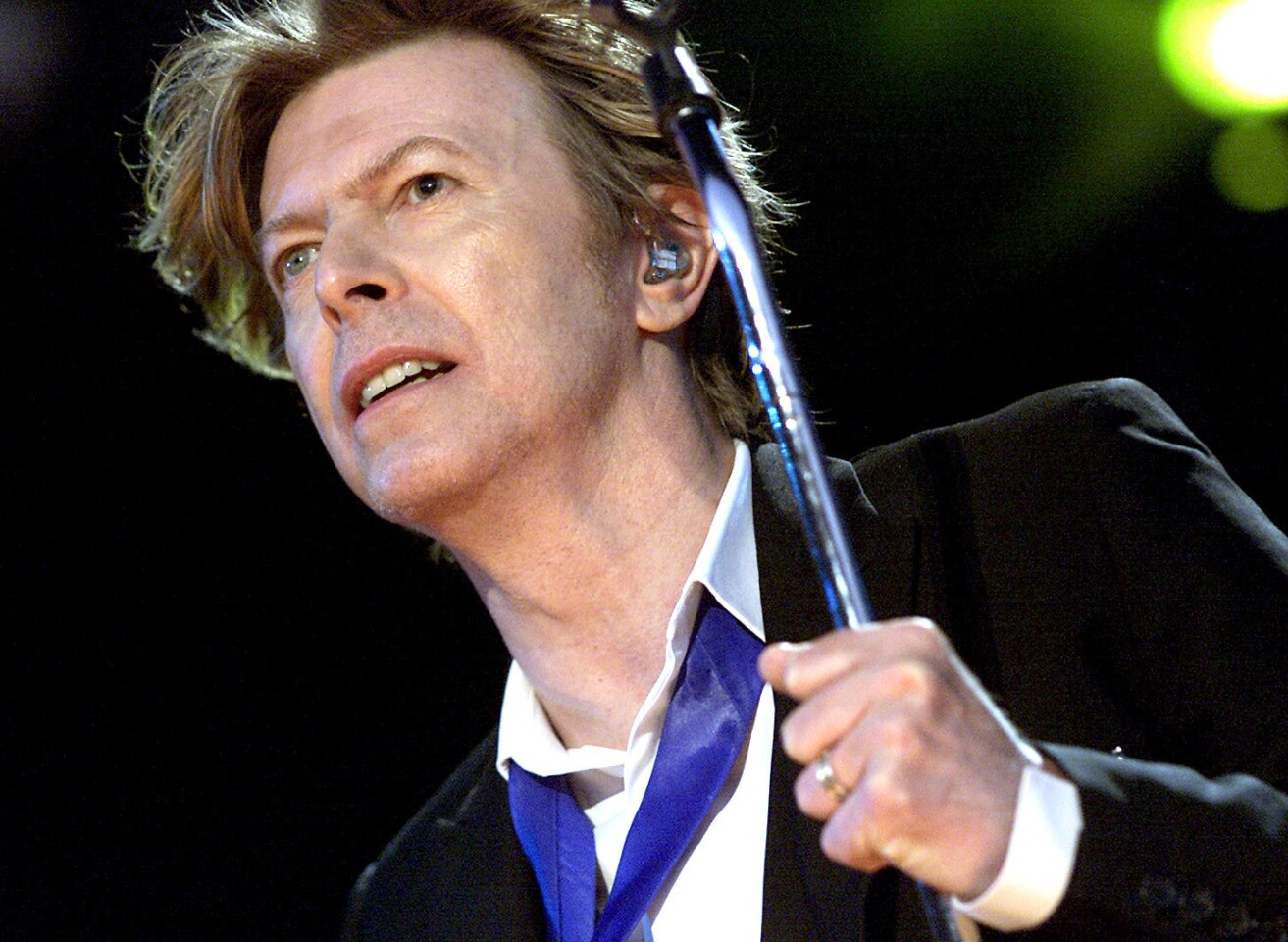 David Bowie
(Robert Lachman / Los Angeles Times)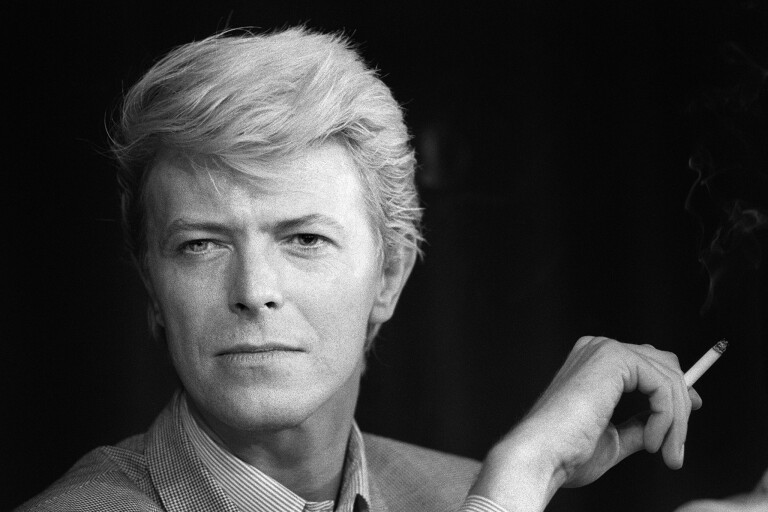 A portrait taken on May 13, 1983 shows British singer David Bowie during a press conference at the 36th Cannes Film Festival. He is the main actor in Nagisa Oshima's film "Merry Christmas Mr. Lawrence."
(RALPH GATTI / AFP/Getty Images)
English model Twiggy poses with David Bowie in Paris for the cover of his 'Pin Ups' album, 1973.
(Justin de Villeneuve / Getty Images)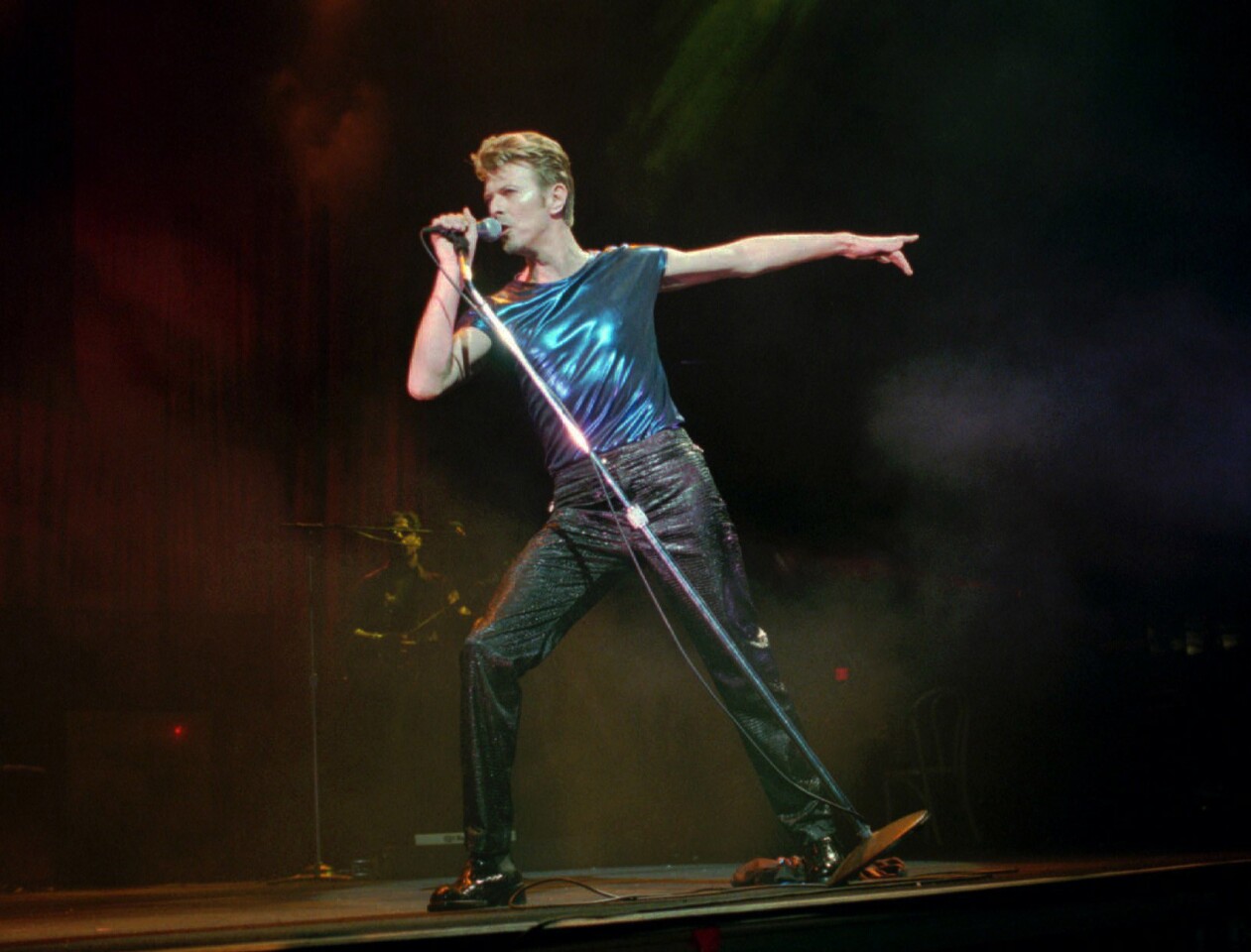 David Bowie performs in Hartford, Conn.
(BOB CHILD / Associated Press)
David Bowie performs on the first night of his UK tour at the MEN Arena on November 17, 2003 in Manchester, England.
(Alex Livesey / Getty Images)
David Bowie performs on stage on the third and final day of "The Nokia Isle of Wight Festival 2004" at Seaclose Park, on June 13, 2004 in Newport, UK.
(Jo Hale / Getty Images)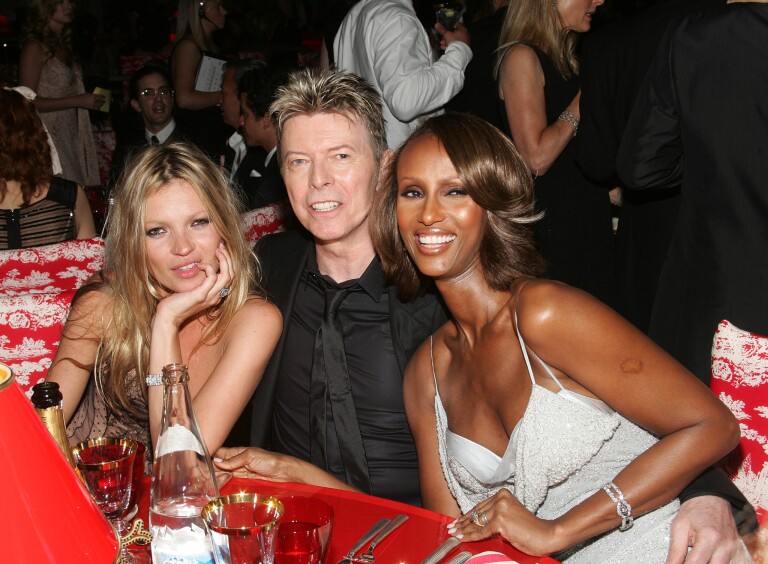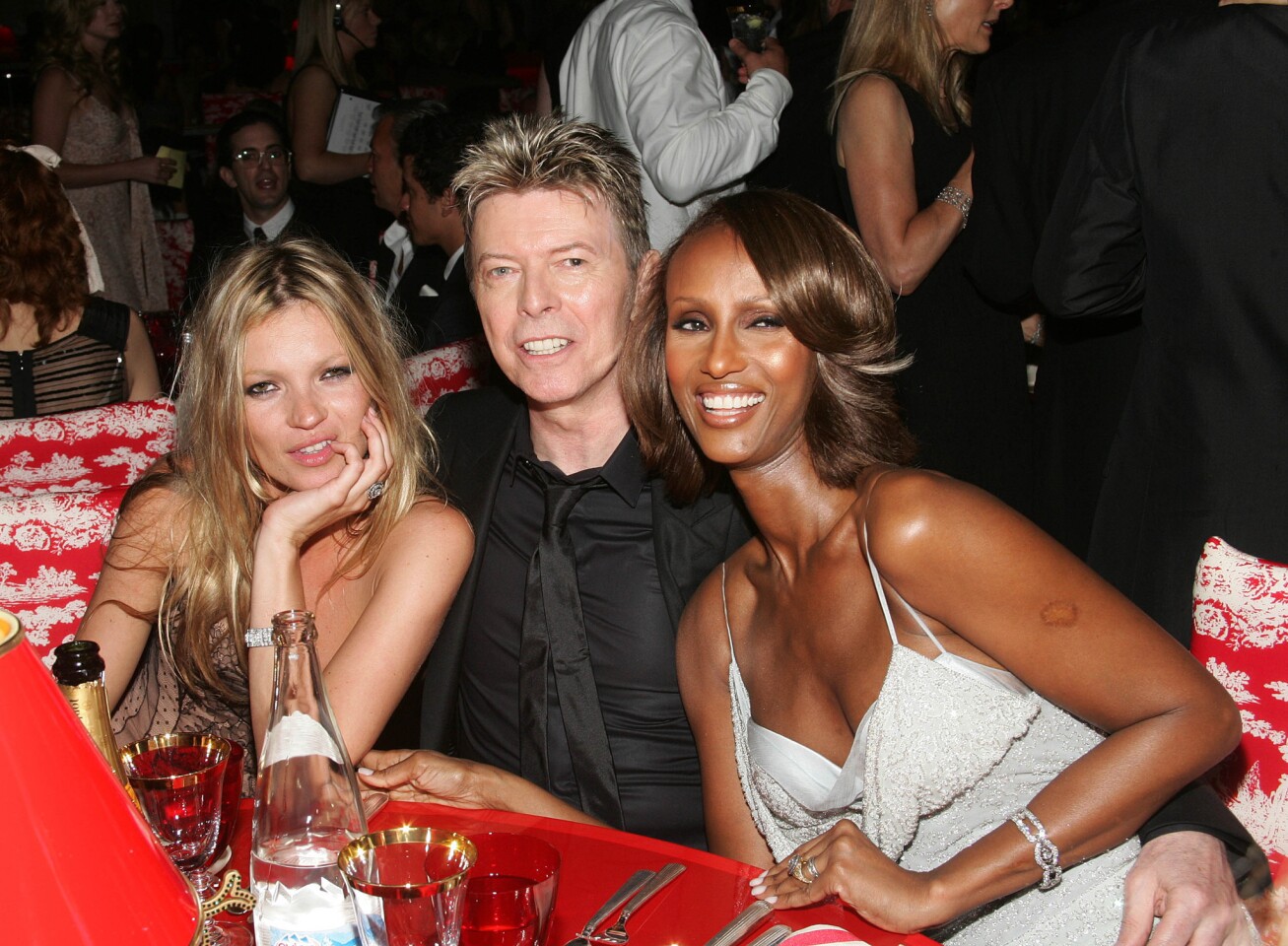 From left, Kate Moss, David Bowie and his wife, Iman, pose for a photo at the 2005 CFDA Awards dinner party at the New York Public Library.
(Evan Agostini / Getty Images)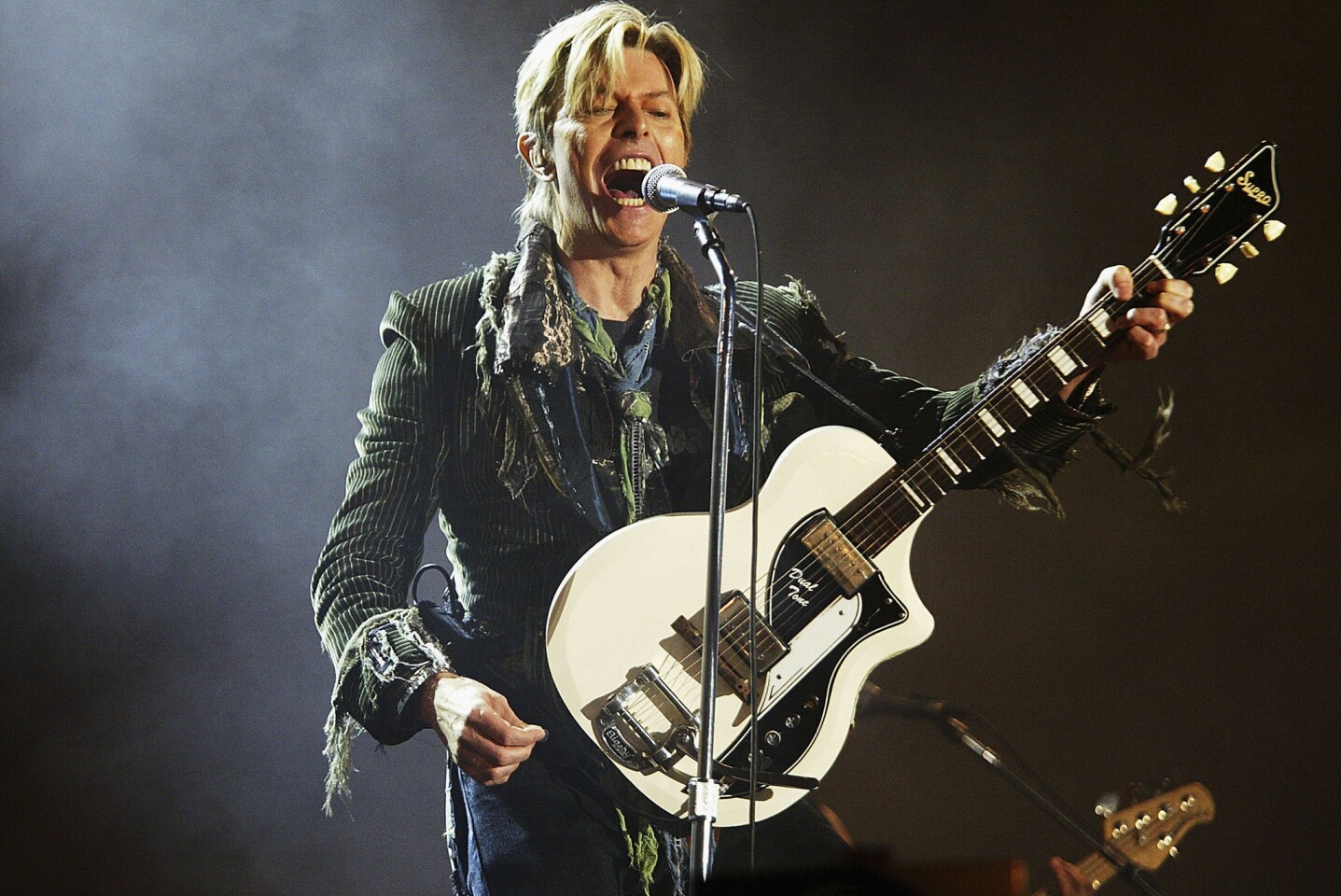 David Bowie performs during the Nokia Isle of Wight Festival in Newport, Britain, on June 13, 2004.
(Jo Hale / Getty Images)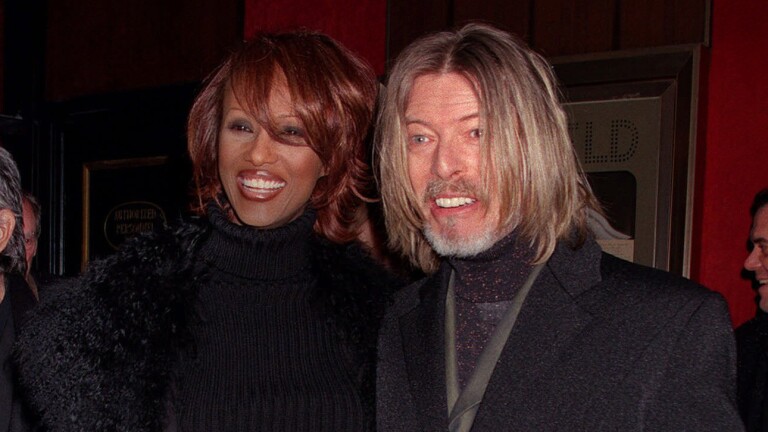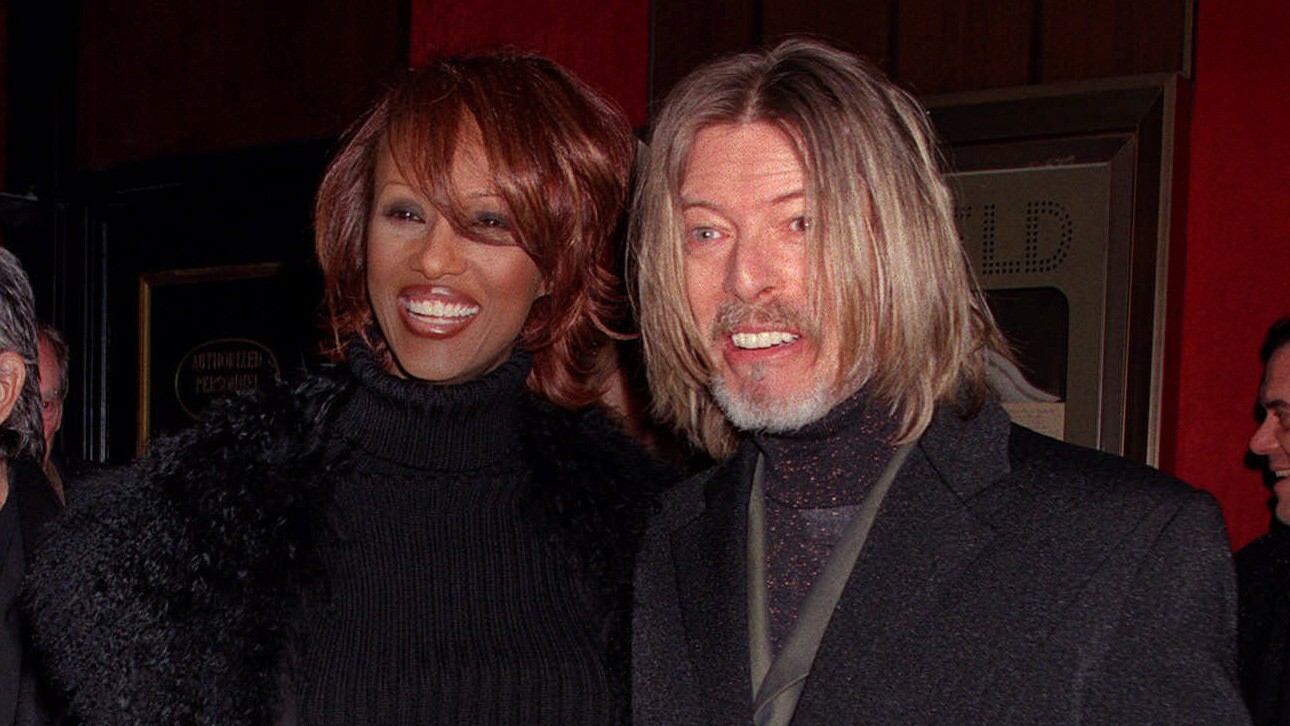 David Bowie with his wife, Iman, at the New York premiere of "Hannibal" at the Ziegfeld Theatre on Feb. 5, 2001.
(Darla Khazei / Associated Press)
David Bowie at the 2010 CFDA Fashion Awards at the New York Theatre Workshop on April 2, 2015.
(Peter Kramer / Associated Press)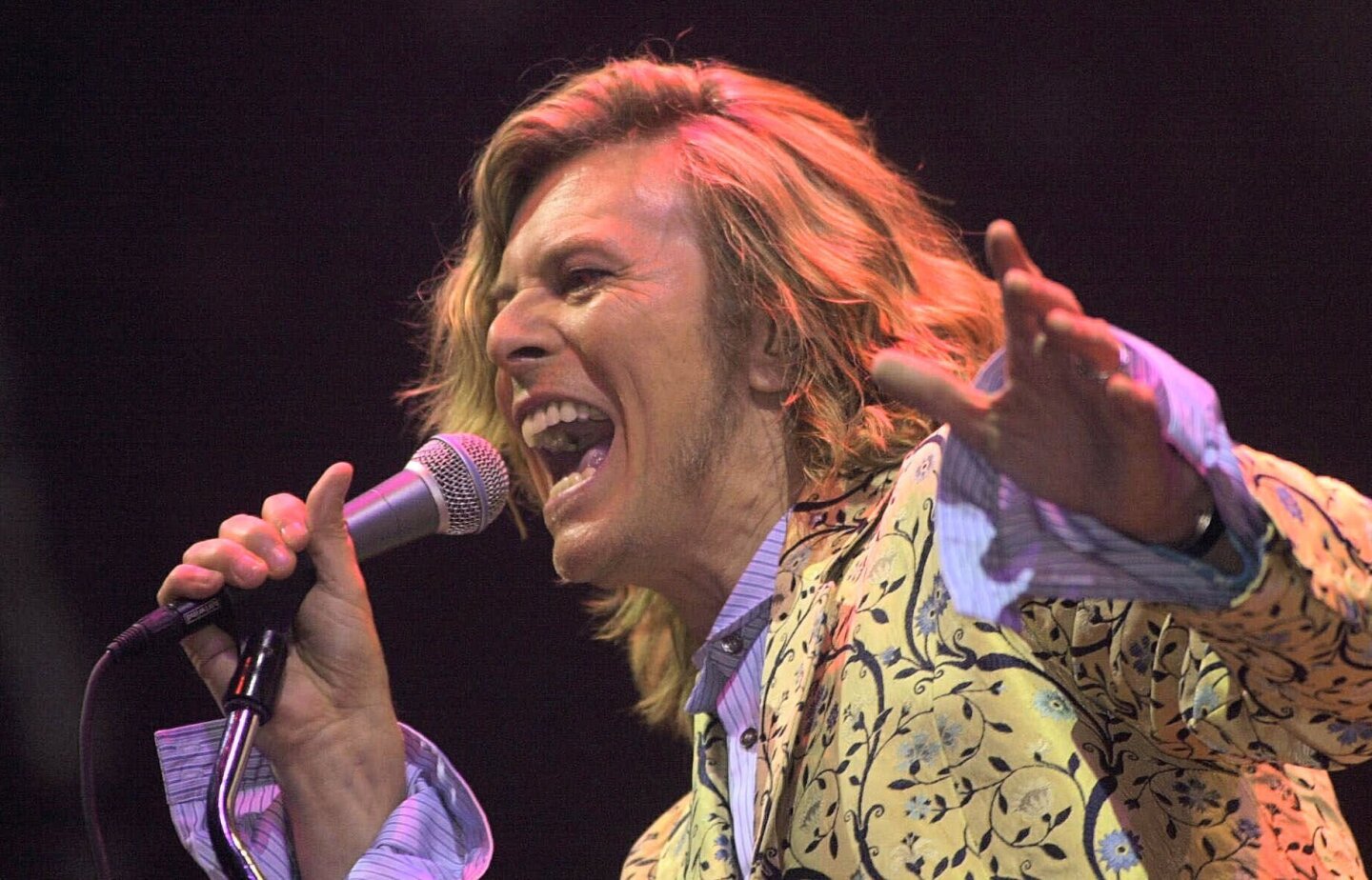 Bowie performs at the Glastonbury Festival in Pilton, Britian, on June 25, 2000.
(Toby Melville / Associated Press)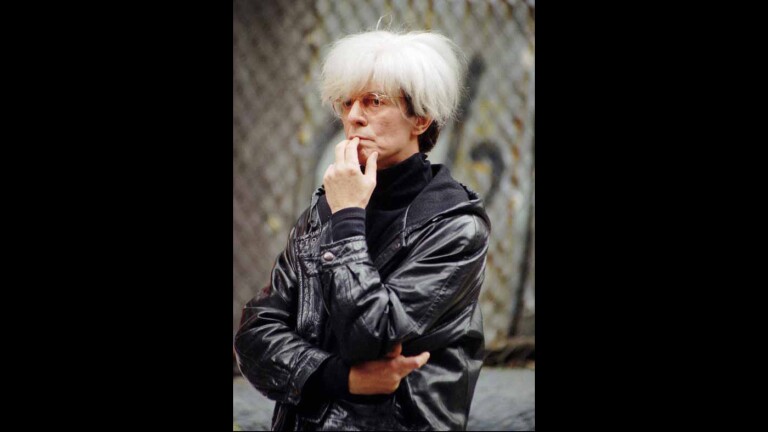 David Bowie as Andy Warhol during filming of the movie "Basquiat" in New York on June 13, 1995.
(Steve Sands / Associated Press)
At a time when rock performers were becoming increasingly anonymous, Bowie came on like a full-force gale, challenging sexual and social attitudes with a revolutionary aura that wouldn't been seen again in rock until Prince broke through in 1980 with "Dirty Mind."
Bowie's first U.S. tour remains one of rock's most memorable series of concerts. In the role of Ziggy Stardust, Bowie seemed in 1972 like a strange alien creature, not so much coming from another planet as from a future age. His purpose: to warn us about a dangerous society where values were to be turned inside out.
Bowie walked on so many wild sides in his concerts and music that few were surprised when he became engulfed in drug-related personal problems in the mid-'70s.
But he eventually patched things together and moved into the '80s with a fresh, upbeat spirit that was climaxed by 1983's "Serious Moonlight" tour. Always a favorite of critics and rock tastemakers, Bowie enjoyed an enormous rise in popularity that led him from 15,000-seat arenas to 50,000-capacity stadiums.
Though the tour lacked the culture shock of his earlier days, Bowie was again memorable on the "Serious Moonlight" dates: exploring themes of survival and hope with the joyful exuberance of someone being given a second chance. The shows were characterized by an absence of theatrical effects--just Bowie, for the most part, looking like an All-American boy grown into manhood with his winning smile, bleached blond hair, million-dollar tan and finely tailored suit.
About that tour, he said, "There was a time when I was convinced that the only way I could work was in the form of a character and I had approached the last tour with a lot of fairly intricate, dramatic devices in mind. But then we kept hearing about the huge demand for tickets . . . enough to force us into playing stadiums for the first time.
"The more I thought about it, the more I realized it was important to stay as simple as possible . . . just go out and sing the songs . . . a way of introducing myself to people who were just getting interested in my music. What I wanted to establish in that tour was my songwriting. I knew a lot of people would be seeing me for the first time."
Bowie's next album, 1984's "Tonight," was not an encouraging follow-up: a poorly focused series of songs, some of them undistinguished versions of others' material.
Bowie shrugged during the interview when the album was mentioned.
"I did a foolish thing . . . something that never happened to me before," he said. "I had outrageous success with the 'Let's Dance' album and the record company said you ought to get another album out . . . there is this big audience waiting.
"And so I thought they were probably right, only I hadn't prepared, and so it just ended up as a hodgepodge of ideas. It doesn't work as an album, but there are some quite good individual (tracks) on it. In fact, I'll do some of the songs in the new show."
Unlike "Serious Moonlight," the new tour--featuring a six-piece band including guitarist Peter Frampton--will be very theatrical. If the new album's harder edge and Bowie's recent fondness for black leather jackets are an indication, the emphasis will be on rock 'n' roll--not the gentlemanly demeanor of the 1983 shows.
"The new album is a lot more visual than anything I've done for a long time," he continued. "I wrote the songs knowing I was going on tour, knowing I needed a certain kind of high energy. That was my focus. I think people are hungry again for live shows.
"For a while, there was so much emphasis on video that people lost touch with the live concert experience. There's a lot of crap bands out there who don't have a clue about how to relate to an audience. I've been interested in video, but the live experience is always what has appealed most to me and I want to dazzle people. I want this show to be an epic."
There's a lot of crap bands out there who don't have a clue about how to relate to an audience.
— David Bowie
Though he is at the height of his popularity as a pop figure, Bowie continues to be frustrated in his long-standing ambitions as an actor. He was a hit as the title character of the 1980 Broadway production of "The Elephant Man," but he still hasn't made the inroads expected of him on the screen, where his roles have ranged from the visitor from another planet in Nicolas Roeg's "The Man Who Fell to Earth" to a modern-day vampire in "The Hunger."
About his film career, Bowie said, "It has been incredibly hard for me to break into films the way that I would like to. The problem is finding roles that I can take seriously. I still get offers along the lines of the Martian who plays a guitar or somebody without one arm and is a psychotic . . . things too off the wall to take seriously.
"What I usually end up doing is take the best that is available or the film that gives me a chance to work with some interesting personalities. It's becoming more and more obvious to me that I am going to have to do things for myself . . . find books that I adore and then find a scriptwriter. That'll probably be next for me--after the tour. I certainly haven't given up on movies."
MORE ON DAVID BOWIE:
Sasha Frere-Jones: An insider's look at the making of David Bowie's secretive 'Blackstar' album
Review: David Bowie looks far beyond pop on jazz-inspired 'Blackstar'
A Bowie-lover's deep dive in uno, dos, tres easy steps
Exhibition and book of Mick Rock's photography looks back on David Bowie
David Bowie's wham-bam 'Where Are We Now' release shows the artist remains a mystery in Twitter age
---
The complete guide to home viewing
Get Screen Gab for weekly recommendations, analysis, interviews and irreverent discussion of the TV and streaming movies everyone's talking about.
You may occasionally receive promotional content from the Los Angeles Times.