Analysis: 'Whitney' offers an unflinching look at Whitney Houston's triumphs and tragedies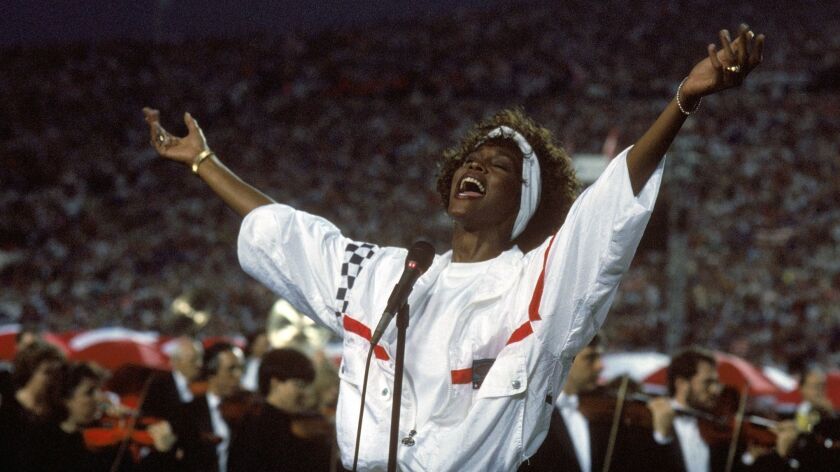 "The biggest devil is me," Whitney Houston told Diane Sawyer in her most infamous interview.
It was an exchange confirming years of speculation that the pop superstar had struggled with substance abuse, a dependency that ultimately contributed to her death at age 48 in 2012.
By the time the interview — the same one where she proclaims "crack is wack" — appears in "Whitney," a new documentary on the late singer, the viewer had already seen enough of Houston's downfall to know far more was at play with the singer than once believed.
The tragedy of Whitney Houston has been well told — particularly in the years since her heartbreaking death, hours before the Grammy Awards — yet parts of her story remained untold until "Whitney," an intimate, unflinching portrait on the star that premiered Wednesday at the Cannes Film Festival and simultaneously screened to select media in Los Angeles.
Directed by Oscar-winning filmmaker Kevin Macdonald and given the blessing of the late singer's estate, "Whitney" has already made headlines out of Cannes and will surely earn a place in the pop culture conversation this summer — it's scheduled for a U.S. theatrical release on July 6 from Roadside Attractions — and beyond.
The film reveals a singer who struggled with her identity on and offstage, someone who was haunted by a childhood marked with sexual abuse and friction with her parents, unable to overcome her demons and desperate to correct course for herself and her daughter, Bobbi Kristina Brown, who tragically died in similar circumstances a few years after Houston. 

Pegged as the "unvarnished," definitive story of Houston, Macdonald's retrospective is the second documentary about the singer in the last year, following Nick Broomfield and Rudi Dolezal's 2017 film, "Whitney: Can I Be Me."


Both films trace the singer's path to pop ubiquity from her youth amid the turmoil of Newark, N.J., in the 1970s and finding her voice in church under the tutelage of her mother, Cissy Houston.
Cissy, an extraordinary gospel singer who toured with Aretha Franklin, groomed her only daughter to sing "from her gut … and her heart," which eventually caught the attention of producer Clive Davis, who signed a teenage Houston and launched her to stardom in the late '80s, and remained a key fixture in her career until the end.


We know the story from there: Girl meets bad boy (R&B heartthrob Bobby Brown) and continues to reach dizzying heights of pop and Hollywood fame, until her once incandescent presence and goosebump-inducing voice begin succumbing to a cocaine addiction that unravels her in front of the world, turning her into a sordid tabloid fixture before ending her life.
Although "Whitney" and "Can I Be Me" boasted unseen archived footage and interviews with the singer's closest confidants, Macdonald's film unfolds as a stunning profile of a star many of us assumed we had known intimately given her rise and fall in the public eye.
Where "Whitney" ultimately separates itself is in Macdonald's access to her family and the contextual lens he provided to her storied career. 


Although Houston reached stratospheric levels of pop stardom that have rarely been replicated, she struggled with feeling unaccepted by black listeners — she was famously booed at the Soul Train Awards — and the director links her insecurities with her blackness to a childhood plagued with enough bullying that her parents changed her school (her peers, Cissy says in the film, were jealous of Whitney's lighter complexion and statuesque looks).
"Whitney" offers new insight into her most majestic triumphs — her performance of "The Star-Spangled Banner" at the 1991 Super Bowl and the heights that 1992's "The Bodyguard" took her to, especially — and unseen footage of her rehearsing and recording, scenes that are bone-chilling glimpses of her gift, made all the more tragic by the amount of pain she carried throughout her career.
Macdonald deftly explores how the singer was encouraged, if not forced, to present herself in a particular way for the public's consumption — which meant shielding her sexuality, described as "fluid" by her closest friends and colleagues.
Houston's sexuality, particularly a long-rumored romance with Robyn Crawford, her oldest friend and former assistant, has been explored closely since her death, and while both films have offered confirmation, "Whitney" provides glimpses of the tenderness between the women and shows the vitriol their relationship was met with by the singer's family.
"She was a nobody. She was somebody I didn't want my sister involved with," huffs Houston's brother, Gary Garland.
Gary and Houston's other brother, Michael, are the backbone of the film. Both toured with their sister — the singer employed virtually her entire family to great detriment — and both indulged in drugs with her with reckless abandon. At one point Michael even boasts about being able to party harder than Bobby Brown, Houston's ex-husband, who for years bore the brunt of the blame for introducing the singer to harder drugs (not that Brown is absolved here).
It's through the wealth of interviews — Cissy, Gary, Michael, Brown and Houston's sister-in-law Pat (who, as executor of the singer's estate, helped produce the documentary) all appear alongside many of Houston's closest friends and associates — that the film begins to crescendo toward its most startling moment. About three-quarters though the film, Gary alleges he was molested by cousin Dee Dee Warwick, Cissy's niece and the younger sister of soul singer Dionne Warwick.
And Dee Dee — a soul and gospel singer who was eclipsed by Dionne's success and died in 2008 — allegedly did the same to Whitney, who along with Gary and Michael was left for lengthy periods of time while Cissy toured.
"I think she was ashamed. She would wonder if she did something to make [it happen]," says Mary Jones, the singer's longtime assistant and the one who found her lifeless body.
It was a secret the singer kept from her mother (Pat confirms she too was told; Cissy doesn't discuss it — or any of her daughter's darker moments — on camera) and Jones posits it was the driving force of Houston's discomfort with her own sexuality.
Ultimately, Macdonald has given audiences a potent assessment of one of the most tragic stories in pop history — one that, sadly, could have been different had Whitney had the room to be Whitney.
For more music news follow me on Twitter:@GerrickKennedy
---
Your essential guide to the arts in L.A.
Get Carolina A. Miranda's weekly newsletter for what's happening, plus openings, critics' picks and more.
You may occasionally receive promotional content from the Los Angeles Times.