Review: Adele's flair for intimacy on a grand scale shines at first Staples Center show
Before a capacity crowd eager to receive her every utterance, Adele — the most successful pop singer on the planet, and one whose fans feel that her songs express what they can't — stood onstage at Staples Center and asked the question that burned inside her.
"Is it true that koala bears have chlamydia?"
It was Friday night, the first concert in an unprecedented run of eight sold-out shows at the downtown arena for this young British singer whose third album, "25," has sold nearly 9 million copies in the United States since it came out in November. (Her second album, 2011's "21," has sold more than 11 million. Both numbers dwarf those of A-listers like Beyoncé and Taylor Swift.)
Adele had opened with "Hello" — an ultra-dramatic ballad that, like so many of her songs, combs through the painful details of a breakup — and had already sung the plaintive "Don't You Remember" and her Oscar-winning James Bond theme, "Skyfall."
But now, after wondering aloud where people in the audience were from, she was happily pumping an Australian fan for information about a place she said her reluctance to fly had prevented her from visiting.
A one-on-one conversation amid 18,000 or so other folks: Combined with her remarkable voice, it's that flair for intimacy on a grand scale that's driven Adele to the top. She's a conveyor of relatable emotion at a moment when pop seems defined by concept and style.
And while other singers search for ever-more-adventurous sounds to blanket their digitally processed vocals, she emphasizes the fundamentals of classic confessional songwriting: detailed lyrics to make a scenario feel real and a sturdy melody to make it feel like fate.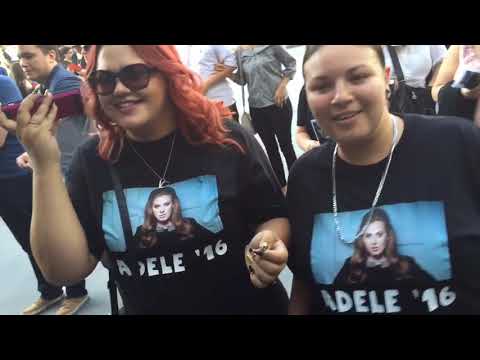 Adele fans before the start of her concert. (Genaro Molina / Los Angeles Times)
At the same time, there's an off-the-cuff spirit to Adele's work, especially in concert, that stands in appealing contrast with the careful polish embodied by her peers. Heading into Friday's show, you certainly didn't expect to hear about koala bears or chlamydia; there's a good chance Adele didn't expect to mention them, either.
But mention them she did in a proudly old-fashioned production — the 64th gig, she noted, in a lengthy world tour running through mid-November — that shared more with Barbra Streisand's visit to Staples earlier in the week than with the state-of-the-art spectacle Swift brought to the arena for five nights last year.
She emphasizes the fundamentals of classic confessional songwriting: detailed lyrics to make a scenario feel real and a sturdy melody to make it feel like fate
Backed by a large band that included horn players and a string section, Adele mostly stood at center stage in a sparkly gown and belted out her smartly assembled songs, which give her voice all the room it needs to jump and soar.
Early in the show she admitted (or was she boasting?) that she had only two songs with anything even close to an upbeat vibe, then she played them back to back: "Rumour Has It," a stomping kiss-off, and "Water Under the Bridge," about fearing the inevitable unraveling of a relationship. Party(-ish) tunes dispensed with, she told the crowd that everyone could get back to the business at hand: "We can just cry for nearly two hours."
Adele isn't above using broad gestures to ignite her fans' emotions. During "When We Were Young," a large video screen showed pictures of the singer, now 28 and with a 3-year-old son, as a gawky kid and a pregnant mother-to-be — the nuclear option, basically, for an audience as full of parents as this one was.
And halfway through "Hometown Glory," scenes from Adele's native London gave way to images of Los Angeles, setting the room off in predictable cheers. Then again, perhaps she was merely foreshadowing something she'd explain with characteristic charm later in the show: that she'd just settled into a second home here.
"Bristol Farms!" she exclaimed, referring to the high-end grocery store she'd discovered. "Oh, my god!"
What kept the performance from feeling mawkish was the pinprick intensity of Adele's singing: You never got the impression she was describing vague sensations, but rather that she was reliving specific experiences, as in "Million Years Ago," which looks back to a carefree past now out of reach, and "Someone Like You," about running into an ex whose dreams came true with another person.
Even "Sweetest Devotion," an account of the motherly affection she said "blew my mind," sounded a bit like the first song ever written about that familiar topic — that's how deep Adele was getting inside the music.
It also helped that, as retro as Friday's concert could be, Adele knew when to allow a modern touch. For "Send My Love (to Your New Lover)," her band revved a swinging pop-soul groove; "Water Under the Bridge" had shimmering synth textures.
And near the end of the show she moved to a small platform on the arena's floor to sing "Set Fire to the Rain" as sheets of water came falling down around her — a neat technological trick that served to remind you how few of those you'd witnessed during the previous 90 minutes.
While she was on that platform, Adele paused the concert for another concession to contemporary taste: She crouched down and encouraged fans to turn around and snap selfies with her in the background.
Or maybe it wasn't a break so much as part of the production: another instance in which Adele the superstar was shrinking to life size.
Twitter: @mikaelwood
ALSO
Vin Scully's secret desire? 'I wish I could sing with Fleetwood Mac'
At Staples Center, Barbra Streisand is a down-to-earth diva with Donald Trump on her mind
'All my homies showed up tonight?': Gwen Stefani opens her summer tour on a high note
Get our L.A. Goes Out newsletter, with the week's best events, to help you explore and experience our city.
You may occasionally receive promotional content from the Los Angeles Times.