Review: Adult Swim tries its hand at the multi-day festival experience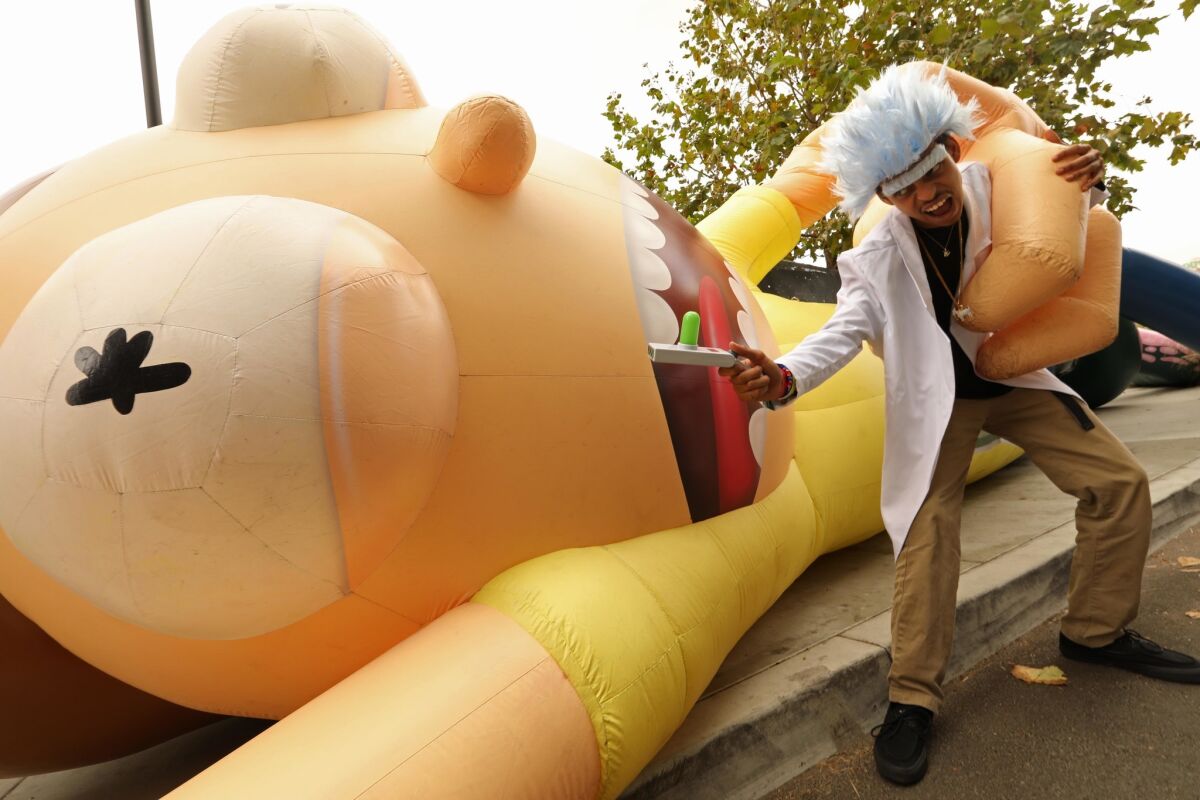 A pointed look at what Adult Swim was trying to accomplish with its inaugural music and comedy festival came Saturday during the event's first hours as Dawn ran through a feverish set that kept the audience dancing under the hot afternoon sun.
The chameleon's outré brand of R&B-pop has incorporated animated visuals and VR experiences into music thick with freewheeling narratives and layers of polyrhythms. Her DIY approach to pop music embodies the spirit of what Adult Swim has done for the better part of two decades with its off-kilter, innovative programming that runs late at night on the Cartoon Network.
That style and range made the indie singer-songwriter-producer a natural candidate for Adult Swim's first real foray into music with its annual Singles Program, to which Dawn contributed nearly half a dozen tracks that have been played on-air and offered for free download.
Synergy and eclecticism were at the core of the three-day event this past weekend at the Row complex in the Arts District, which featured performances from more than 40 acts including Big Freedia, Hannibal Buress, Mastodon, Flying Lotus and Thundercat.
The lineup called back to Adult Swim extensively, which is why things kicked off Friday with innovative rapper-singer T-Pain chewing through selections from the "Freaknik" musical he produced for the network and why the event closed Sunday with a full orchestration celebration of its Emmy-winning animated hit "Rick and Morty" and a headlining slot by rap duo Run the Jewels, who were introduced by an Adult Swim executive.
It made sense that Adult Swim would turn its ambitions toward crafting the music festival experience as an extension of its brand. But it wasn't quite clear just whom the festival was catering to. Although the event's location made it one of the more accessible offerings we've been to in a while and the lineup was tastefully booked, it didn't seem to try to be any one thing for anyone.
For more than a decade, Adult Swim has been the No. 1 basic cable channel in total day ratings among adults under age 35. Its wildly eccentric digital and linear programming, which includes hits such as "The Venture Bros.," "Tim & Eric's Bedtime Stories" and "Robot Chicken," have benefited musicians and artists who've been featured on the network through its Singles Program.
Launched in 2010 as a nine-track curation slanted toward discovering indie artists, the Singles Program has grown into a year-long initiative that sees exclusive, one-off singles from artists both established and unknown across a myriad of genres released over 52 consecutive weeks.
The tracks are always available for free download, and they play on-air during "bumps" (jokes, quirky observations or random messages that appear on-screen) between shows, providing unbeatable promotion for artists – particularly lesser-known artists that have long been the cornerstone of the program. This weekend's lineup consisted entirely of acts that have been featured in the program or on the channel.
It's an unparalleled commitment to music — something not even networks catering to music fans have accomplished (sorry, MTV) — which made this weekend's festival so promising when it was announced earlier this year.
Yet based off its inaugural outing, Adult Swim has quite a ways to go in terms of curating an event that's both a worthy extension of its programming and serves as a viable competitor in the ever-growing festival market.
Tickets cost $85 a day or $255 for the entire weekend, which is on par with the many niche, smaller-capacity festival experiences that have seemingly multiplied overnight over the last few years in the SoCal market.
But for loyal fans of Adult Swim's programming, there simply weren't enough offerings to whet the appetite or offer much reverence to its long history of creative disruption.
The footprint of the festival — sprawled amid the smattering of warehouses that have been redeveloped into a slick, highly accessible mixed-use complex — leaned heavily toward the network's biggest hit, "Rick and Morty."
People attend the inaugural Adult Swim Festival at the Row in downtown Los Angeles on Oct. 6, 2018.
(Genaro Molina / Los Angeles Times)
Wavves bassist Stephen Pope plays with the San Diego band.
(Genaro Molina / Los Angeles Times)
Francisco Rivera, 32, rides the Hot Dog Mechanical Bull.
(Genaro Molina / Los Angeles Times)
Comedian Gregg Turkington, who co-hosts the comedic Adult Swim film review show "On Cinema at the Cinema," reviews Hollywood movies during his set, "On Cinema Live!"
(Genaro Molina / Los Angeles Times)
Dekkar & DKR perform.
(Genaro Molina / Los Angeles Times)
Brandon Millan, 21, dressed as the character Rick, battles with an inflatable Rick.
(Genaro Molina / Los Angeles Times)
Clams Casino plays a set.
(Genaro Molina / Los Angeles Times)
Jake Purnell, 28, right, and other concertgoers enjoy a set by the San Diego band Wavves.
(Genaro Molina / Los Angeles Times)
Kevin Candelabra, 27, right, dressed as the animated character Harvey Birdman — Attorney at Law, cheers with other concertgoersl.
(Genaro Molina / Los Angeles Times)
Chris Farley, dressed as his own creation, "The Adventures of Black Man," gets into character.
(Genaro Molina / Los Angeles Times)
An inflated, oversize likeness of Rick dangled off the parking garage overlooking the festival's entry, where guests lined up to take photos with the eccentric scientist's grandson, Morty (more than one attendee dressed as the main characters from the acclaimed show). And a "Rick and Morty"-themed mini-golf course was more popular than some of the musical acts.
"I appreciate the fact that y'all stayed and vibed, even if you didn't know my music," Trippie Redd said with an air of exasperation.
And who could blame him? The buzzy rapper just tore through a set of muscular raps that failed to compete with a mechanical hot-dog ride, a virtual-reality experience inspired by the network's surreal workplace comedy "Dream Corp LLC" and a rope ladder carnival game in which the objective was to whack the uvula of a giant four-eyed cat.
With so many offerings like this on the market, it didn't take long to notice Adult Swim's shortcomings.
The food lacked any real curation. There weren't enough engaging activations or art installations for guests to keep busy with between acts, and the festival barely scratched the surface in terms of connecting fans to the network, a particularly baffling shortcoming considering how many titles Adult Swim has released.
Sure, there are too many festivals on the market. That much we can agree on. But the influx of tentpole events has allowed smaller, less exhausting experiences such as All My Friends, Smokin' Grooves and Summertime in the LBC to make a splash.
Considering that the network has pulled off college tours, installations and live stunts in the past, one expected this to be something worth leaving the couch for.
Next time, we'll just stay home and watch Adult Swim until sunrise.
---
Get our L.A. Goes Out newsletter, with the week's best events, to help you explore and experience our city.
You may occasionally receive promotional content from the Los Angeles Times.