Review: The new All My Friends festival had star power to spare. Now, to lock in its audience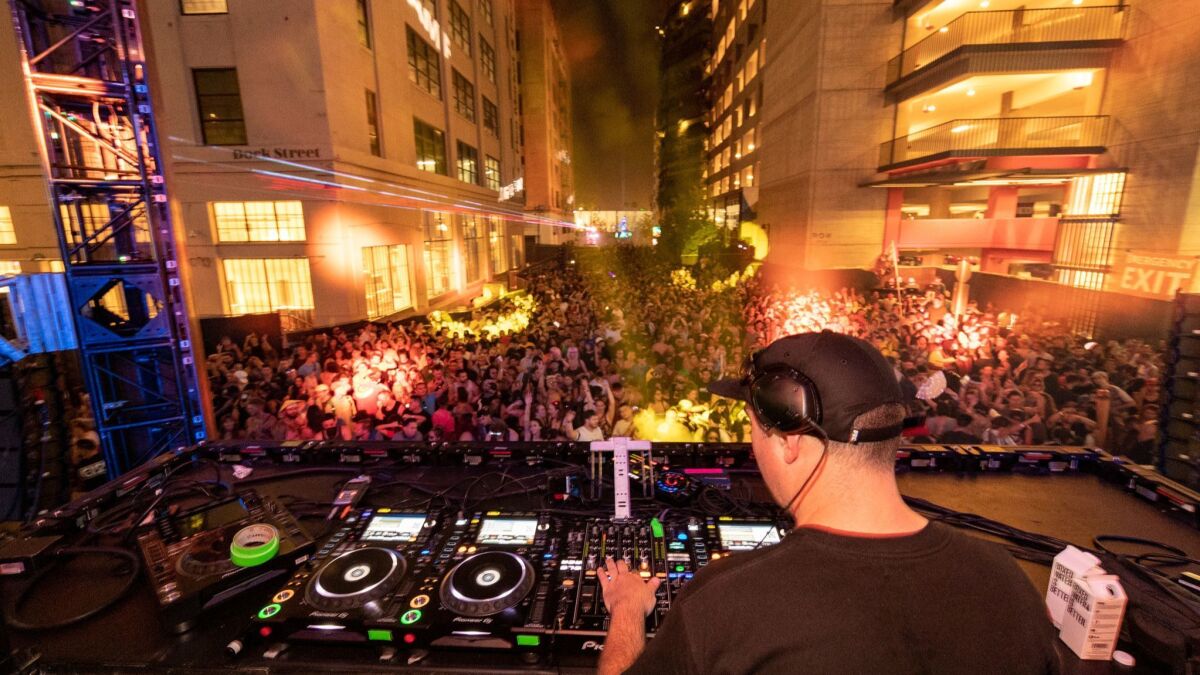 As the sun fell on the last Sunday sets of the first All My Friends festival, it was clear that there's a hunger for this kind of show in central DTLA — a smaller-capacity event that's urbane and accessible, and maybe a little hipper than its predecessor Hard Summer, perhaps a little reminiscent of FYF Fest five or so years ago.
The tasteful lineup from founder Gary Richards had Sunday headliners Jamie xx and M.I.A. bringing relentlessly creative, genre-blurring sets to the industrial-yupster pathways of the Row complex in the Arts District. (Saturday had sets from RL Grime, Jhene Aiko and Gucci Mane atop the bill.)
Now the question: Will All My Friends hang on to be the marquee festival to fill that space?
After a decade at the helm of Hard Events and its primary show Hard Summer, Richards isn't exactly starting from scratch with All My Friends. His particular sensibility — a post-EDM mélange of hip-hop, R&B, discerning house and techno and some populist beat music — is a proven formula, and the 10,000-capacity All My Friends intentionally echoed the early Chinatown days of Hard Summer.
But after the two-day festival wrapped, the challenges of building a new brand in electronic music are considerable, even for a veteran working on a much smaller scale.
The music, as usual for Richards, was locked in from the start.
Jamie xx is on one of the most interesting arcs in dance music right now, where he not only can headline arenas with his band, the xx, but also can single-handedly command festivals with his own DJ sets, which pull from generations of U.K. club music and heartfelt original productions.
M.I.A. is in a retrospective moment — she has a new documentary, "Matangi Maya M.I.A," exploring her career — but Sunday, she still sounded like the future at every turn, with unclassifiable club sounds from the world over.
Progressive acts from within techno and far beyond, including Anna Lunoe, Jubilee and Ravyn Lenae, showed that AMF, more than most mainstream electronic fests, is laudably attentive to diversity up and down the bill (it made for better music as well). None of it was especially rave-y, but it felt like a coherent vision for what will come after festival EDM.
The harder sell will be getting fans to fully commit to the idea behind this fest. Maybe the ease of getting to All My Friends — one could walk there from central downtown — diluted the urge to be on time. Sunday's headliners were packed with high-energy audiences, but even with relatively late start times around 4 p.m., some of the weekend's first sets struggled to corral enough bodies to really kick off. That's a downside of going after a more sophisticated, older breed of clubber — they don't have the same urgency to get there when the gates open.
But as 10,000 fans piled out after Jamie xx, the concept and structure of All My Friends were all in place. The Row is a singular site for a show like this (and already has some built-in hipster pedigree as the old American Apparel factory). Richards obviously has the reach and depth to update his musical formula for shifting tastes.
If there's any lesson to be taken from Richards' decade at Hard Summer, it's that fans will follow you pretty much anywhere if they can count on a good time. Even as that show moved further and further into inhospitable locales such as a racetrack in sweltering Fontana, fans knew what they were in for and showed up for it.
All My Friends was so much of an easier haul, and the fest was cleanly executed from the minute gates opened. Now they'll just have to convince a new generation of fans to fully believe in it.
For breaking music news, follow @augustbrown on Twitter.
---
Get our L.A. Goes Out newsletter, with the week's best events, to help you explore and experience our city.
You may occasionally receive promotional content from the Los Angeles Times.