From the Archives: Aretha Franklin once called The Times to explain some lyrics from 'Respect'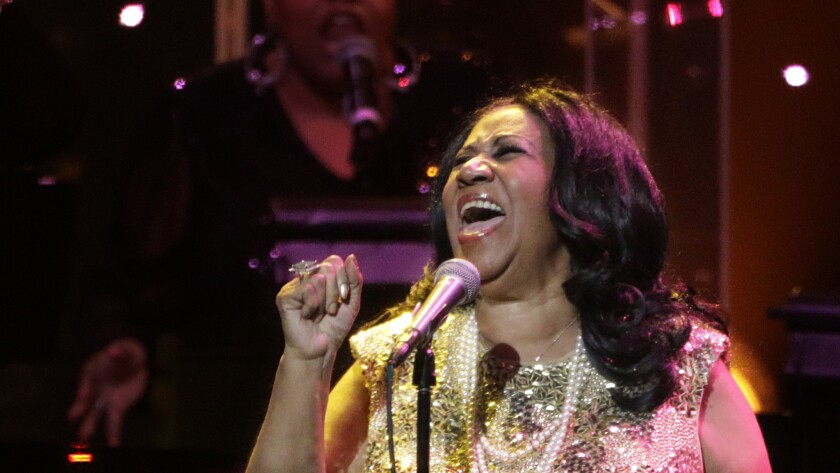 Editor's note: Aretha Franklin, the preacher's daughter who became the Queen of Soul and forged the template of the larger-than-life pop diva with her exuberant, gospel-rooted singing, died Thursday at age 76. In 1998, Franklin called The Times to help clarify the lyrics to her hit song "Respect." This article was originally published on March 9, 1998.
What the Heck Is TCP?: In our last episode of blooper lyrics in great songs, we left you hanging about a mysterious verse in Aretha Franklin's 1967 classic, "Respect":
R-E-S-P-E-C-T, find out what it means to me.
R-E-S-P-E-C-T, take out TCP.
Despite a footnote that we double-checked the words with a New York Times lyric book, several readers phoned to insist — most in a rather superior tone — that the line was actually "take care of TCB." Although that translates into the somewhat redundant phrase, "Take care of taking care of business," they said it still made more sense than TCP.
"What does the New York Times know about soul music?" one sneered. "Get it right next time!"
We took that dare.
Our first stop was Rondor Music, the company that owns the copyright to Aretha's version of the song. Spokesman Derek Alpert said the lyrics have been debated ever since the song hit vinyl, but that the correct words are "take care of TCB." Case closed? Not exactly.
The next day, a fax arrived: "I stand corrected," Alpert wrote. "The original sheet music published in 1967 is: 'Take out TCP.' "
When we asked if the publisher could have transcribed the words incorrectly, he said, "It happens all the time." In other words, "there's no definitive answer" on what Aretha sang. Well, not unless we asked the Queen of Soul herself. After several dead ends, we found her publicist, the delightful Barbara Shelley.
"Are you sure you don't have more important things to write about?" Shelley asked.
What, like Bosnia? Apparently, you don't read this column.
So Shelley graciously agreed to forward our question to her boss. A few days later, a message was left on our voicemail: "Hello, this is Aretha Franklin. Barbara Shelley told me what's been going on out there. It's 'R-E-S-P-E-C-T, take care of T-C-B,' as in taking care of business."
We've been trying since then to convince our editor that anyone who receives a call from Aretha should automatically get a day off, but so far it hasn't worked. However, we have been charging co-workers a fee to hear Aretha's message.
We've also been kicking around a conspiracy theory about the song: Maybe Aretha is covering up because she knows that Otis Redding, who wrote the tune, was "accidentally" killed in a plane crash just as he was about to reveal the meaning of TCP.
Random Weird Facts Department: Three items from our permanent collection:
* Some of country singer Neal McCoy's fans like him so much they've made him a beneficiary of their life-insurance policies. (Note to readers: Off-Kilter could use a new car.)
* It would take a Nike shoe factory worker in Indonesia 45,000 years to earn the equivalent of Michael Jordan's Nike endorsement fee. By the way, Jordan reportedly has hydrophobia, fear of water, and never goes swimming.
* The Pillsbury Co. strenuously denies rumors that it plans to slim down its Doughboy mascot, or that Poppin' Fresh is the illegitimate son of the Michelin tire man.
Best Supermarket Tabloid Headline: "Cops Arrest Widower for Molesting Pachyderm. 'She is the Reincarnation of My Wife,' He Tells Police!" (Weekly World News)
Contributors: Wireless Flash News, Candace Wedlan, Rhino Records
---
The complete guide to home viewing
Get Screen Gab for weekly recommendations, analysis, interviews and irreverent discussion of the TV and streaming movies everyone's talking about.
You may occasionally receive promotional content from the Los Angeles Times.