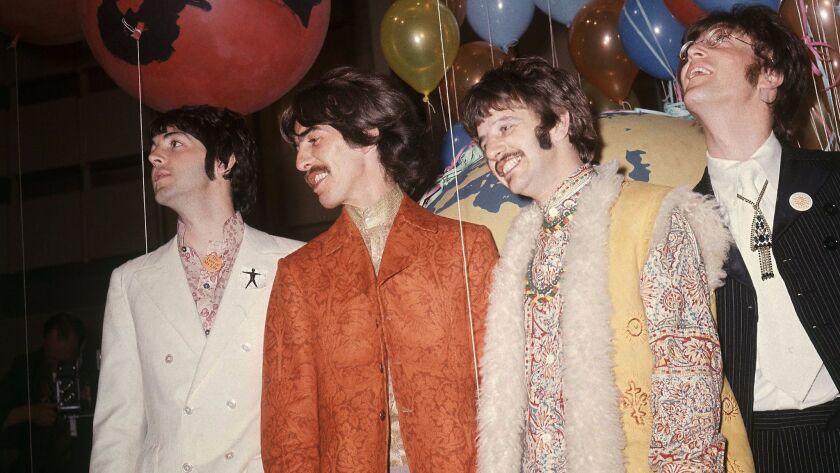 "Boys, I have the most fantastic news to report," Beatles manager Brian Epstein announced one day in 1967 to his most famous clients. "You have been selected to represent England in a television programme which, for the first time, ever, will be transmitted live around the world via satellite. The BBC shall actually be filming you making your next record."
The reaction to Epstein's coup from John Lennon, Paul McCartney, George Harrison and Ringo Starr?
A collective yawn, engineer Geoff Emerick wrote in his 2006 autobiography, "Here, There and Everywhere: My Life Recording the Music of the Beatles."
See the most-read stories in Entertainment this hour »
"Ringo fidgeted at the back of the room. … George resumed tuning his guitar. John and Paul exchanged blank looks for a moment," Emerick recounted. "With a distinct lack of enthusiasm, John finally said, 'Oh, OK, I'll do something for that.' "
That's because when Epstein broke the news, the group was still working feverishly to finish "Sgt. Pepper's Lonely Hearts Club Band," the watershed 1967 album that took an extraordinary (for that time) five months to create, leaving band members, producer George Martin and Emerick often as physically exhausted as creatively exhilarated.
As Beatles historian Martin Lewis points out, the episode is a brilliant example of Epstein's savvy, demonstrating the premium he placed on helping move the Beatles forward creatively and culturally, not just commercially.
"Any manager out of the Colonel Tom Parker school would have looked at that and said, 'What a great opportunity to promote our great new album,' " said Lewis, who spearheaded a years-long campaign that resulted in Epstein becoming the first manager inducted into the Rock and Roll Hall of Fame in 2014 (in tandem with Rolling Stones producer-manager Andrew Loog Oldham).
After all, "Sgt. Pepper" was released on June 1, and the telecast, titled "Our World," was slated to go out across the globe barely three weeks later on June 25, 1967 — about two weeks shy of the 10th anniversary of the day Lennon met McCartney at a church social in Liverpool.
"It would have been the financially beneficial thing to do," Lewis said. "But Brian's instinct was that this was a platform. John had an idea for a song — just a doodle at that time — but Brian's thought was, 'You have a platform, why don't you use it for this universal message?' I love what that says about Brian."
Oh, and that message?
Lennon turned his doodle into one of the crown jewels of the Beatles' entire repertoire, one that stands as a defining message of the era: "All You Need Is Love."
Follow @RandyLewis2 on Twitter.com
For Classic Rock coverage, join us on Facebook
ALSO
The Beatles' 'Sgt. Pepper' hits No. 3 in Billboard 50 years later
Artist Jann Haworth talks about the fashion and style featured on the Beatles' iconic 'Sgt. Pepper's' album cover
The Beatles' best album is really its worst. 'Sgt. Pepper,' we need to talk
---