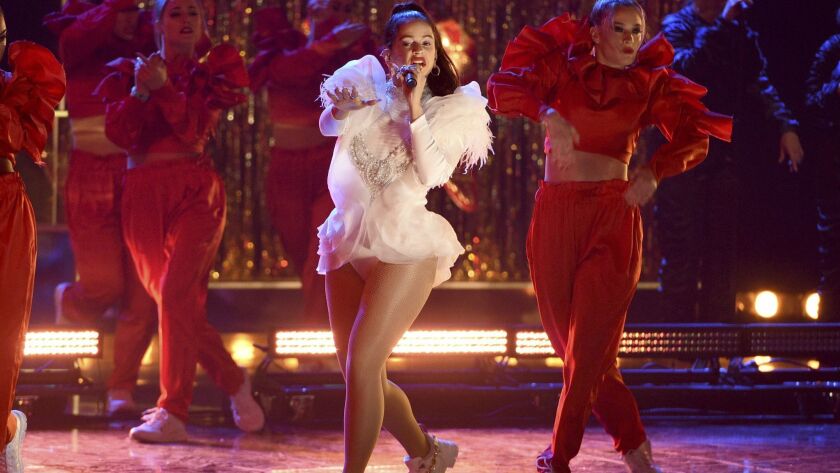 There's never been a better time to fall in love with Latin music.
Our connection with the sounds of decades past has become encyclopedic, as streaming services include the complete output of legendary labels such as Fania, as well as obscure classics from the bossa nova heyday and the birth of South American rock.
This embarrassment of riches is enhanced by the hundreds of new albums released throughout the year by both genre legends and innovative young artists.This list of 10 essential songs is only a sample of the many musical pleasures that 2018 had to offer.
1. Rosalía, "Malamente"
Rosalía's stunning album "El Mal Querer" was unveiled to the world via a show-stopping lead single — 2 minutes and 29 seconds of sonic bliss combining the Spanish singer's studies in flamenco roots with the hip-hop sensibility she grew up cherishing as a teen. The production and subtle touches of post-modern coolness are lovely, yes, but at the epicenter of "Malamente's" transcendence is the beauty of Rosalía's voice, which is able to express infinite amounts of longing and heartache. At 25, the future is all hers.
2. Mon Laferte, "Si Alguna Vez"
One of the most exhilarating surprises of the year was following Chilean chanteuse Mon Laferte as she fell in love with the tropical ballrooms of Mexico City — the place she calls home — and then recorded "Norma," an entire album of Afro-Caribbean goodness. Blessed with one of Latin music's most expressive voices, Laferte experiments with straight-ahead salsa, cumbia and bachata. The album's most endearing moment is this nostalgic bolero, a duet with Mexican singer El David Aguilar.
3. Gilberto Gil, "Uma Coisa Bonitinha"
A pillar of the late-'60s tropicália movement, 76 year-old Gil writes silky poetic anthems with jazzy undertones, celebrating his recent return to health through a soulful studio album. Joined by veteran pianist Joao Donato on this tune, Gil sounds hopeful and energized. Where would Latin music be without the sounds of Brazil?
4. Cardi B, "I Like It"
Mainstream America has always been infatuated with Latin music, and the globalization of reggaetón and bachata has brought these sounds closer to the charts in organic new ways. It is no coincidence that one of the year's biggest hits was built around a 1967 sample from Pete Rodriguez's boogaloo anthem "I Like It Like That." Cardi B's brash rapping is delightful, but the contributions of Puerto Rican rapper Bad Bunny and Colombian singer J Balvin add witty rhymes with nods to salsa queen Celia Cruz and former Fania All-Stars bassist Bobby Valentín.
5. Pepe Aguilar, "Costumbres"
One of the pillars of contemporary Mexican music records a tribute to the songwriting genius of the late Juan Gabriel, and the results are stellar. "Costumbres" boasts one of the most elusive, melancholy melodic lines in Juan Gabriel's output, and Aguilar does it justice with an emotional reading — filled with sighs and whispers — backed by the swirling strains of an expert mariachi. The finale, as the singer harmonizes a coda with the orchestra, is downright epic.
Best of 2018: A look back at the year in movies, TV, music and more »
6. Vakeró, "Chula Eres Tú"
Year after year, the Dominican Republic produces unexpected delights, blending tropical formats with the dance floor in mind. A talented craftsman, singer-songwriter Vakeró delivers one of the bounciest dance gems of the year with "Chula Eres Tú," fusing the almighty reggaetón beat with faint echoes of soca and the sweetness of old-school Afro-Caribbean choruses. The lyrics — all sunshine and romantic admiration — are almost retro in their wide-eyed cosmovision of love.
7. Monsieur Periné, "Bailar Contigo"
2018 was the year when critical darlings Monsieur Periné went mainstream. As it befits the most cosmopolitan band to emerge from Colombia since Aterciopelados, they did it in style. "Bailar Contigo" could easily have turned into faceless elevator pop, if it wasn't for Catalina García's jazzy singing and her band's supple accompaniment. Periné could afford to add more meat to its musical stew — for now, these moods, slick and airy, will do just fine.
8. Oscar D'León, "Mi Anhelo"
Back in the '70s, Venezuelan singer-songwriter Oscar D'León made history recording funky, trombone-heavy salsa anthems with orchestra La Dimensión Latina. Arguably the most electrifying live performer in all Afro-Caribbean music, D'León has spent the past 20 years experimenting with different approaches in the studio. Now armed with a newly acquired knowledge of recording software, he returned ready to write new songs with the swinging sensibility of his classic years. We hope it's just the beginning.
9. Ana Laan, "Gris Profundo"
One of the most brilliant songwriters of her generation, Ana Laan releases music sporadically, but every new song is a welcome revelation. "Gris Profundo" showcases the Spanish vocalist's limitless imagination, her dry sense of humor and preoccupation with social justice. Laan uses vocal harmonies to lilting effect, her crystalline singing framed by stately swashes of strings. She deserves a wider audience — and the backing of a major label too.
10. Khea, "Empresario"
There is a tendency among conservative Latin music fans to demonize reggaetón and trap as genres devoid of creativity — an apocalyptic nadir taking over the charts. This hypnotic track by 18-year-old Argentine rapper Khea demonstrates that Latin trap can often deliver stark moments of grace and beauty. From the majestic synthesized bass line and the use of autotune as a textural device to the ominous beat that moves forward with the precision of an advancing army, "Empresario" is as fun as it is addictive.
---