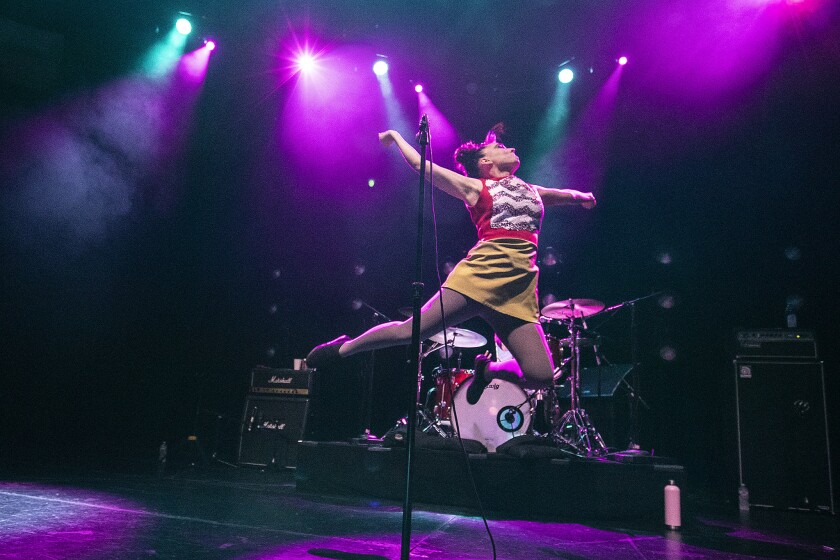 Pop Music Critic
Had it been 25 years? Twenty-three? No, wait — 22. Right?
Standing onstage Thursday night at the Hollywood Palladium, Kathleen Hanna was having some trouble figuring out just how long it had been since her group Bikini Kill last played a show.
"Since 1997," she said finally, providing the data for somebody in the capacity crowd to crunch. "Who's a mathematician? Where's my STEM people?"
Hanna's point was that she and her bandmates were back in action after a break that felt nearly incalculable.
Universally credited with launching riot grrrl — the radical feminist punk movement that jolted underground rock in the early '90s — Bikini Kill, originally hailing from Olympia, Wash., was born of the now-ancient George H.W. Bush era, its politics galvanized by nightly-news grotesqueries such as Anita Hill's treatment by the Senate Judiciary Committee.
But how much really changed in those 20-whatever years? Hanna didn't need to mention President Trump to make anyone think about institutionalized misogyny; nor did she need to remind anyone of Hill, whose experience is the subject of conversation again now that her chief inquisitor, Joe Biden, has announced he's gunning for Trump's job.
So you can understand why the pioneers of riot grrrl — artist-activists committed to claiming space for women in music — chose the #MeToo moment to reunite. Thursday's concert, the first of four at the Palladium through May 2, kicked off a tour that will head next to New York and London; the band is also reissuing two of its albums and recently made its catalog available on streaming services.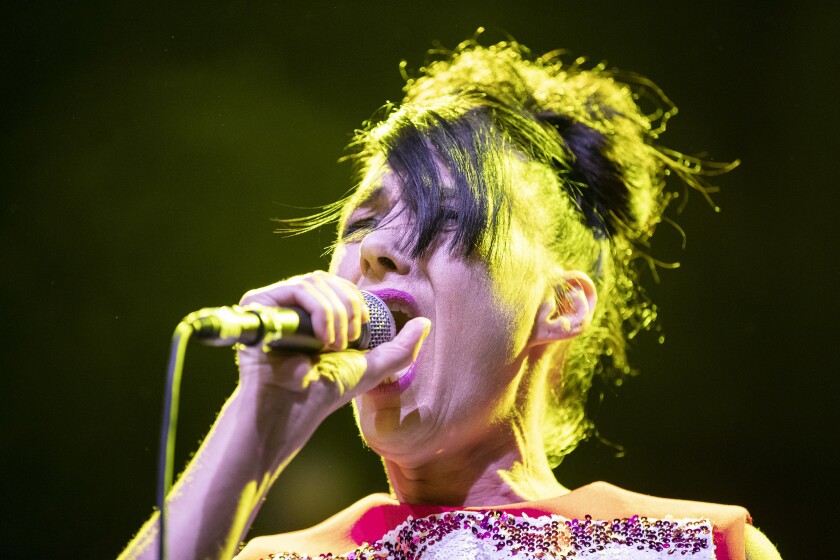 After opening with "Carnival" — about the predation young women face in even (or especially) the most festive of settings — Hanna said she felt like she'd stepped into a time machine, then thought better of that.
"I wouldn't want to turn back time," she decided. "I'm glad to be right here right now."
What Bikini Kill might have to say about the specifics of this era remains to be seen. Here the group relied on the old material — jagged, catchy garage-punk anthems like "Feels Blind," "Hamster Baby" and "This Is Not a Test" — that laid the groundwork for subsequent riot grrrl acts including Sleater-Kinney, which itself re-formed a few years ago.
With bassist Kathi Wilcox, drummer Tobi Vail and guitarist Erica Dawn Lyle (a fill-in for Billy Karren, who's sitting out the comeback), the band sounded good too: speedy and taut in "Capri Pants"; haunted and dreamy in "For Tammy Rae," which Hanna dedicated to her mother; heavy with hard-won swagger in "Rebel Girl."
Now as then, you wouldn't call Bikini Kill's attack laser-guided. As Vail said at one point as she and Wilcox switched instruments, part of the band's mission was to show that it's possible to play before learning how to — or learning, that is, in a fashion that prioritizes technique over inspiration.
But what the group occasionally lacked in precision it made up for with exuberance; Hanna's singing and dancing had a joyfulness that made it clear how much it meant to her to be in front of an audience again, not long after her recovery from Lyme disease. (The frontwoman, who lives in Pasadena with her husband, Adam Horovitz of the Beastie Boys, describes the illness with bruising candor in the 2013 documentary "The Punk Singer.")
Still, for all the meaning left in oldies like "Reject All American" — "If you work hard, you'll succeed," Hanna promised in her signature sneer, "a starring role on Nothing Incorporated" — it was easy to wonder how long the band's reunion will last without new songs, or whether it will maintain this level of excitement if it just keeps playing the ones everybody knows.
For now, most in the room seemed content with the latter; indeed, fans may well have greeted new music by going for more beer, no different from what folks watching the Rolling Stones do. But Bikini Kill didn't make an impact for the same reason the Stones did, which means it's set itself a greater comeback task than reliving vivid memories.
Nostalgia is powerful fuel, no doubt. But it's easily exhausted — and it can be counterproductive in any fight for change.
Twitter: @mikaelwood
---