Review: Bob Dylan's 'More Blood, More Tracks' box set amplifies one of his greatest works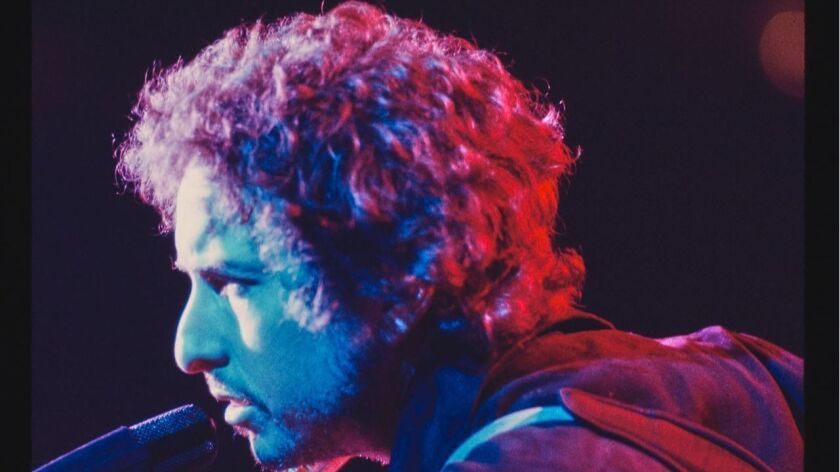 If any artist in pop history is worthy of a subatomic exploration of various facets of his or her career, it's hard to argue against Bob Dylan at the top of that list.
That idea has made the ongoing "Bootleg Series" of archival releases a wellspring for Dylan admirers, both casual and hardcore, and the latest entry is no exception, presenting the opportunity for full immersion into his 1975 return-to-form album "Blood on the Tracks."
As usual, this installment — "More Blood, More Tracks: The Bootleg Series, Vol. 14" — arrived this week in multiple iterations, the most intensely anticipated of which is the limited-edition six-CD deluxe box set ($114.98 on Amazon).
It feels like a Holy Grail for Dylan obsessives, presenting in authorized form 87 tracks encompassing all the recording sessions Dylan did in New York, along with five remixed and remastered takes from additional sessions in Minneapolis recorded after Dylan decided late in 1974 that he wasn't finished with the album.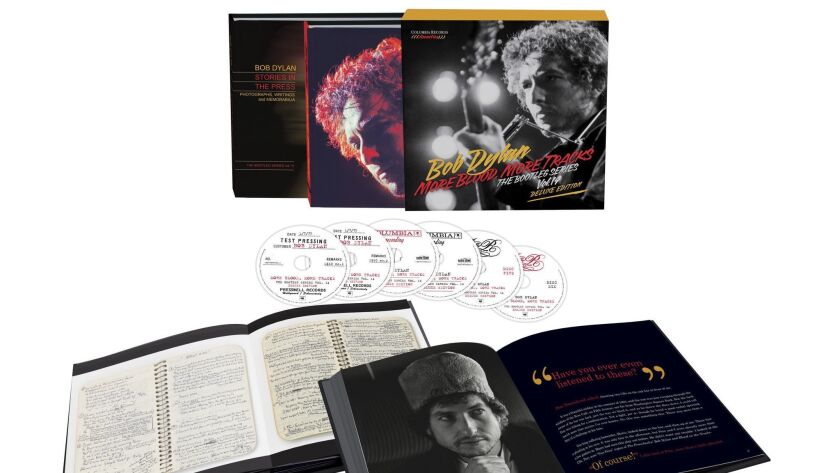 Rock's greatest songwriter had been largely out of the public spotlight for years since the 1966 near-fatal motorcycle crash that either forced, or allowed, him to retreat from the intense scrutiny he'd been under since emerging five years earlier out of the New York folk music scene.
The albums he released after his recuperation in upstate New York, a period during which he and members of the Band holed up in the house known as Big Pink, privately recording what would later surface as "The Basement Tapes," found Dylan back to folk and country sources in "John Wesley Harding" (1967) and "Nashville Skyline" (1969) rather than continuing to push at the limits of rock 'n' roll, as he'd done before his accident.
Although he briefly surfaced in 1971 for a star turn at George Harrison's multi-artist Concert for Bangladesh at Madison Square Garden in New York, Dylan refused to tour, and as the '70s arrived, he released albums that were disappointing by his own standards, with only modest rewards to be found on "Self Portrait" and "New Morning." A compilation or outtakes released by his label, Columbia, in 1973, without the artist's involvement, "Dylan," kept Dylanphiles even more perplexed as to when, or if, they might ever expect something of greatness from him again.
Then in 1974, light began to shine out of the darkness. Lured away from his home of more than decade at Columbia by ambitious young record exec David Geffen and his burgeoning singer-songwriter-focused label, Asylum, Dylan came through with "Planet Waves." It reunited him in the studio with the Band on a set of songs that showed him solidly back on track, giving Dylan what was, surprisingly, his first No. 1 album on the Billboard 200 albums chart.
"Blood on the Tracks," however, arrived the following year as a revelation, a set of dazzling songs examining heartbreak, lust, disillusionment, regret, optimism and romantic betrayal with a boldness and bravado Dylan hadn't demonstrated in close to a decade.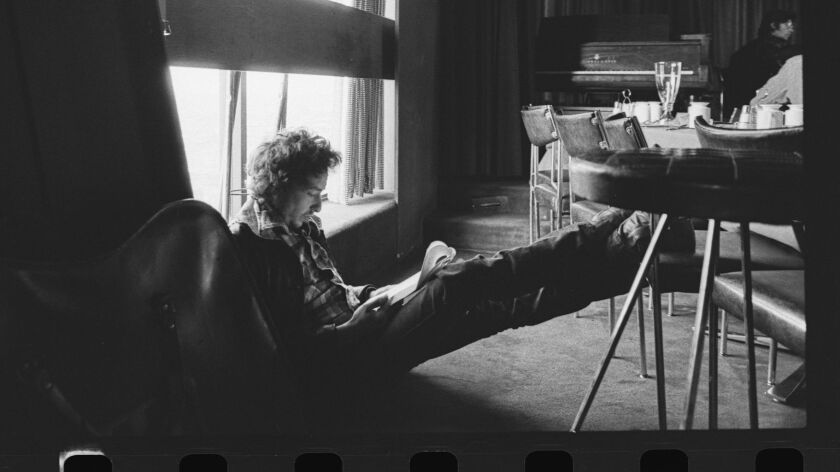 For decades, Dylan super fans have sought out bootlegs from the "Blood on the Tracks" sessions in the interest of trying to glean more about what led to this creative outburst from the man who'd seemed so quiet for so long.
Word quickly made the rounds that Dylan began "Blood on the Tracks" with a series of solo acoustic sessions in New York, harking back to his musical foundations as a solo folkie plying songs of heroes such as Woody Guthrie and Ramblin' Jack Elliott and drawing on a century's worth of traditional music before finding his own voice as a writer.
And now along comes "More Blood, More Tracks," with everything we ever wanted to know about "Blood on the Tracks," and then some.
The deluxe edition gathers all the New York solo recordings and yields multiple versions of the 10 songs that made the final cut for the album, plus a few that didn't — notably "Up to Me," "Call Letter Blues" and "Spanish is the Loving Tongue."
The reward of getting each of the New York session recordings is the unexpected moments: In a second take of "You're a Big Girl Now," for instance, Dylan reaches his lyric about a bird sitting on a fence, singing a song like the one he's carrying for a lover, and confesses, "I hope that you can hear/Hear me singin' through these tears" with a heartbreaking vulnerability.
It's also fascinating to discover that it wasn't until the final version of "Tangled Up in Blue" that Dylan shifted the perspective from a third-person narrative to first person (It began, "Early one morning the sun was shining/he was laying in bed.") Additionally, in the third verse, after the protagonist loses his job as a cook in the great north woods, Dylan had him schlep across the country to Los Angeles to load cargo at an airplane plant.
Only after re-doing the song (along with four others) in Minneapolis did he alter the destination and job description to New Orleans, the work being carried out "on a fishing boat, right outside of Delacroix," which ultimately is more intriguing.
Instances such as these demonstrate Dylan's own obsessiveness with reworking a verse or a chorus, a line, a phrase or even a single word time and again until he found the one that felt right.
It's not just lyrics, either, that are at play. He shifts tempos, meter, arrangements, instrumental support and his vocal delivery time after time.This set also reminds us just how often Dylan's observations feel both timeless and timely, as in this verse from "Idiot Wind" that could have been written last week:
Now everything's a little upside down
As a matter of fact the wheels have stopped
What's good is bad, what's bad is good
You'll find out when you reach the top
You're on the bottom
The accompanying documentation — new essays, detailed session notes by music writer Jeff Slate, scads of photos from the period and, especially, the reproduction of Dylan's songwriting notebooks (Spiral brand, 19 cents!) — flesh the story out further.
Yet, this comprehensive approach can begin to feel like one too many mornings. Just how much of exhaustive variation on the 10 musical themes at hand you're up for will determine whether this is indeed your Holy Grail — or just one more cup of coffee.
Certainly, there is no small number of Dylan completists who will lap up every shred of tape he ever used. But there emerges a feeling of diminishing returns for anyone not cursed with OCD — obsessive-compulsive-Dylanism — during a stretch on the second disc with nine consecutive versions of "You're Gonna Make Me Lonesome When You Go." Likewise the eight takes of "Buckets of Rain" on the fourth disc that are interrupted just long enough for a pair of performances of "Up to Me."
The more casual fan has the single CD/two-LP vinyl option ($11.29 CD; $25.01 vinyl) containing 10 alternate versions of the BOTT songs, plus one take of the "Up to Me" collector's item. In a perfect world, there'd also be an intermediary version with perhaps a couple alternate takes of each of the album's songs that might crystallize the evolution of tunes from birth to maturity, without making the listener sit through every growth spurt along the way.
Follow @RandyLewis2 on Twitter.com
For Classic Rock coverage, join us on Facebook
---
From the Emmys to the Oscars.
Get our revamped Envelope newsletter, sent twice a week, for exclusive awards season coverage, behind-the-scenes insights and columnist Glenn Whipp's commentary.
You may occasionally receive promotional content from the Los Angeles Times.