Review: With 'Triplicate,' Bob Dylan triples down exploring Great American Songbook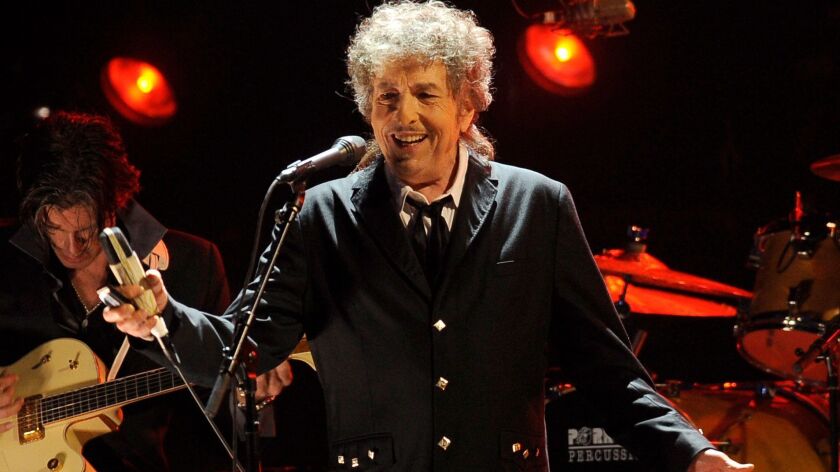 One particularly enlightening passage in author Clinton Heylin's authoritative biography of Bob Dylan, "Behind the Shades," describes rehearsal sessions he conducted early in the new millennium.
As drummer David Kemper related to Heylin, Dylan would gather members of his band and rehearse many of his favorite songs by other artists — from Dean Martin and Big Joe Turner to the Stanley Brothers and country duo Johnnie & Jack.
"We would work it up just like the [original] record," Kemper recalled. "And then we would put all of that music away, and we never would revisit it. We would never play it again."
At first mystified by Dylan's curious methodology, Kemper finally figured out what was happening. "Oh my God, he's been teaching us this music [all along] — not literally these songs, but these styles."
See the most-read stories in Entertainment this hour »
With the March 31 arrival of "Triplicate," a three-disc collection constituting Dylan's third, fourth and fifth albums drawn from the body of mostly pre-World War II music known as the Great American Songbook, it seems clear that this is at least partially his objective for his fan base as well.
If we truly want to understand the essence of Dylan's monumental impact on contemporary music, it's crucial to understand not just his own songs, but those that shaped him.
"If you like someone's work, the important thing is to be exposed to everything that person has been exposed to," Dylan told The Times in 2004. "Anyone who wants to be a songwriter should listen to as much folk music as they can, study the form and structure of stuff that has been around for 100 years. I go back to Stephen Foster."
He also goes back to Cole Porter, George and Ira Gershwin, Richard Rodgers, Johnny Mercer, Jimmy Van Heusen, Sammy Cahn and other great composers and lyricists.
He's doing so in the most ambitious way yet in this batch of 30 more songs that encompass classics such as "As Time Goes By," "September of My Years," "Stormy Weather" and "Sentimental Journey" as well as considerably less-familiar tracks such as Alec Wilder and Edwin Finckel's "Where Is the One" and Jack Lawrence's "It's Funny to Everyone But Me."
Others have noted that the vast majority of the songs Dylan included on 2015's "Shadows in the Night," last year's "Fallen Angels" and now this follow-up were popularized by Frank Sinatra.
It's therefore probably no coincidence that in form, content and title, "Triplicate" echoes Sinatra's latter-years magnum opus, "Trilogy," a three-album 1980 release organized with a different theme for each disc: "The Past," "The Present" and "The Future."
In Dylan's case, the separate discs are individually themed "'Til the Sun Goes Down," "Devil Dolls" and "Comin' Home Late."
One key difference in this latest — final? — batch of standards is that he's expanded the largely stripped-down instrumental accompaniment from core band —guitarists Charlie Sexton and Dean Parks, bassist Tony Garnier, drummer George Recile and the musician who arguably is the star of the show, steel guitarist Donnie Herron — with horns, albeit only on the opening cuts of each new disc.
Dylan mines a deep vein of anguish in "This Nearly Was Mine," from the Rodgers & Hammerstein musical "South Pacific." Dylan can't — and likely doesn't care to — match the purity of tone or commanding vocal technique of the Italian opera singers most closely associated with the song: Ezio Pinza in the original Broadway cast and Giorgio Tozzi for the 1958 movie.
But Dylan's weathered voice, with a touch of his recent-vintage gravel, heightens the human dimension in this tale of a missed romantic opportunity, and the regret that accompanies it.
Herron's contribution across the expanse of these 50 tracks can't be understated — along with the savvy choice to emphasize the instrument made by Dylan, who again produced the album under the pseudonym Jack Frost.
Herron's steel guitar alternately sings, sighs, uplifts and weeps, embodying the pain that's sometimes on the surface, sometimes implied from deep within songs written in the years following World War I, during the Great Depression and some during and after World War II.
The newly minted Nobel prize winner for literature immersed himself early on in all strains of pop, blues, folk, gospel, country, jazz and R&B music, and his ear for a great song is shown again here.
The insight into a heart that's been wounded in Jimmy Van Heusen and Carl Sigman's "I Could Have Told You" comes on two fronts at once: a guy who has been betrayed by the object of his affection, and the guy singing the song and watching another sucker go through what he's suffered.
"I could have told you, she'd hurt you," he sings with the resignation of the one who's already been down the same path.
He also prizes great melodies, and few songwriters have ever matched, much less topped, the exquisite beauty of another Van Heusen classic, "Here's the Rainy Day," which he wrote with lyricist Johnny Burke. Its arching melody soars over a heartbreaking progression full of major seventh chords that musically contain a world of emotional complexity.
Whether it's exactly what Dylan intended, he's given us a bittersweet summation of a life on planet Earth, with all the ups and (more often) downs it has to offer, a journey he caps with Jerome Kern and Oscar Hammerstein II's "Why Was I Born."
"Why was I born, why am I livin'?/What do I get, what am I givin'?/Why do I want a thing I daren't hope for?"
This compendium of existential questions — which never made the Hit Parade back in the day when Sinatra recorded it in 1947 — may have been in the back of his mind when he wrote something similar for 1989's "Oh Mercy" album, "What Was It You Wanted," a song that offered no answers, just queries.
There's always clamor, understandably, for a new Dylan album full of new Dylan songs, something he hasn't delivered since 2012's "Tempest." But the world is undeniably richer for his guided tour through the trove of songs that helped lay the foundation for American music.
Follow @RandyLewis2 on Twitter.com
For Classic Rock coverage, join us on Facebook
---
The complete guide to home viewing
Get Screen Gab for weekly recommendations, analysis, interviews and irreverent discussion of the TV and streaming movies everyone's talking about.
You may occasionally receive promotional content from the Los Angeles Times.