It's hard not to wonder whether the increasingly elaborate (and pricey) retrospective box sets appearing these days don't represent the last gasp of a dying industry of music being sold in physical form. Since peak plastic in 2001, CD sales have dropped 88%, from 712 million units to 85.4 million in 2017, according to Nielsen Music.
But even as the industry shifts to streaming music, box sets offer labels and historians the chance to be curator, and that's still valuable in this everything-all-the-time era. Thus, 2018 brought a wealth of box sets that offer fans everything they may have wanted to know — and then some — about individual albums or the entire careers of some of pop music's most important figures.
Here's our highly selective roundup of the best of the year, as chosen by Times pop music writers Randy Lewis and Randall Roberts.
The Beatles, "The Beatles (The White Album)" (Apple Corps Ltd./Capitol/UMe)
The seven-disc, 50th anniversary, "super deluxe" edition ($159.98 on the Beatles' official site) of the Fab Four's sprawling 1968 double album serves up a genuine feast that should keep fans new and old nourished for weeks, months or even years. In addition to the vibrant yet historically respectful new stereo remix by latter-day Beatles producer Giles Martin, which highlights all the sonic richness, rhythmic punch and vocal nuance evident in the original tapes, the disc containing the long-bootlegged 27 Esher demos allows for close inspection of the genesis of most of the album's songs, while the 50 sessions recordings over two more CDs provide an illuminating look into the evolution of so many of these now-classic tracks. The set also is available in various less-pricey (and less comprehensive) editions. (R.L.)
Alice Coltrane, "Spiritual Eternal: The Complete Warner Bros. Studio Recordings" (Real Gone).
If 2018 had you stressed, Coltrane's spiritual optimism might offer salve for the coming year. This two-CD $19.98 set by the spiritual jazz leader compiles three newly remastered albums that she released for Warner Bros. from 1975-77. Featuring the longtime Angeleno variously working on harp, Wurlitzer organ and analog synthesizer, the collection documents an artist seeking new avenues in instrumental worship music. (R.R.)
Creedence Clearwater Revival, "The Studio Albums Collection" (Craft Recordings)
For all too brief a time, the fiery quartet out of El Cerrito, Calif., led by singer, songwriter and lead guitarist John Fogerty, was, along with the Band, the most compelling American rock group to emerge in the wake of the Beach Boys. From 1968 through 1972, at a furious pace that rivaled the Beatles, Creedence issued seven albums jammed with songs that often, and miraculously, injected stinging social commentary into irresistible hit singles that became radio hits. This updated $259 edition — all seven albums were released in a box just four years ago — features remastered half-speed mastered vinyl pressings. (R.L.)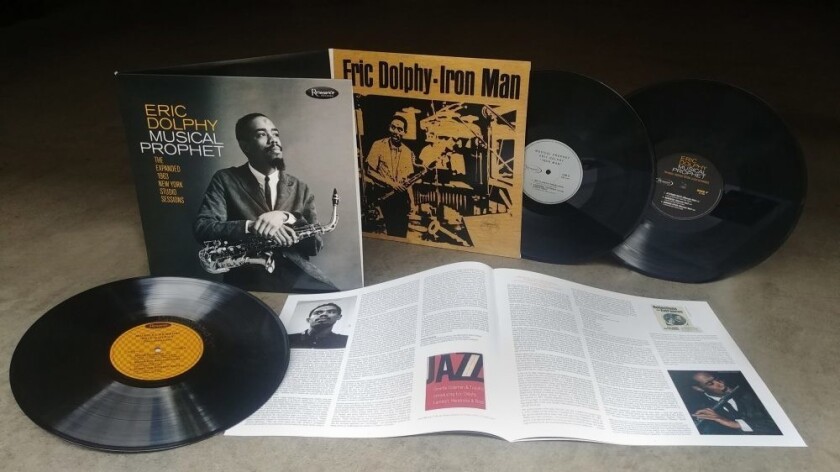 Eric Dolphy, "Musical Prophet: The Expanded 1963 New York Studio Sessions" (Resonance)
Issued first as a limited edition vinyl release, this psyche-shattering triple LP by the esteemed Los Angeles jazz imprint Resonance presents previously unreleased studio sessions by the expert saxophonist, clarinetist and flutist, who died a year after he made these recordings while performing in Berlin. In the studio with him were jazz players including Clifford Jordan, Woody Shaw, Bobby Hutcherson, Richard Davis and Charles Moffett. They combine to create propulsive, full band energy. The set will come out Jan. 25 as a three-CD box ($28.98). (R.R.)
Bob Dylan, "More Blood, More Tracks: The Bootleg Series, Vol. 14" (Sony Legacy Recordings).
As the story goes, Dylan was nearly done with this album, which was to consist of intimate, nearly all-acoustic recordings made in New York of some of the sharpest and most revealing songs he'd ever committed to tape, including "Tangled Up in Blue," "Idiot Wind," and "You're Gonna Make Me Lonesome When You Go." But at the last minute — surprise — he changed his mind, booked more studio time in Minneapolis and had another go at several of the songs. All the New York sessions are available with the six-CD deluxe edition ($81.34), including anywhere from half a dozen to 13 or 14 passes at these songs, plus the final versions of the Minnesota sessions. (R.L.)
Aretha Franklin, "Atlantic Records 1960s Collection" (Atlantic, $89.99)
There's never a bad time to revisit Franklin's work in the '60s that established her as the undisputed Queen of Soul. This set is composed of half a dozen LPs, including her first five studio releases after she switched from Columbia to Atlantic and found her R&B/soul groove. (R.L.)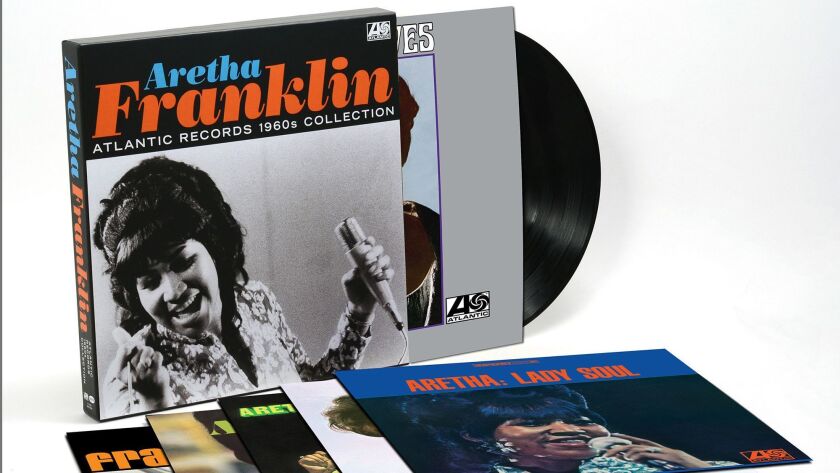 Lefty Frizzell, "An Article From Life — The Complete Recordings" (Bear Family)
This massive 20-CD, $230 set weighs in at close to 20 pounds and, as the title indicates, pulls together all the recordings by one of the three or four most influential country singers ever. Frizzell's fluid vocals opened up new vistas for country music that can be heard in subsequent artists from George Jones and Merle Haggard to Dolly Parton and Keith Whitley on through to Miranda Lambert. (R.L.)
The Glands, "I Can See My House From Here" (New West).
In a just world, singer and songwriter Ross Shapiro's rock band the Glands would be adored outside of the Athens, Ga., scene that supported them. Two decades after the band's debut, "Double Thriller," came out, its three- and four-minute songs remain sturdy and unweathered.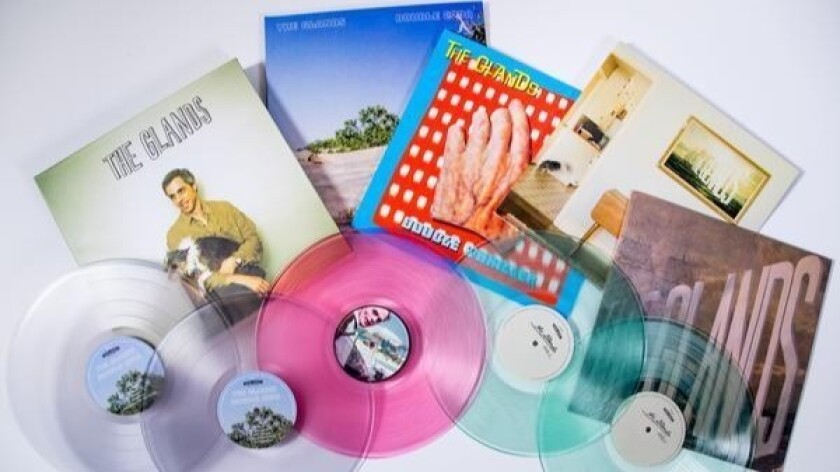 Shapiro, who died in 2016, and band maneuvered through Kinks- and Beatles-inspired structures, with Shapiro's distinctive wit and thoughtful way with a lyric leading the way. This box, $89.98, also compiles the band's equally magnetic eponymous follow-up and a new record called "Double Coda," compiled from Shapiro's never-issued but nearly finished third album. (R.R.)
Haruomi Hosono, archival reissue series (Light in the Attic)
Those who know about the late-1970s Japanese electronic band Yellow Magic Orchestra likely arrived at the music through composer Ryuichi Sakamoto, the group's co-founder. YMO's secret weapon, though, was multi-instrumentalist Hosono, whose work across the 1970s and '80s is the subject of this series of archival Japanese reissues, available individually as a $14 CD or a $22 LP.
As evidenced by his 1973 album "Hosono House," before joining with Sakamoto he drew from rock and Americana to craft sophisticated Paul McCartney-esque experimental pop. As the decade passed, Hosono's attraction to synthesizers and electronics became central to his narrative, and he revels in the potential both rhythmically and sonically. (R.R.)
The Kinks, "The Kinks Are the Village Green Preservation Society" (Sanctuary)
Those who rightfully consider this album to be superior in most ways to the Beatles' "Sgt. Pepper's Lonely Hearts Club Band" likely have ample versions of this Brit-rock return-to-nature concept album. This "super-deluxe" version at $157 is the king of them all: 174 tracks on five CDs, a double vinyl LP, an LP of the Swedish mix of the album, a trio of 7-inch singles and various ephemera. Also available in two-LP vinyl configuration ($25.98), two-CD set ($15.98) and single CD ($11.98). (R.R.)
John Lennon, "Imagine — The Ultimate Collection" (Apple Corps Ltd./Capitol/UMe)
The second solo album John Lennon released after the Beatles officially disbanded in April 1970 is arguably his most beloved, containing as it does the iconic title track. This six-disc box set at $72 takes a rather freewheeling approach to reevaluating the album through a new mix of the original tracks by Paul Hicks, along with alternate takes of the 10 songs and an inventive new surround mix that places Lennon's vocals at the center of the room and puts the listener at ground zero of the recording studio. (R.L.)
Joni Mitchell, "Love Has Many Faces: A Quartet, A Ballet, Waiting to Be Danced" (Rhino/WMG)
The first vinyl issue of Mitchell's self-curated four-CD set from 2014 is heavy, both literally and figuratively — and pricey at $175. Born, as she describes in terrific, hilarious liner notes, "like a phoenix rising from the ashes of two dead projects — a ballet and a horrendously ill-conceived box set," this eight-LP beast is divided into four acts, each its own double-LP and gathered around Mitchell-organized themes.
Mitchell chose both classics and obscurities from across her decades. The vinyl on four of the set's 16 sides has been etched in Mitchell-written cursive and the pressings are clean and dynamic. (R.R.)
Tom Petty, "An American Treasure" (Reprise).
This thoughtfully chosen set — chiefly the work of his widow, Dana, daughter Adria and Heartbreakers band members Mike Campbell and Benmont Tench — digs deep into Petty's archive of alternate takes of their many hits, embryonic versions of classic songs and many songs never previously released to celebrate his role as one of the great songwriters of the rock era. These 83 tracks spread across four CDs (super deluxe box, $149.99) or six LPs ($149.98) make an extremely convincing case for that accolade. (R.L.)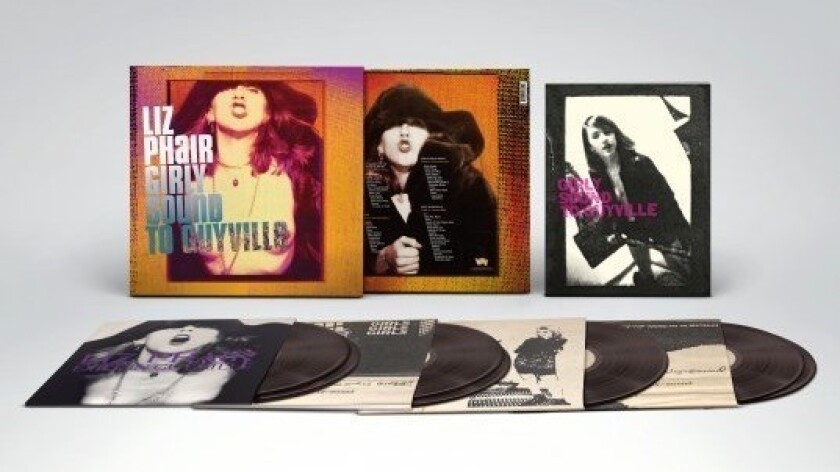 Liz Phair, "Girly-Sound to Guyville: The 25th Anniversary Box Set" (Matador)
Liz Phair on this set delivers repeated evidence of her preternatural genius. Celebrating a quarter-century since her great double album "Exile in Guyville," the seven LP ($89.99) or three-CD ($25.98) box presents a newly mastered version of those 18 songs. That work still sounds fresh, but the real revelations here are the lyrically raw pre-"Exile" songs she released under the Girly-Sound moniker. (R.R.)
Elvis Presley, " '68 Comeback Special: 50th Anniversary Edition" (Sony Legacy Recordings)
This NBC-TV special could have been the last nail in the coffin of Presley's increasingly moribund career as the '60s wound to a close — if his manager, Col. Tom Parker, had gotten his original wish for the show to be a holiday special a la Andy Williams or Perry Como. Instead, thanks in large part to the instincts of producer and director Steve Binder, Presley was freed from Parker's tight leash to a large extent and viewers were reminded in no uncertain terms just how feral a performer he once had been and still could be. This seven-disc $149.98 set provides all the audio and all the video from the two performances that were edited down to the original 47-minute TV show. (R.L.)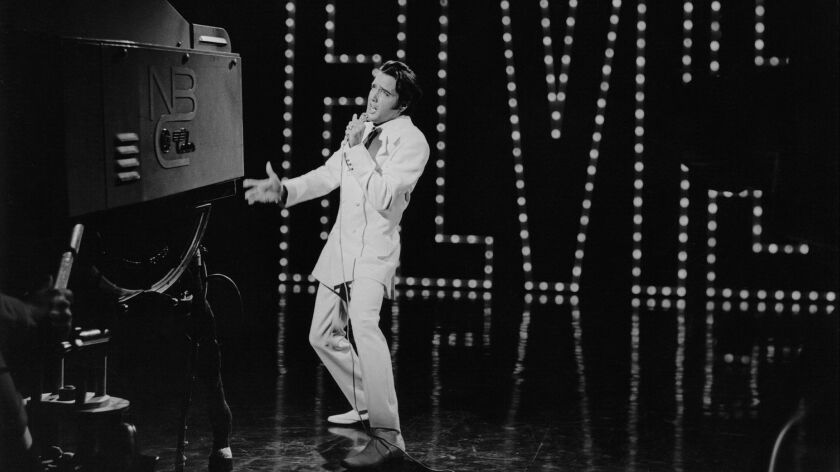 The Rolling Stones, "Studio Albums Vinyl Collection 1971-2016" (Rolling Stones UMe)
In 1971 the self-proclaimed "world's greatest rock 'n' roll band" opened a new career chapter with the launch of its own Rolling Stones Records label, which began auspiciously with the "Sticky Fingers" album. This gargantuan $450 box set brings forth newly half-speed mastered (at Abbey Road, no less) pressings of all 15 Stones studio releases (spread over 20 LPs) from that moment forward through 2016's "Blue and Lonesome." (R.L.)
Various Artists, "At the Louisiana Hayride Tonight" (Bear Family)
Nashville's Grand Ole Opry has always been the best-known venue for live and broadcast performances by country, bluegrass, folk, gospel and other roots musicians, but the Louisiana Hayride was a rowdier, more adventurous younger sibling. Hank Williams, Elvis Presley, George Jones, Johnny Cash, June Carter, Webb Pierce and dozens of others complement their studio recordings with frequently revelatory live performances on this 20-CD, 559-track and $205 box. (R.L.)
Various Artists, "Battleground Korea (Songs and Sounds of America's Forgotten War)" (Bear Family)
The obsessive Bear Family label in Germany earned a Grammy nomination earlier this month for best historical album for this intriguing and enlightening compilation, which brings together songs and excerpts of newscasts documenting the U.S.' involvement in Korea in the late 1940s and early 1950s. The music here is less a collection of hits than songs that channeled the singers' feelings about the conflict, many of them from African American blues musicians and white country singers from the South who disproportionately made up the ranks of the armed forces. Among the four-CD set's 121 tracks, which retails for about $117, are recordings by Fats Domino, the Louvin Brothers, B.B. King, Gene Autry, Jean Shepard and many others who never achieved fame or fortune. (R.L.)
Various Artists, "I Said, She Said, Ah Cid: The Exploito Psych World of Alshire Records" (Grapefruit/Cherry Red)
For every Rolling Stones or Beatles in the mid- to late-1960s were thousands of third-rate copycats willing to be co-opted by savvy producers. One such imprint, the Hollywood-based Alshire, earned rent through watered-down — but often totally rocking — renditions of hit songs, which it compiled onto budget LPs. This British three-CD $22.74 collection, also available through the major streaming services, celebrates the so-called losers and never-weres of the psychedelic rock era. (R.R.)
Various Artists, "Technicolor Paradise: Rhum Rhapsodies and Other Exotic Delights" (Numero Group)
Dismissed as pablum by jazz-heads and proto-rockists of the time, the sounds gathered on this expertly curated edition sprang from the so-called "exotica" movement of the 1950s. Made famous by easy-listening king Martin Denny, the mostly instrumental music coincided with a Polynesian craze that produced some of the city's first tiki bars. This fantastic triple-CD ($32) or three-LP ($42) collection makes a convincing argument that the musical movement has been not only misunderstood, but during its prime generated a ton of great American recordings. (R.R.)
Various Artists, "Voices of Mississippi: Artists and Musicians Documented by William Ferris" (Dust-to-Digital)
The best box sets serve as portals, and this Grammy-nominated, $50 set zaps listeners back to rural Mississippi sanctuaries, one-room studios and porches in the late 1960s. There, as presented on three CDs and a DVD of short films, the documentarian William Ferris assembled his state-of-the-art recording gear to lock onto tape unsung black voices of Mississippi. "Voices of Mississippi" travels throughout the Delta and compiles Ferris' recordings into volumes called "Gospel," "Blues," "Storytelling" and "Films." (RR)
---