Brainfeeder at the Bowl: A roundtable discussion with George Clinton, Flying Lotus and Thundercat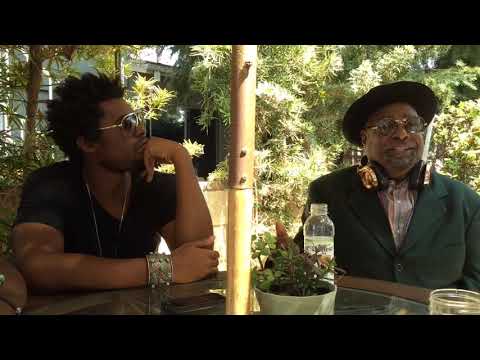 Watch Thundercat, from left, Flying Lotus and George Clinton in conversation.
"We're gonna play music."
That's all Thundercat would reveal about what's on the agenda for "Brainfeeder at the Hollywood Bowl," an all-star future-funk throw-down set to bring together several members of Los Angeles' so-called beat scene — including Thundercat, the Gaslamp Killer and Flying Lotus — with the man who laid the groundwork for many of the outré sounds they make: George Clinton of Parliament-Funkadelic.
Thundercat didn't actually know what was on the agenda. When he, Clinton and Flying Lotus gathered for lunch on a recent afternoon in Santa Monica, many of the details for Saturday's concert had yet to be worked out. And there was the element of surprise to preserve.
"I'm not telling you if I'm, like, bringing a tiger out!" Flying Lotus said.
But Thundercat's reticence also stemmed from the fact that he likely won't know what's going to happen until he takes the Bowl stage.
"There's always a bit of following the spirit," said the 31-year-old bassist and singer born Stephen Bruner.
Added Clinton with a raspy chuckle: "You really ain't in control of the funk. It comes from somewhere else, and you just get on for the ride and let it flow."
Trust in the music is one idea that unites these three sonic explorers from different generations. For Clinton, 75, it's been a guiding philosophy since the late 1960s, when he formed the two freewheeling bands — Parliament and Funkadelic, later known collectively as P-Funk — with which he revolutionized R&B and funk.
Proudly trippy but always grounded in a danceable groove, Clinton's music spawned hits including "Give Up the Funk (Tear the Roof off the Sucker)" and "Flash Light" (with an indelible keyboard lick by Bernie Worrell, who died in June) and helped shape the laid-back strain of West Coast hip-hop sometimes called G-funk.
Listen to even a minute or two of music by Dr. Dre, Snoop Dogg or Kendrick Lamar — the last of whom appears on a recent remix of Funkadelic's "Ain't That Funkin' Kinda Hard on You?" — and you'll hear his influence, just as you can detect his thinking about community in the sense of synergy that defines the Brainfeeder crew.
Started as a record label by Flying Lotus (born Steven Ellison, now 32), Brainfeeder has expanded into a kind of sprawling musical co-op that encompasses the founder's spacey electronic jazz, Thundercat's soulful psychedelia and the instrumental excursions of saxophonist Kamasi Washington.
It's a group that thrives on interplay, which is why it was no surprise that, notwithstanding their secrecy regarding the Bowl gig, Thundercat and Flying Lotus slipped so naturally into conversation with Clinton. These are edited excerpts from our talk.
In a recent Rolling Stone profile of you, George, the writer described the members of P-Funk as "black hippie freaks wearing turbans, top hats, sombreros, face paint, S&M gear, fencing masks, space-pimp platform shoes, prosthetic Pinocchio noses"—
George Clinton: Yeah, we done all that.
He goes on.
Clinton: We played straight naked too. I just saw a picture somebody posted of us in '79. My grandkid texted me: "Granddude" — that's what my grandkids call me — "what was you doing?" I never stopped to think about it.
Was P-Funk one of the models for Brainfeeder?
Thundercat: That's a very weird question.
Why?
Thundercat: Because he's the model.
Clinton: I think we've given a lot of people the nerve to make music any way you wanna make the music.
And also to use the music to communicate larger ideas.
Clinton: Always that. Sometimes it was silly; sometimes it was controversial; sometimes it was political. But we don't go out saying, "We're a political band." We can be stupid as hell, and then we can be really precise. My ability has always been to walk out on the stage and see the audience and figure out what they wanna hear. Sometimes they're young and black, sometimes older and black. Then we can go to Europe, and it'll be all Caucasian forever. We have a show for that.
How do you younger guys think about adapting to a given audience?
Flying Lotus: I just like to be dangerous with what I try to do. I try to trick myself into new combinations of stuff — like, let's make this extra weird for me. How do I make this not obvious?
Clinton: And to me they made that space for themselves where they could actually do that. I had to go back and get myself educated: Who the hell is Flying Lotus? Why is so many people liking it? I never heard of it until now. But I can see why.
::
It was Lamar who introduced Clinton to Flying Lotus and Thundercat when the celebrated Compton rapper recruited the three to appear on his Grammy-winning 2015 album, "To Pimp a Butterfly." After that, the musicians (minus Lamar) performed together last year at England's massive Glastonbury Festival.
"That was epic," recalled Thundercat, who like Flying Lotus comes from a musical family: His father Ronald played drums for the Temptations, among others, while Ellison's great aunt was the late jazz composer Alice Coltrane.
With a laugh, Clinton pointed to Flying Lotus' work for Adult Swim, the off-kilter cartoon network, as another reason to collaborate.
"Anybody connected to that — I ain't need nothing else!" he said.
As exciting as he found their music, though, Clinton also acknowledged that hooking up with the next generation makes good business sense, something he's known since at least the mid '80s, when he produced "Freaky Styley" by the Red Hot Chili Peppers.
"Before I look around," he said, "we got a whole new set of people: Chili Pepper fans."
What about the inverse of that? Why is it important to reach out to an older generation?
Thundercat: Well, the funny thing is, not everybody thinks like George.
Flying Lotus: A lot of people, they just close off.
Clinton: They get protective. But they forget in three years there's gonna be a whole new set of kids, and the other ones are gonna get older and ain't gonna buy no records. So you're caught in between: These are my fans, but they ain't dancing no more. That's why I'm hoping the younger kids find out.
If many artists in your position shut down, why didn't you?
Clinton: When hip-hop came along, I watched James Brown and all the other people say, "You can't sample my music." And I'm thinking to myself, Well, it's better they sample it than to hear it on a K-tel package on TV. It's the easiest way to stay in the game: By helping the younger kids, they're gonna preach for you. And all of a sudden, I'm cool with Dre and Snoop because we was cool when they first started sampling. Just gimme some stage. I'll make my own way once I get there.
What's it like to offer that platform to a hero?
Flying Lotus: It's a blessing. I also feel some responsibility to shine light on things that I love. I remember coming up and making music, and I felt like people went out of their way — all the nicest people — to lift me up. So I always try to pass it on.
Was your earliest exposure to Clinton's music through his records or records that sampled him?
Thundercat: Both. We're the age that saw the Internet come about in a real, real way. The floodgates opened, and everything from the sampling, here we had the option to find it out for yourself. But where we come from, with our backgrounds, it's imperative that you know what you're saying. You've got to do your research.
::
The Internet hasn't just made it easier to hear music of course — it's also arguably made it harder for musicians to make a living.
And that's another reality that links these three, all of whom essentially work for themselves now rather than laboring inside (what's left of) the traditional record industry.
For Clinton, the dismantling of the old business — which he says cheated him out of his valuable copyrights while he was a weakened drug addict — is no cause for sadness.
"I'm so glad for the Internet," he said, "because that gave us a new outlet to be able to let people hear the music without doing it through some place where you know you're not gonna get paid."
His successors aren't so sure. Flying Lotus didn't start making music until the post-Napster era, "so it was already a sinking ship," he said. That meant his expectations were accordingly low.
"I was like, as long as I can have an apartment and make my work, I'll be happy."
Yet he's not so young that he hasn't heard the stories.
Do you feel like you missed out on anything from the pre-digital age?
Flying Lotus: Yeah — jillions of dollars.
Thundercat: You can feel it in certain moments. It's like a chest stab.
Flying Lotus: Huge advances, million-dollar music videos — we missed all that.
Clinton: But that serves only to get you in trouble. And they give you nothing else after that. You'll spend the rest of your life recouping, and then you'll find your contract's been changed. But I'm not mad about what happened. I'm having fun. And I'm gonna get my [copyrights] back.
You're motivated by that.
I'm 75 years old. That gives me energy: Oh, hell no — you can't have it that easy.
Twitter: @mikaelwood
Get our L.A. Goes Out newsletter, with the week's best events, to help you explore and experience our city.
You may occasionally receive promotional content from the Los Angeles Times.