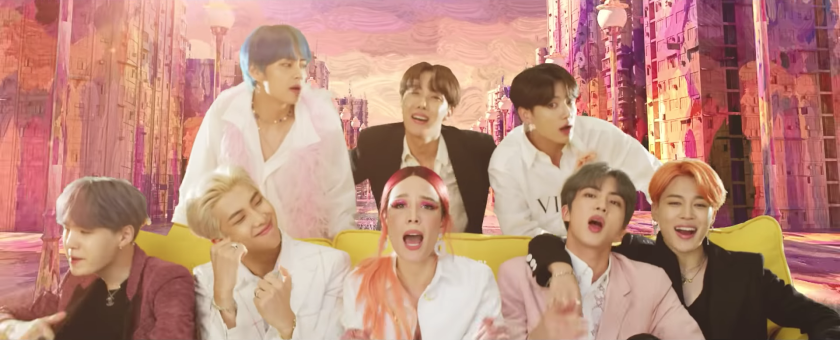 Halsey got in on the K-pop craze on Friday, aiding K-pop superstars BTS debut their new single, "Boy With Luv," and revealing several behind-the-scenes details from its accompanying music video.
By Friday morning, the video had already notched an impressive 29 million views on YouTube, though that's small compared to BTS' record-breaking 724 million views on its 2018 video "IDOL" and 485 million on "Fake Love." But it's a solid start.
The seven-member troupe, which became the first K-pop group to land an album at No. 1 on the Billboard 200 last year, has been credited with bringing the busy K-pop sound into the U.S. mainstream in recent years.
The energetic dance track "Boy With Luv" is their latest offering and a riff on the South Korean group's 2014 hit, "Boy In Luv." It's also the lead track on their new album, "Map of the Soul: Persona," which also dropped Friday and features a collaboration with Ed Sheeran.
Where is K-pop going in 2019? »
Meanwhile, Halsey called their collaboration a "historic opportunity" that she had a blast doing.
"I went all the way to Korea to make this dream a reality!" the "Bad at Love" singer wrote on Instagram. "[F]or years these guys have impressed me. They have always been so creative and so concise. But this time they impressed me by how welcomed and at home I felt working on this collab. They are truly great artists and even better friends."
The singer also took to Twitter to field rampant fan questions, revealing that the album/streaming version of the song features more of her vocals — and less of her dance moves.
She said that she'd never done choreography in a music video before and BTS "were so awesome" and "made me so comfy," she wrote.
Halsey also told fans that the chorus was stuck in her head for weeks after she recorded it and her handshake with Joon (rapper RM) "is actually a lot longer and more complex than the clip" shown in the video.
As they gear up for their world tour, BTS will perform on "Saturday Night Live" this weekend.
Meanwhile, Blackpink, a four-woman group from Seoul, will also make inroads for the K-pop sound this weekend by becoming the first K-pop girl group to play the Coachella Valley Music and Arts Festival in Indio. The show will also be livestreamed in New York's Times Square.
This has been a historic opportunity and we've had a blast. 🚀🚀🚀

— h (@halsey) April 11, 2019
Follow me: @NardineSaad
---