California Sounds: Los Angeles music at the mid-year — there's more good news than you might think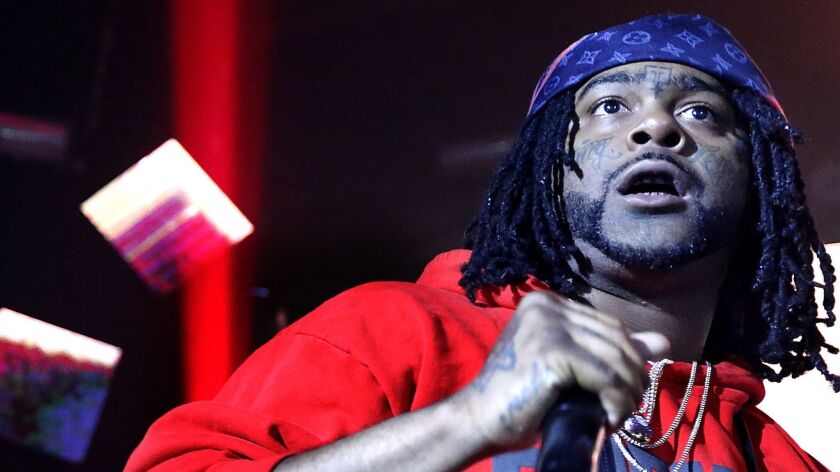 Midway through the year, more music has made it to market than in the entirety of the 1970s — or at least it seems that way. With the bar to entry so low, everyone with something to jam is issuing a musical statement. One unfortunate result of this bounty? It remains virtually impossible for any artist not Drake, Drake, Post Malone, Beyoncé, Cardi B or Drake to rise above the din.
That leaves the entirety of Los Angeles, save maybe Maroon 5 or Kendrick Lamar, out of the equation. To correct that, we offer an alphabetized overview of Los Angeles-area recordings that warrant mid-year reminder of their continued relevance.
03 Greedo, "The Wolf of Grape Street" (Alamo). Few lyricists have been as prolific in 2018 as this acclaimed artist from Watts, but then, few have had a more pressing deadline: 03 Greedo was recently sent to prison for 20 years after pleading guilty in Texas on drug and weapons charges. The result is a mixtape, "The Wolf of Grape Street," a debut album, "God Level," and a half-dozen singles that showcase the raspy, fluid way he moves through bars.
As noted by writer Jeff Weiss on his blog Passion of the Weiss, "even his name itself is a tribute to 103rd Street, the central artery that slices through Watts." As such, Greedo's music is geared more toward the streets than the pop charts — he writes a lot about his experiences shilling drugs — but when he reaches deeper into his emotional arsenal, he can cut through to bone.
The standout song "100 Bands" sees Greedo running through his percussive lines, banging out linguistic plosives like he's doing Neil Peart's drum solo in Rush's "By-Tor and the Snow Dog," boasting on his wealth, success and drive: "Have you been accurate? Happy my time got immaculate/You haven't been where I've been/And you sure haven't macked a bitch/Happy feet with the brick stack when I dance on it/I get the bird just to step on it."
Alice Bag, "Blueprint" (Don Giovanni). On her second studio album, one of L.A.'s original punks meditates on inequality, white-washed history, shame, time, self-respect, loneliness, white justice — "doesn't work for me!" — and addiction. Gathering kindred punk musicians from across her career, Bag built sturdy rock songs minus any pretense, youthful regrets or delusions, sharing production with musician Lysa Flores.
One of the best songs, "Shame Game," harnesses a maracas-accented dance beat worthy of LCD Soundsystem to explore ideas about body image and celebrating differences. "The Sparkling Path" is an unflinching look at the allure of financial security. She attacks the title track with Joe Strummer-esque conviction as she sings of self-examination and the importance of collective, organized action.
Khruangbin, "Con Todo El Mundo" (Dead Oceans). Texas expats who recently relocated to Los Angeles, this mostly instrumental three-piece is a global concern in the purest sense of the word. Inspired by the wild 1960s rock 'n' roll movement of Thailand, the band fuses those guitar tones and buoyant rhythms with the sounds of Mexico, America, West Africa and pretty much everywhere else. Its second album also recalls the early 1980s New York post-disco of ESG and Liquid Liquid, and the result is a border-blurring convergence, one likely to propel whatever dance floor is lucky enough to receive it.
DJDS, "Big Wave More Fire" (Loma Vista). A cohesive, dynamic dance record featuring vocals by marquee artists including the Dream, Khalid, Charlie Wilson and Kevin Drew of Broken Social Scene and ascendant singers Empress Of, Kelly Zutrau (of the group Wet) and Amber Mark, "Big Wave More Fire" is the third, and best, studio album from this production team. As exuberantly imposing as a skyscraper made of glowsticks, DJDS' wildly accomplished 14-track album builds on the success the two achieved during intense collaborations with rapper-producer and cultural provocateur Kanye West on his 2016 album "The Life of Pablo."
Deafheaven, "Ordinary Corrupt Human Love" (Anti-). The epic new guitar record from these San Francisco-to-Silver Lake transplants moves with a Wagnerian grandiosity, but to call it a metal album is only partially accurate. Yes, lead singer George Clark bellows with guttural menace, wailing as though dangling at the edge of a fiery abyss, and when coupled with feats of drum-pounded fury and distorted guitar, "Ordinary Corrupt Human Love" is likely to rankle your Bible-thumping preacher-men. But such fury isn't the rule here. The band mixes gentle folk with melodic Dinosaur Jr.-style grunge maneuvers, and mixes post-rock, post-punk and post-metal with the adeptness of Mark Rothko blending shades of black.
Drinks, "Hippo Lite" (Drag City). For their second collaboration, singer and songwriter Cate Le Bon and White Fence guitarist Tim Presley traveled to the south of France and ditched the outside world. With no phone service and no Wi-Fi, they made the 12 delicate, and occasionally rickety, songs that became "Hippo Lite."
As with Le Bon and Presley's work both solo and as collaborators, the songs suggest the post-punk experimentalism of the Slits and the Fall (Presley is a former member). "In the Night Kitchen" employs outdoor atmospherics as a backdrop for an instrumental guitar and piano meditation. "Leave the Lights On" revels in its uneven rhythms, scraping violin tones and defiantly off-key delivery.
The Internet, "Hive Mind" (Columbia). Since this R&B band's debut album, its members have undertaken a kind of artistic blitz, each establishing individual musical personalities while remaining committed to the idea of the Internet. At the center is Sydney Bennett, whose rise as part of the Odd Future hip-hop collective is well-documented, but equally magnetic are members Matt Martians and Steve Lacy.
A band in the truest sense of the word, the members combine on "Hive Mind" to deliver handmade funk, soul and R&B that recalls "Kiss"-era Prince, simmering Sade-soul and Marvin Gaye's late-period, synth-driven seductions. The distorted bass drum and sibilant high-hat that propel "Look What U Started" vibe with incorruptible artistic spirit, and "Roll (Burbank Funk)" grooves with the feel of post-disco New York.
Sudan Archives, "Sink" (Stones Throw). The young singer, songwriter, producer and violinist born Brittney Denise Parks further reveals the talent that has so quickly pushed her into the spotlight — and earned her a Coachella booking. The song for the first video, "Nont for Sale," blends low-end synthetic rhythms, plucked violin melodies, rap lyricism and a hook that celebrates Sudan Archives' ascent. The experimental pop track "Mind Control" rolls as if on a rocky path, with oblong beat-box rhythms, trippy chimes and a warbled bass that seems to flow across the measures. "Beautiful Mistake" shimmers with Sudan's plucked string playing, drawn from her affection for East and West African fiddlers.
Sunny War, "With the Sun" (Hen House). The artist born Sydney Ward has been busking around town for close to a decade now — no small feat considering she's only in her mid-20s. She works with a lilting vibrato that recalls the great jazz vocalists of the 1950s, and as she maneuvers her fingers across her guitar, she doesn't need to shout to express anger or sorrow.
On "With the Sun," War opts for sparse instrumentation focused on graceful violin melodies, a choice that echoes the moaning pre-War blues of the Mississippi Sheiks. Like contemporary English singer, songwriter and guitarist Michael Kiwanuka, War brings into the here-and-now the essence of the elemental. In "Gotta Live It," she beams in on addiction: "I'm a slave and a victim/Digging my own grave for the system," she sings, bemoaning a life where "I'll pay rent someplace I'll never own" and cussing that, while still young, "I'm too old not to know when I've been … around."
Kamasi Washington, "Heaven and Earth" (Shoto Mas/Young Turks). It wasn't long ago that Los Angeles was derisively dismissed among East Coast jazz snobs, but now that Washington and his band have nearly single-handedly reinvigorated the music for a new generation, the only thing that New Yorkers can derisively dismiss about L.A. is everything else. A lot of words have been written about this explosive double-volume of … what, exactly? Jazz, sure. But maneuvering through what seems like the entirety of American black music, "Heaven and Earth" jumps from chase-scene Curtis Mayfield funk to Sun Ra-inspired cosmic jazz, touches on balladry and big-band bombast, effortlessly hits on hip-hop and soul — sometimes all at once.
---
Your essential guide to the arts in L.A.
Get Carolina A. Miranda's weekly newsletter for what's happening, plus openings, critics' picks and more.
You may occasionally receive promotional content from the Los Angeles Times.