How Carly Rae Jepsen moved beyond 'Call Me Maybe': 'I wanted it so badly'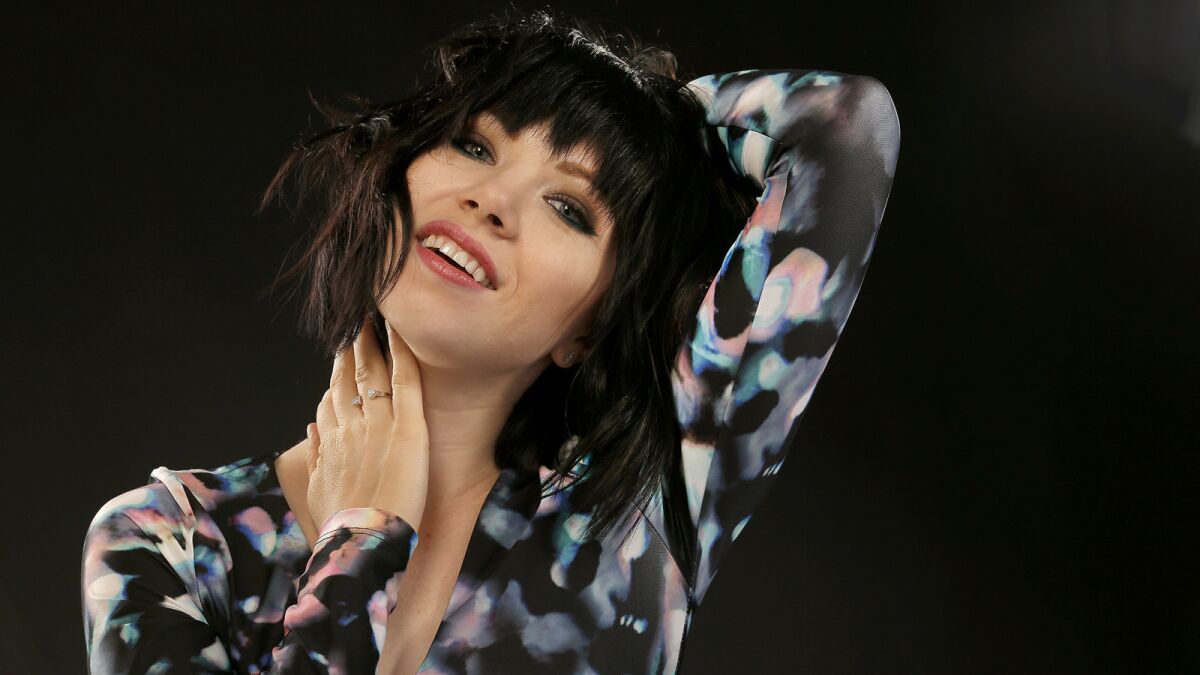 When Carly Rae Jepsen moved to Southern California in 2012, not long after Justin Bieber helped launch her song "Call Me Maybe" toward becoming one of that year's biggest pop hits, the Canadian singer first touched down in family-friendly Woodland Hills. Jepsen was dating a guy who lived there at the time, and her plan was to camp out at his place briefly until she found something more in keeping with the tastes of a young star.
She ended up staying in the suburbs for two years.
"Because there was so much craziness going on, it actually kind of suited us to be away from it all," she recalled in an interview near her new home in Hollywood. "But eventually I started to crave the opposite," she added with a laugh. "That's why now I'm living in the thick of it."
The change of surroundings mirrors a shift on Jepsen's surprising new album, "Emotion," which finds the 29-year-old singer breaking from her once-wholesome image — "I threw a wish in the well," goes the Disney-ish opening line of "Call Me Maybe" — with a hipper, more grown-up sound she developed over many months with a stylish crew of songwriters and producers that included Dev Hynes, Ariel Rechtshaid and Sia.
SIGN UP for the free Indie Focus movies newsletter >>
Due Aug. 21 from Interscope Records, the set represents a canny attempt to move beyond the one-hit wonderdom that might have defined Jepsen, whose 2012 album, "Kiss," almost inevitably fell short of the success of her smash single. At the same time that it adapts to an evolving pop sensibility, though, "Emotion" feels like a truer picture of the woman behind the ear worm.
"Carly this time could very easily have said, 'Let's make "Call Me Possibly" or "Call Me Again," ' " said Steve Berman, vice chairman of Interscope/Geffen/A&M. "But that's not who she is as an artist."
"Call Me Again" would likely have satisfied at least some of the people around her. A former musical-theater kid who later competed on Canada's version of "American Idol," Jepsen originally released "Call Me Maybe" in her home country in fall 2011. But the song, a coy flirtation set to zippy strings, didn't really take off until Bieber heard it on the radio and tweeted his approval to his tens of millions of Twitter followers. Before long, Jepsen had signed a deal with Bieber's manager, Scooter Braun, and together they watched "Call Me Maybe" explode in popularity, ultimately going to No. 1 on Billboard's Hot 100 (where it stayed for nine weeks) and earning a Grammy nomination for song of the year.
"It totally changed my life," Jepsen said of the tune, her dark hair cut into a choppy bob in contrast with the flowing locks she sported a few years ago. Yet the enviable ascent came at a cost: She felt rushed to complete "Kiss" in about two months to capitalize on what Braun called "the behemoth of 'Call Me Maybe.' "
"It was way too fast," said the singer. "I mean, I was really proud of it when it was done, but I remember saying to whoever would listen, 'Next album, it's not going to be like this. I'm taking my bloody time.' "
And so she did, spending much of last year writing an estimated 200 songs with a wide array of collaborators in L.A., Sweden and New York, where she temporarily relocated after accepting an offer to play the lead in "Rodgers & Hammerstein's Cinderella" on Broadway.
"I didn't know if it was the most intelligent career move I could make," she said of the acting gig, for which she received mixed reviews. "But it was a childhood dream of mine, and I knew I'd always wonder if I didn't do it."
Jepsen approached her album in a similar spirit of adventure, she said, creating every kind of song she could think of with every kind of partner she could find, from professionals responsible for huge hits by Katy Perry and Taylor Swift to quirkier, more underground types she reached out to directly based on her love of their work.
"I wasn't sure what I wanted to do, so for me the only solution was to keep writing, and hopefully that would lead to something," she said. "And if it didn't, I would just write more."
Asked whether she ever came close to burning out — particularly during the "Cinderella" run, when she was taking part in writing sessions before and sometimes after performances — she shook her head.
"It wasn't exhausting because I wanted it so badly," she said. "It was a purpose, a hunger."
"Emotion" began to take shape at last around a collection of songs that shade her old ebullience with darker, more complex feelings. Sonically, the music still sparkles but has earthier textures inspired by '80s R&B — partly the result, Jepsen said, of wanting to get away from the "falsetto sweetness" of the Rodgers & Hammerstein tunes she was singing onstage every night.
"I know when you compare me to other artists, I'm quite tame, but in my mind there's a very sexual undercurrent to this album," said the singer, who will celebrate "Emotion's" release with a sold-out concert Aug. 24 at the Troubadour.
You hear that perhaps most readily in "All That," a luscious, slow-moving soul-funk ballad Jepsen co-wrote with Hynes, known for his band Blood Orange as well as for his work with Sky Ferreira and Solange. But it's there too in the dreamy title track — "Drink tequila for me, babe / Let it hit you cold and hot," she purrs — and "Warm Blood," a throbbing electro-pop cut produced by Rostam Batmanglij of Vampire Weekend. Other songs, such as "When I Needed You" and "LA Hallucinations," reflect Jepsen's increased interest in groove and repetition, even at the expense of the melodic clarity that Top 40 radio demands.
Not that "Emotion" willfully abandons the place she once had at the mainstream table. In its earliest incarnation, for instance, "All That" was even slower than it is now, she admitted with a laugh. "The first time Dev and I played it for Ariel," who co-produced the finished track, "he was like, 'Guys, it's good, but I kind of found myself wondering when the next note was going to happen.' So we sped it up a little."
And then there's the album's bubbly lead single, "I Really Like You," which Braun said "bridges the gap" between "Call Me Maybe" and the edgier material on "Emotion." Released in March, the song didn't perform as well as was hoped, peaking at No. 39 (though its music video, with appearances by Bieber and Braun's friend Tom Hanks, racked up more than 90 million views on YouTube).
But whatever heat Jepsen's latest project lacks among the gatekeepers at radio, it's making up for with enthusiastic praise from new fans at proudly indie-leaning websites like Pitchfork and Stereogum, which called "Emotion" a "pop masterpiece." Braun happily acknowledged that he and Jepsen are after critical acclaim, and though Interscope's Berman was cagey when asked whether he's specifically targeting indie listeners, that may have been because the label doesn't need to do so.
In 2015, when many fans are discovering music online, the traditional boundaries that once separated pop acts from indie artists no longer exist, according to Batmanglij.
"The streams are all connecting into one river of music," he said, adding that Jepsen's embrace among, say, Vampire Weekend fans "feels inevitable in a way," not least because Jepsen's disappointing experience with "Kiss" gives her some paradoxical underdog appeal.
As she prepared to head to a fitting, Jepsen insisted she was less worried about who might listen to "Emotion" than about how she'll occupy herself now that it's finally finished.
"This album was my obsession for a long while," she said. "I'm kind of already like, 'What should I do with my next one?' "
Twitter: @mikaelwood
ALSO:
Lana Del Rey unveils a lethargic new stoner anthem, 'High by the Beach'
Brands cater to millennials at Outside Lands 2015
Highlights of The Times' early coverage of N.W.A
---
Get our L.A. Goes Out newsletter, with the week's best events, to help you explore and experience our city.
You may occasionally receive promotional content from the Los Angeles Times.