Cécile McLorin Salvant looks for the contradictions in jazz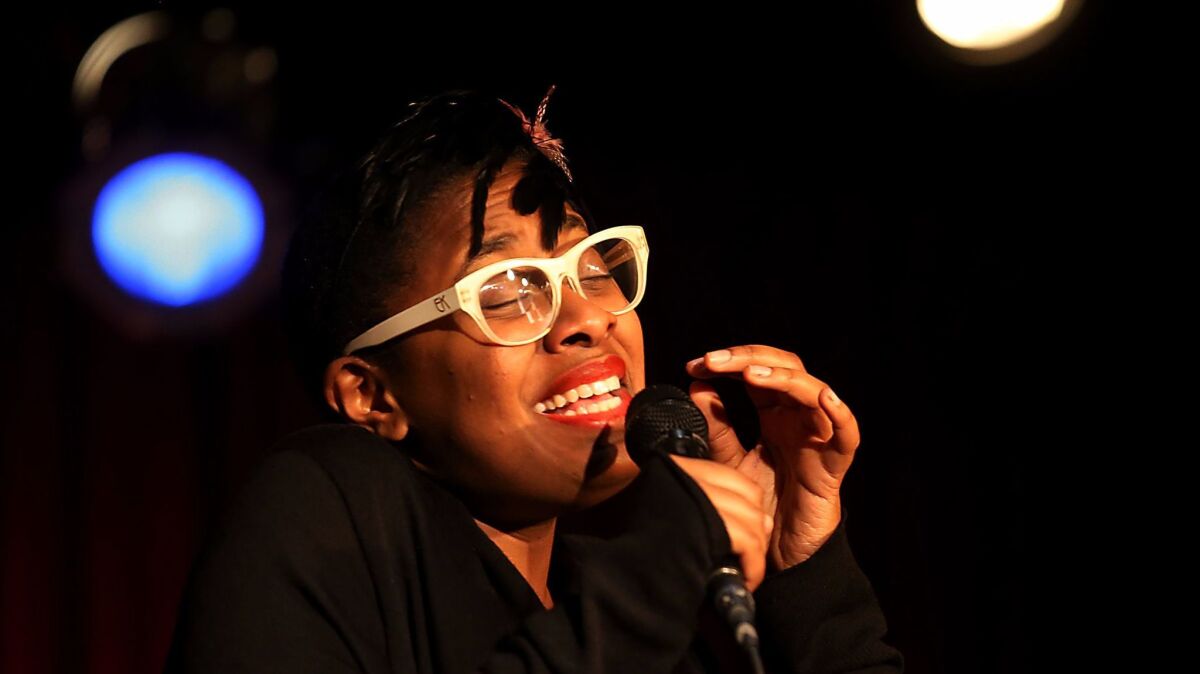 It might seem strange for a very young woman, growing up thousands of miles away from jazz capitals like New York, Chicago and Los Angeles, to be singing standards from the years before World War II. But Cécile McLorin Salvant, perhaps the brightest star among jazz singers under 40, and whose retro glasses make her look like a clerk at a hipster vinyl shop, has always had old-school tastes.
"I like things that are handmade," Salvant, a 27-year-old Miami native who opens for Brian Ferry at the Hollywood Bowl on Saturday, says by phone. "I'm really into analog photography. Anything that's handmade has always been a passion of mine. The handmade, homemade quality makes it seem human. And I'm really into history, including the history of American popular music, in all its contradictions."
In some cases, she's crooning numbers that have long been part of the jazz canon, for singers and instrumentalists: "I Didn't Know What Time It Was," Cole Porter favorites like "Easy to Love," Fat's Waller's immortal "Jitterbug Waltz."
In other cases, these contradictions include songs that are mid-century-sexist — David-Bacharach's "Mad Men"-era "Wives and Lovers" — or weirdly racist, like "(You Bring Out) The Savage in Me." In her originals, she upends the travails of modern romance by giving the tales vintage trappings, utilizing the layers of the past to bring out the deeply layered meanings in the songs — the ways, for instance, in which gender roles have or have not changed.
Two years back the Guardian in the UK described "a mischievous intelligence" and called her style "more heightened music theatre than jazz"; in some ways Salvant is as much actor as director: She says she finds these numbers "funny and fascinating," offering serious tonal challenges to the singer. "I like to see how things play out in history."
Salvant, whose father is a Haitian doctor and mother a French-Guadeloupean educator, began singing in several other styles before she even came to jazz. In fact, the first time she heard Billie Holiday, as a kid, she was frightened: "Late in life, her voice was that of a scary witch."
Salvant later came around and found Holiday, Sarah Vaughan, Bessie Smith and others to be major inspirations.
But the teenage Salvant was drawn more immediately by classical and Baroque singing.
"Baroque music is about the jagged edges of music," she says. "Those songs are 400 years old, but they still work."
After high school she moved to the south of France, taking voice lessons at the Conservatoire Darius Milhaud. A visit to a class taught by a jazz saxophonist, and her interest in improvisation — once a major part of classical music but harder to find more recently — put her on a new path.
Still, her interests remain wide, from the novels of Virginia Woolf to the poetry of Langston Hughes to the choreography of Anne Teresa De Keersmaeker. "I get excited by jazz singers, but that's such a small percentage of what I'm influenced by. I've always been really influenced by people who have contradictory influences in their work, and somehow it comes together in a cool way. I love clashing things."
Salvant broke out hard in 2013 with the "WomanChild" LP, three years after winning the Thelonious Monk Vocal Jazz Competition. She's toured consistently, including gigs at Catalina's and the Playboy Jazz Festival, but has released only one album since — "For One to Love," which won a Grammy last year.
In reviewing the work, The Times' Mikael Wood wrote, "her feel for subtext makes her one of the smartest (and funniest) interpreters going. In 'Stepsisters' Lament,' from 'Rodgers & Hammerstein's Cinderella,' the wide-open quality of her voice makes you believe she's identifying with the song's narrator, who can't understand why men routinely opt for 'a frail and fluffy beauty' over 'a solid girl like me.'"
At the end of September she'll release an unusual double album: Some of "Dreams and Daggers" (released, like the others, on Mack Avenue) is live, some is in studio with a string quartet, and much of it involves original numbers. Salvant aimed to write new songs that bridged the recording's standards like "You're My Thrill" and "My Man's Gone Now."
Here, again, this 20-something Bessie Smith fan is being old-school: She admires the way artists like Solange and Frank Ocean make albums designed to be listened to all the way through Salvant calls it "a renewal of the idea of a whole work of art."
Overall, with a style that is intimate and reasonably understated for a jazz artist — she seems a natural for a place like the Village Vanguard or Largo at the Coronet — the Bowl poses a challenge. She's sung there and in huge outdoor venues before, but admits that these places can be tricky. "We like our sound to be as acoustic as possible, and it can be hard to get the balance right. It's so enormous — you have to remind yourself there are people out there."
The Bowl booking of Salvant behind Ferry is, as she calls it, "kind of a crazy mix": A 71-year-old English art-rock singer who loves Charlie Parker, following a black jazz singer, a third his age, with a European education and affinities. On second thought, says Salvant: "Whoever came up with this … is kind of brilliant."
♦ ♦ ♦ ♦ ♦ ♦ ♦ ♦ ♦ ♦
Bryan Ferry with Cécile McLorin Salvant
Where: Hollywood Bowl, 2301 N. Highland Ave.
When: 8 p.m. Saturday
Tickets: $17 — $196
Information: www.hollywoodbowl.com
Follow me on Twitter: @toddmartens
Get our L.A. Goes Out newsletter, with the week's best events, to help you explore and experience our city.
You may occasionally receive promotional content from the Los Angeles Times.