The Chainsmokers are getting comfortable with being the biggest pop stars in America
For the last six weeks, the Chainsmokers have had the No. 1 song in America.
"Closer" is an unusual tune to have such a run. It's an old-fashioned duet between the alt-pop singer Halsey and the duo's own Andrew Taggart. It's a mid-tempo, wistful production from a band that rose in popularity on the Las Vegas electronic dance music pool-party circuit.
Its lyrics, about a furtive hookup with an ex, are tempered by small details about being broke and regretful, like recalling a Blink-182 song they both once loved and that their mattress was actually stolen from an old roommate.
The song's success caps a wild ascent for the New York-formed, L.A.-based electronic duo, which also features producer/DJ Alex Pall. "Closer" is the Chainsmokers' third top-10 single of the year (and their second currently up there: "Don't Let Me Down" is still at No. 7). The band was a headline act at major festivals like Southern California's Coachella and EDC in Las Vegas.
The way they got there says a lot of about what young fans want right now, and how the boundaries between the roles of producer and pop star are more flexible.
But it also means that a couple of fratty-yet-vulnerable EDM guys have to figure out how to stay one of the biggest acts in America.
"We're still not quite sure what makes a [Billboard Hot 100] top single, but it feels great," Taggart said. "[Closer] is not a classic EDM track. It's sexy, but it's about being poor. We started in 300-capacity rooms and struggled for a long time, and now we've finally started to make music that's actually about our lives."
But as they make the move into established pop stardom, there are still kinks to work out.
Taggart admitted that he's just finding his bearings as a live vocalist — the band's MTV VMA's performance with Halsey was panned as out of tune, a glitch they attributed to bad on-stage sound. A recent Billboard cover story also earned them groans for their unguarded quotes about, among other things, their collective penis sizes and virtuoso drinking abilities.
Now that they're pop stars, and the Internet is less kind to such antics than in the past, they know they'll probably have to be more professional going forward.
"There are more expectations now, but we're getting to know ourselves better and we're becoming more comfortable," Taggart agreed.
To look at the Chainsmokers' rise, you might think they've had it pretty easy so far. The band formed in New York after the now-31-year-old Pall's manager set up a collaboration date with the now 26-year-old Syracuse grad Taggart. They became fast friends, and in the early 2010's, they turned ears on the blog-aggregator Hype Machine by posting remixes of indie rock songs and scored a viral hit in 2013 with the single "#Selfie."
To call that high-fructose dance track a "novelty hit" — its sarcastic lyrics mock women in nightclubs taking self-portraits — would be among the kinder things said about the song, and the duo wouldn't dispute that take. When the band first performed it (sort of, as they self-deprecatingly posed for selfies more than they mixed) on "American Idol," they were pilloried.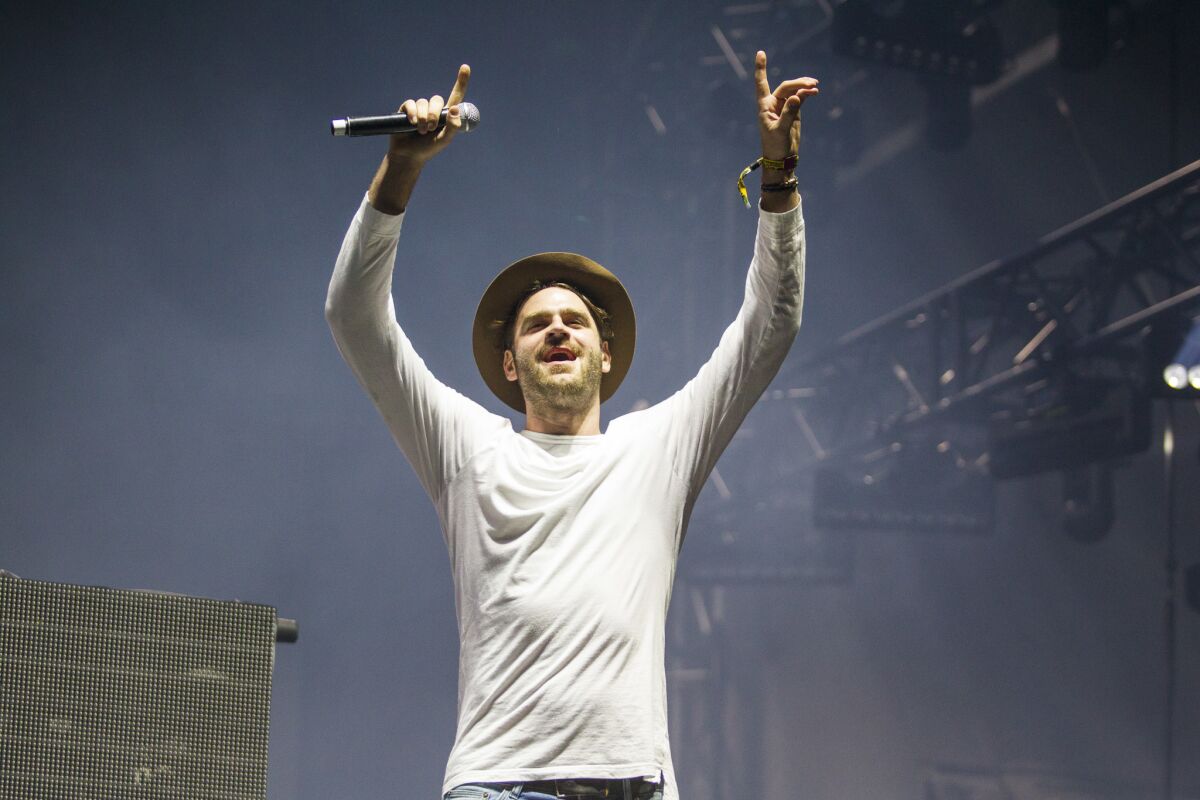 "You can't pay attention to how people perceive you. The people who get it will get it, and the people who don't, they won't," Pall said. "You've got to stick to your guns and be yourself."
But it did earn them a huge audience, even if few expected them to keep it. The weird thing was that their crowd would soon get much, much bigger.
Over the last year, the band broadened its EDM palette to include softer, more melancholy styles, which nonetheless feel effervescent and singable. The sound — a trap-influenced, head-nodding style now mostly known as "future bass," was perfected by acts like Flume and Odesza and seemed perfect for an EDM generation's cultural comedown.
It opened up a whole new lane for the duo to try writing more meaningful material. And crucially, it was a flexible enough genre to allow for a big range of collaborations, often with then-unknown top-line vocalists like the young singers Daya and Rozes.
Their new strategy peaked in 2016, when a string of singles, including "Don't Let Me Down" and "Roses," went Top 10 and multiplatinum. Suddenly, that eye-rolling DJ duo from a few years ago became one of the most influential acts in pop.
Only Justin Bieber and Drake have had more Top-10 singles this year.
"It definitely surprised us, because you never know the outcome," Pall said. "You can't write songs like 'Is this going to be a hit?' But people were looking for something more substantial, and our own songwriting tastes were always more in that vein anyway. Our writing sessions became more like therapy."
You can't pay attention to how people perceive you. The people who get it will get it, and the people who don't, they won't.
— Alex Pall of the Chainsmokers
They also helped set a new pattern for pop-crossover electronica, one similar to that of Bieber, Skrillex and Diplo's hit "Where Are U Now?" That format prizes flexibility and moving on quickly to new styles and collaborations. In the age of Instagram, a traditional album cycle takes a career-killing eternity.
And now, producers like the Chainsmokers are just as often the "face" of the song as the lead vocalist would have been just a few years ago. When the duo played the recent Wango Tango festival in Carson, the young crowd reacted about the same as they did to Ariana Grande and Gwen Stefani, even though the duo basically just performed a DJ set.
"There's a cluster of artists right now like Chainsmokers, Calvin Harris, Zedd and Diplo that have figured this out," said John Ivey, senior vice president of programming at iHeartMedia and program director for KIIS-FM in Los Angeles. "What are they? They're singers, they're producers, they're mixers — they do everything. They have the flexibility to crank stuff out and not be so protective of each song. It's a new way to do it, and I think it's super interesting."
The next step? More music. The band is already pushing a gentle, Postal Service-influenced new single "All We Know," and though they could probably work with any vocalist in pop, it features another relatively unknown singer, Phoebe Ryan.
Who knows if it will keep their streak at the Hot 100 alive, and push them neck and neck with Drake and Bieber as kings of the radio and streaming services.
But their strategy does keep fickle pop fans on their toes. And for a band built on reading trends and reinventing themselves as fast they can, a new look is always the right one.
"We always want to stay current," Taggart said. "It's like how Drake always has something bubbling. If fans aren't thinking of you, they're thinking of someone else."
For breaking music news, follow @augustbrown on Twitter.
ALSO
At Symbiosis Gathering, Burning Man loopiness meets cutting-edge dance music
In Fabric's closing in London, an echo of L.A.'s rave scene woes
'Hamilton' star Daveed Diggs bolts from the 'popular to the fringe' with experimental hip-hop act Clipping
Get our L.A. Goes Out newsletter, with the week's best events, to help you explore and experience our city.
You may occasionally receive promotional content from the Los Angeles Times.