This is what happened at the rest of Coachella while Beyoncé performed
For many, Beychella Part 2 was the pinnacle of the Coachella experience. In hopes of getting an up-close view of the pop goddess, some camped out at the main stage hours before her late night set, with some prime slots for Beyoncé's 11:05 p.m. set snared by noon.
By the time Beyoncé's show began, the festival grounds were filled far and wide with those eager to catch the set described as "Beyoncé Homecoming 2018," stretching back to an art structure on the opposite side of main stage.
But while most people at Coachella were enjoying Beyoncé, the festival transformed in other ways.
Coachella only had a handful of rock acts on the lineup, and two were slotted to perform at the same time as Beyoncé — rock trio Highly Suspect and long-standing and the beloved Japanese metal band X Japan, the latter one of the world's biggest rock bands outside of the U.S. Rock 'n' roll, then, became the anti-Beyoncé.
Although the number of people at X Japan's show was just a tiny fraction of those enjoying Beyoncé's performance, the crowds' energy mirrored one another.
The beloved Japanese band rarely makes it to the U.S., having not performed in America since a 2014 gig at Madison Square Garden in New York. With intense vocals and instrumentals, a vibrant set design, outrageous fashion and people singing along loudly in Japanese, X Japan's set felt like stepping into a rock opera.
Dressed in a tight black pants, a snake-skin patterned coat and thick black choker, the band's architect — the composer, drummer and pianist who performs simply as Yoshiki — stepped to the front of the stage to introduce special guest Marilyn Manson. The small crowd roared as the two launched into a haunting rendition of Manson's cover of "Sweet Dreams (Are Made of This)."
"The only downside playing the same time as Beyoncé is that I can't see her show," Yoshiki wrote via email, adding, "and vice versa."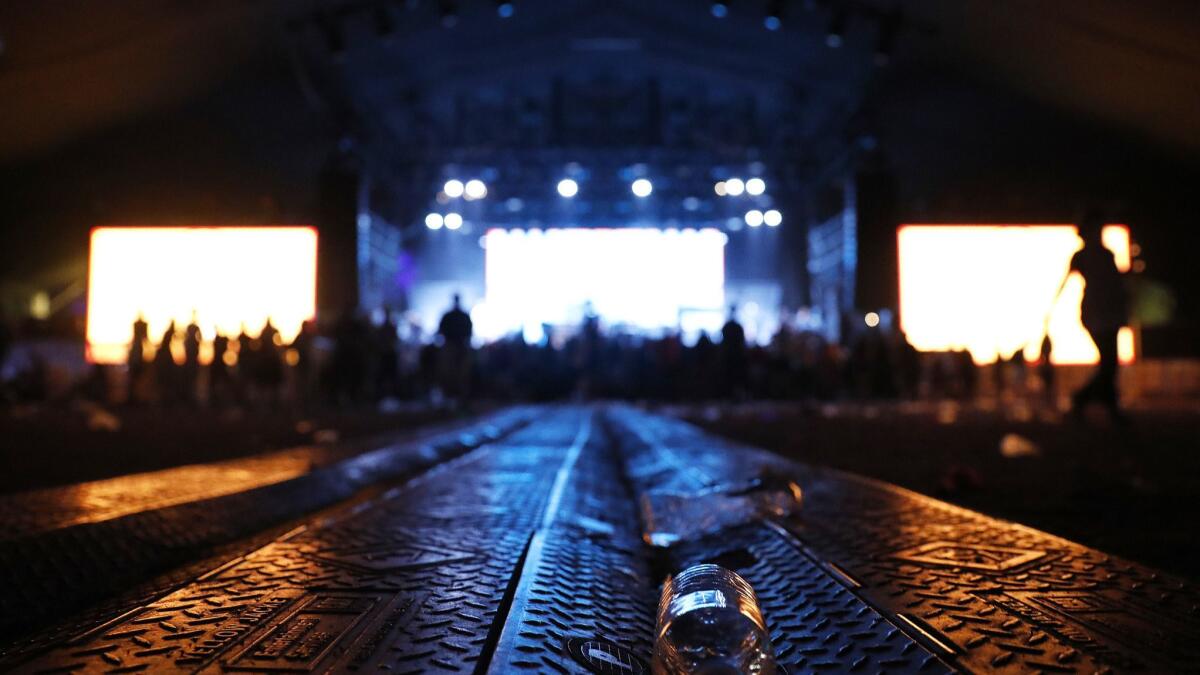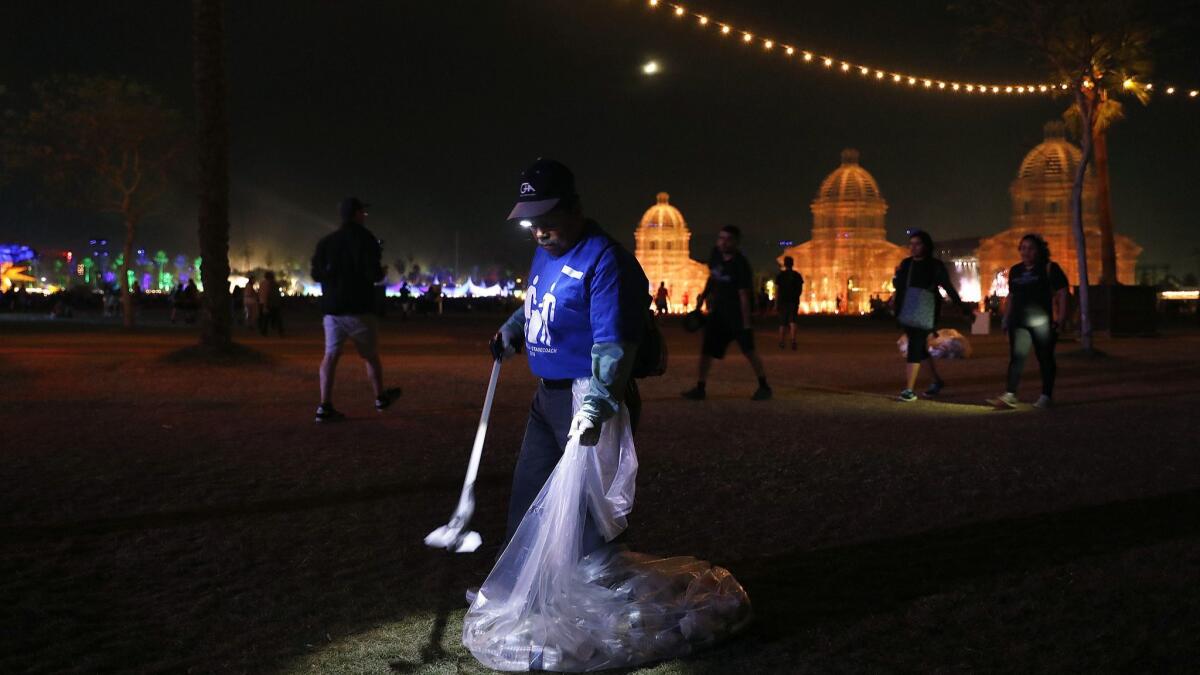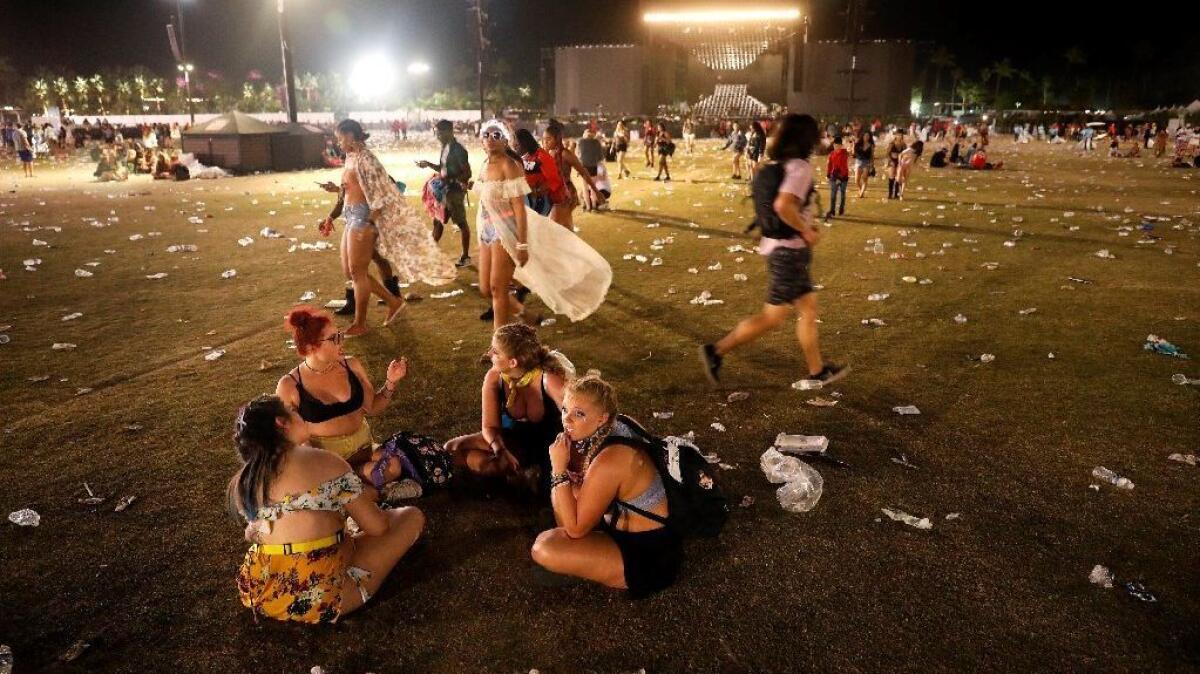 During Beyoncé's set, plenty of Coachella's areas became ghost towns.
Spaces that were once densely packed and difficult to navigate were now completely open for guest frolicking and Instagram picture-taking. The Rose Garden, a section where VIP holders have access to plush couches and upscale eateries, was all but deserted.
But finding a nice spot of green to relax wasn't exactly easy. The lack of foot-traffic during Beyoncé also highlighted the massive amounts of waste that 125,000 people can produce. The flat field was littered with empty cups, water bottles and other random bits of trash.
As the sound of Beyoncé's "homecoming" filled the air, some men and women in bright orange T-shirts and rubber gloves began combing their way through the seemingly endless trash, cleaning the grounds for another day.
Other festival employees did anything possible to see the pop star, said Meshaell Tran, 25, who was working at a Coachella vintage clothing shop. "All the booths and staffs were empty; people were falling off the walls trying to see Beyoncé."
Some festival-goers used Beyoncé's set as an opportunity to escape the crowds.
Matt Aldrich, a 31-year-old from Pasadena, planned to check out one of Coachella's large-scale art exhibits, which typically have long wait times during the day, as well as grab a couple of beers with friends. He wasn't, he made clear, opposed to seeing what has been hailed by many critics as one of the most impressive concert performances in years; he was simply happy to have some space.
"She's not my thing, really," he said. "It would be a cool set to see, but with the crowd, I didn't want to deal with that."
With nearly all of Coachella's crowd seeing Beyoncé, others eventually resigned themselves to the fact that they woudn't be able to get close enough to actually see Beyoncé.
"We were there for a while...you couldn't see Beyoncé," said 26-year-old Julia Creighton, who stood near the festival's Ferris wheel with friends.
Others had more personal matters to attend to — or simply didn't care. One young woman sat alone, cross-legged in the grass. She was missing the singer because she couldn't find her boyfriend. Another said he didn't enjoy the pop icon's feminist message.
"She's pushing women-power too much," said Andy Azad, a 34-year-old from Laguna Beach.
About an hour into Beyoncé's set, foot traffic on the grounds started to pick up near the exit. People began streaming out, hoping to get a head-start on the multi-hour bottleneck that would occur as thousands of people attempted to leave the festival at the same time.
But after a full day in desert heat, even the Beyhive gets tired.
About 12:30 a.m. two people paused at an Instagram hot-spot — a bright pink wall emblazoned with a giant orange "Indio" — for a quick photo before heading out.
"We were five heads from the front [of Beyoncé]," said Tyler Hamilton, 23. "I'm just hella sleepy."
To read this article in Spanish, click here
Get our L.A. Goes Out newsletter, with the week's best events, to help you explore and experience our city.
You may occasionally receive promotional content from the Los Angeles Times.