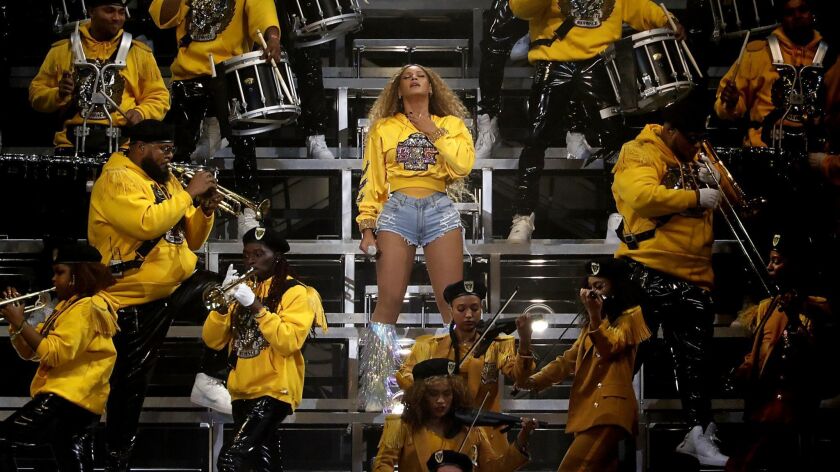 Pop Music Critic
One way to gauge the level of excitement rippling across the field at Coachella ahead of Beyoncé's headlining performance last year is to consider that Chance the Rapper — the hugely popular MC who himself is no stranger to the festival's massive main stage — could be seen standing (and indulging requests for selfies) for at least half an hour in the shoulder-to-shoulder crowd that breathlessly awaited Queen Bey.
Almost certainly a guy capable of scoring a roomier spot had he asked, Chance seemed to understand that he'd want to be front and center for whatever Beyoncé had in store.
And, boy, was he right.
When the pop superstar finally appeared before us on April 14, 2018, she made known immediately that this wasn't to be a typical festival performance. The show opened with Beyoncé leading a kind of royal procession — a homecoming queen, if you like, come to preside over what revealed itself as a loving recreation of a halftime show at a historically black college.
By far the most complicated production I've ever seen at Coachella, the two-hour gig featured approximately 100 musicians and dancers — including brass and string players, a drum line and a baton twirler — all of whom helped her radically reimagine familiar songs in a context clearly tied to her role as the first black woman to headline the annual desert festival. ("Ain't that 'bout a bitch," she said in a priceless aside.)
Beyoncé, who'd pushed back her Coachella debut from 2017 after becoming pregnant with twins, told the audience that the delay had given her time "to dream" up something special. And that intellectual ambition was easy to feel in a concert that used Beyoncé's razzle-dazzle not merely to glorify herself — though there was plenty of that — but to tell a story about community, as when she steered her song "Freedom," which here rode a heavy groove played on sousaphones, into a rendition of "Lift Every Voice and Sing," often called the black national anthem.
FULL COVERAGE: Coachella 2019 »
As is frequently the case at cameo-crazy Coachella, Beyoncé brought surprise guests. Yet here again she was emphasizing an idea of family, with appearances by her husband, Jay-Z; her sister, Solange; and her old bandmates in Destiny's Child, with whom she grew up. Singing a retooled version of its classic "Say My Name," the girl group described the importance of home to even the most dogged of adventurers.
Given the show's universal acclaim — Chance, in a commencement address at Dillard University, later called it "better than any performance Michael Jackson ever did" — it came as no surprise this week to hear that Beyoncé plans to release a documentary about the concert, called "Homecoming," on Netflix on April 17.
Even in the moment, you suspected that the intricate camerawork feeding images to the screens at Coachella had been designed with a movie in mind. (So too did the band's vivid arrangements feel worthy of a live album, though Beyoncé's publicist didn't respond to a question about that.)
The timing of the documentary's release, between the two weekends of this year's festival, has to make you laugh: As much as she's taking advantage of the renewed interest in Coachella, she's also flexing her muscle, drawing attention from the performers trying to live up to what she did last time.
Nobody on the bill is likely to succeed.
But Beychella, as it quickly became known, clearly raised the ceiling of possibility. In other words, you don't get Kanye West's so-called Sunday Service, which he's reportedly planning for a mountainside in the festival's campground on Easter morning, without the precedent of Beyoncé's 2018 spectacle.
Perhaps Michelle Williams of Destiny's Child said it best when asked how she came to grasp the scale of what her bandmate had put together.
"I said, 'What in the bejesus is this?'" Williams recalled thinking at her first rehearsal.
A year later, the question still applies.
---