Backstage at Coachella, Nile Rodgers recalls the 'Lay Me Down' studio session with 'little brother' Avicii and Adam Lambert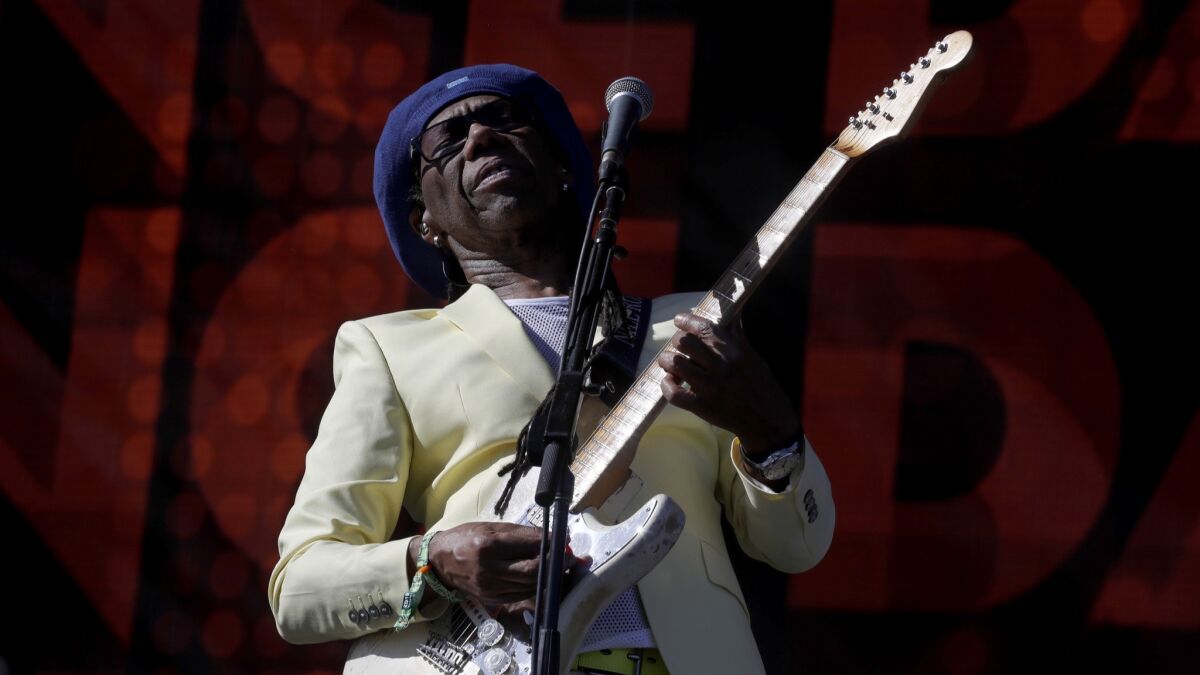 During the funk pioneer Nile Rodgers' Coachella performance with Chic on Saturday, the artist paused between songs to offer a brief remembrance of the musician Tim Bergling, better known as Avicii.
Rodgers and Avicii, who died last week at 28, collaborated on a 2013 track together called "Lay Me Down." Featuring vocals by Adam Lambert, the song connected dance music's past and present.
Backstage after the performance, Rodgers sat down to recall the wild story of how "Lay Me Down" came to be.
PHOTOS: Week Two, Day 2 - 2018 Coachella Festival »
You spoke onstage about your affection and admiration for Avicii. Can you share your memories of working with him?
I could talk about Avicii all day long. I loved him. We met one night — as I've met 99% of the artists I work with, believe it or not -- I went to see his show. Before I met him I was just hanging out in the audience with his fans, and his fans were so cool, and so orderly and nice, which I thought was interesting. And it was at Radio City Music Hall, which is a very interesting venue for a DJ to play.
I thought, "I've gotta meet this guy." So I go back stage and I meet him. I said I was working with David Guetta in Los Angeles in a week or so. Maybe we can hook up while I'm out there?
I call up Prince and I say, 'What happened?' He said, 'I thought we were meeting in Vegas.' I said, no, I'm in L.A.
— Nile Rodgers
We get there. I was supposed to be working with Prince, but somehow our wires got crossed. Typical rock and roll — Prince and Avicii were both gigging in Vegas. Now, I was crystal clear with Prince that I was going to be in Los Angeles, and that he should come from Vegas since I'm going to be in L.A. He said, "Okay, cool."
Well, Avicii gets the message. Avicii does come to L.A. — but Prince stays in Vegas. So I call up Prince and I say, "What happened?" He said, "I thought we were meeting in Vegas." I said, no, I'm in L.A.
[Prince] said, "Oh, well why don't you meet my girls?" He sends over these girls called KING — so good. Wonderful. So I met with them. Now it's me and KING and Avicii sitting in the studio. I'm like, OK, I'm not going to let this opportunity go to waste. I call Adam Lambert up and he goes, "Oh, no, I've got a headache. I'm drunk from the night before. I've got a hangover."
By gear and ear, he became one of the best melody writers I've ever met.
— Nile Rodgers
I said, "Well look, get on the treadmill or something because I've got these three awesome singers and I'm working with this guy Avicii and I think we just cut a really good song. I need you to do the lead vocal. [Mimics Lambert grumbling.]
It must be nice.
Since I didn't control the deal, the only way that I knew I could get [Lambert] paid well, I say, "Look, I've already pretty much written the song, but I'll let you write the next verse and that way we could all be co-writers."
He says, "OK, cool." and did the exercise. He came over and smashed it. Killed it. And that's the song that we put out, called "Lay Me Down."
In your career, I'd imagine you've seen a lot talent die too young.
Well, today is the second anniversary of Prince's death. So for me, this week was incredibly … well … yesterday was traumatic. I was actually crying on the airplane. I was afraid the passengers would get nervous because of the Southwest incident a couple days ago, so I was trying to hide my face.
Because Avicii was like my little brother. He was 28 years old. When I first met Avicii he was 23 years old. Really crazy. It just broke my heart. People don't realize how talented he was. He had no formal musical training.
I used to say, "You play by ear and gear." He got a piece of gear — it wasn't even gear, it was an app that you download for free — and he learned how to use that app. By gear and ear, he became one of the best melody writers I've ever met.
For tips, records, snapshots and stories on Los Angeles music culture, follow Randall Roberts on Twitter and Instagram: @liledit. Email: randall.roberts@latimes.com.
---
Get our L.A. Goes Out newsletter, with the week's best events, to help you explore and experience our city.
You may occasionally receive promotional content from the Los Angeles Times.