With 'Con Calma,' Daddy Yankee masterminds his next 'Despacito'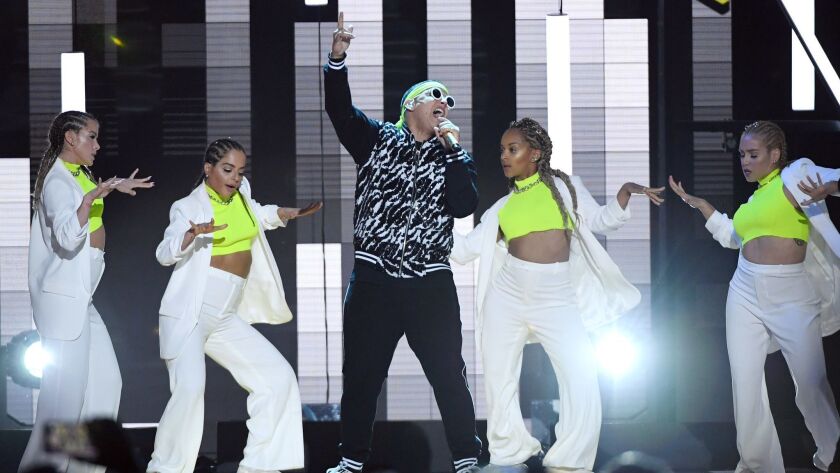 Reggaeton and Latin urban music are the sound of global youth right now. But the heart of Daddy Yankee's smash "Con Calma" comes straight out of Generation X.
"Con Calma" is a rework of Canadian one-hit-wonder Snow's 1992 dancehall single "Informer," a song Yankee grew up with in Puerto Rico. "We wanted to unify the generations," Yankee said, a few minutes after a dress rehearsal for YouTube's Brandcast advertiser fete last week. "And now three decades later, it still sounds cool, reinterpreted"
For Yankee and a coalition of major and indie labels, "Con Calma" also sounded cool (and even more broadly appealing) with pop singer Katy Perry on the hook of a new remix, released late last month.
The era- and genre-spanning collaboration says a lot about how Latin urbano music is reshaping the industry. The balance of power has shifted. Now it's the pop singers who are eager to tap into its audience.
"It's a global movement now," Yankee, 42, said. "When [pop artists] travel and play, they hear our music all over the world. It's a revolution."
The remix of "Con Calma" is an inside-out revision of "Informer." It puts Yankee on the now-in-Spanish hook from the original, which Yankee said changed how he saw Caribbean styles interacting with pop. Snow himself shows up too, with Perry on a new hook that harks back to her 2010 hit "California Gurls." (Even if Perry's frothy lyrics such as "Hola, me llamo Katy / A little mezcal got me feelin' naughty / I know that we don't speak the same language / So I'm gonna let my body talk for me" have drawn mild rebuke from Latin critics.)
But the song's reggaeton churn (from Dallas production duo Play-N-Skillz) is fresh enough for modern nightclubs from Yankee's San Juan to Perry's Santa Barbara (via Snow's Toronto). The original music video, with Yankee as a particularly limber Animoji, came with its own dance craze that helped the song instantly go viral on YouTube, TikTok and other platforms.
It continues a path Yankee helped carve out for reggaeton and urbano. Yankee and Luis Fonsi's 2017 single "Despacito" tore up the pop playbook, becoming the first all-Spanish-language Billboard Hot 100 No. 1 since "La Macarena." It was already a global hit when Justin Bieber jumped on the remix, which made it the most-streamed single in history.
Soon came a wave of pop singers and major festivals jumping in the urbano pool. Beyoncè, the most discerning artist in pop, hopped on a remix of J Balvin and Willy William's "Mi Gente." Madonna and Colombian singer Maluma share top billing on her latest single "Medellín."
Even the Coachella Valley Music & Arts Festival put Balvin and Daddy Yankee's Puerto Rican peer Bad Bunny near the top of the main stage bill at this year's festival. They didn't have to "cross over" — the U.S. music industry had to come to them.
"Beyoncé is singing en español with J Balvin, and so is Alicia Keys with Pedro Capó and Farruko," said Enrique Santos, the chairman and chief creative officer of iHeartLatino, the radio and streaming platform. Singles such as "Con Calma" aren't just meeting a young, diverse audience where they live: They're pushing all of pop music in its direction.
If collaborators join up cynically, "artists will be criticized," Santos added. But when done right, "it shines the correct light on Latino artists."
Urbano's prowess on streaming makes it a powerhouse any way you define it. Yankee, whose 2004 single "Gasolina" helped first popularize reggaeton, has billions of streams on YouTube alone. The original "Con Calma" (and its Animoji dance video) has close to 800 million YouTube streams already, with the remix tacking on another 35 million so far. Add in Spotify, Apple Music and the rest, and one can credibly make a case that Yankee is the biggest star on "Con Calma" right now.
"Two months ago, I had a meeting with Yankee to talk 'Con Calma,' " recalls Santos. "We were already playing the single, but he still asked, 'Do you think I should get an English collaboration?' The song is sexy as is, but he's always searching for that hit."
With "Con Calma," he's found another one. "The streaming numbers speak for themselves," said Simran Singh, Yankee's attorney and business partner who helped broker the Perry collaboration. The way Singh sees it, the momentum of a song such as "Con Calma" is re-routing the flow of influence and star power.
"This is an opportunity for Katy to appeal to a new audience, and open up markets in countries around the world," he said. "Everyone's benefiting from the cross-pollinating."
Yankee is an especially interesting artist to lead this wave. Not only is he a founding artist of reggaeton since the genre's '90s inception, he's also rare for owning his own master recordings. His label El Cartel has distribution deals with Universal Music Latin, and the "Con Calma" remix is getting a push from Perry's end at Capitol Records. But he can collaborate and steer his career however he pleases.
"New artists can pop organically in the Latin urban space, they don't need the infrastructure of a major label," Singh said. "Yankee's in control of his career. He's not coming in as an underdog, but as an equal."
With "Con Calma" likely locked in as his next billion-stream single, and Latin urban resetting where and how stars are born today, expect many more pop singers to come calling.
"It's a force to reckon with," Yankee said. "Even a few years ago, people didn't believe it. People didn't get it. But we knew. Now it's beyond music. It's a culture."
For breaking music news, follow @augustbrown on Twitter.
---
The complete guide to home viewing
Get Screen Gab for weekly recommendations, analysis, interviews and irreverent discussion of the TV and streaming movies everyone's talking about.
You may occasionally receive promotional content from the Los Angeles Times.