Gwen Stefani on following her grown-up album with a Nickelodeon cartoon: 'I've played so many different roles'
Gwen Stefani has spent 2016, in her words, "on output."
In March, the pop singer released her first solo album in a decade, "This Is What the Truth Feels Like," on which she addressed the unraveling of her marriage to rocker Gavin Rossdale and her subsequent romance with country music hunk Blake Shelton.
Then she went on a summer tour, performing songs from "Truth" and her first two solo records along with classics like "Don't Speak" and "Just a Girl" by her long-running Orange County rock band, No Doubt.
Now the former star of "The Voice" is returning to television with an animated series on Nickelodeon called "Kuu Kuu Harajuku." Built around characters she dreamed up as she was writing "Harajuku Girls" — a track from her 2004 solo debut about the fashion-forward women of that Tokyo neighborhood — the show follows the members of a young pop group, HJ5, who have to "come together and use all of their individual strengths to get through obstacles," as Stefani explained.
Yet she won't be offstage for long. Following the Nick series' recent premiere, Stefani, 47, will perform hometown gigs Oct. 15 and 16 at the Forum and Oct. 29 and 30 at Irvine Meadows Amphitheatre, where her shows will serve as that venue's last before it's razed to make way for a new housing development. She recently sat down at Nickelodeon's animation studio in Burbank to discuss the concerts, the TV series — and her all-time-favorite roadie.
You're a parent. How did that affect what you wanted to do with "Kuu Kuu Harajuku"?
I have three boys, so I've spent the last 10 years watching cartoons. I think that's all I've watched in the last 10 years. But what I haven't seen — and what I didn't see growing up, watching "Scooby-Doo" and "Tom and Jerry" — was girls being girls: singing and dancing and wearing makeup. So it was super-important to me to be able to do something that was appropriate and fun for girls.
Making the show appropriate meant—
Making it a safe place. When I wrote "Just a Girl," I was talking about how as a female you're born and you don't think anything about your gender or "Oh, I'm lesser." Then suddenly you hit puberty and you're walking along the street and someone's whistling.
On tour this summer I would look out at the audience every night and see a dad that was tatted up, probably went to old punk No Doubt shows, and he'd have his daughter on his shoulders in her harajuku outfit, probably her first concert. And I'm singing "Just a Girl" to her, and she's experiencing it for the first time.
I didn't write the song to be, like, girl power or anything it was interpreted to be. But I know now that I've been a role model, and it's something I take seriously.
Many pop stars talk about rejecting that responsibility. But you're embracing it.
Because I know who I am, and I'm comfortable with my morals and my standards. And I feel proud of what I've done, especially in the last year, with what I've had to go through.
Speaking of which: "This Is What the Truth Feels Like" talks about grown-up topics in a grown-up way. Yet with this TV show you're communicating with kids in their language.
Well, you're not the same person for everybody you know. My middle son, he had never really seen me perform before this tour. He's 8 years old; the last time I went on tour I had just given birth to him. And at first he was so weirded out. But then he got so into it, to the point where I have a quick [costume] change during the show, and he'd have his little headset light and he'd take me on and off the stage every night. He was part of the crew.
I've played so many different roles being a mother and also having a career — an artistic career where I've used music to save my life so many times.
That's how making this latest album felt.
When I wrote the first song, I literally had to cry my way to the studio. I was like, "I know the only way forward is to do this right now." So I did it — I wrote a song, and it was the greatest feeling. It didn't make the record, that one, but it put me through to the next place. Then they just started to come. I'm so proud of it because I feel like I could easily have just felt sorry for myself and laid around. And I did do that. But then I got there and started believing in myself again.
What was it like to get back on the road and play those songs live?
Spiritual. I felt like Rocky at the top of the steps — being up there and being able to see the people that loved me and supported me in real life, not the people that saw me taking my kid to school in a paparazzi shot.
They were on your side.
They're the people who took the time to come out and listen to my story and sing it back to me. They were with me growing up, and now they're showing me to their babies. It was a lot of intensity.
And now it's coming to a close.
The end of the tour was weird. I had the boys with me, then they went back to their dad, so it was just me for the last two shows. I literally found myself in a hotel room in Fresno, online shopping for 24 hours straight. I kind of went into this crazy, dark depression. It's not just the end of a tour but the end of a huge chapter for me: being able to be creative again and climb out and find love and be strong enough to get to a different place. I'd been running fast, so it was really devastating for it to end.
Gwen Stefani is shown in September at Nickelodeon Studios, where she developed the animated series "Kuu Kuu Harajuku."
(Robert Gauthier / Los Angeles Times)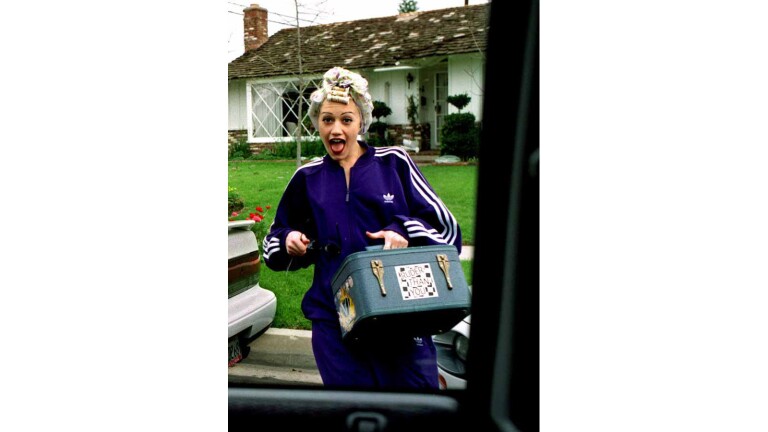 Gwen Stefani sprints across her lawn after having to return home to pick up a forgotten item on the day No Doubt opened for Bush at The Pond in Anaheim, in March 1996.
(Rick Loomis / Los Angeles Times)
Gwen Stefani, photographed in 1997.
(Ken Hively / Los Angeles Times)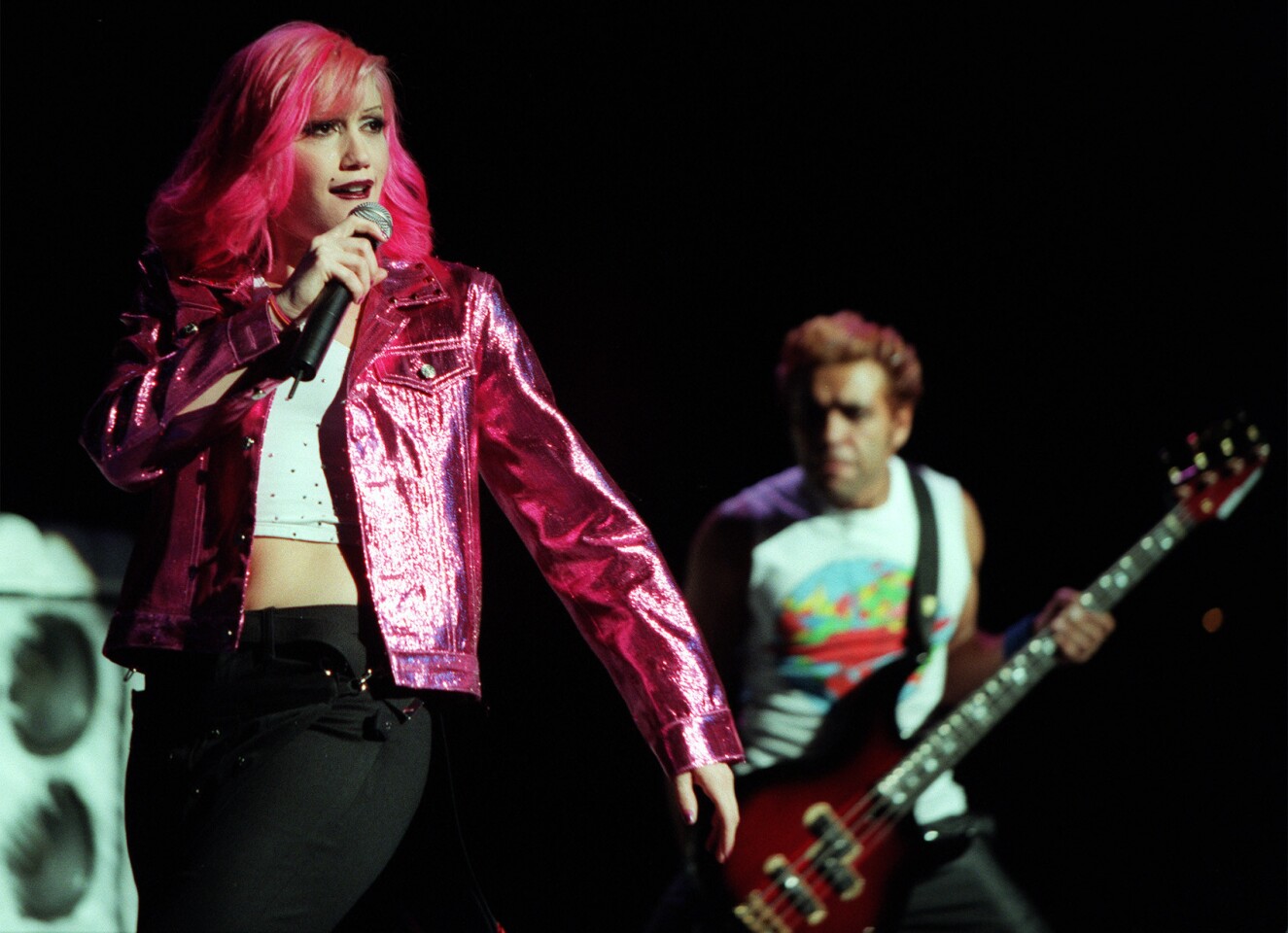 No Doubt's Gwen Stefani struts across the Universal Amphitheater stage on April 14, 2000. Bassist Tony Kanan is in the background.
(Robert Gauthier / Los Angeles Times)
Gwen Stefani shows off her rings as she arrives at the Hammerstein Ballroom Oct. 19, 2001, for the VH1 Vogue Fashion Awards in New York.
(Timothy A. Clary / AFP)
Gwen Stefani arrives at the 2002 MTV Video Music Awards at Radio City Music Hall Aug. 29, 2002, in New York City.
(Mark Mainz / Getty Images)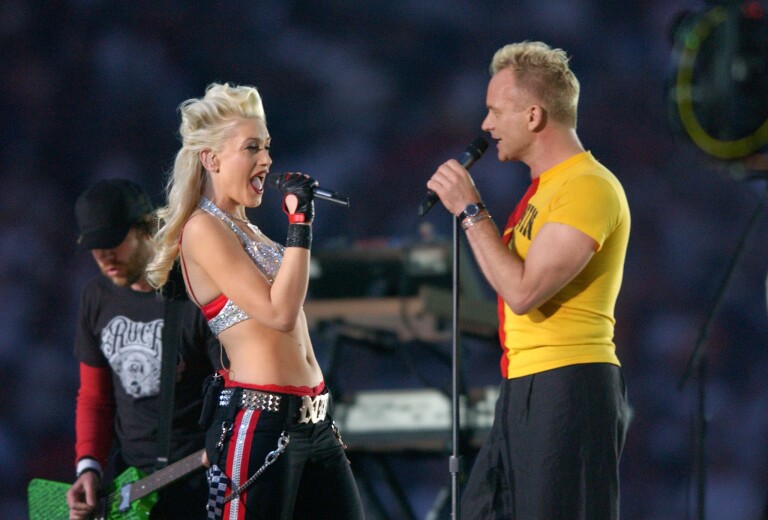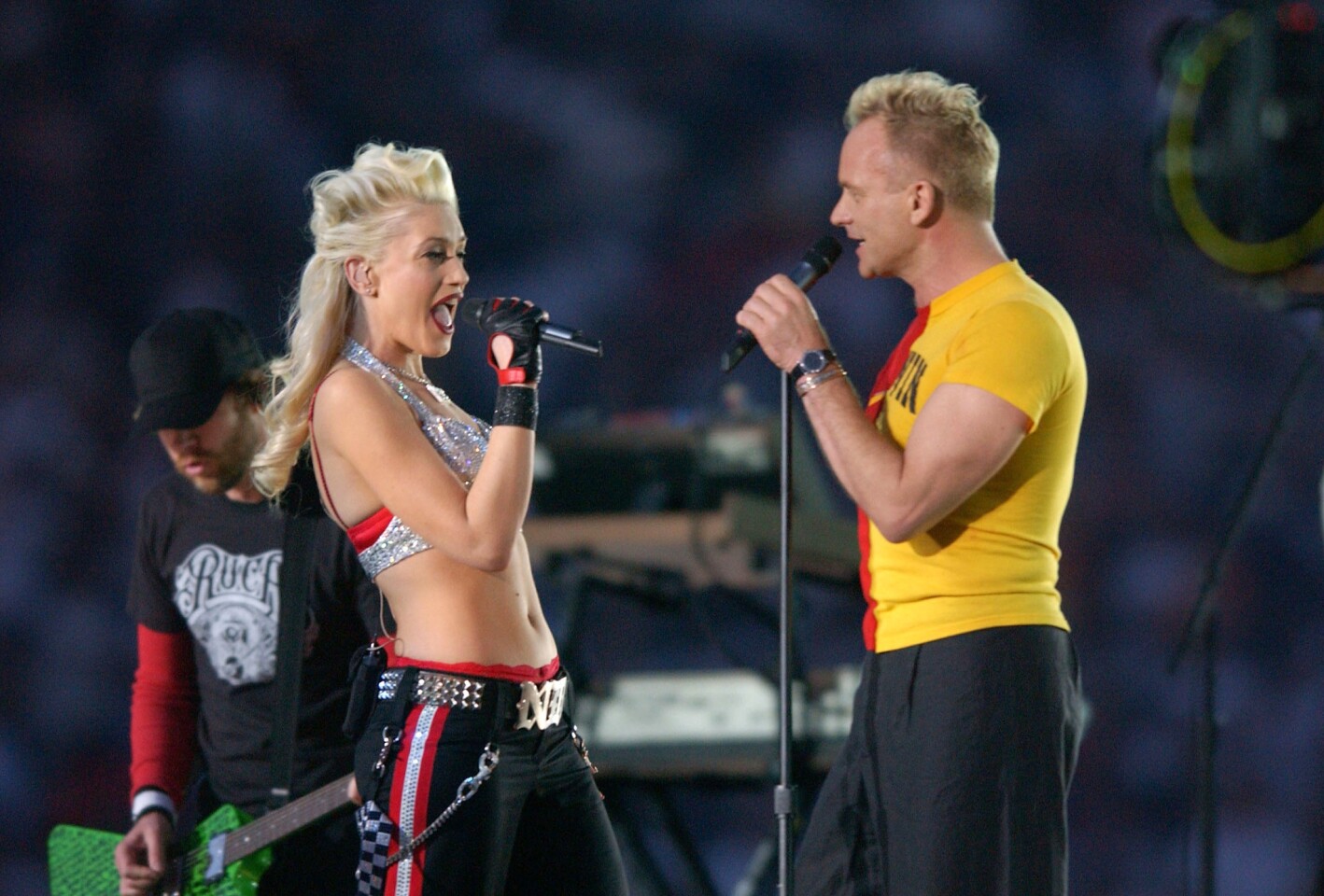 Gwen Stefani and Sting perform during half-time of Super Bowl XXXVII between the Tampa Bay Buccaneers and the Oakland Raiders on Jan. 26, 2003, at Qualcomm Stadium in San Diego.
(Doug Pensinger / Getty Images)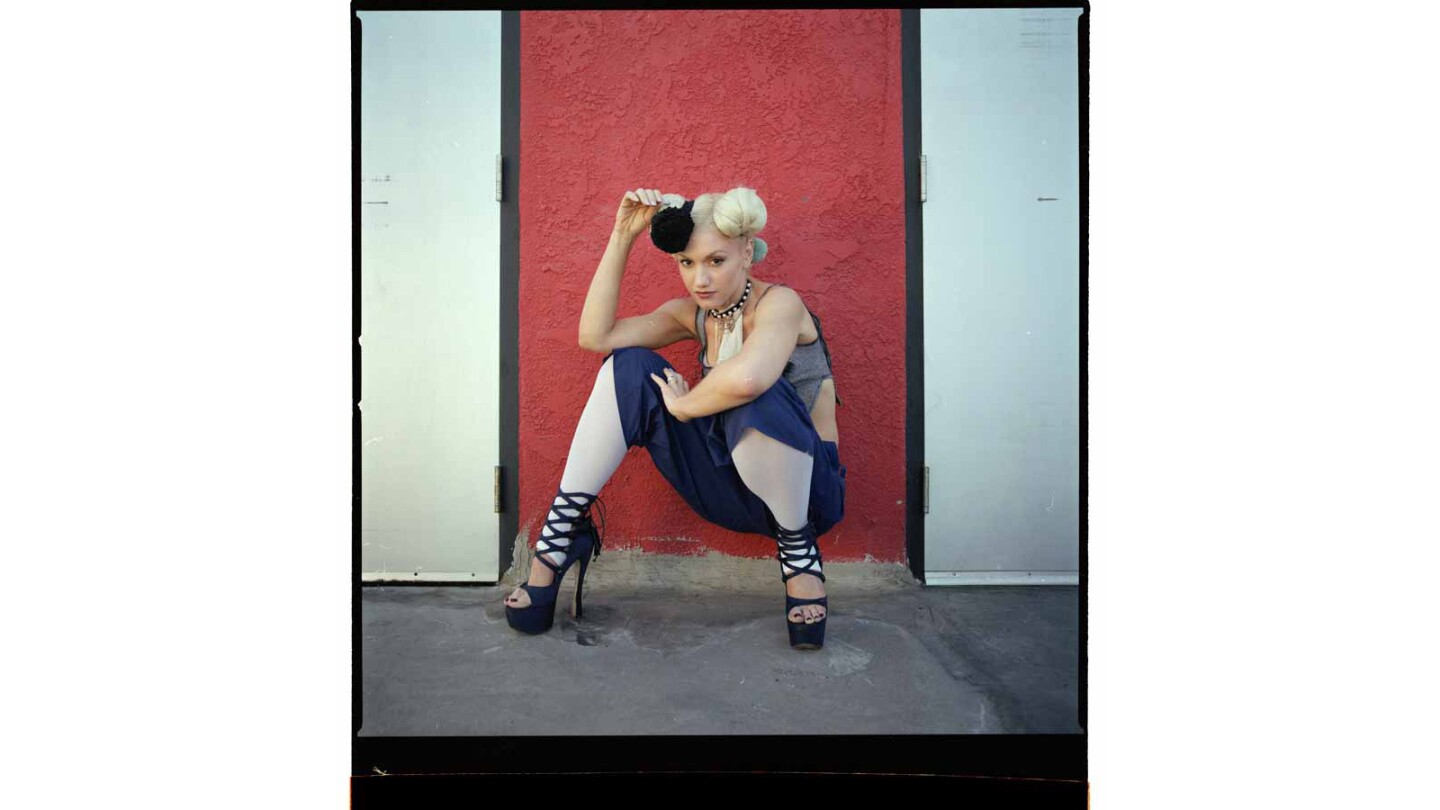 No Doubt singer Gwen Stefani on Oct. 1, 2004, in West Los Angeles.
(Al Seib / Los Angeles Times)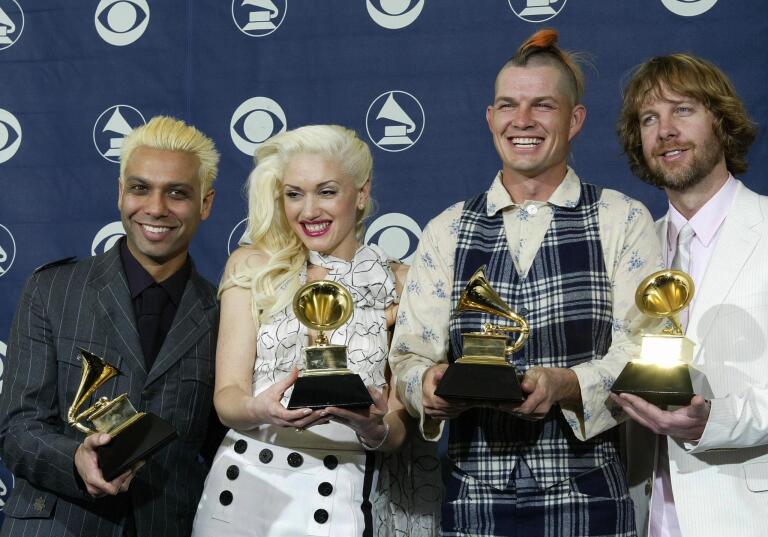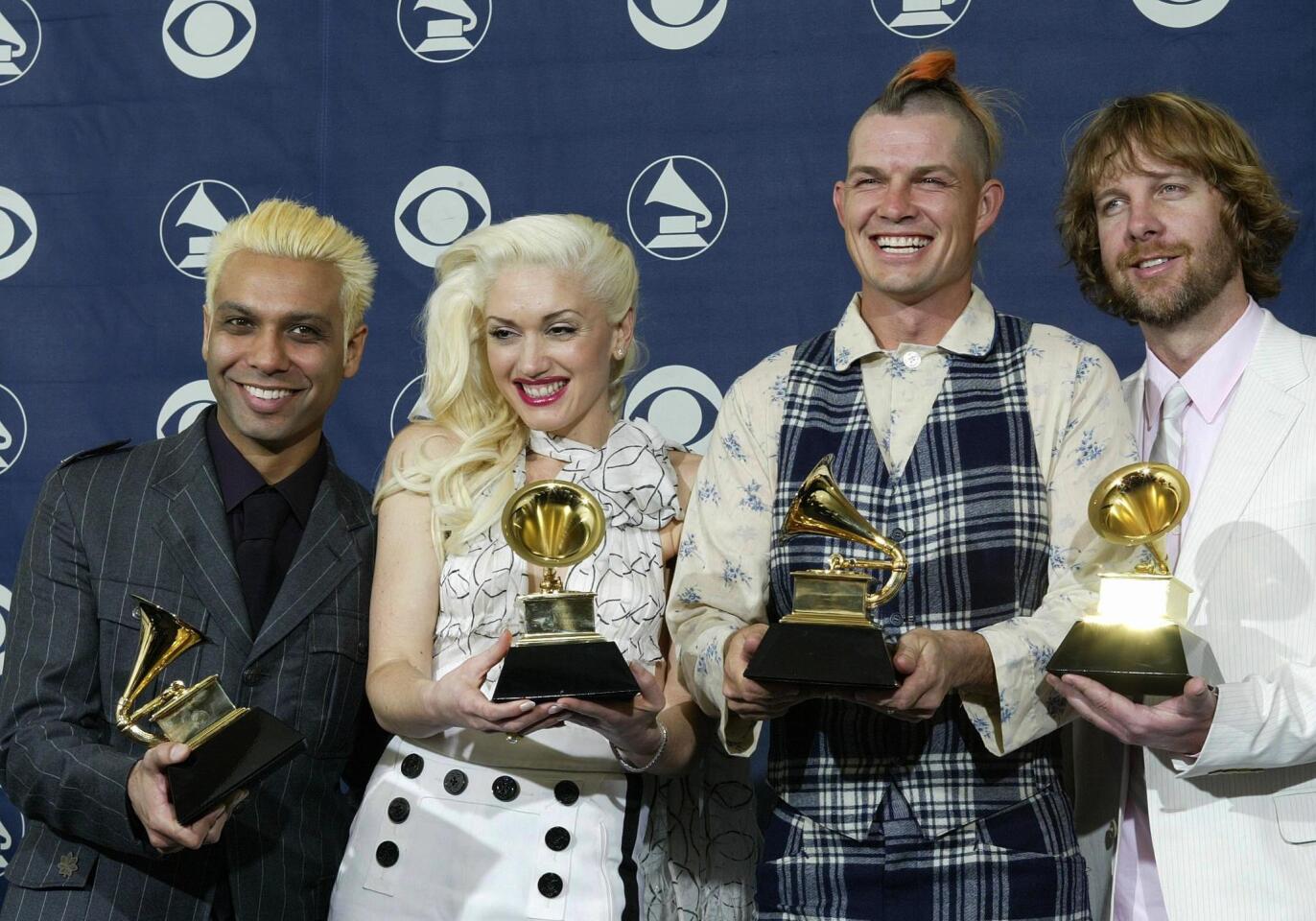 Gwen Stefani and her group No Doubt hold their Grammy award in the Best Pop Performance By a Duo or Group with Vocals category at the Grammy Awards Feb. 8, 2004 at the Staples Center.
(Hector Mata / AFP/Getty Images)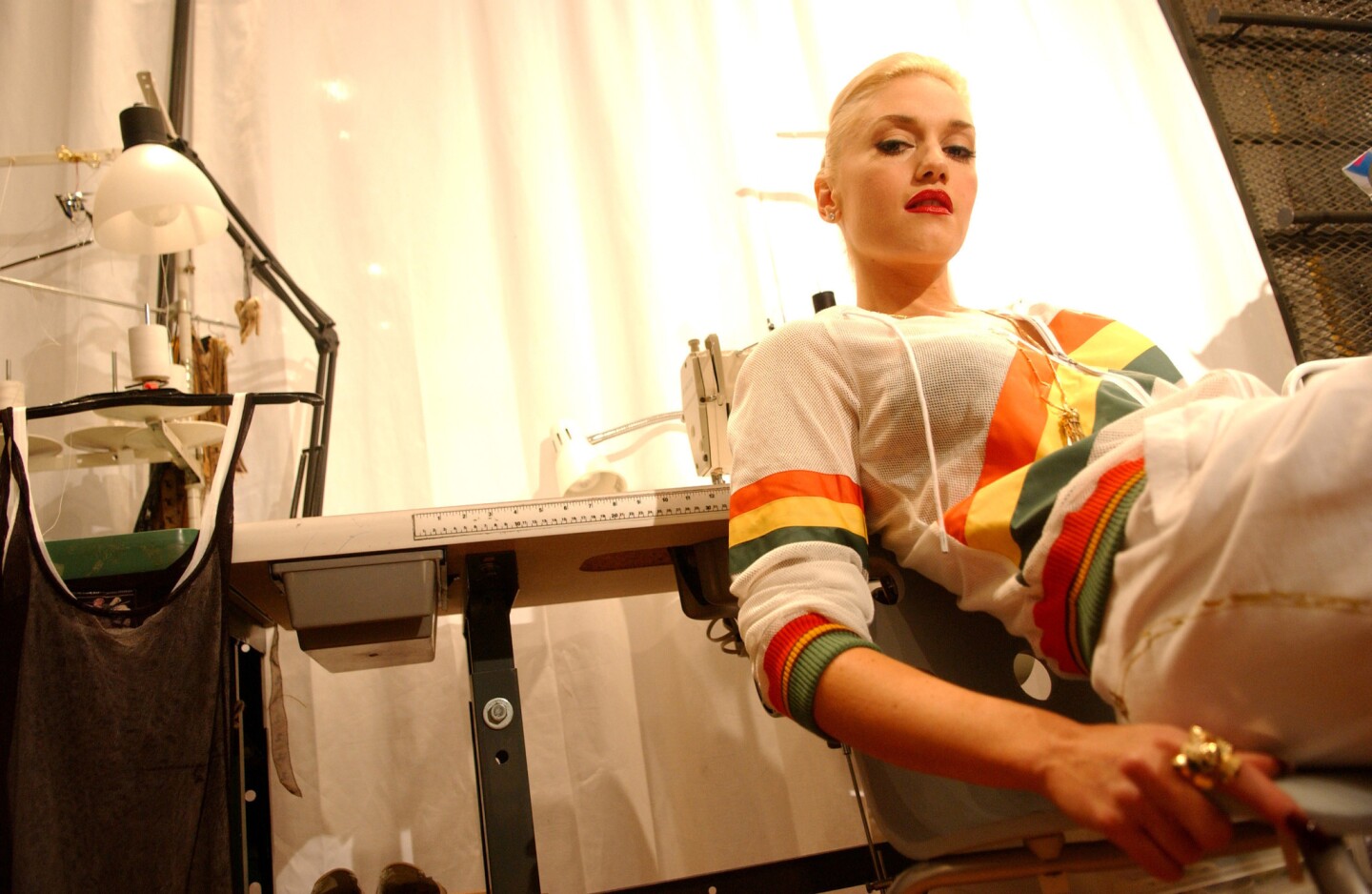 Gwen Stefani, who created the fashion label L.A.M.B., is shown at her fashion studio in Manhattan on Sept. 11, 2005.
(Jennifer S. Altman/ For The Times)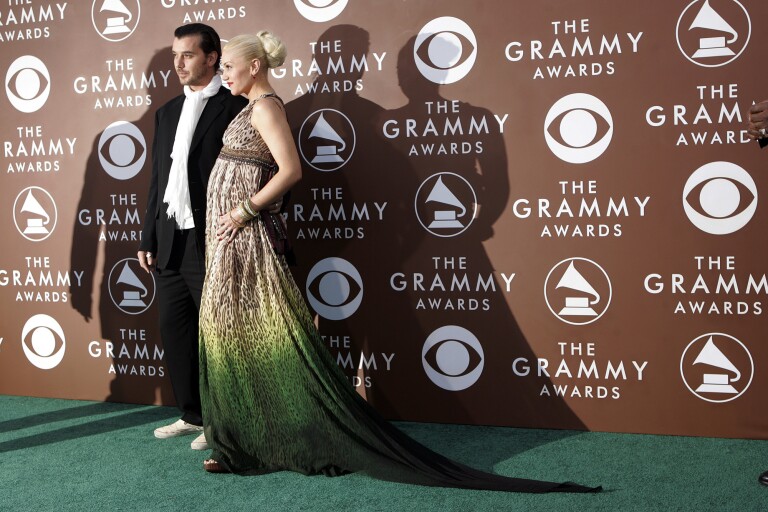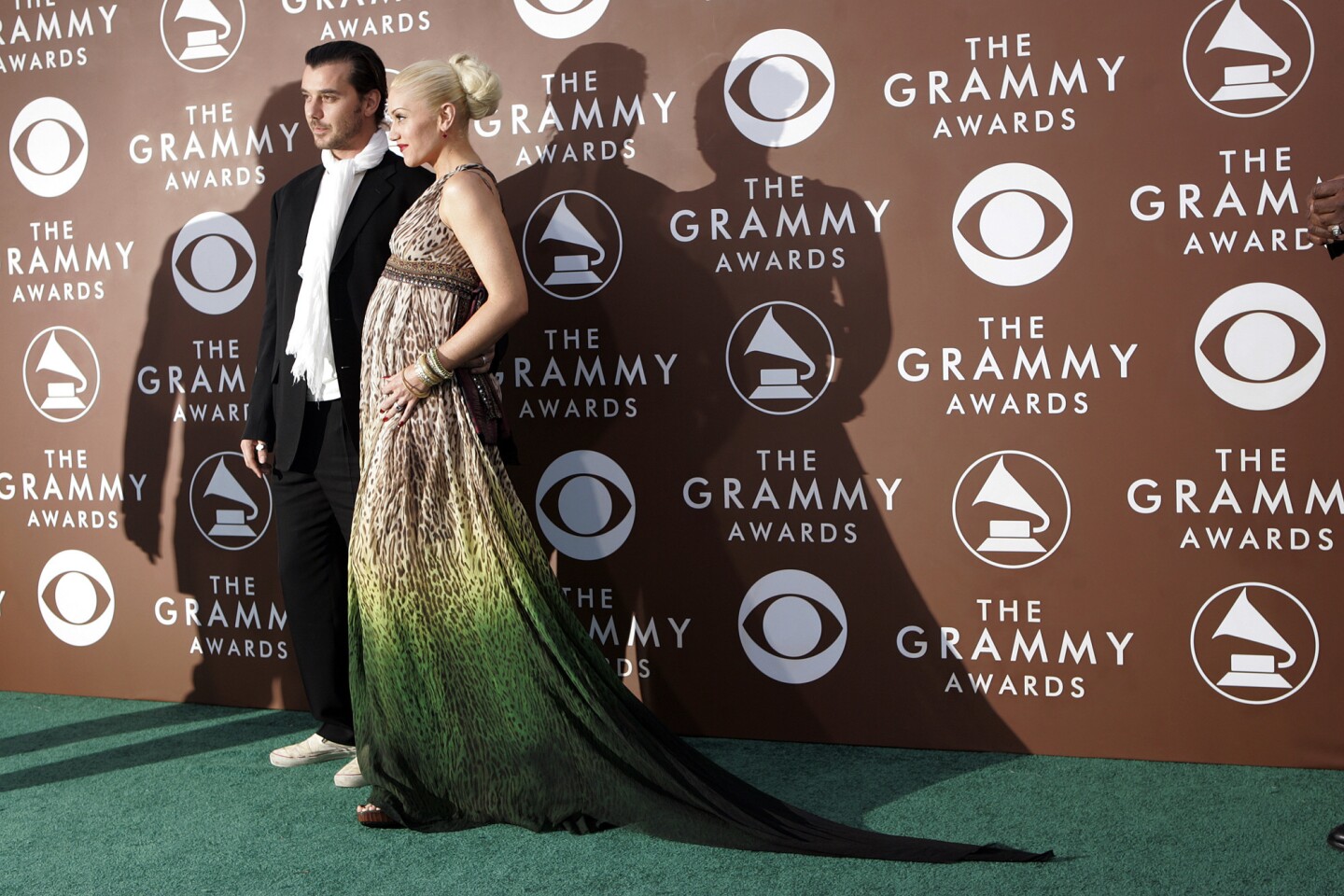 Gwen Stefani with then-husband Gavin Rossdale at the 48th Grammy Awards at Staples Center on Feb. 8, 2006.
(Beatrice de Gea / Los Angeles Times)
Singer Gwen Stefani performs at Nickelodeon's 20th Annual Kids' Choice Awards at UCLA's Pauley Pavilion on March 31, 2007.
(Kevin Winter / Getty Images)
Grammy–winning band No Doubt poses for photos at SIR Studios in Hollywood, Aug. 24, 2012.
(Jay L. Clendenin / Los Angeles Times)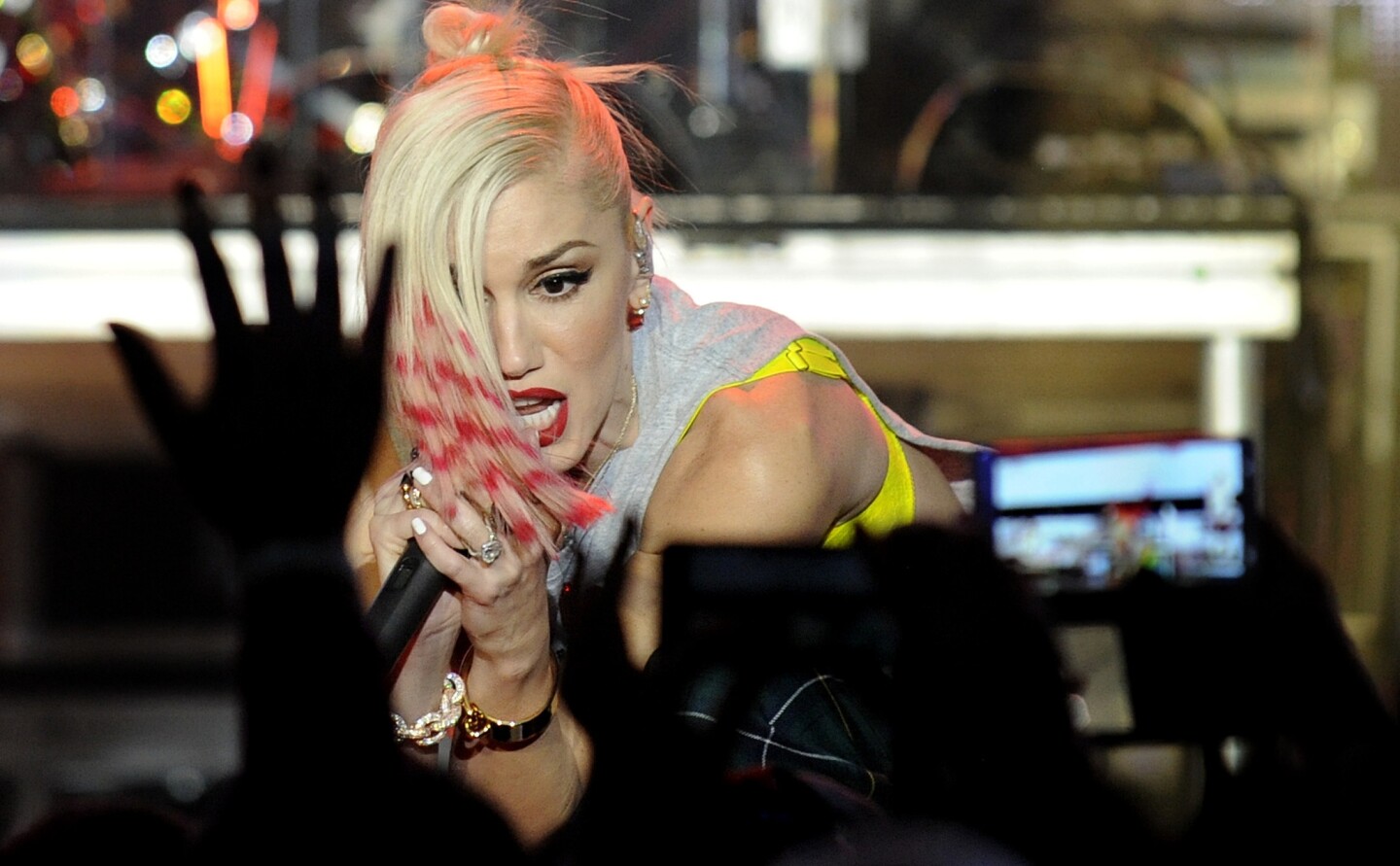 Gwen Stefani of No Doubt performs onstage at the 25th Annual KROQ Almost Acoustic Christmas at the Forum in Inglewood on Dec. 14, 2014.
(Wally Skalij / Los Angeles Times)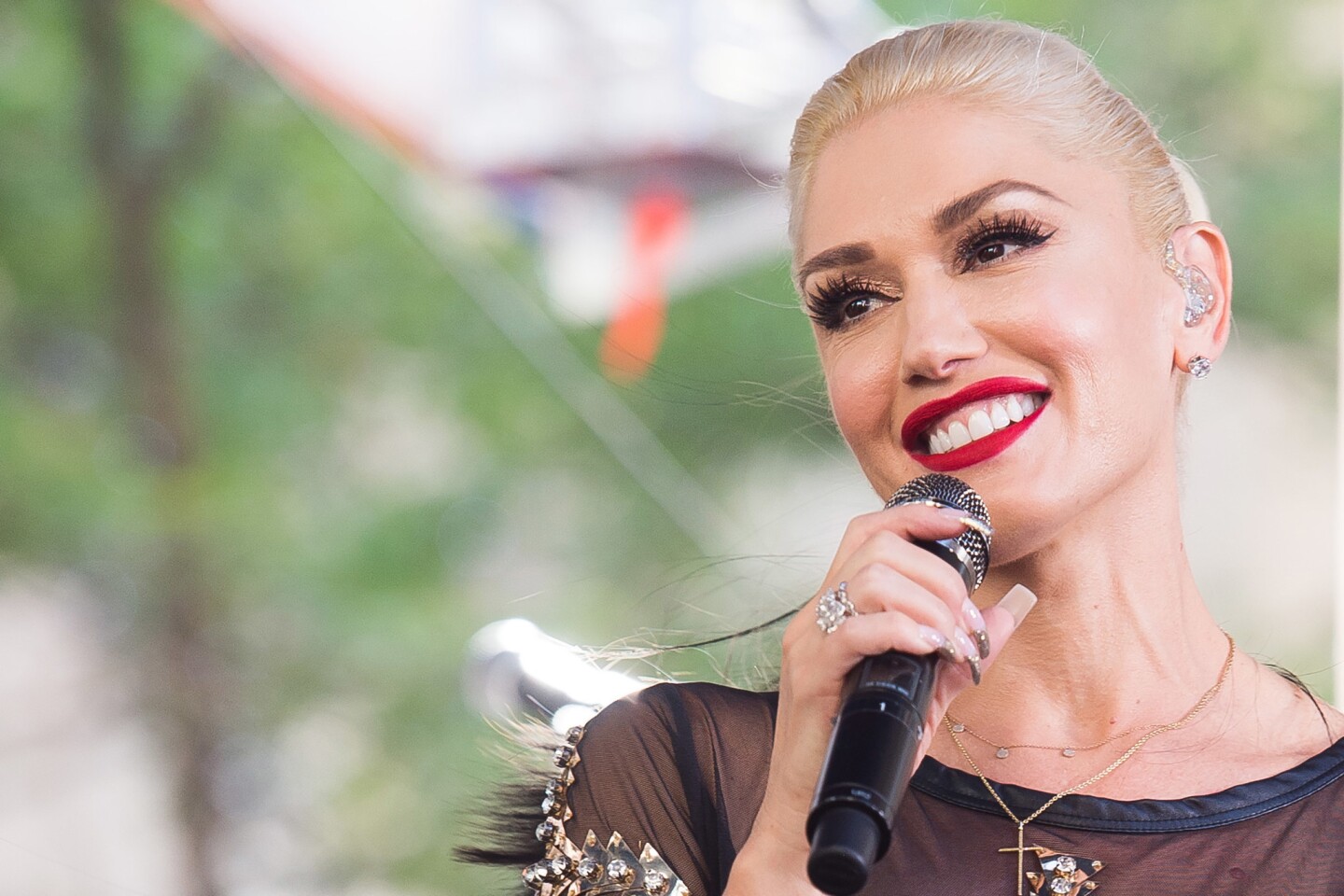 Gwen Stefani performs on NBC's "Today" show at Rockefeller Plaza on July 15 in New York.
(Charles Sykes / Invision/AP)
Gwen Stefani fronts the Orange County rock band No Doubt at Rock in Rio in Las Vegas on May 8, 2015.
(Luis Sinco / Los Angeles Times)
Gwen Stefani and Blake Shelton attend the 2016 Vanity Fair Oscar Party Hosted By Graydon Carter at the Wallis Annenberg Center for the Performing Arts on Feb. 28 in Beverly Hills.
(Pascal Le Segretain / Getty Images)
What's next?
I don't really know. I don't see myself making another record right now. I feel excited about getting into my mom role. My baby's 2 ½, so it's the real deal now — like, "I wanna play with you, Mommy."
What about these upcoming shows? Is your middle son rejoining the road crew?
He thinks he's going on tour again. I told him, "We're not going on tour — you're in school."
Twitter: @mikaelwood
ALSO
Call it, maybe: Why no single tune felt like 2016's song of the summer
'Pop should be weird': Shura channels a gentle outsider spirit on 'Nothing's Real'
'You ever seen history?': Puff Daddy brings Bad Boy — and some famous friends — to the Forum
---
Your essential guide to the arts in L.A.
Get Carolina A. Miranda's weekly newsletter for what's happening, plus openings, critics' picks and more.
You may occasionally receive promotional content from the Los Angeles Times.